What THC-infused edibles are most popular? Fruit-flavored gummies and chocolate-covered coffee beans for starters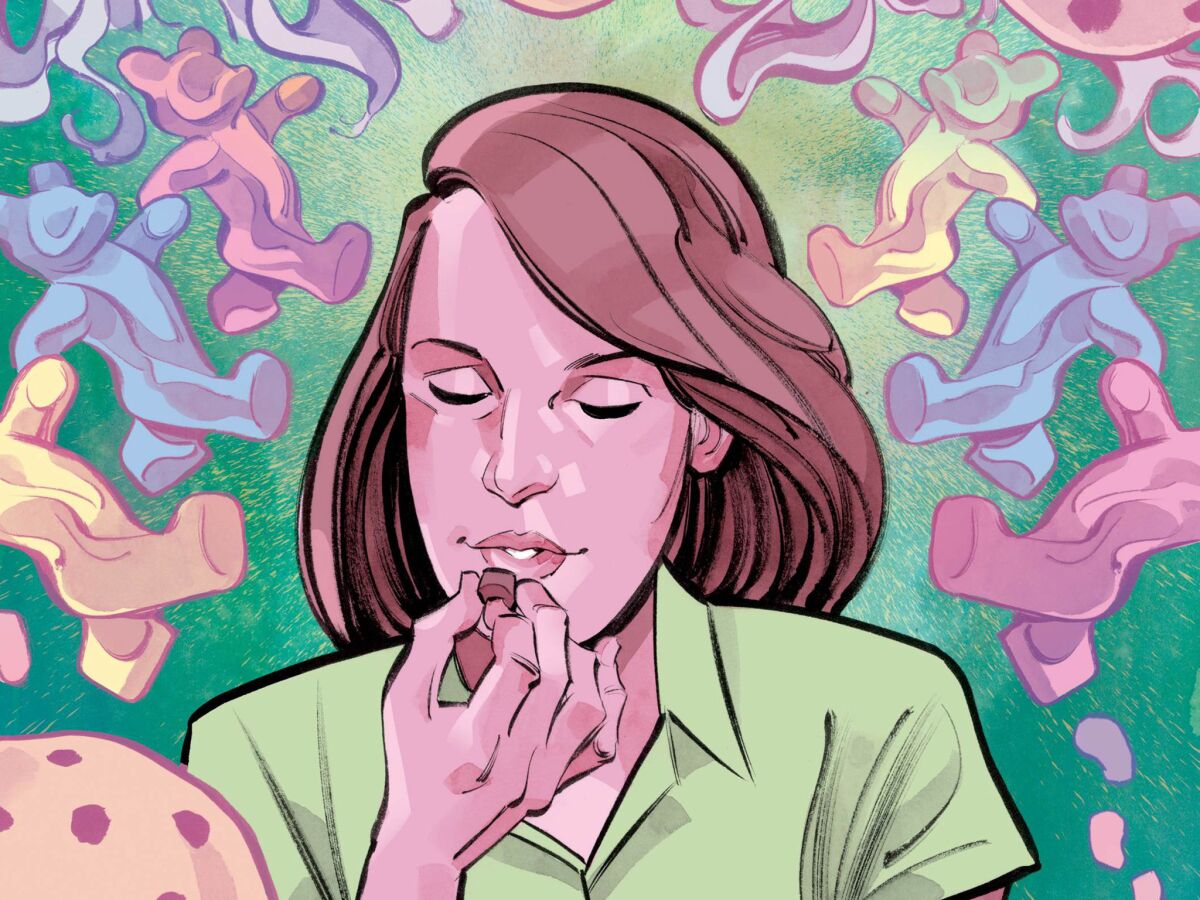 Nearly a year in to the state-legal cannabis scene, there's no shortage of THC-infused items on the market for 21-and-older consumers, from sachets of herbal tea and cans of citrus-flavored soda to honey mustard pretzels, with analysts and dispensary owners seeing it as a growing side of the business.
"Since recreational use was legalized in January, edibles have seen a 20%-30% hike in sales," said Nick Danias, managing partner of the Pottery and Cannary West dispensaries in Los Angeles, who added that edibles have proved particularly popular with new cannabis users who might be reluctant to start experimenting by smoking cannabis flower.
"Edibles companies have been able to offer consumers 'micro dosing' that allows for a controlled amount of THC to be ingested," he said. (State law requires that edibles be portioned or scored into servings that contain no more than 10 milligrams of THC per piece and no more than 100 milligrams of THC per package.)
Choosing from such a plentiful pot-centric pantry may sound daunting — particularly for the neophyte — so we checked in with a few local dispensaries and delivery services to find out what's currently most popular in the City of Angels. If you're comestible-curious, use the information below as a kind of crowd-sourced introduction to edibles.
There are a couple important things you should keep in mind as you read on. First, although legal in California, cannabis and cannabis-containing products remain illegal under federal law. Second, edibles makers stress the importance of partaking responsibly and taking a go-slow approach — you can always take more, but you can't take less. (They suggeststarting with 2.5 milligrams of THC, waiting to see how it works, then increasing from there.) Third, don't operate any machinery heavier than a fork while under the influence — of anything.
KushyPunch Strawberry Sativa Gummy Formula
MedMen, which operates eight dispensaries in Southern California, says its top-selling edible is currently KushyPunch's strawberry-flavored sativa gummies ($20 before taxes). Each child-proof package contains 15 grams of a deep red substance about the consistency of a Jell-O shot in a plastic tray that helps portion it into 10 tiny servings about the size and shape of a half bouillon cube and containing 10 milligrams of THC and .1 mg of CBD each.
Expect a strawberry-forward fruit punch aroma and a zing of terpene earthiness in the gelatinous cube, which have a slightly oily feel to them — probably a result of the "full-spectrum cannabis oil" touted on the label.
Venice Cookie Co.'s the Chipster Cookie
The Venice Cookie Co.'s the Chipster ($24.20 at the Pottery), sold in bags of 10 10-gram cookies (each about as big around as a mini York peppermint patty), combines the flavors of chocolate chips and cranberries with a crunchy sprinkling of sea salt with 10 milligrams of cannabis-oil THC per cookie.
Perhaps a little bit drier than your typical cookie, the Chipster is made without use of animal products, so it's a good option for the cannabis-consuming vegan. A bonus: The Pottery recently launched its own delivery service, so it's an even better option for lazy cannabis-consuming vegans.
Plus Pineapple & Coconut CBD Gummies
According to Eaze, a San Francisco-based technology platform that's been coordinating dispensary-to-consumer home deliveries in Los Angeles since April, four of the five bestselling edibles ordered through its service are fruit-flavored gummies: three from Adelanto-based Plus Products (sour watermelon, blackberry and lemon, and CBD-only pineapple & coconut), and one from Valhalla Confections (sour watermelon).
(CBD, a.k.a. cannabidiol, is a cannabis compound that's touted for its myriad therapeutic effects but doesn't provide the psychoactive high of THC. On a side note: Hemp-derived CBD products are legal and available nearly nationwide.)
A tin of THC-free pineapple and coconut gummies ($16) holds 20 sugar-dusted cubes — each about twice the size of a No. 2 pencil eraser — that contain 5 milligrams of CBD each with a taste and smell straight out of a tropical-drink happy hour.
Kiva Confections' Espresso Terra Bites
Oakland-based Kiva Confections turned up on the bestseller lists at several dispensaries we checked in with, including the Green Easy in L.A.'s Beverly Grove neighborhood, where Kiva's tins of cannabis-infused, chocolate-covered espresso beans are among the top movers (maybe it's a subconscious side effect of being in close proximity to a hip and happening Blue Bottle cafe).
Each round metal tin ($22) contains 20 micro-roasted Tanzanian coffee beans enrobed in dark chocolate, each containing 5 milligrams of THC along with the tiniest kick of caffeine. (If mixing coffee and cannabis isn't your jam, look for Kiva's milk-chocolate-covered blueberries that deliver the same THC with no jolt of joe.)
The small amount of THC — 5 milligrams is generally considered a micro-dose, the amount at which psychoactive effects are subtle to the point of barely perceptible — and the familiar form of a chocolate-covered coffee bean combine to make a tin of Terra Bites a good option for first-time ganja gastronauts.
For more musings on all things cannabis, culture and commerce, follow me at @ARTschorn