Mike Amiri, L.A.'s rock 'n' roll designer, now struts on a global stage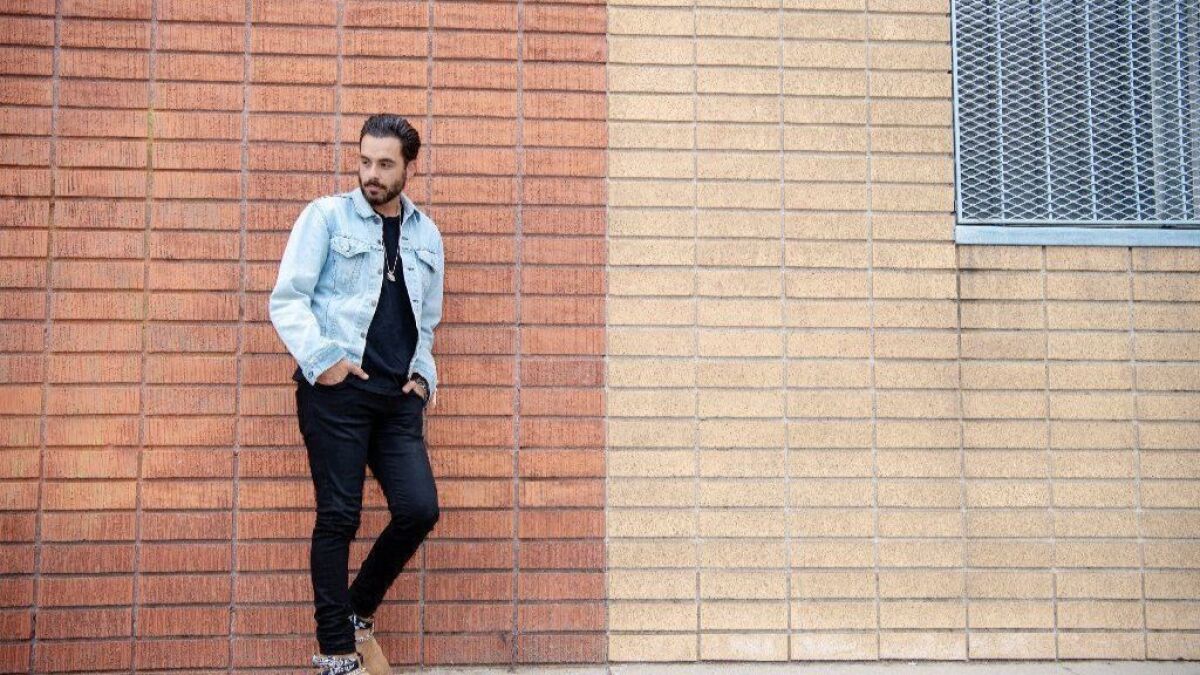 The first thing one sees upon entering the fashion brand Amiri's cavernous offices in a former sheet metal factory in downtown Los Angeles is a basketball court. Often the second thing one spots is Mike Amiri, the company's creative director and chief executive, shooting solo, playing pickup with employees or engaged in a game of H-O-R-S-E with NFL stars like Odell Beckham Jr. or NBA standouts like the Lakers' Kyle Kuzma.
He has a go-to move to impress — and sometimes beat — the pros, he says. Dressed in a black T-shirt, black leather jeans and bandana-strapped beige suede boots, he walks past the three-point line and faces away from the basket. His eyes on the far wall, he caroms the ball hard off the concrete and watches it rise high, then rattle through the rim. "Ahahaha," he says, smiling broadly. "Be sure to tell your readers I don't make that shot every time."
Amiri's winning signature shot makes an apt metaphor for the 42-year-old designer's ascent in the luxury fashion market and the brand itself: unconventional, casual in appearance yet meticulously calculated and eye-openingly successful.
Since launching in 2014 with a capsule collection at Maxfield, Amiri has rapidly expanded to more than 150 high-end retailers around the globe, including Barneys New York, Bergdorf Goodman and Galeries Lafayette, and became one of the fastest-growing luxury fashion brands in the industry, selling jeans that can cost $1,000 or more or T-shirts that can set its wearer back as much as $325. After raking in more than $40 million in revenue in 2018, the Amiri brand is on track to surpass $60 million in sales this year and $100 million per year within three years. "He's definitely on a trajectory," Nick Sullivan, the fashion director of Esquire, says of Amiri. "This is not a one-and-done thing. He's got a very serious business head on his shoulders, as well the design capability."
If fast-growing reach and skyrocketing sales attest to the former, the latter is evinced by rave reviews for Amiri's shows at Paris Fashion Week ("Bruno Cucinelli-meets-John Varvatos by way of old-school Roberto Cavalli," said Vogue) and recognition by his peers. Amiri recently received his second Council of Fashion Designers of America nomination in as many years. (He lost out to Rick Owens.) Pretty heady stuff for a guy who a few years back was making distressed denim in a basement to the strains of classic rock.
"It's all about being completely authentic to the original vision, which is California and rock 'n' roll through a luxury lens," Amiri says. "We started with two styles of ripped jeans, a few T-shirts and biker jackets, and we now dress that same person in clean skinny jeans, nice boots and blazers, but it's the same guy. "
That guy is, often enough, a face you know well — a star of pop music (like Justin Bieber, Amiri's earliest celebrity adopter, and Zayn Malik); of hip-hop (Kendrick Lamar, Jay-Z); of the big screen (Brad Pitt, Jared Leto, Michael B. Jordan). Since introducing women's collections, which now account for about a quarter of his sales, in 2017, Amiri has added famous female devotees as well, including Gigi Hadid, Kendall Jenner, Taylor Swift and Beyoncé. But perhaps his most meaningful association is the one he has with rock stars like Keith Richards, Steven Tyler and Axl Rose. Rock may be dead musically, but its look and swagger are alive and well and living in Amiri's atelier.
"I never look at rock 'n' roll as an aesthetic connected to just rock 'n' roll music," Amiri says . "The culture now has blurred the lines to everything. Odell Beckham dances on the field, has a long curly mohawk, and people scream his name. He's a … rock star. You know? Travis Scott rides a … metal dragon over the crowd in leather pants — that's a rock star. These are modern rock stars — that's how I see them, that's how they see themselves."
According to Jordan, who first became a fan because of the fit of the jeans, part of the appeal is that the designs exude that type of self-confidence. "In your head, you think you're a rock star rocking those clothes, and so now you are a rock star," says the actor. "If clothing can give you that type of feeling, it's doing something right."
Similarly, Sarah Stewart, buying director at Maxfield, was first struck by Amiri's five-pocket stretch suede jean — one "that everybody looked good in." In 2014, Stewart made Maxfield the first outlet to carry Amiri's full collection, and when the Melrose Avenue retailer hosted an Amiri pop-up shop three years later, it sold $275,000 worth of merchandise in just three hours. By then, however, she was not surprised. "We already gauged the kind of business we were doing with Mike," she recalls. "I was having to reorder those jeans every few weeks. Most designers I work with, it's a seasonal buy. This was suddenly like, 'Wait a second. I'm out again?'"
Karla Welch, an influential celebrity stylist recently profiled by the New Yorker and whose clientele is predominantly women, was an unlikely early champion for Amiri. Yet she was so struck by his craftsmanship that she brought jeans and tees to Bieber, who has worn Amiri frequently ever since. "It was luxury and the fabrics felt so good and it was just a very Los Angeles point of view, which I loved," Welch says. "They were so different — other people had distressed pieces, but this was like art."
Indeed, Amiri makes tees and knits that look moth-eaten but follow a different journey from chrysalis to finished pieces of clothing. His popular cashmere hoodies, for instance, begin in Italy, where the wool is sourced and milled, take shape in L.A., where the entire line (save footwear and tailored clothing) is assembled, and then are violently finished in Joshua Tree — shotgunned by a guy Amiri found shooting furniture for an art project.
Amiri denim undergoes an even more assiduous process. "The first pair of jeans I made in the basement, I pinned them down. It was super slow and meticulous," Amiri says as we walk past technicians in lab coats abrading, hand mending and embroidering denim. "Now that we are… sorta big, the jeans are all still pinned down, and they perform something like surgery." A single pair can take up to three months to produce; first, it is destroyed, point by point, and just as carefully reassembled, stitch by stitch, and adorned with chipped brass buttons and patched with French plonge leather or studded with Swarovski crystals. "It's what works for us," Amiri says. "It's what people expect from us when they buy a jean that's $1,000 to $1,500."
Similar attention is given to hand-airbrushed leather biker jackets and leopard-print bombers, tie-died flannel shirts made with Japanese cotton cashmere, and studded, graffiti-covered undersize guitar cases sourced from the original maker of Fender Stratocaster cases. As Amiri has ventured into suiting and footwear, he's spent months at a time in Italy touring mills and workshops, and learning the finer points of fabric, as well as lasts and heel proportions. He tends to find his best inspiration closer to home, however, at the Rose Bowl Flea Market (he also visits various puces — flea markets — when in Paris), where he loads up on vintage reference pieces and reference photos. His latest inspiration board is largely a collage of vendors, along with the cover art to Santana's 1970 album "Abraxas."
All this has led to what he sees as his rightful place on the global fashion stage: "How often have you seen a privately owned company like this compete with every single major European luxury house?"
Amiri grew up in Hollywood, but his parents, Iranian immigrants who had a business selling antique rugs, rented an apartment in Beverly Hills so he and his two brothers could attend better schools. More interested in riding BMX, skating and playing guitar than studying, Amiri did poorly at Beverly Hills High School and could often be found smoking cigarettes outside with a group that included Angelina Jolie.
He went to Santa Monica Community College, then transferred to UCLA. Eventually, he went to Loyola Law School to appease his parents. "Their sense of, 'We've made it' is having a son who's a lawyer, not designing rock 'n' roll jackets," says Amiri, himself a father of three. "Now that their son has their name on a billboard on Sunset Boulevard, they're really proud that I didn't practice law."
At age 13, the same year he got his first fake ID, which he used to get into music clubs, Amiri made his first piece of clothing, stitching the logoed panel of a Mötley Crüe T-shirt onto the panel of a denim jacket. Although he dabbled in the music business both in L.A. and Korea, he never stopped making clothes. During law school, through stylists he met, Amiri began producing one-off pieces for Tyler and Usher. When he decided to launch his own collection, Amiri went underground, designing in a one-room subterranean studio with a single table and sewing machine. Amiri still keeps the space beneath a rock 'n' roll-themed Thai restaurant on a dodgy stretch of Sunset Boulevard as a reminder of his roots.
His base now is a 25,000-square-foot building on the southern fringe of the Arts District that is home to his design studio, showroom, corporate offices and atelier. "Right now, I'm writing the book to this house," Amiri says, surveying racks of for his review. "The button I'm choosing is the button that's going to be on that jean for 15 or 20 years. The lining I put inside that sleeveless suit is going to be the code of the house."
In December, he will open his flagship store on Rodeo Drive in Beverly Hills, with boutiques in Las Vegas and other cities to follow. "It's still a bit early for collaborations, but who knows the future?" Amiri says. "I'd like to make furniture one day. I have a vision for what someone's home should look like who lives this kind of lifestyle, you know?"
Hint: It is the opposite of dive bar-like rock clichés of velvet sofas and boudoir lighting. At a meeting with architecture and design firm Gensler, Amiri exhorts to make his first store's interior more open and art gallery-like. His own office is a sparsely furnished white box. On the conference table rests a tall pile of designs for an Amiri runner — many are intriguing, all rejected, as the whole proposition was eventually. "It can be tough for a designer to say no," Amiri says. "It takes discipline. When I'm moving forward, I have to tell myself, 'Hey dude, stay in your lane.'"
He admires the designers who have managed to do that consistently, in particular, Owens, Tom Ford and Ralph Lauren — "these uncompromising people whose brands are based on them and their world," he says. "I want that now for Amiri. I want this to be that world. If you're going to buy rock 'n' roll clothing, California lifestyle clothing in a luxury way, I want Amiri to be your destination, globally."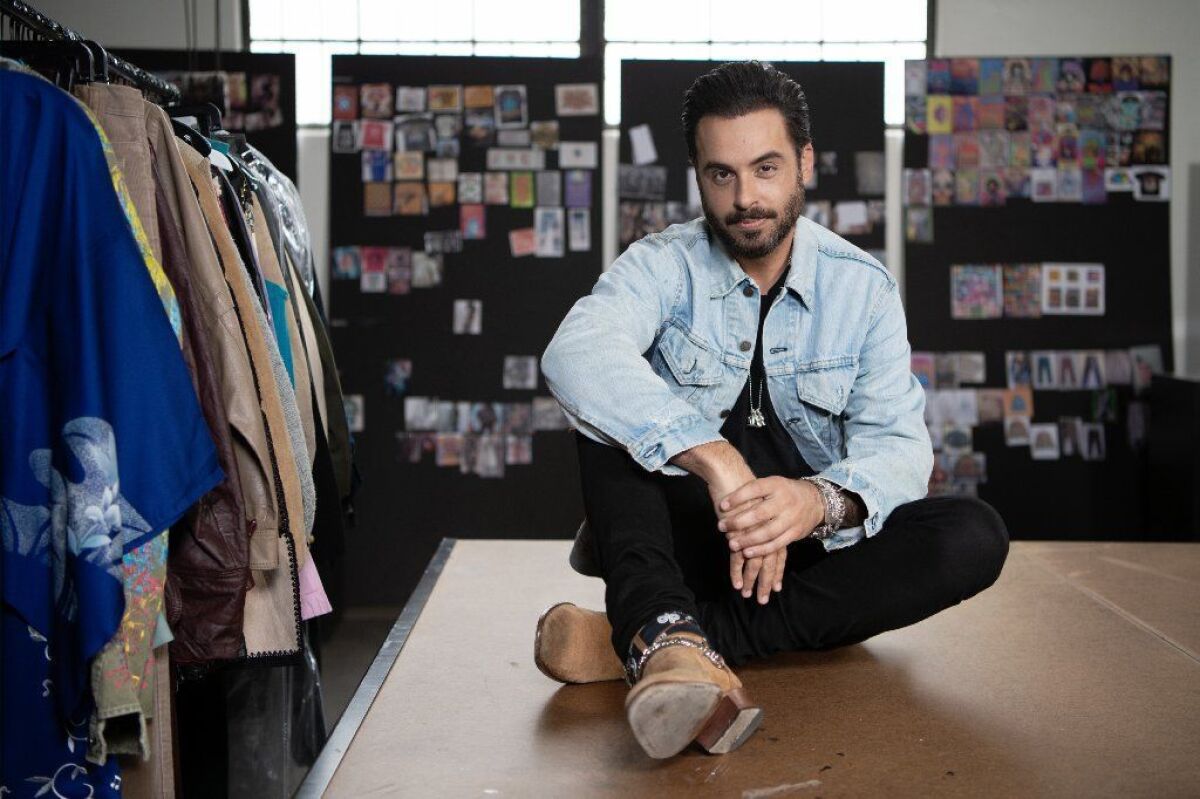 Amiri says he has had offers from conglomerates and holding companies offering capital but demanding control. He refused them all until Renzo Rosso, president of OTB, the parent company of Maison Margiela, Marni and Viktor & Rolf, came calling. This month, OTB took a small minority stake in the Amiri brand. To Amiri, the acquisition was a win/win: gaining Rosso's decades of experience without ceding his own independence. "This partnership gives us guidance whenever needed, while still maintaining our complete autonomy," he says.
That is the key for someone who loves critiquing every last marketing material and filling notebooks with sketches and patterns on his Uber ride to the office. "The good thing is that I'm the CEO and creative director," he says as we return to the basketball court emblazoned with the Amiri logo. "So I have my hand on everything. I can go as fast or as slow as I want." So if that means shooting three ad campaigns simultaneously, or reviewing one running shoe design after another, only to scrap a potentially lucrative product, he will do it.
"I could have turned the knob, produced somewhere else and flooded this market and not thought twice," Amiri says. "For me, it wasn't about that. The brand has my name on it. My kids gotta go out there with this name."
---
Get our L.A. Goes Out newsletter, with the week's best events, to help you explore and experience our city.
You may occasionally receive promotional content from the Los Angeles Times.