'Fantastic Four' star Kate Mara on what she wears when she's visible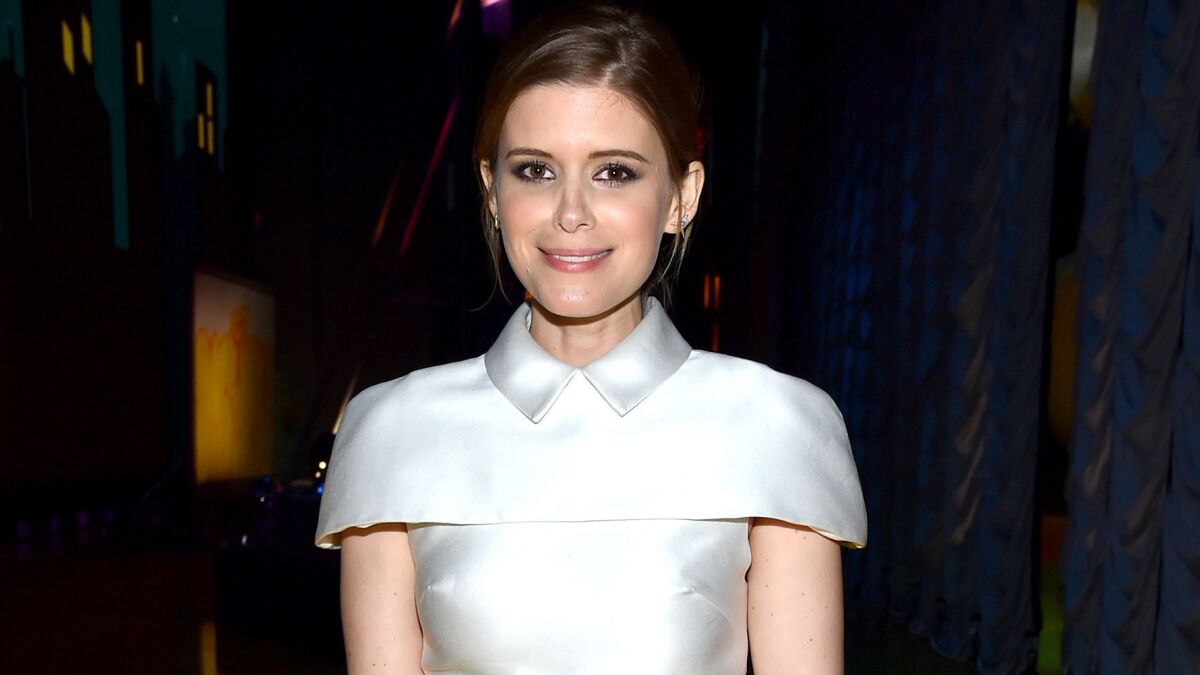 Los Angeles Times Fashion Critic
Despite appearing in "House of Cards," "127 Hours," "Brokeback Mountain" and dozens of other TV and film roles over the last 15 years, Kate Mara has always been an actress you don't quite recognize.
But with star billing as the Invisible Woman in the summer superhero film "Fantastic Four," scheduled to open Aug. 7, she's poised to become more visible than ever.
Leading up to that, Mara, 32, will be the recipient of this year's Women in Film Max Mara Face of the Future Award at the Crystal + Lucy Awards gala in Los Angeles on Tuesday. Women in Film has been honoring women in the entertainment industry since 1977, with Italian fashion brand Max Mara partnering on the awards for 13 years.
Dressing the part is Mara's job. On the red carpet, she and stylist Johnny Wujek gravitate toward classic pieces, but in real life, she calls her style tomboyish. She's as comfortable in Zara as Chanel.
Over the years, she has attended high-profile events with Valentino and Miu Miu, and styled store windows for H&M. In February, she traveled to Milan, Italy, for the Max Mara fall 2015 fashion show and a photo shoot for the brand's magazine.
In anticipation of the Women in Film event, I caught up with her on the phone from Belfast, Northern Ireland — where she is shooting the sci-fi thriller "Morgan" — to talk about matters of style.
Do you have a first fashion memory or something you were really into wearing as a child?
I was very shy in middle school through high school. I dressed to disappear. That's also a reason why acting was so exciting. I was more comfortable putting on a costume and pretending I was someone else than showing who I actually was. So I flew under the radar and wasn't into wearing anything too loud. I had very long hair, and I didn't even want that to be showy, so I would wear it in a ponytail every day. That was a uniform to me, to not wear my hair down. But obviously, that changed. Once I graduated high school and realized you have to be more comfortable in your own skin to be an actor and to be vulnerable and put yourself out there and show that you can look like different characters. I realized that fashion is an incredible tool. And now I love it.
I know you went to the fall 2015 Max Mara runway show. What do you like about the label?
It's such a classic, feminine brand … but they are also doing a good job of evolving. The show was super. I know it was a throwback and Marilyn Monroe-inspired, but it also felt very current and young. I was so in love with the colors, which were a lot of pastels, but also this eggshell gray that I wore to the show. And the mix of super-feminine pencil skirts with flat oxfords and backpacks was the masculine-feminine thing, which I'm super attracted to.
How would you describe your personal style?
It depends on where I am in the world. I live in L.A., so typically it is really hot, and I will just put on a sundress and some sneakers because that's the most comfortable thing to wear. That said, I tend to be a little bit of a tomboy, so I do that thing where I go back and forth between dressing feminine with a little bit of a male edge. But right now, in Belfast, I'm literally wearing all black every day to work. It's that sweatpants look that isn't actually sweatpants. And a hoodie. And I'm fully comfortable owning that.
Have you and your sister [actress Rooney Mara] ever bought the same thing?
A few times. I forget we don't live in the same house, and my initial reaction is the older sister thing of, "Did you take that from my closet?" But we do like similar things.
What do you think about people dissecting your style online?
I don't go seeking it out but if you're on Twitter, it's hard to avoid. I've been doing this long enough I don't let it affect me that much. But of course, I'm human. If people are loving something you are wearing, you are going to feel good about it. And if they hate it, it's going to make you feel, uh-oh.
You've been working with stylist Johnny Wujek for 10 years. What do you two consider when dressing for a red carpet event?
It depends. Usually he'll say, "What are you in the mood for?" If I'm feeling particularly girlie, he will say, "Let's go and see what Valentino has or let's see what Dior has," since those are more feminine looks. If I'm feeling more edgy, maybe it's Prada. Or sometimes we think about a theme we want to do for a press tour to make it more fun. And he always knows white is my favorite color to wear.
How were the Invisible Woman costumes? From the promo shots, it looks like a lot of leather.
You've probably seen our containment suits. They're not leather. I don't know what it's called, but it's very stretchy and thicker than spandex. The only annoying thing was that to go to the restroom, you needed help, because there were three zippers just to make it look like there were none. But it was actually a very comfortable suit and you didn't have to wear any sort of Spanx underneath.
You've done work for the Humane Society and Oceana. How did you become involved in those causes?
It all started with the 2013 documentary "Blackfish" [about whales in captivity]. I was shooting a movie and it was on CNN and I watched it and was so moved that I was hunting down the director's email immediately. I thought about what I could do to help. So I reached out to a T-shirt designer friend of mine named Dana Veraldi, who has a line called DeerDana based in New York. She draws these awesome caricatures of people, animals and things like that. I thought maybe she'd be interested in designing one of Tilly, the whale from "Blackfish" and giving the money to some sort of nonprofit. That's where it started. She designed the "Free Tilly" shirt, and I was connected to Oceana through Ted Danson, who is a friend and does a lot of work with that organization. Since then, I've become friends with Gabriela Cowperthwaite, the film's director, and she introduced me to the Humane Society. But it all started with "Blackfish."
---