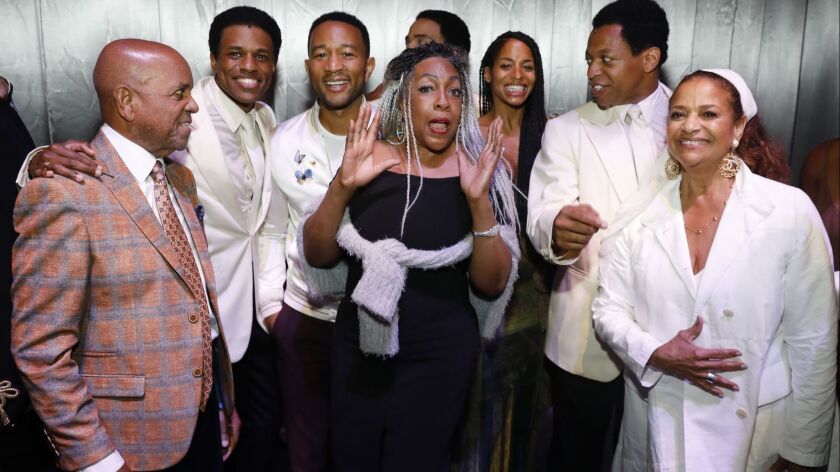 From onstage, amid thunderous applause during a 10-minute standing ovation for "Ain't Too Proud: The Life and Times of the Temptations," actor Derrick Baskin finally urged the opening night audience at the Ahmanson Theatre to sit down.
But shouts and fierce clapping soon resumed when Baskin pointed out the show's real-life counterparts in the audience, including Berry Gordy, "the father of Motown," Baskin said, "the orchestrator… the man that pushed these artists to greatness." He then acknowledged Temptations manager Shelly Berger, Mary Wilson of the Supremes and Otis Williams, the character Baskin portrays and the last of the original band members.
Then to a final burst of applause, he thanked the audience Friday, telling them, "This energy has been bananas."
The event
The Broadway-bound "Ain't Too Proud" made its Los Angeles premiere Friday before an audience blazing with star power, including several A-listers who later joined the cast and crew for a dance party at the Dorothy Chandler Pavilion.
The crowd
There to witness the band's story unfold on stage were John Legend, Billy Crystal, Lily Tomlin, Debbie Allen, comedian Ali Wong, Tony Award-winner Billy Porter ("Kinky Boots"), Amber Riley ( "Glee"), Iain Armitage ("Young Sheldon"), Corey Hawkins ("Straight Outta Compton"), Dulé Hill ("Suits"), Rebecca Wisocky ("Devious Maids"), Sydelle Noel ("GLOW"), Loni Love ("The Real"), Trace Lysette ("Transparent"), Jon Tenney ("Major Crimes") and fashion designer Tina Knowles Lawson (mom to Beyoncé and Solange Knowles).
The play
As told by founder Otis Williams, the vibrant musical tracks the band from the Detroit streets to their discovery by Motown Records, ascension to superstardom and brushes along the way with drug abuse, marital discord and other inevitable consequences of their fame. Yet they continue to churn out hit after hit, as the show pulses nonstop with the group's top tunes: "My Girl," "Papa Was a Rollin' Stone," "Cloud Nine," "I'm Gonna Make You Love Me" and so many more.
"I was trying to be polite, not to sing and dance in my seat," said Amber Riley at the after-party, "but luckily the two people sitting next to me were singing. So it seemed perfectly fine to do it."
"Honestly, I'm so blown away. It's such a joyful ride that everyone's face is hurting from smiling," said Rebecca Wisocky.
The after-party
DJ Duggz kept the dance floor rocking, as nearly 400 guests arrived for cocktails, conversation and big hugs for the cast.
In a corner of the room, Taylor Symone Jackson, the play's Mary Wilson, enjoyed a tête-à-tête with the former Supreme she portrays. "I can't even describe to you in words what this means to me to meet Mary Wilson," said Jackson, thinking back to her first impressions of the superglam trio. "The dresses. The gloves. The pearls. The eyeliner. The wigs. I remember it all - absolutely."
Seated at his reserved table, Berger said he'd seen the play 55 times, having gone to every performance at Berkeley Repertory Theatre and Washington, D.C.'s Kennedy Center. "This cast brought me right back to the '60s in Motown and to all the excitement at West Grand Boulevard. Motown was like a 1950s MGM musical. 'My uncle has a barn. We're going to put on a show.' Berry Gordy would come up with something and he'd say, 'We've got to do it,' and we just did it."
The quotes
"When they told me I was going to be saying something [onstage], I said, 'Please yes. I want to tell [Otis Williams] and I want to tell the world, how much this man means to me,'" said Baskin. "It's so rare that you get to play someone who's still living and who's giving his stamp of approval. It's an honor to tell his story every night."
"It's been so, so, so, so special telling the story of these legends," said Jeremy Pope, who plays another of the original Temptations, Eddie Kendricks. "I'm so happy that I got to meet Otis and sit in his house, hear his stories and relive them with him … My dad introduced me to the Temptations, the Christmas album specifically, and I'd always think, 'Who was that guy singing so high?' It's so cool that we now get to share this music with the young generation and the older generation."
The tickets
The show continues at the Center Theatre Group's Ahmanson Theatre through Sept. 30. For information or tickets, visit centertheatregroup.org or call (213) 628-2772.
Ellen Olivier is the founder of Society News LA.
For fashion news, follow us at @latimesimage on Twitter.
---