Eyebrow guru Anastasia Soare's 'A-ha!' moment? It was inspired by Da Vinci. Now, 'she creates a masterpiece'
During her 20-year career, eyebrow artist Anastasia Soare has tended to the arches of a list of well-known celebrities: Kim Kardashian West, Kendall Jenner, Oprah Winfrey, former First Lady Michelle Obama, Jennifer Lopez, Victoria Beckham, Eva Longoria, Amal Clooney, Cindy Crawford and Naomi Campbell.
However, the 60-year-old Soare's climb to the top of the brow-grooming game has been anything but easy. Brought up in Romania under Communist rule, Soare studied art and construction engineering while helping her mother with the family tailoring business.
"In art school, my teacher believed that if you draw a portrait and want to change an emotion, you change the eyebrow shape," said Soare, at her Anastasia Beverly Hills Salon on Bedford Drive, during an interview earlier this year.
"He introduced me to the golden ratio — Leonardo da Vinci's theory that the body is in great proportion," Soare said. "While designing, sewing and cutting patterns for clients, my mother was always telling me to make sure the upper part of the body was balanced with the lower part, an A-line skirt to minimize hips or shoulder pads if a client was smaller on top. I was training my eye to create balance."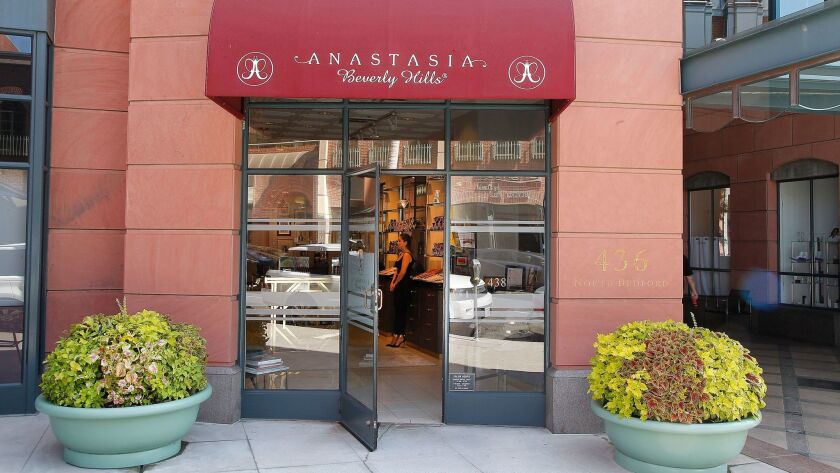 Fast-forward to 1989, when Soare was working as an aesthetician at the Giovanna-Jutta salon on Melrose Place.
"Thinking of Da Vinci's theory, I created my golden ratio technique to shape brows according to bone structure and natural brow shape; that was my 'Aha!' moment," she said.
In 1992, Soare began offering brow services in a back room at Juan Juan Salon in Beverly Hills. Crawford was her first celebrity client, followed by Campbell and Stephanie Seymour.
Five years later, Anastasia Beverly Hills opened in its current location at 438 N. Bedford Drive, and in 1998, the brand launched a makeup line that now counts more than 400 products with 81 dedicated to brows — pencils, pomades, powders, primers, highlighters and gels in an array of colors — plus brushes, tools and five patented brow stencils that serve as the core of Soare's brow-shaping methodology.
Her line is now sold in 25 countries and at Anastasia Brow Studios in 67 Nordstrom stores. In 2012, the Anastasia Brighter Horizon Foundation was created to fund beauty school for underprivileged young adults.
Last year, Soare stopped taking public appointments, but she still tends to stars such as Jenner, who was in for an appointment the previous day. "Kendall said, 'I never let anybody touch my brows on shoots because if three hairs are removed wrong, it could change the shape, and sometimes they don't grow back,' " Soare said.
Kardashian West's makeup artist Mario Dedivanovic, a global ambassador for Anastasia Beverly Hills in 2015, knows Soare and her work well. He created an eyeshadow palette for the Anastasia brand last year that sold out in two hours.
"It's sort of a magical experience, getting your brows done by Anastasia, the way her hands flow," Dedivanovic said. "She creates a masterpiece in the way she frames your face."
Three tips from a pro
Looking to enhance brows? Soare suggested layering on product (wax to help powders and pencils adhere within stencil guidelines, followed by gel and highlighter).
A lighter shade should be used on the inner part of the brow, graduating to more intense color on the arch and outer edge.
She adamantly cautions against micro-blading, the buzzy but semi-permanent brow service. Soare said there can be unreliable effects of micro-blading, from spotty ink to color changes that can't be washed away.
For fashion news, follow us at @latimesimage on Twitter.
---