Ashlee Simpson-Ross and Evan Ross on their new reality show and unisex Zadig & Voltaire collection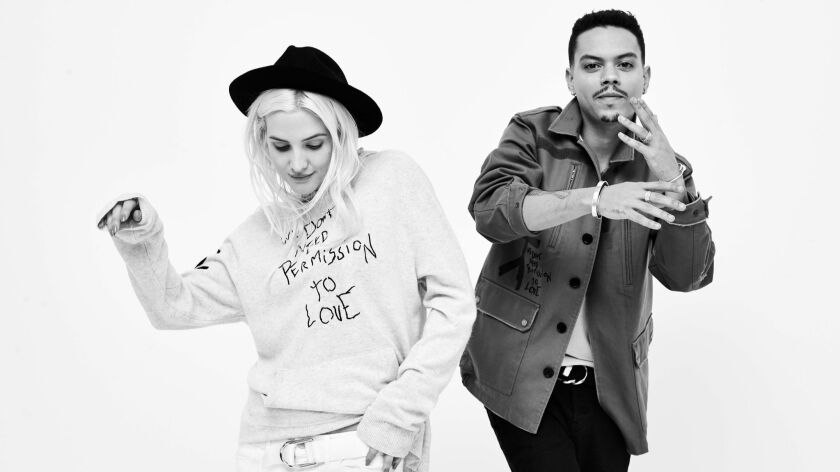 If the couple who creates together stays together, then husband-wife duo Evan Ross and Ashlee Simpson-Ross are pop-rock solid. Along with their new E! reality show and forthcoming joint album, the pair also has found time to collaborate with Zadig & Voltaire on a new unisex fashion capsule called Jagger Snow.
"We've always shared clothes," Simpson-Ross told The Times during an interview earlier this spring at the Zadig & Voltaire boutique in West Hollywood. "Evan has such great taste. When we first started dating, I was like, 'Yes, a new wardrobe!'"
Ross, who married Simpson-Ross in 2014, agreed. "We got together and got a whole new closet," he said, adding that he often borrows his wife's vintage T-shirts, jackets, kimonos and, now, Jagger Snow pieces.
Named after their 3-year-old daughter, the fall/winter 2018 capsule collection includes a cashmere sweatshirt, a denim trucker jacket, an edgy tee and boyfriend jeans. "We wanted to do something fun and wearable," Simpson-Ross said of the line, which is priced from $108 for a T-shirt to $628 for a dinner jacket. The 10-piece collection is available in Zadig & Voltaire stores and online at www.zadig-et-voltaire.com through the end of the year.
We were looking through lyrics and we wanted something that spoke to the idea of love and trying to make this world a better place.
Evan Ross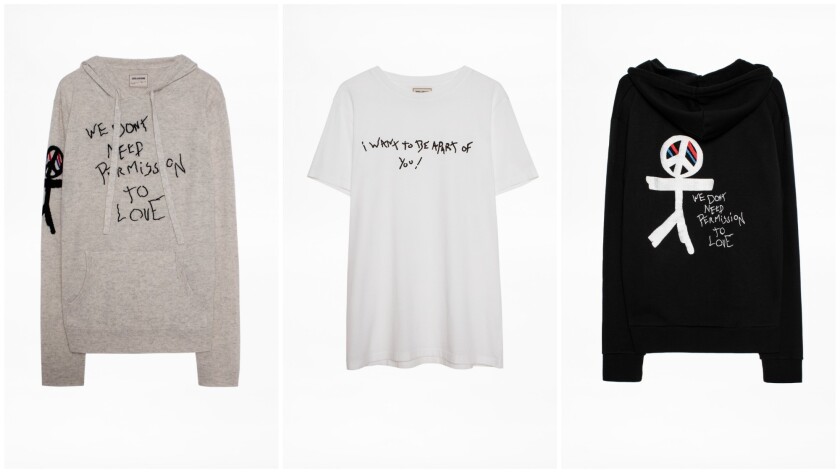 Beyond its name, Jagger Snow features a number of personal touches, including original drawings by Ross. "He does really cool stuff," Simpson-Ross said. "Evan is an amazing artist."
Ross said he drew inspiration for his fashion designs from Michael Jackson's wardrobe in the King of Pop's "They Don't Care About Us" video. The couple also decided to emblazon a few collection pieces with song lyrics from their new album. "We wanted it to have a piece of us," Ross explained. "We were looking through lyrics and we wanted something that spoke to the idea of love and trying to make this world a better place."
The couple said they had their supportive family members, including Ross' mom, superstar Diana Ross, and his older sister, "black-ish" star and Emmy nominee Tracee Ellis Ross, and Simpson-Ross' sister, singer and entrepreneur Jessica Simpson, in mind as they were working on the collection. "Jess will like this jacket a lot — it's very her," Simpson-Ross said, referencing a green army jacket from the capsule.
Then Ross pointed to the black blazer his wife was wearing and said Tracee would be a fan of the piece because "it's a great cut."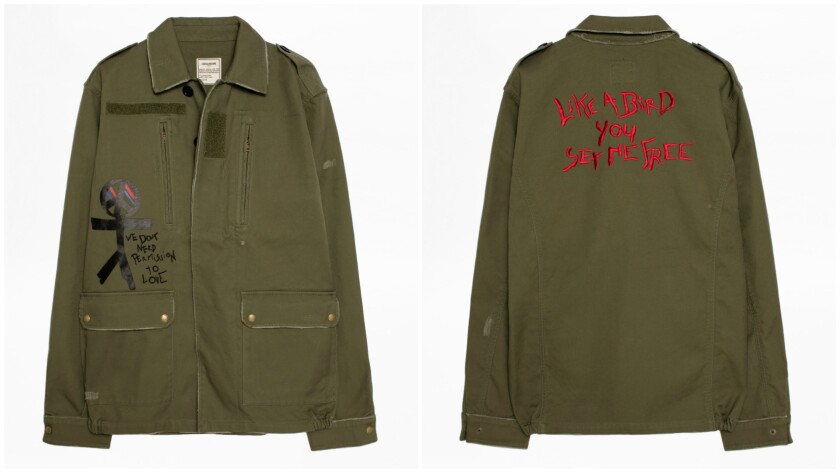 Although the gender-neutral collection was named after their daughter, Simpson-Ross said Jagger Snow has a distinctly feminine style all her own. "She definitely loves her tutus," she said, adding that Jagger Snow is also a fan of princess dresses.
"If she's feeling her outfit, she'll definitely go check herself out in the mirror," Simpson-Ross said with a laugh.
"She gets that from her mom," Ross added.
"And she loves if I wear a dress," Simpson-Ross continued. "She'll say, 'Mama, you have a tutu on.' She wants me to dance if I wear a dress. It's very cute. Some of the things that I have she'll want to put on." Simpson-Ross said she often caves and will let her daughter wear her dresses, which then regularly prompts a performance from the little girl. "She'll sing Evan's mom's song, 'Stop! In the Name of Love,' with a sequined dress on," she said.
The couple is also in the midst of fine-tuning their joint album (expected to drop in October), which infuses Simpson-Ross' pop/rock background with Ross' love of R&B and soul. They said many of the songs are a nod to yesteryear; they worked with Verdine White from the classic funk and soul band Earth Wind & Fire on the project.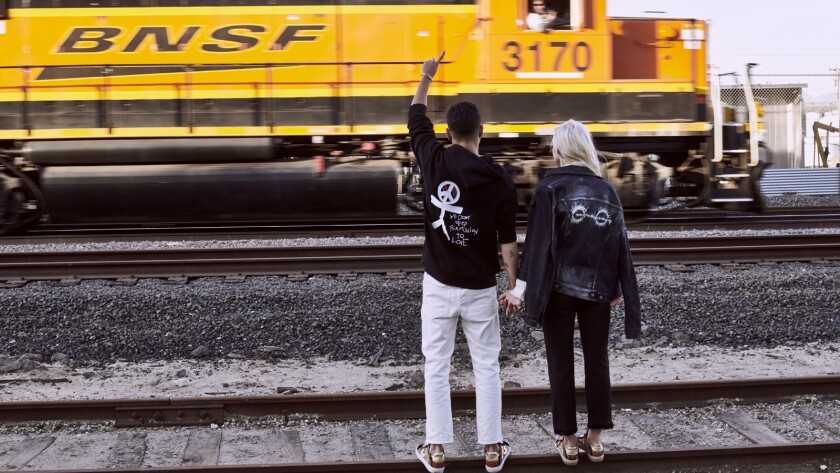 Ross said the best part about being frequent collaborators is "getting to spend time with each other." It's a natural partnership — personally and professionally. "We always sing together," said Simpson-Ross, adding that she and her hubby first connected over music.
"We met dancing with each other," Ross explained. "We were at a house party."
"It was my friend's birthday," Simpson-Ross said.
"I knew her friend, and I was like, 'You guys should come by the studio,'" Ross said. "So we went back to the studio and then we were making out."
"So funny," Simpson-Ross said with a chuckle. "We didn't record a song that night."
"I'm glad we didn't record that night," he said, laughing at the memory.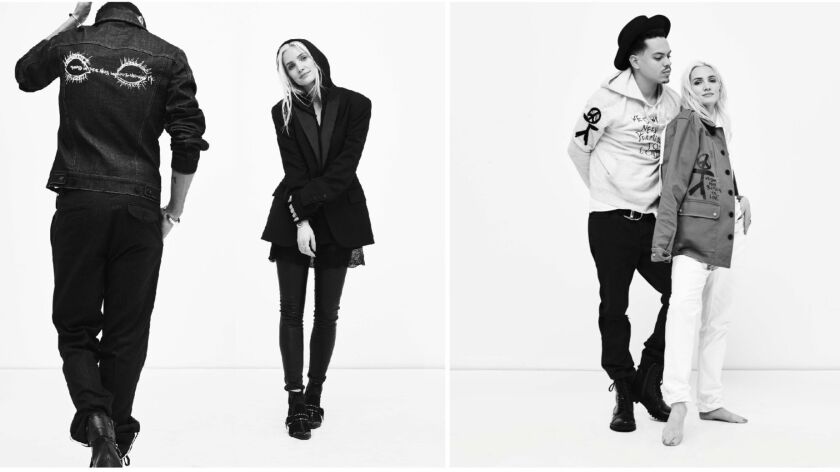 In their new E! series, "Ashlee+Evan," which debuted earlier this month, fans of the couple are getting a closer look at their husband-and-wife antics. "A lot of times what people see is what they hear or what's on your Instagram," Ross said. "A photo or something like that [doesn't allow you] to really get to know someone. It's nice to be able to share the process of us making an album as well as who we really are."
Simpson-Ross has experience with the reality TV genre, having starred in MTV's "The Ashlee Simpson Show" in the early aughts. "It was different for me this time," she said of the new show.
Ross said they enjoyed the process of shooting the show with Jagger Snow and Simpson-Ross' 9-year-old son, Bronx Mowgli, from her previous marriage to Fall Out Boy's Pete Wentz. Viewers, Ross said, will "get to see us in love and having a good time and loving our children and making music."
For fashion news, follow us at @latimesimage on Twitter.
---