Badgley Mischka adds another luxe layer to the retail scene at Sunset Plaza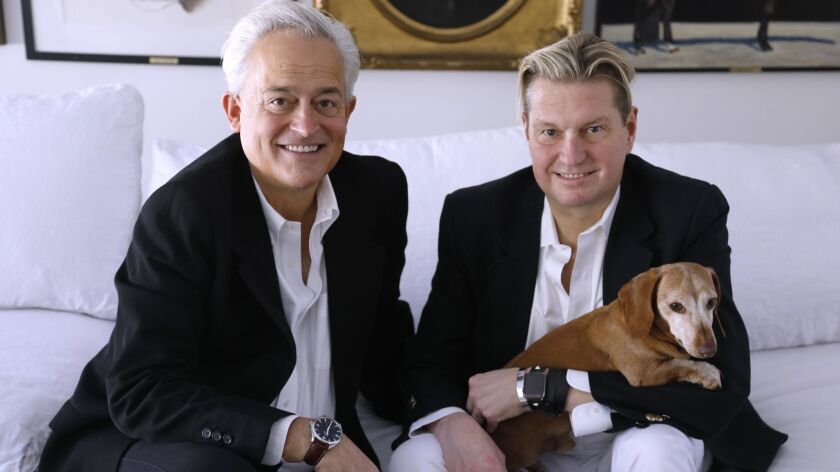 Mark Badgley and James Mischka, principal designers and co-founders of fashion label Badgley Mischka, wanted to show some couture gowns to a clutch of Hollywood super-stylists.
So one morning late last year, the couple invited guests to their new Beverly Hills home, where they had $10,000 dresses on display, suspended from the lemon trees encircling the swimming pool.
"It was better than hanging them up in an office with fluorescent lighting," Badgley said.
Later that week, the designers presided over the opening of their newest store in a storied Hollywood Regency-style building at 8619 Sunset Blvd. in West Hollywood that dates to the 1930s. This new flagship at Sunset Plaza replaces their store on Rodeo Drive.
"We've always had an affinity with this area," Badgley said. "It's not so intimidating and it's a real destination."
The designers were chatting shortly before the official opening party — attended by Caitlyn Jenner and Molly Shannon — which was held partly to celebrate the brand's 30th anniversary as well as the move to West Hollywood.
"It was a perfect storm," Badgley said.
The designers say they want the new space to reflect the entire breadth of the Badgley Mischka repertoire and not just the wedding dresses and evening gowns the brand is known for — dresses that have been worn on the red carpet by A-listers such as Helen Mirren, Oprah Winfrey, Taylor Swift, Madonna and Jennifer Garner.
The brand's expansion into other categories — denim, sportswear and sunglasses, to name a few — gives the designers reach into a younger and more casual clientele, one that shops on Instagram and takes cues from obscure fashion blogs. (This week, the label had its fall/winter 2019 runway show at New York Fashion Week.)
"When we started, there were three major [editorial] voices in fashion," Mischka said. "Now there are thousands. Just the amount of information out there has been an exhilarating thing for us. Our customer doesn't like to be dictated to anymore. She doesn't care what's on the cover of a fashion magazine. She's doing her own thing. She wants the information and makes her own choices."
The store has a private upstairs room for special orders, which Badgley said works "in a charming old-school manner."
"It caters to a customer who sets up an appointment because she needs a beautiful gown," he said, "but then tells us she saw a swimsuit on Instagram and [asks whether that can] be here as well."
The boutique's main floor, finished in a luxurious but modern aesthetic, carries a bit of everything else — formal and casual, accessories, fragrances and shoes. On a rack of embellished evening gowns is a jumpsuit, clearly designed with young Hollywood in mind.
"Customers can find anything online," Badgley said. "It's up to us to create an experience of wonderful service in a beautiful shopping environment. There needs to be a reason for a store presence to be valid."
Although there are less-dressier components of the collection, Badgley said, "there is always a glamour element to everything we do that makes it us, whether it's a pair of jeans or a dress or a red-carpet gown. We've never wanted to be everything to everybody. We're not about dressing down or casual Fridays. But we're not just about the $10,000 dress either. We want to offer a variety of product categories that make sense."
These include a belted trench coat at $179, soft lambskin biker jackets at $395 and a knee-length black skirt at $295.
"The trend in high-low continues," Badgley said. "It used to be that our couture customers would just stay on the couture floor of the department store. She wouldn't dream of walking onto any other floor. But now she doesn't care. She just wants to find stuff she loves, whether it's something simple and fun and silly, or something serious for a big night. Customers today are shopping across the board."
Deep into this awards season, the designers said that after 30 years in the business, they still never know who will step onto the red carpet in one of their gowns.
"It's still a big deal and a fun part of what we do," Mischka said. "But you never know. It's so political. It's big business. And it's nerve-racking."
For fashion news, follow us at @latimesimage on Twitter.
---