Fashion plate Bill Murray launches golf collection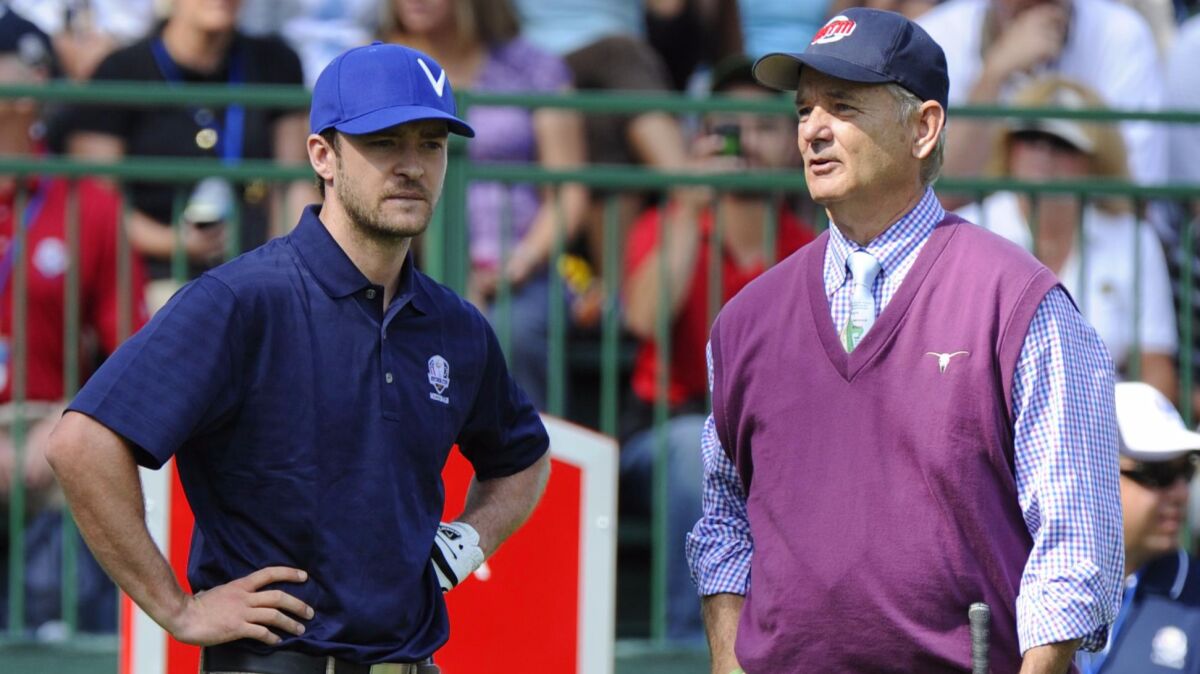 Carl Spackler wasn't much of a looker. The greenskeeper played by Bill Murray in the 1980s cult hit "Caddyshack" opted for a dirty T-shirt, combat boots and a camo bucket hat — complete with chin strap — as he waged war on a marauding gopher.
But while his fashion choices may have been dubious, that hasn't stopped the actor from mining the film's legacy for his latest venture.
On Wednesday, Murray's company, Murray Brothers LLC, in partnership with Resignation Media, launched William Murray Golf, a new lifestyle and apparel brand that is being described as having "a little irreverence and a lot of style." That is evident in the polo shirt with a print of high-ball glasses, and the exploded plaids and argyles on shirts and shorts. The logo for the line is an illustration of Murray tossing a golf club into the air after an errant shot.
The full collection will be available on Resignation Media's site, thechivery.com, as well as williammurraygolf.com starting Oct. 20. However, on Wednesday, in celebration of the actor's 66th birthday, William Murray Golf has released a Chicago-themed polo with pinstripes that mimic a baseball jersey, as well as two hats with the illustration of Murray on the front. The polo retails for $75 and the Flexfit caps for $32. The polo is moisture-wicking and wrinkle-resistant and the hats feature a script version of the William Murray logo.
A portion of proceeds from Wednesday's sales will be donated to the Murray family's favorite charity in Chicago, Mercy Home for Boys & Girls, which helps break the cycle of neglect and abuse for Chicago-area children and young adults.
The Chicago-born Murray is avid golfer who has won the Pebble Beach Pro-Am golf tournament; been inducted, along with his five brothers, into the Caddie Hall of Fame; once pinch-hit a single for the minor-league Grays Harbor Loggers of the Northwest League; and is a co-owner of the Charleston RiverDogs baseball team. The Murray brothers also host a charity golf tournament, Murray Bros. Caddyshack Charity Golf Tournament, in St. Augustine, Fla., every year.
Murray, who carries a 7.2 handicap, according to Golf Digest, is among the top celebrities to play the game. His favors Pebble Beach but his index is on the East Coast, the magazine said. He and his brothers have been around golf their whole lives and he even worked as a caddie during high school, where he learned "how to smoke, curse, play cards," according to Cinderella Story: My Life in Golf, the book he wrote about his love of the game in 1999.
While he's quite serious about his game, his style on the course can be pretty outrageous. In 2012, he famously played a celebrity tournament prior to the Ryder Cup where he's pictured with a conventionally dressed Justin Timberlake wearing hulu girl-print pants and complementary green tie with a blue gingham shirt and a Texas Longhorns purple vest.
Actor Joel Murray, the youngest of the six Murray brothers, said the family's history with golf helped foster a lifelong love of the game. "Growing up caddying helped us learn about strict adherence to rules and subservience," he said. "Caddying also helped us learn we had no interest in either."
Joel Murray described the line this way: "The designs being created are fun, spirited and run the spectrum — enough classic looks that the purists will appreciate, as well as some subtly irreverent looks that non-traditionalists are going to love."
"We're going to create a whole new level of excitement to the game," said John Resig, president of Resignation Media. "Our clothing will focus on bringing high quality, performance elements with creative designs for golfers who want to keep it light."
Professional golfer and 15-year PGA Tour veteran Pat Perez will serve as the first brand ambassador. He will wear the line both on and off the course.
---