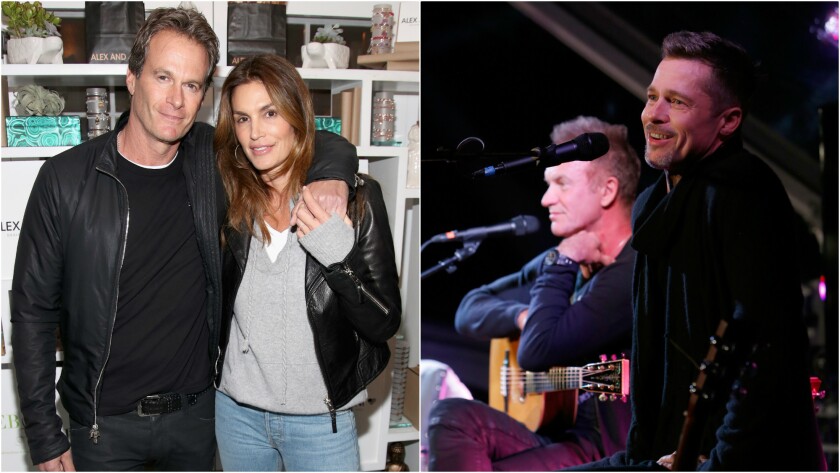 At the Malibu home of Hollywood talent manager Marc Gurvitz, Kaley Cuoco of "The Big Bang Theory" struck a pose with a child who has epidermolysis bullosa, a rare and debilitating skin disorder.
Cuoco joined several actors and celebrities at the star-studded Rock 4 EB! on Saturday to raise money and awareness for the Epidermolysis Bullosa Medical Research Foundation.
Then the youngster asked if he could attend a taping of Cuoco's hit show, and she responded, "Consider it done." Turning to us, Cuoco said, "No question, he'll spend the whole day with us. This [charity] has become something very dear to my heart."
Star power blazed at this affair with Courteney Cox, Elizabeth Olsen, Heidi Klum, Kevin Nealon, Ed O'Neill, Jay Ellis, Scott Foley, Marika Dominczyk, Cindy Crawford, Rande Gerber and others in attendance.
Outside on the lawn, "Saturday Night Live" veteran David Spade took a moment to chat with Natalie Morales of "Access Hollywood."
Rami Malek of "Mr. Robot" caught up with Brad Pitt inside the tent before the show, which featured this year's host, Zach Galifianakis of "Baskets," and musical performances by Sting, Chris Cornell and Sting's eldest son, Joe Sumner.
Andrea Pett-Joseph, a talent manager and foundation board member whose 13-year-old son, Brandon, suffers from the skin disorder, said: "They're all friends [and] supporters. A lot of these people came to the hospital when Brandon was born. They know Brandon a long time and they know it's a cause that's very personal."
Here are five moments you missed if you weren't there.
An estimated 650 guests attended the benefit, sponsored by jewelry and accessory designer Alex and Ani. Tickets sold for $1,100 each, and food stations dotted the lawn, offering goodies from D'Amore's Pizza, Pink's Hot Dogs, Wally's, Great Taste Catering, Sprinkles Cupcakes and other vendors.
Before the musical performances, Pett-Joseph addressed those in attendance, urging them to use their influence to raise awareness for this lesser-known skin condition. "Whatever your tool, whoever you reach, you have the power to get us closer to a cure," she said.
Kicking off the show, Galifianakis lamented his "no-win situation," saying, "I do not want to open for Sting. I am not worth it," before launching into a comedy set that proved his actual worth.
Later, Cox introduced Sting, who then introduced Pitt. Then Pitt introduced Cornell. Cox noted that she'd met Sting when she was 16 and said his appearance "means the world to me." For his turn, Sting called Pitt a great actor, producer, philanthropist and fellow winemaker, after which Pitt introduced Cornell as "a multi-platinum artist who has achieved success with three legendary bands," and then added, "I'm a huge fan."
Sting and Cornell offered a mix including Police and Audioslave songs such as "Message in a Bottle" and "Like a Stone," respectively, while Sumner performed his new single, "Jellybean," during their time onstage. The audience, at times, didn't just jump to its feet but also sang along.
Ellen Olivier is founder of Society News LA.
ALSO
Kristin Bell, Mena Suvari, Louise Roe join celebration for Tome, Swarovski Collective's collaboration
Stars including Janelle Monae and Cindy Crawford help Marie Claire magazine fete its 2017 Image Makers
---