Celebrity tattoo artist Brian Woo, a.k.a. Dr. Woo, opens a secret studio inside a famous Hollywood hotel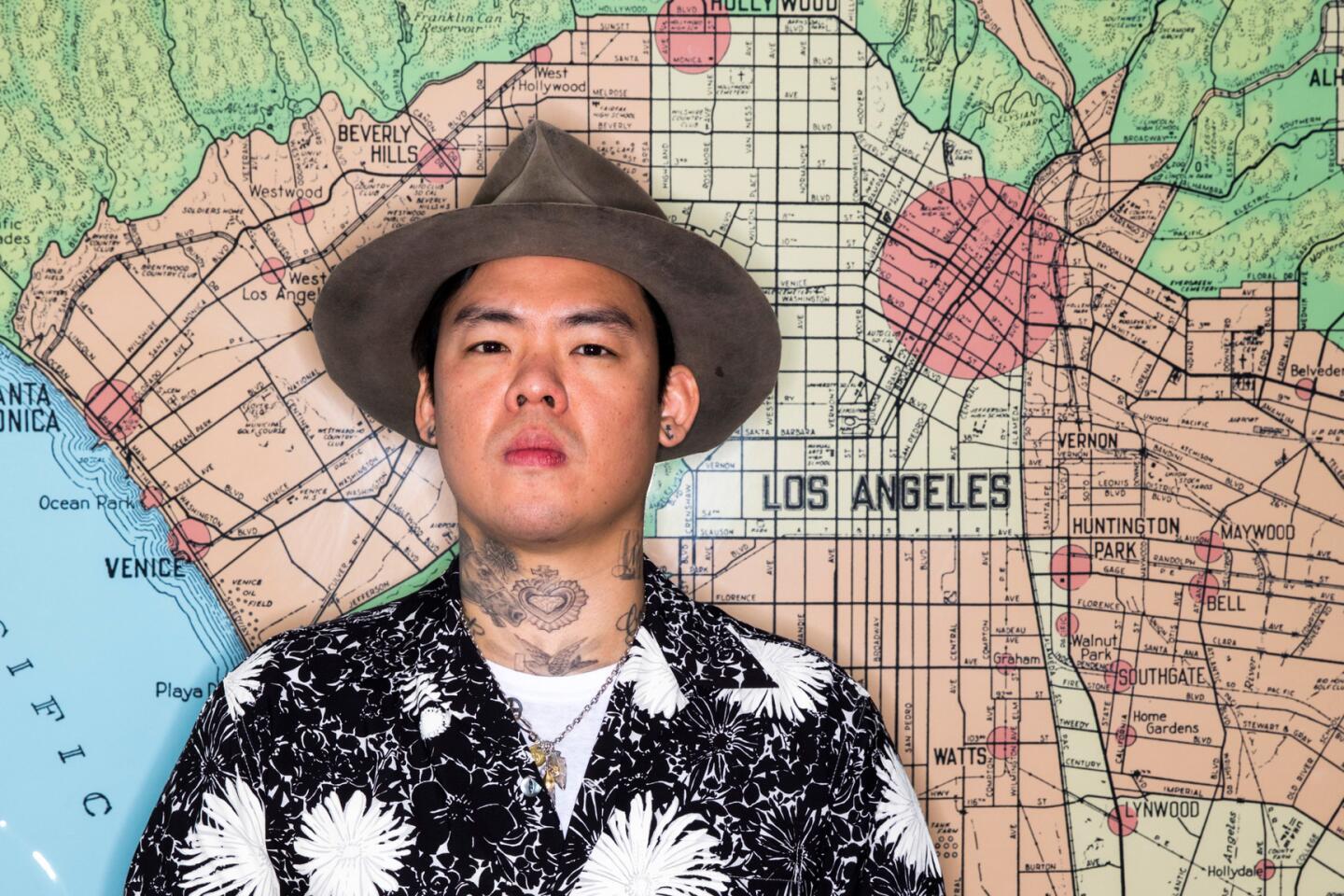 Celebrity tattoo artist Brian Woo, a.k.a. Dr. Woo, opened a new, secluded tattoo space inside the Hollywood Roosevelt Hotel. Woo, formerly of Shamrock Social Club, has become one of the most celebrated tattoo artists in Los Angeles.
(Jay L. Clendenin / Los Angeles Times)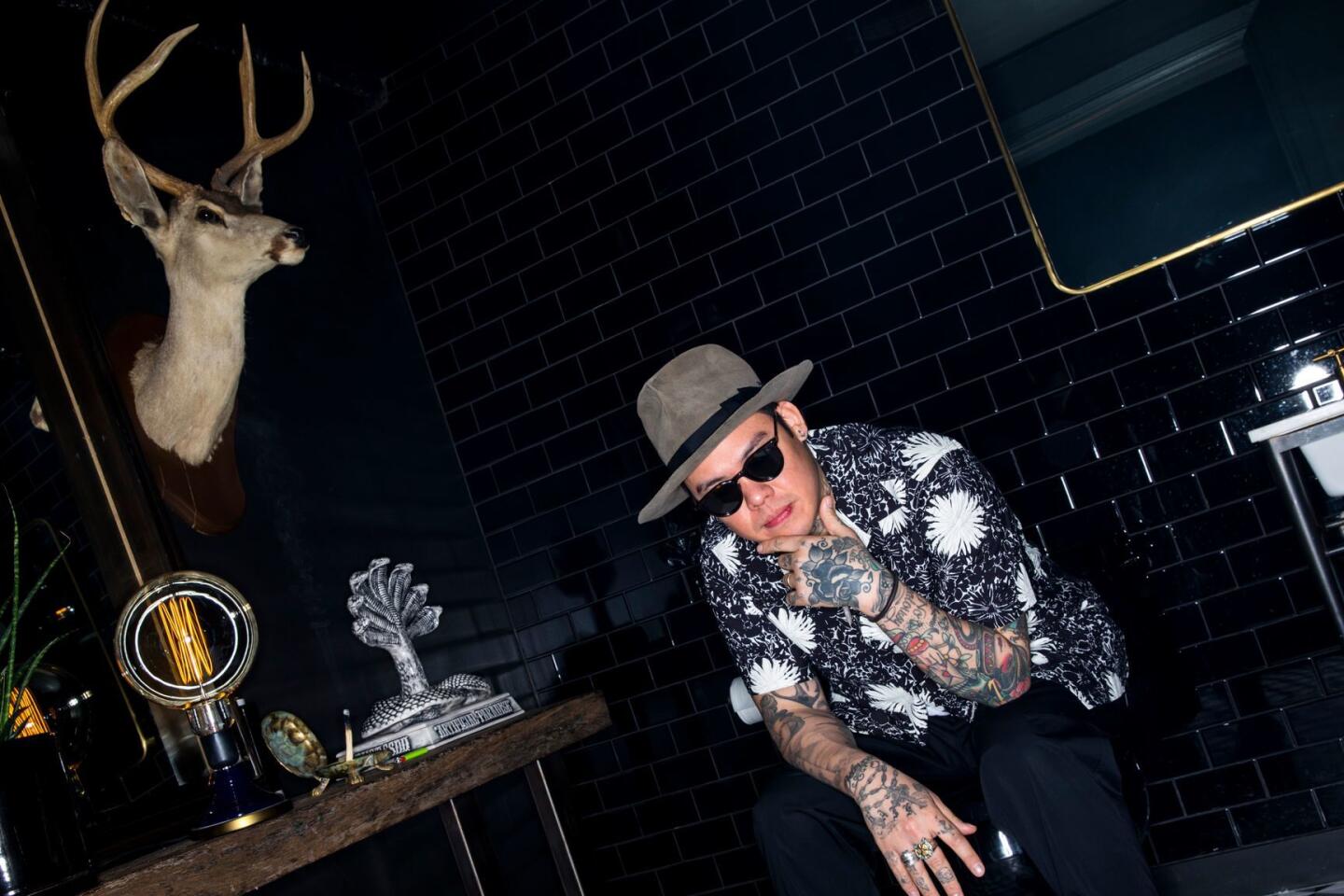 Brian Woo, A.K.A. "Dr. Woo," inside the bathroom of his new space at the Hollywood Roosevelt Hotel. Woo, formerly of Shamrock Social Club, has become one of the country's most celebrated tattoo artists.
(Jay L. Clendenin / Los Angeles Times)
Ask for directions to the new Hollywood studio of tattoo artist Brian Woo, a.k.a. Dr. Woo, and you'll get a number of conflicting answers.
"I've never heard of it," says one passerby. "I hear it rotates spots every month," offers another. "Good luck," adds a third.
And Woo is just fine with that.
"Once you have the golden token to come [to the studio], you know it's here," says the 36-year-old father of two, who started working out of the Hideaway at Suite X, his new by-appointment-only studio inside the Hollywood Roosevelt Hotel, in November.
It's a space where the artist can not only tattoo clients but also draw them into his finely curated world of art, furniture and design. And for now, Woo likes the idea of his first spot having an air of mystery and seclusion.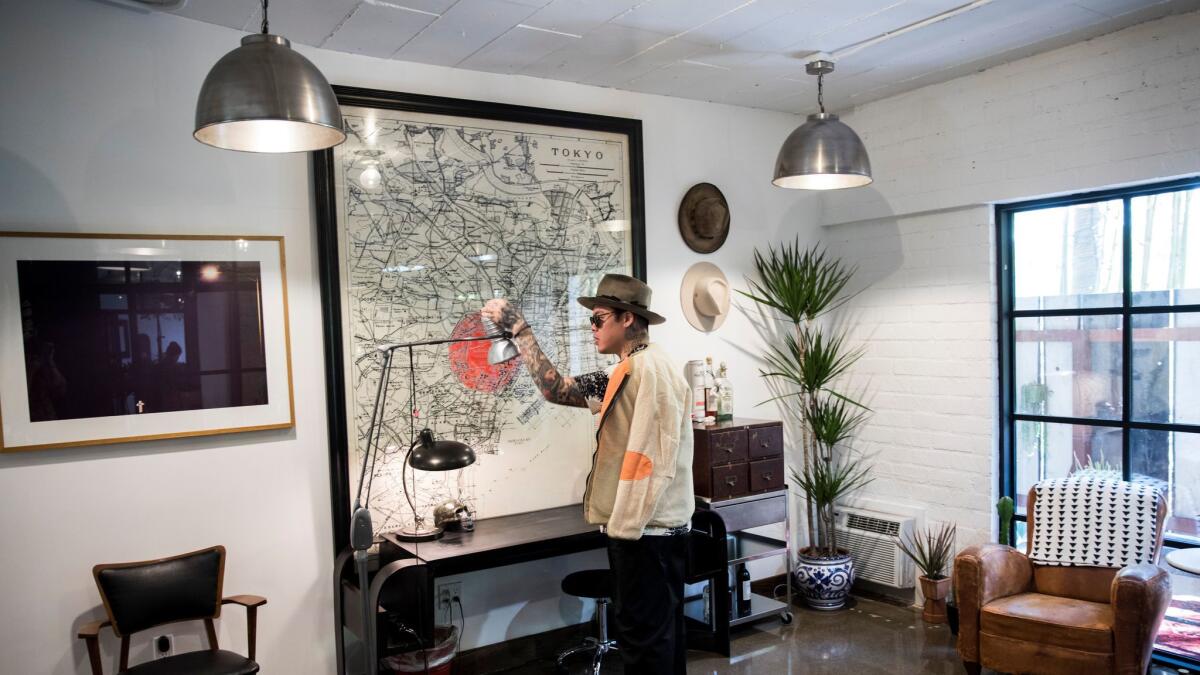 Take it from the man who worked at the high-profile Shamrock Social Club tattoo shop on Sunset Strip for almost 10 years, making his way up the ranks from a bright-eyed apprentice to becoming one of the country's most in-demand artists through his deft needle and intricate, detail-laden designs. Along the way, he has racked up 1.2 million Instagram followers and a star-studded client list, including Zoë Kravitz, Emilia Clarke, Drake, Miley Cyrus and Cara Delevingne.
A born-and-raised Angeleno, Woo developed a fascination with tattoos in his early teens as a way to rebel against his Taiwanese immigrant parents. "My friend Chris and I would hand-poke India ink smiley faces and letters on each other after school at 12 or 13. We wanted to push against the norm," says Woo, who graduated to professionally rendered tattoos at age 14, starting with a dragon on his ankle.
Woo was still a high school student at Oak Park High School when he was first inked by Mark Mahoney, widely hailed as the godfather of black-and-gray single-needle tattoos. He continued to pay visits to the artist's coveted tattoo chair for the next 10 years until Mahoney, who had since opened the doors to Shamrock, offered Woo a job as an apprentice. At the time, Woo was managing the now-shuttered clothing store Halo and trying to get his fashion brand, Surrender Everything, off the ground. The thought of becoming a tattoo artist had never crossed his mind.
"It was too intimidating," says Woo, who had pursued sketching and abstract painting since middle school. "To be a tattooer, you have to be a good renderer. I was never confident like that."
But what Woo perceived as his own lack of skills he made up for in persistence. The next two years were spent at "the bottom of the totem pole," he says, doing everything from cleaning Shamrock's floors, toilets and equipment to setting up and breaking down other artists' stations and dealing with drunkards who wandered in off the Sunset Strip.
Eventually, he began to tattoo walk-ins, taking cues from his mentor Mahoney's signature fine-line style and absorbing lessons on aesthetics and tattoo composition from the other guys in the shop, who also bestowed him with his moniker ("My parents always wanted a doctor. So they finally got one," he says, one of the stories behind the nickname).
"At the time, nobody was putting that much effort or thought into small walk-ins. Everyone was thinking really big," says Woo, who would also take into consideration the tattoo's placement, treating the body as part of the art itself.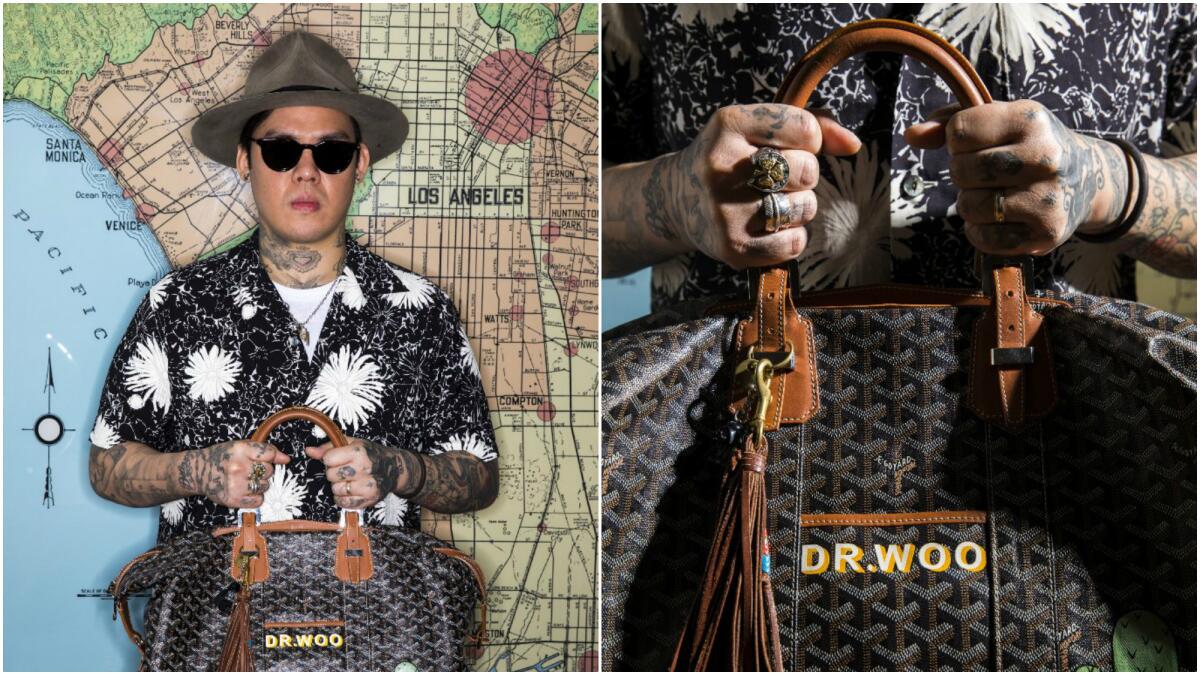 In 2013 Woo saw his popularity begin to rise; suddenly his schedule was booked months in advance. Woo and his assistant eventually stopped answering phones, and he began to open his schedule to bookings once every two months via e-mail. In response, hopeful clients would form snaking lines outside the shop, trying their luck for a walk-in with Woo.
"I really grew and matured at Shamrock but I feel like there was nowhere left to go there," says Woo, who parted ways with the West Hollywood tattoo shop last fall. "That's Mark's place. That's forever going to be his temple. I can't build something in someone else's house like that."
Woo spent months looking for a location before homing in on an ultra-private spot inside the landmark Hollywood hotel. "It's not 'Dr. Woo at the Roosevelt,'" Woo insists. "It's entirely separate."
There's a whole world inside my head. I just want to share it.

— Brian Woo, celebrity tattoo artist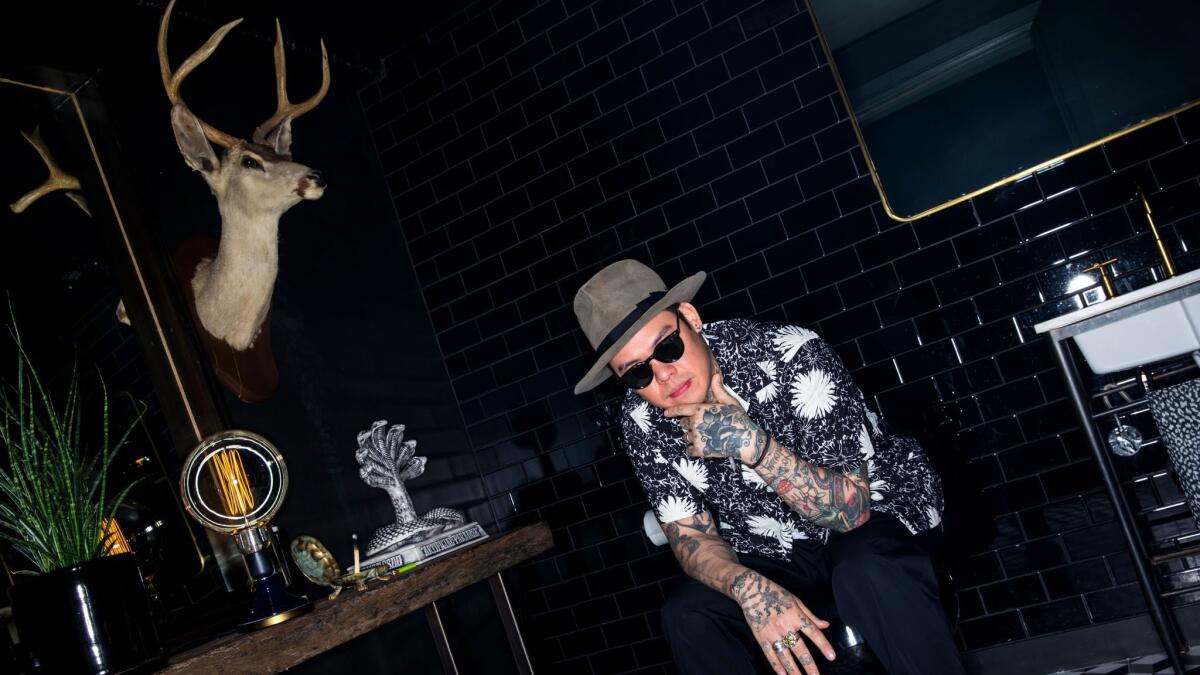 The studio is a reflection of Woo's highly stylized universe, brought to life with help from his friends, including interior designer Courtland Bascon who helped Woo overhaul the space.
A Westin Mitchell-designed coffee table piled with books and magazines anchors the seating area alongside a leather Chesterfield sofa and reupholstered chairs. Work from friends including photographer Rick Rodney and Woo's jiu-jitsu sensei, the fashion photographer Stefan Kocev, grace the walls, alongside oversize maps of Los Angeles and Tokyo ("I'm always between the two places," says Woo), and a vintage dartboard that once belonged to his mother-in-law.
Mementos from Woo's travels, such as Neighborhood incense chambers from Japan and his collection of figures by pop artist Kaws, lend a personalized touch throughout the space, while two well-worn bespoke hats from L.A. milliner Gunner Foxx nod to Woo's keen interest in style and passion for handmade pieces. "Fashion is my first love," says Woo, who favors brands such as Alyx and Visvim paired with vintage Levi's, leather jackets and well-knit plain tees.
There are days when Woo misses the buzz of Shamrock. "It was crazy, it was loud, the energy was good," he says. "It's so chill here." But the new studio is also symbolic of a new phase in his career. A collaboration with Converse, set to debut in November, hints at the fact that Woo is looking beyond a tattoo-only horizon.
"There's a whole world inside my head," he says. "I just want to share it."
ALSO
Graffiti artist André Saraiva on why he likes 'the vibe and spirit' of L.A. and his new Uniqlo collaboration
New Coach & Rodarte collaboration is seriously stylish and slightly surreal
& Other Stories teams with L.A.-based Toms label for new apparel and footwear collection