Shoe designer Charlotte Stone opens Platform pop-up before stepping into new digs in downtown L.A.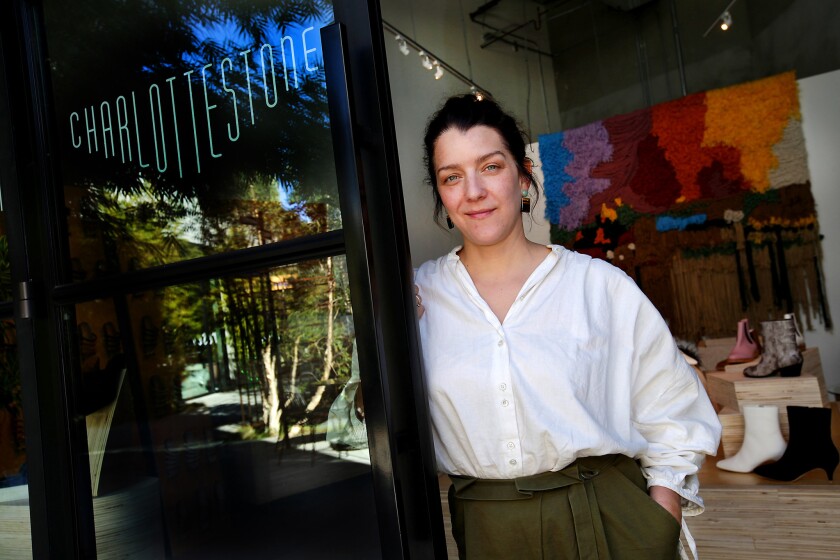 An obsession with her mother's collection of Stephane Kélian shoes was the first sign of footwear designer Charlotte Stone's future career.
Later, a pair of square-toe, strappy '90s Calvin Kleins "with a killer stiletto heel" cemented her fate. "I moved to Toronto right out of high school into a tiny studio apartment, and I learned about Holt Renfrew, this fancy department store," Stone said.
"I spent my rent on a pair of Calvin Klein shoes, and that was the beginning of the end," the 41-year-old designer said on the phone from her Ventura studio. "I'm actually looking at them right now. I keep them on my desk to remember."
It's worth noting that Stone no longer wears the painfully high yet classic footwear.
Stone makes — and wears — her own comfortable, technicolor sandals, flats, mules and booties, which are coveted by Brie Larson and others. (Stone grabbed Larson's attention with an Instagram post of her line's Gloria sandal.) Her list of fans includes Emma Roberts and Solange, the first celebrity to wear Stone's footwear. (She did so on her honeymoon.)
"I can always count on a Charlotte Stone shoe when I need a pop of color, a rock 'n' roll boot or a statement shoe," said stylist Djuna Bel, who has worked with Hollywood types including Millie Bobby Brown as well as brands such as Coca-Cola.
Now for the first time, Stone's entire collection is available in one bricks-and-mortar space, a Platform pop-up (8850 Washington Blvd., Culver City) running through April, before she's sent to open a permanent location at Row DTLA later this spring.
Early in her design career, Stone put in serious time creating footwear collections for Joie, Cynthia Vincent and Steve Madden, and this pop-up moment comes four years after Stone launched her eponymous label with an eye on the design freedom it would bring her.
Although Stone's aesthetic appears to dip a toe into different decades and vibes, what unites her collections is a fascination with intriguing materials. "I want it bright and shiny, but contrary to that, I also really love the natural leather look," she said. "I want people to get excited when they see the shoes."
She said she visualizes silhouettes or patterns in the prints themselves from time to time. "I see shoes in literally everything," said the surfer, who translates ready-to-wear into shoes in her head and rips apart vintage footwear styles to study construction, toe shapes and heels.
Stone said she also finds inspiration at the Lineapelle leather wares show in Italy she attends twice a year, which "is my favorite, favorite thing about what I do. I get a lot of juice there."
Materials for her label come from around the world, and shoes are produced in Italy and China. However, Los Angeles also factors into the equation as Stone ramps up local production. Her shoes, which range from $178 to $350, are sold at charlotte-stone.com and other retailers such as Amour Vert stores in California and locally at Myrtle.
Stone's spring 2018 collection, for example, features certified African block prints sourced entirely from downtown L.A.'s Ashanti Fabrics depot. Stone said she loved the vibrant colors of the fabric but also, "I read an article about how women would create stories about these prints in Africa."
One featured fabric had depictions of fans said to keep bad men at bay by blowing them away. "All these prints tell stories, and I thought that was really cool," Stone said.
As for her own story, a friend prompted Stone to vocalize her dream job while she worked for an uninspiring real-estate developer in Toronto, and Stone and her friend went to the Toronto Public Library to look at school brochures.
"In short order, I quit my job, moved home, saved all my money, enrolled at FIDM, came out [to Los Angeles] and never looked back," Stone said.
Two weeks into her first job post-graduation, she flew to Italy for work. For a dozen odd years, Stone worked "under someone else's art direction," creating shoes and enjoyed the work. However, she eventually wanted to explore other possibilities and making her own footwear.
One of things she focused on was comfort, a hallmark of her shoes. "It's a big deal for me. I want to make sure people aren't in pain," she said. High-quality memory foam in padding and upper materials as well as cork figure into her footwear designs. "It was something I took into consideration from the get-go," Stone said. "I wasn't interested in making super-high heels."
Stone's furniture designer husband, Steve Nasker of Pacific Wonderland Inc., is to thank for the pop-up concept. (Stone shares a Ventura auto shop-turned-studio with him and collaborates on his woven chair bottoms.) The pop-up features giant totems made of blond domestic birch plywood, scrap from Nasker's furniture. All color comes courtesy of Stone's collection as well as a massive weaving by Wonderland collaborator Annette Heully inspired by a view from Ojai of the recent Thomas fire.
Stone said a weaving workshop is to come, part of a laundry list of events and programming she has planned. However, the shoes themselves hopefully draw customers — perhaps Stone's dream wearer, Tracee Ellis Ross. ("I would die if she wore my shoes; she is totally fearless," Stone said.)
"Women say when they wear my shoes, people notice them, stop and ask them what they are," the designer said. "There's something interesting and different that makes people curious. I think it's a West Coast California thing. They're colorful and not too serious."
Please consider subscribing today to support stories like this one. Get full access to our signature journalism for just 99 cents for the first four weeks. Already a subscriber? Your support makes our work possible. Thank you.
For fashion news, follow us at @latimesimage on Twitter.
---