The designer behind Christy Dawn takes an ethical, eco-friendly approach to her L.A.-made line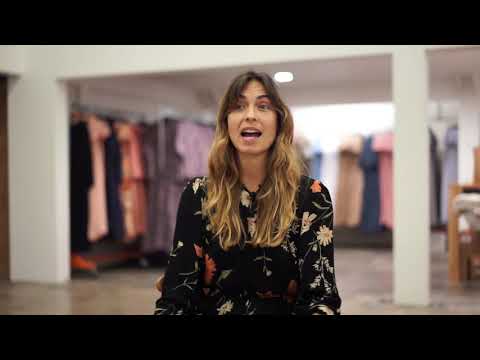 The designer behind Christy Dawn takes an ethical, eco-friendly approach to her L.A.-made line. (Jesse Goddard and Jennifer Molina / For The Times)
While working as a fashion model in Los Angeles, Christy Dawn Baskauskas tended to be more interested in what was going on around her than in the clothes she was wearing. She would casually observe how fashion brand executives worked and interacted with their staff members. And she imagined what it would be like to run a fashion business.
"I'd ask the stylists and designers questions," says Baskauskas, who modeled from ages 14 to 24. "I saw a lot of things that I loved, and things that I would do differently. I was always attracted to the people who treated their employees with respect. I would imagine a place where everybody would love coming to work."
The 31-year-old model-turned-designer now oversees a business where that fashion fantasy has unfolded. Baskauskas has 34 employees working in a high-ceiling, 12,000-square-foot manufacturing, design and office space in downtown Los Angeles, which the team moved into last year. Some of the employees have acquired a taste for the kombucha on tap. In the back of the space, there are foosball and ping-pong tables for staff tournaments that include trophies and celebratory lunches. The employees also are invited to movie screenings — a recent showing was the documentary "Fat, Sick & Nearly Dead" — where they're often served glasses of green juice. In contrast to the sweatshop scenarios that play out across the fashion industry, Baskauskas says she's proud to say that her employees are paid more than a living a wage.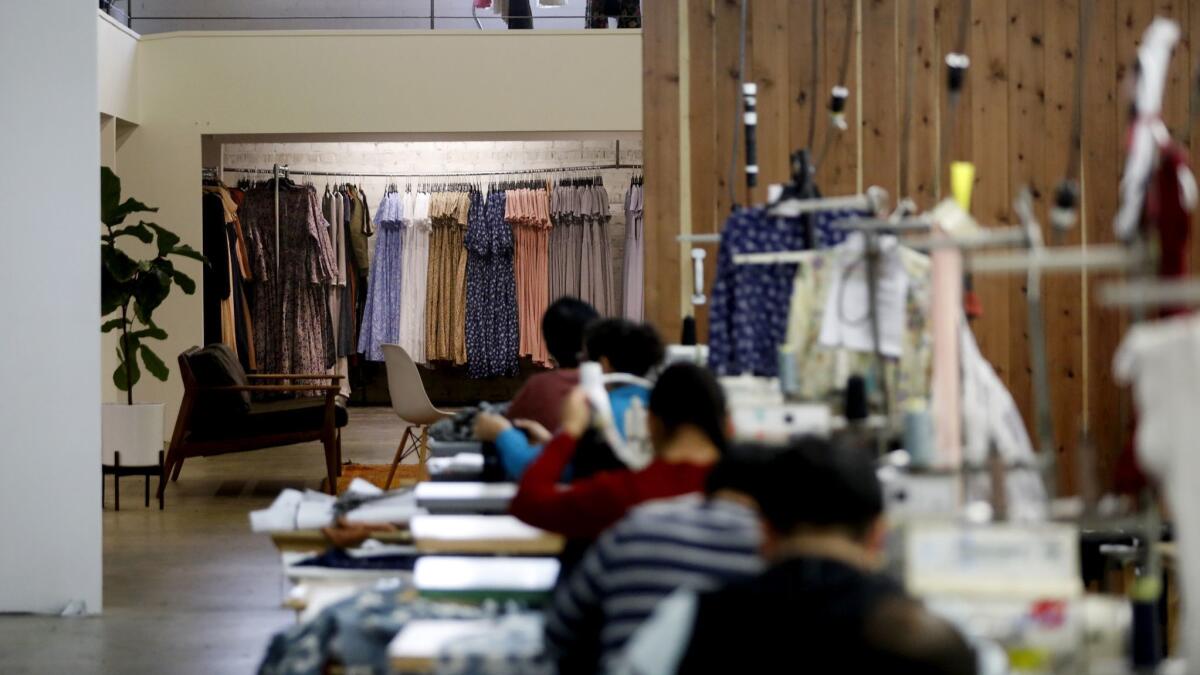 In 2013, Baskauskas started her eco-friendly and predominantly dress-driven Christy Dawn label with her husband, Aras Baskauskas, a musician and a "Survivor" winner. It began with an investment of $20,000, using the garage of their Santa Monica home as a workspace.
Because her objective was to create an environmentally conscious brand, she set out to source deadstock, basically remnants of fabrics that other fashion brands are about to toss into landfills, to make her label's designs. Her dresses, by virtue of the fabric alone, could be considered "limited edition." Some bolts of the fabric can make only five dresses.
"It's the opposite of what happens in fashion, where brands have to plan a year in advance and have different collections for each season," she says, wearing an ankle-length black dress with a floral design from her label. "Here, we use what is available. We go with the flow. There's something to be said for listening to your intuition."
Although she has no formal fashion training, Baskauskas has amassed a following of loyal customers, with many of her designs selling out hours after hitting her website, christydawn.com. She also has a store in Venice at 1930 Lincoln Blvd. Dresses sell for $190 to $380; bridal designs go up to $1,800.
Baskauskas recently got into knits with a line of sweaters ($360 to $390). The Frankie cardigan, for example, is a cozy, button-free, three-quarter length cashmere number in pale beige. This spring Baskauskas expanded her collection with the addition of embroidered dresses, and in October, the label will debut boots made from deadstock leather in three colors: dark brown, light brown and black.
"We're not making thousands of yards of fabric using thousands of gallons of water," she says. "We're not using dyes or outsourcing. The way we look at it — one man's trash is another man's treasure."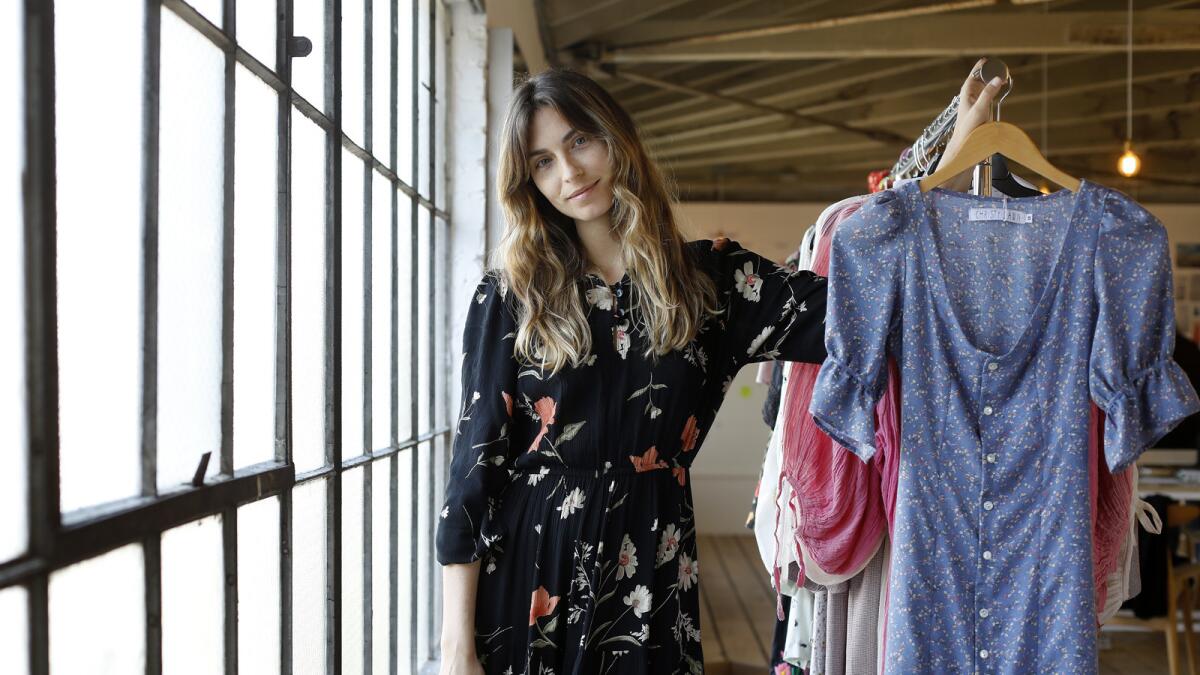 Born in Placerville, Calif. — "It's where you stop for gas on your way to Tahoe," she says — Baskauskas, as a young girl, would buy dresses with her mother at the local thrift stores and have them altered to fit her own aesthetic. "I love vintage, and I'd change the dresses and get compliments on them," she says. "When we started the business, I knew I wanted to bring that element."
Her designs also have that easy Californian vibe. Baskauskas' wedding dresses, often made of silk and lace, would look more at home in a sweet, rustic-chic forest ceremony than a wedding in a ritzy hotel ballroom. And her bestselling blousy Paloma dress has a long, full body, while the thigh-skimming Leah dress features a neat collar and cuffs.
"With a dress," Baskauskas says, "there's not a lot of hassle that goes into creating a look for the day. Just slip it on. Put on your shoes, and you're good to go."
For fashion news, follow us at @latimesimage on Twitter.