Coachella fashion: glitter, glow and those prints worn by men stand out during festival's first weekend
Fashion-wise, the big takeaway from Weekend 1 of the 2018 Coachella Valley Music and Arts Festival is that glitter goes with everything — even if you're not wearing much of anything. Silver glitter sparkled across bikini-clad torsos, flecks of pink glimmered from hair parts and smudges of gold accented cheekbones.
That glitter glut went hand in wristbanded hand with another of the festival's most noticeable trends — a multitude of metallics served up in chain-mail tops, metal mesh thongs, iridescent silver fanny packs, pleated pink metallic wings and full-length sequined skirts jangling with paillettes the size of Susan B. Anthony dollars. Also noticed was that women's hair was heavy on the metal with thin strands of silvery metal wire woven into long braids on some and gold leaf shellacked like a helmet on others.
At night, the glimmer of sunlight on polished metal gave way to a full-on glow — a battery-powered one — as shaggy faux fur coats twinkled from the inside with soft red and blue LEDs, and headpieces (a few in the old-school floral-crown style but most in a cat-ear silhouette) looked as if they'd been assembled out of Lite-Brite pegs.
Style-wise, the weekend undeniably belonged to the women, but there were some noticeable trends among the men in the mix too. The most ubiquitous was the all-over print camp shirt that, in addition to riffs on traditional Hawaiian shirt florals (pineapples, palm fronds, hibiscus blossoms) included an eye-catching assortment of drink umbrellas, tiny pink flamingos and pickles (yes, you read that right, pickles — as in dill).
Although festival footwear is always heavy on the sandals (for women) and slip-on Vans (for men), it appeared as if every other festival attendee during the first weekend of Coachella was shod in Vans' Sk8-Hi lace-up high-top sneakers (in black with the brand's signature jazz stripe in white) or custom-designed Old Skool lace-ups.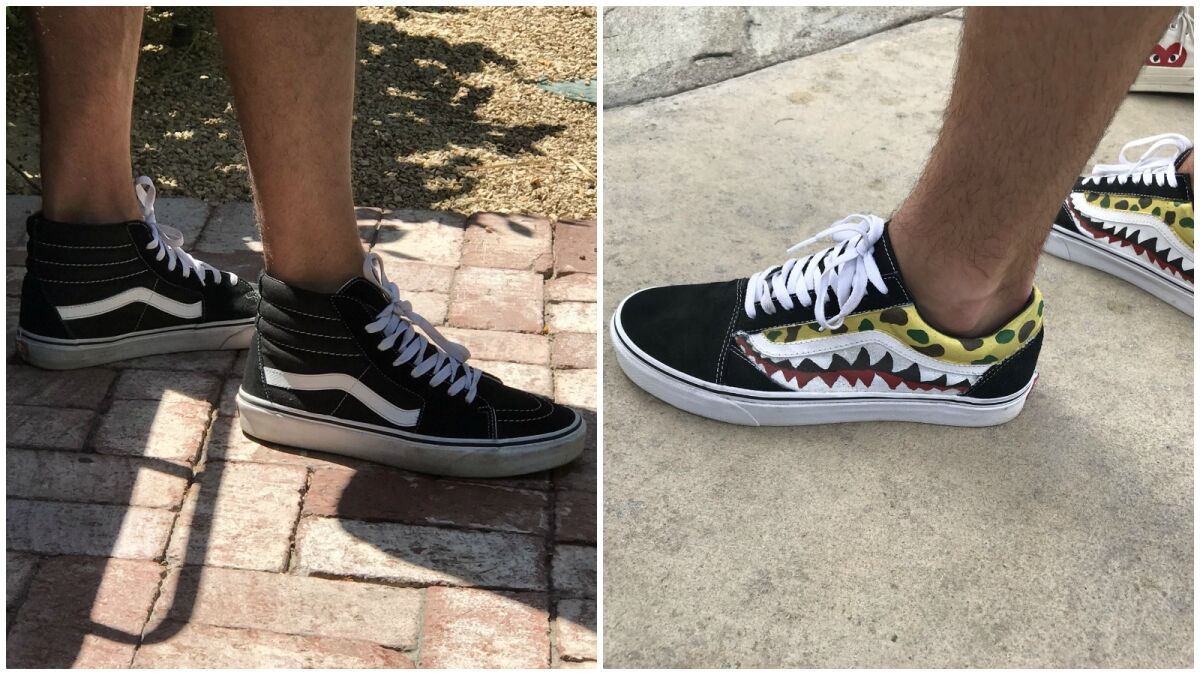 Thanks to the focus-pulling cornucopia of color and surfeit of sparkle north of the belt line, it would have been easy to forget the pants part of the equation (which seemed to have happened — literally — in at least a few instances) or simply overlook the sea of bottom-hugging hotpants, billowy cargo shorts,and frayed denim cutoffs altogether. There were people paying attention, though — very close attention. Among them was Jill Guenza, head of women's design for Levi Strauss & Co.
Levi's, like a handful of other labels, holds Coachella-adjacent events. Guenza started coming to the festival three years ago and said that what she sees at Coachella trend-wise — how people are wearing or customizing their clothes as well as what clothes they're wearing — has the potential to influence future seasons.
What particularly has leaped from festival field to retail in the past? "Croptops, fringing and black 501 jean shorts," Guenza said before heading to the first day of the 2018 event. And what did she expect to see trend-wise this time out? "I think jumpsuits are going to be big," she said, "and high-rise, straight-leg jeans. The high-rise — the 'mom jeans' look — is kind of a surprise. I'm still trying to get my brain wrapped around that one."
And sure enough, after we managed to look past the sparkle and glitter, we noticed there were plenty of high-rise denim cutoffs on the field of play. Jumpsuits? Not so much. But that might have been more a matter of practicality than anything else. As my traveling companion pointed out, the jumpsuit comes with some logistical challenges in a setting like Coachella — especially if you're a woman.
"I can't think of anything worse than having to navigate a Porta Potty in a jumpsuit," she said.
For more musings on all things fashion and style, follow me at @ARTschorn.