Burkinis, On Fleek abayas, Scout hoodies and more at the De Young's 'Contemporary Muslim Fashions' exhibition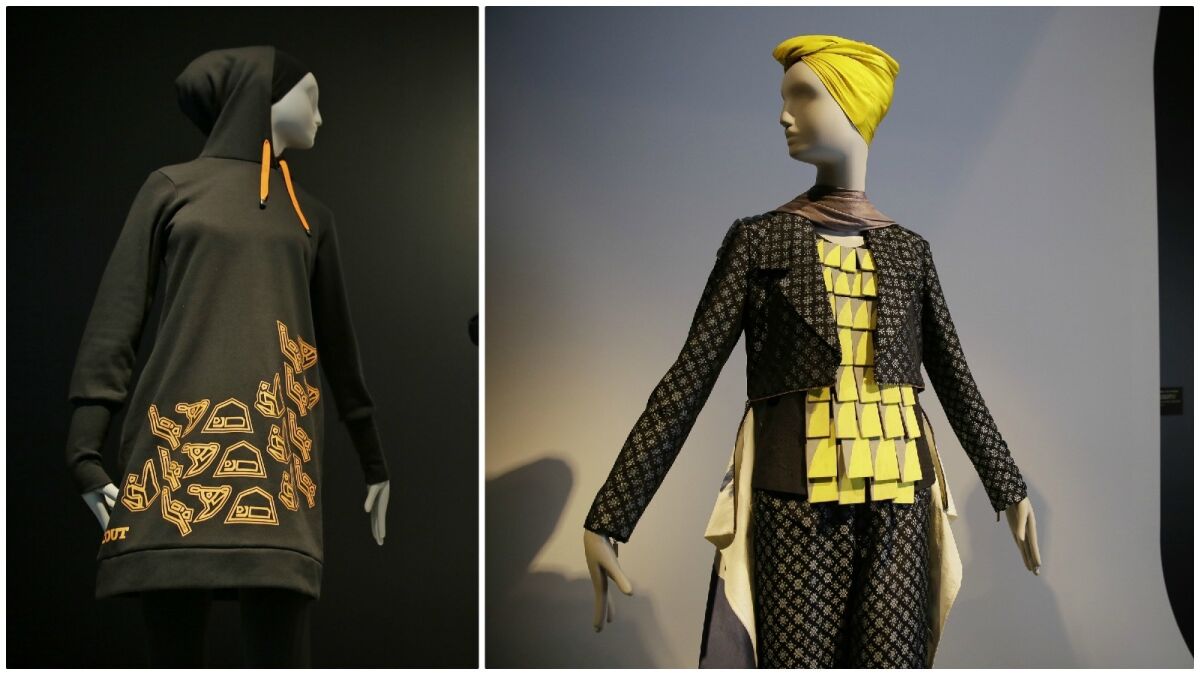 Reporting from San Francisco —
San Francisco's De Young Museum is currently home to the first major U.S. museum exhibition exploring Muslim modest fashion. Organized by the Fine Arts Museums of San Francisco, "Contemporary Muslim Fashions" examines the nuanced, complex and diverse world of Muslim dress codes, with a focus on the Middle East, Southeast Asia and diasporic communities throughout Europe and the United States.
"So often a museum looks back and does a historical overview, but this is really an emerging sector," said Jill D'Alessandro, curator in charge of costume and textile arts at the Fine Arts Museums of San Francisco.

For the record:
1:05 p.m. Nov. 16, 2018A previous version of this story and a photo caption misspelled the first name of designer Mariam Bin Mahfouz.
"Contemporary Muslim Fashions" opens with a hallway lined with the front pages of fashion magazines, including Harper's Bazaar Arabia, Scarf, Glam Malaysia and Vogue Arabia. The hallway leads to the first room, where four black and white looks are showcased on mannequins.
"This is a visual pun," said D'Alessandro. "As you go through the exhibition, the idea of something being black and white — or only having one interpretation — will be quickly dispelled."
The second gallery explores different forms of covering, including the headscarf. The work of designers who have updated and modernized the traditional abaya — a loose, black garment designed to cover the body — is showcased. Like designer Mariam Bin Mahfouz's On Fleek abaya, which is a white abaya with black details, inspired by the tuxedo.
Social media plays an integral role in the exhibition; the viral music video "Hijabi (Wrap my Hijab)" by Mona Haydar is featured, as well as a feed from the Instagram accounts of Muslim fashion designers, bloggers and influencers including Hoda Katebi, Leah Vernon and Basma K.
"Since the turn of the 21st century, Muslim modest-style arbiters have been among the first to adapt to blogging to share style news and share what they're wearing. This was primarily done because they weren't always included in mainstream fashion media," said Laura L. Camerlengo, the museums' associate curator of costume and textiles. "What we're seeing now is not only are they sharing their style and having great dialogue, but they're also using fashion as a way to make social and political points."
The streetwear and sportswear section of the exhibition features the work of Indonesian designers like Rani Hatta, who strives to erase gender stereotypes by showing men and women on her runway in similar styles, and Nzinga Knight, the first American Muslim "hijabi" contestant on "Project Runway," who created her own line of elegant and easy-to-wear modest clothing, in which the hijab is an integral element of the outfit rather than simply an afterthought.
Also featured within sportswear is Aheda Zanetti's "burkini" swimwear (so named by combining the words burka and bikini) and the "hoody dress" designed by Sarah Elenany for Muslim girls within the Scout Assn.
The work of the 55 designers on display is accompanied by their words — in the form of direct quotes on placards and on the walls throughout the exhibition.
Another segment of the exhibition examines the rich textiles and artisanship of Indonesia — the largest Muslim-majority country in the world. Designers such as Itang Yunasz, Khanaan Luqman Shamlan and Dian Pelangi incorporate luxurious fabrics in vibrant colors and intricate patterns in their modest-wear designs.
"Most of my collections are influenced by the culture in Indonesia, but sometimes I'll do an acculturation of two cultures — from New York, from Russia or from the Middle East," said Pelangi (whose name "Dian Pelangi" translates to "light of the rainbow" in Indonesian) during a walk-through of the exhibition.
The penultimate gallery features haute couture pieces from fashion houses Christian Dior and Jean-Louis Scherrer, displaying ensemble pieces of a dress and abaya made for a multiday Saudi Arabian wedding. The bright-colored pieces involve intricate details of metallic embroidery, sequins, rhinestones and beads.
"[Couture houses] take a designer style then make slight adaptions to fit with concepts of modesty," D'Alessandro explained. "This could mean adding a sleeve to a sleeveless shirt, adding a slip to a transparent skirt, lengthening the skirt. … The designer keeps the DNA of their style, yet still adapts to modest dress codes."
The final gallery, appropriately titled the "Grand Finale," features garments worn by Sheikha Moza bint Nasser of Qatar. The custom ensembles, altered for modesty, were designed by leading couturiers Valentino, Christian Dior, Jean Paul Gaultier and Chanel. Adjustments were made, for example, by adding a cape of bugle beads (on a Chanel piece) or raising the originally plunging neckline (on a Gaultier).
"Fashion is one of the universal languages we can use without saying anything," Pelangi said. "Many people don't normally know the real meaning of the hijab. People might think that people who wear hijabs are oppressed. But from social media, and from fashion itself, we are trying to show that we're not oppressed. We are very comfortable with it. And we can still be anything or anyone with our hijab on."
"Contemporary Muslim Fashions" runs at the De Young Museum until Jan. 6, after which it heads to Frankfurt's Museum Angewandte Kunst.
'Contemporary Muslim Fashions'
Where: De Young Museum, Golden Gate Park, 50 Hagiwara Tea Garden Drive, San Francisco
Info: (415) 750-3600
Hours: Tuesday through Sunday, 9:30 a.m. to 5:15 p.m.
Tickets: Adults $28, Seniors (65+) $25, students (with valid ID) $19, youth (6 to 17) $13, free for museum members and children younger than 5
For fashion news, follow us at @latimesimage on Twitter.
---