Jeremy Scott, Paris Jackson, Chrissy Teigen, John Legend attend the Daily Front Row's awards show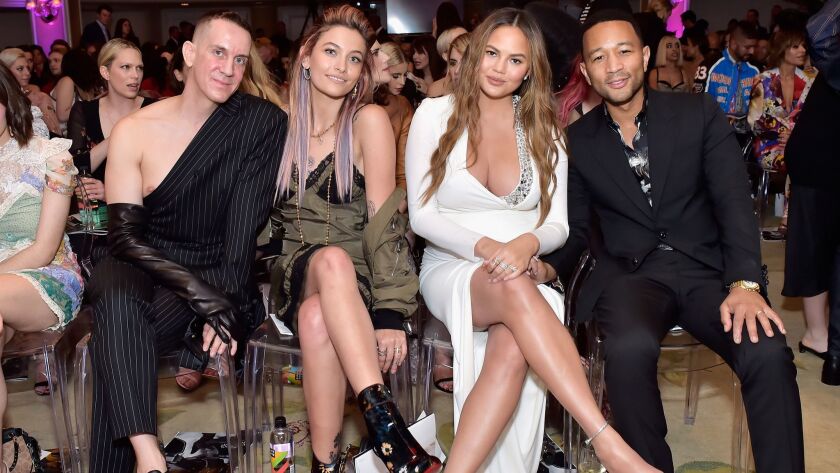 Paris Jackson audibly squealed upon spotting Frances Bean Cobain. "Yay," Jackson said as the two women, daughters of famous late musicians Michael Jackson and Kurt Cobain, respectively, mingled inside the Daily Front Row's Fashion Los Angeles Awards Sunday night at the Beverly Hills Hotel's Crystal Gardens ballroom.
Jackson and Cobain were wearing Moschino in support of the label's creative director Jeremy Scott, who was named the Daily Front Row's Creative of the Year.
"He's real badass, a rebel and an original," Jackson said, presenting Scott onstage. "I first met this super-rad dude a little over a year ago while collaborating on my psychedelic tie-dye dress for the Grammys." Jackson, who called Scott "a true artist," said, "He doesn't follow trends. He creates them. What I love about him is that he doesn't play by anybody else's rules."
For his part, Scott said, "I love what I do and I'm blessed to be able to do what I do. To get this award is the cherry on top. I just want to keep making work that resonates with people. If I can put a smile on people's faces for even a minute — then, mission accomplished."
The event
The Daily Front Row's fourth annual awards ceremony celebrated those working tirelessly behind-the-scenes of the fashion industry. In addition to Scott, honorees included Coach's Stuart Vevers (Designer of the Year), Ouai Haircare's Jen Atkin (Hair Artist of the Year), stylist and Juicy Couture creative director Jamie Mizrahi (Best Design Debut), Kate Young (Women's Stylist of the Year), and Alexi Lubomirski (Photographer of the Year).
Emily Ratajkowski was recognized for her work in front of the camera as Model of the Year, while fellow model-turned-actress Cami Morrone was singled out as an Emerging Talent.
The crowd
Well-dressed attendees included John Legend and wife Chrissy Teigen, Kris Jenner, Nicole Richie and husband Joel Madden, Hari Nef, August Getty, Amelia Gray and Delilah Belle Hamlin with mom Lisa Rinna, Dee and Tommy Hilfiger, Marsai Martin, Rowan Blanchard, Jennifer Meyer, Rodarte's Kate and Laura Mulleavy, Charlie Plummer, Serayah, Troye Sivan and Mena Suvari.
The scene
Not all honorees were off duty. Mizrahi adjusted the sleeves on Richie's dress before the duo made their way onto the red carpet to pose for photos.
Soon after, Atkin found herself in a similar position mid-interview. "I was writing my speech on the plane, and I started crying," Atkin said, discussing what the recognition meant to her. "Oh, my God." She paused. "I'm freaking out because I feel like I need to touch up Chrissy [Teigen]'s hair." Was the hairstylist actually on the clock? "I am. I did her hair tonight," Atkin said, looking panic stricken as she watched her posing for photos in the distance. "I'll be right back," she said, rushing off to fix Teigen's tresses with a hairbrush Atkin pulled seemingly out of nowhere.
"Jen is somebody who works harder than anybody that I know every single day," said Jenner as she presented Atkin onstage. "You're like one of my daughters," Jenner told her. "And you have a mean social media game. I used to feel really bad for you because I felt like, 'She's not living her life.' Every single second you're posting, posting, posting. … And then I realized, when I got busier, and you started traveling all the time with Kendall, it really works out well because you're like a human nanny cam. I just look at your Instagram, and I see what my girls are doing. So I thank you for that."
The after-party
After the last award was handed out, guests, including Paris Hilton, Leona Lewis, Kiersey Clemons and Jhené Aiko, walked upstairs for an MCM-sponsored after-party where a salad bar (it is a fashion crowd, after all) and pizzettas were offered up as a DJ spun hits including Bruno Mars' "Uptown Funk."
The quote
"It's my first award ceremony," Morrone said. "I'm nervous, but it's amazing. I've been coming to this award show for a few years, and I've seen all the incredible people who've been honored. To be amongst those people now feels surreal. I'm not worthy, but I'm grateful. I've been too nervous focusing on my speech to even acknowledge who's around me right now."
Morrone attended with her parents, Argentine actors Lucila Solá and Maximo Morrone, the latter of whom cheered loudly as his daughter took the stage. "That's my drunk dad," she told the crowd. "By the way, he's only here because there's a free bar."
Please consider subscribing today to support stories like this one. Get full access to our signature journalism for just 99 cents for the first four weeks. Already a subscriber? Your support makes our work possible. Thank you.
For fashion news, follow us at @latimesimage on Twitter.
---