Dany Sanz of Make Up For Ever launches primers 'for every type of skin'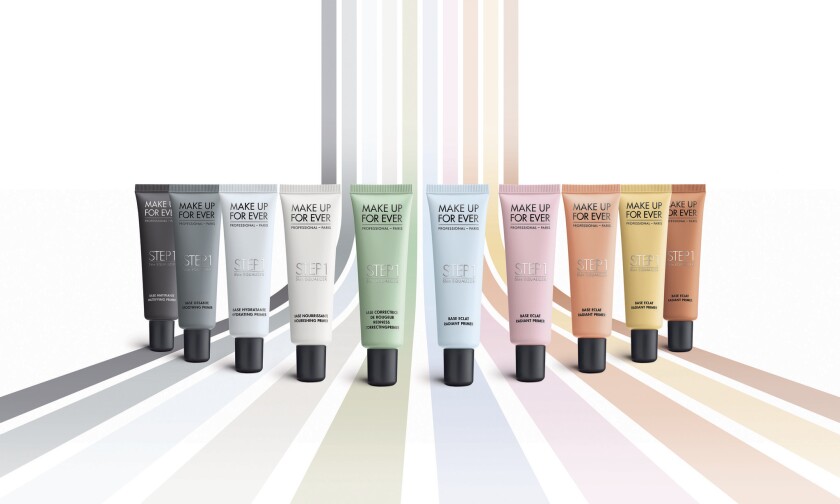 When Dany Sanz started Make Up For Ever more than three decades ago, there was no such thing as a "makeup artist brand." She had no investors, no budget, no business training, no experience — just a love of art and theater and an appreciation for color. She began by grinding flower petals into pigments in the garden of her family's home in Paris. The brand was acquired by LVMH in 1999, and now Make Up For Ever is available in thousands of Sephora and other stores worldwide.
This month, Sanz is launching an ambitious collection of primers — 10 in total. She was in Los Angeles recently for IMATS, the large annual gathering of makeup artists, and took some time to talk about the business of beauty.
Why 10 different primers?
If I could have, I would have made a hundred. When you check all the problems that women have, it's easy to make a hundred different kinds. But at least with these 10 we can work with every type of skin. In the life of a professional makeup artist, a primer is the most important thing, because it makes the foundation and the makeup look better. Sometimes you can't change the skin, but you can make it as perfect as possible, even in high definition, make it look like the pimples and wrinkles have gone. The primers are designed to be mixed and matched. Some are for texture, some for tone, to hydrate, or minimize pores. People like to see an immediate result.
How did you get your start in the beauty business?
It was 1984. I had gone to art school and decided to become a painter and sculptor, but very quickly realized it wasn't for me. There were makeup artists near me and I saw what they were doing and wanted to try it, even if I didn't understand it, because it was close to my art education. I could use different brushes and products but paint the skin. There were not many people doing it at that time, so I became famous in my small world.
How did you go from that to making your own products?
I opened a school so I could have a tribe of students around me. After nine months, I had 450 full-time students from around the world. They started telling me we needed to make our own products. I had no money, and I'm not a chemist. There was a lot of love around, but not a dollar. All I knew was to do things by hand. My father helped me a lot. He was very poor, but a manual worker. I bought a small machine and we made a small lab in the garden of my family home. Very quickly we had a hundred different eye shadow colors. I found a lab near Paris and told them I wanted to do a pro line and had no money and I wanted a formula that didn't exist. They thought I was crazy, but I convinced them. I opened a little shop and my workers were my students. Every night, after classes, we met in the shop to work. The lipstick would arrive from the lab in a big slab, and my students and I would cut a piece of it, boil it and pour it into tiny tubes to sell. It was an adventure.
And then others jumped on the makeup artist brand bandwagon?
Within five years, there was a lot of competition. The only solution for me was to stay in the middle of the jungle, and to stay honest. I can give someone a product and say, "This will do that for your skin" and mean it. That's why Make Up For Ever has its addicts. We still have iconic products. Our Face & Body Liquid Make-Up is more than 25 years old. If I kill it, my customers will kill me. We can't touch it.
What you did in the 1980s — do you think someone starting out can do the same today, and be successful, with so many brands out there?
Yes, it's still very possible. But you have to have tenacity. Makeup artists also have to be business people while being creative. And they must find out what society needs and make that. There are still a lot of things we don't have in the beauty industry. Several times a year, I visit trade shows and exhibitions and I talk with makeup artists and I see something and it looks interesting. And then, after a while, I wake up, and there it is, in the market. I like that.
---