Generation Z (or is that Edge?) shows a fluid sense of style
Actress-singer Willow Smith's experimental fashion sense is typical of what some have dubbed Generation Edge.
(Christopher Polk / Getty Images)
What makes actress Chloe Grace Moretz a symbol of Generation Edge is her precocious confidence.
(Christina House / For The Times)
Bethany Mota, a media-savvy Youtube style guru, is an example of a generation that's doing things differently.
(Mark Davis / Getty Images)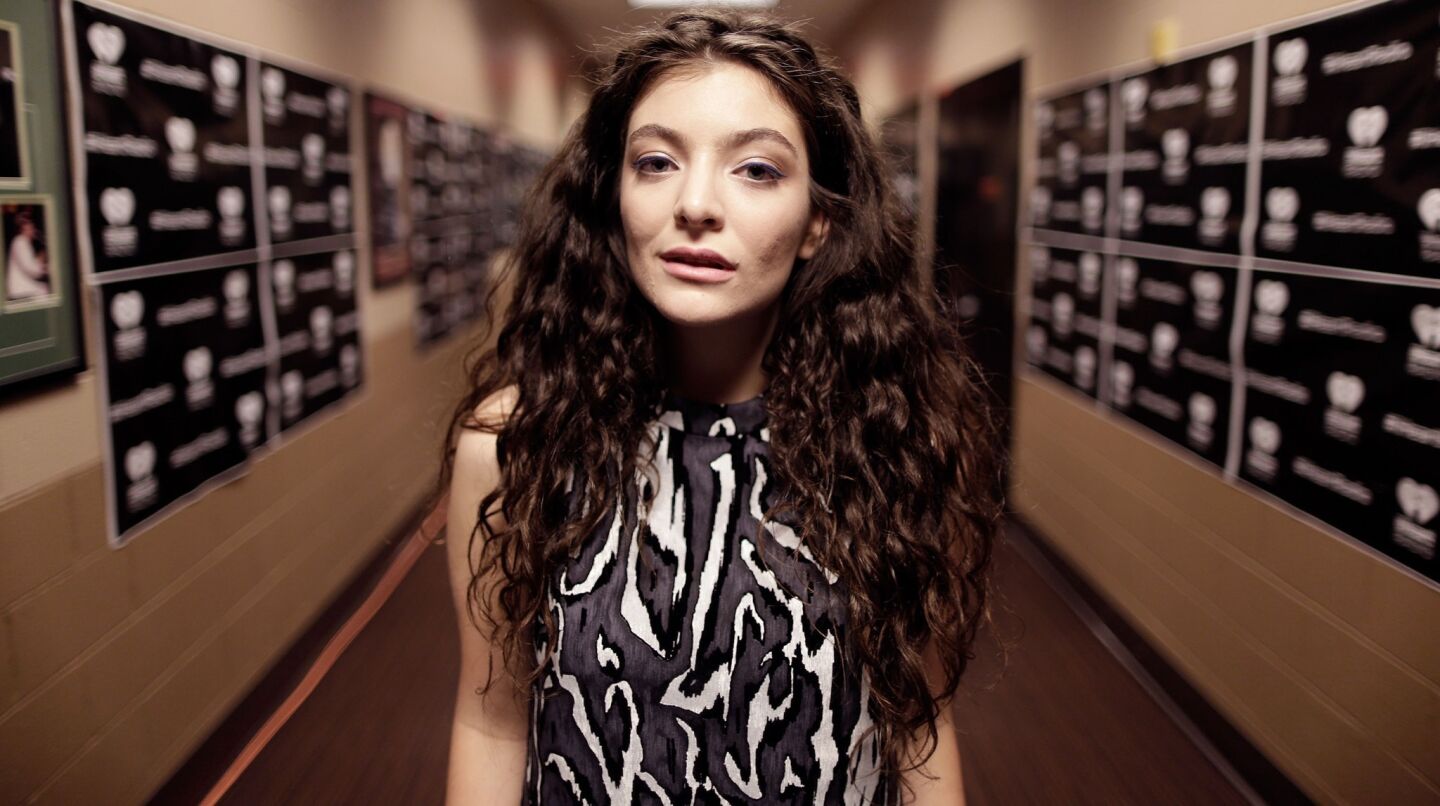 Lorde's sense of individualism makes her part of Gen Edge.
(Isaac Brekken / Getty Images for iHeartMedia)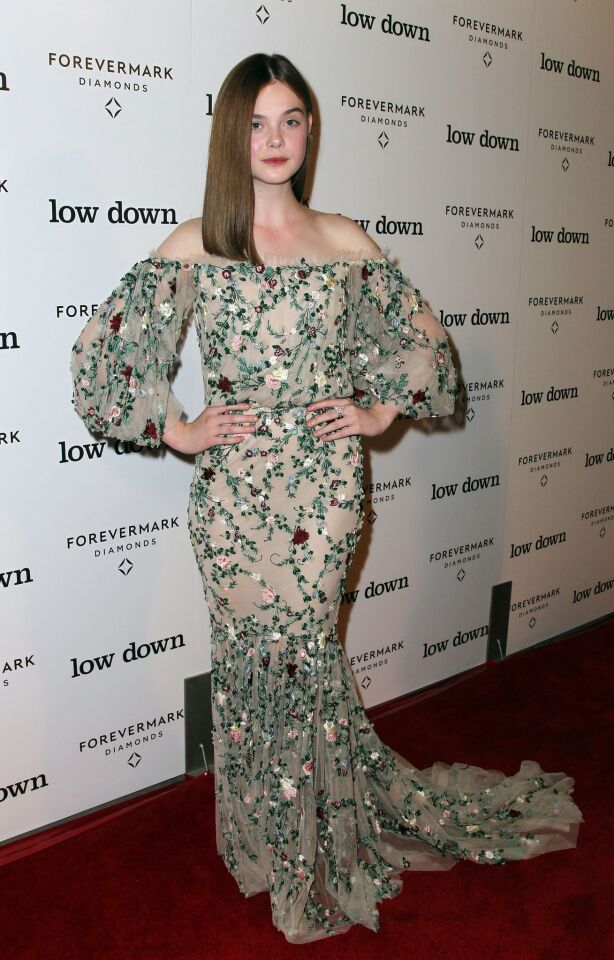 Elle Fanning, poised on the red carpet, embodies the character of Generation Edge.
(David Buchan / Getty Images)
Zendaya, shown at this year's Teen Choice Awards, is a Gen Edger who embraces diverse talent as a singer, dancer and actress.
(Jason Merritt / Getty Images)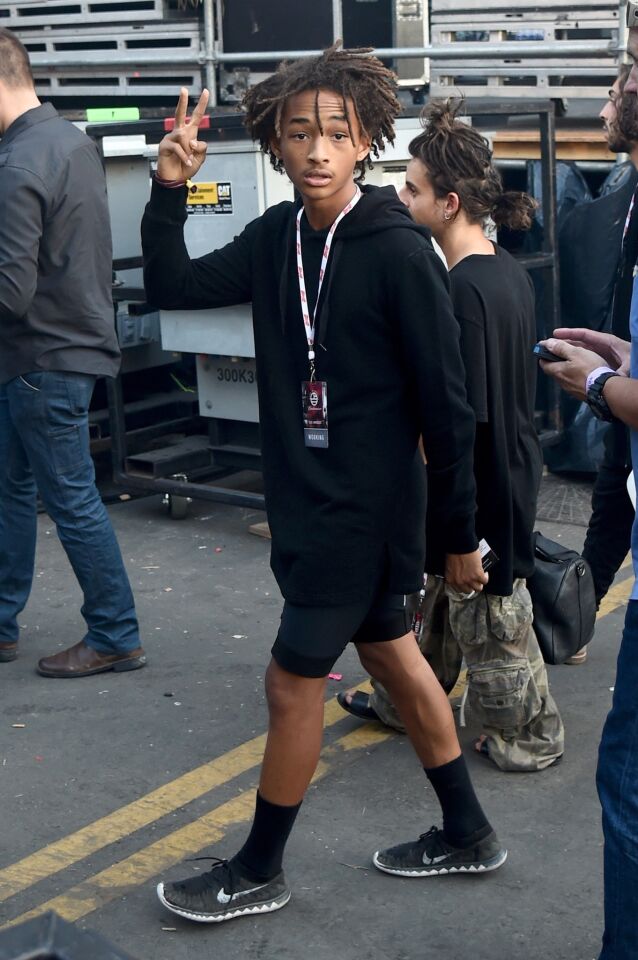 Actor Jaden Smith's sense of individuality is also typical of Generation Edge.
(Michael Buckner / Getty Images for American Eagle)
"Mad Men's" Kiernan Shipka possesses a sense of confidence that is typical of this young generation.
(Jay L. Clendenin / Los Angeles Times)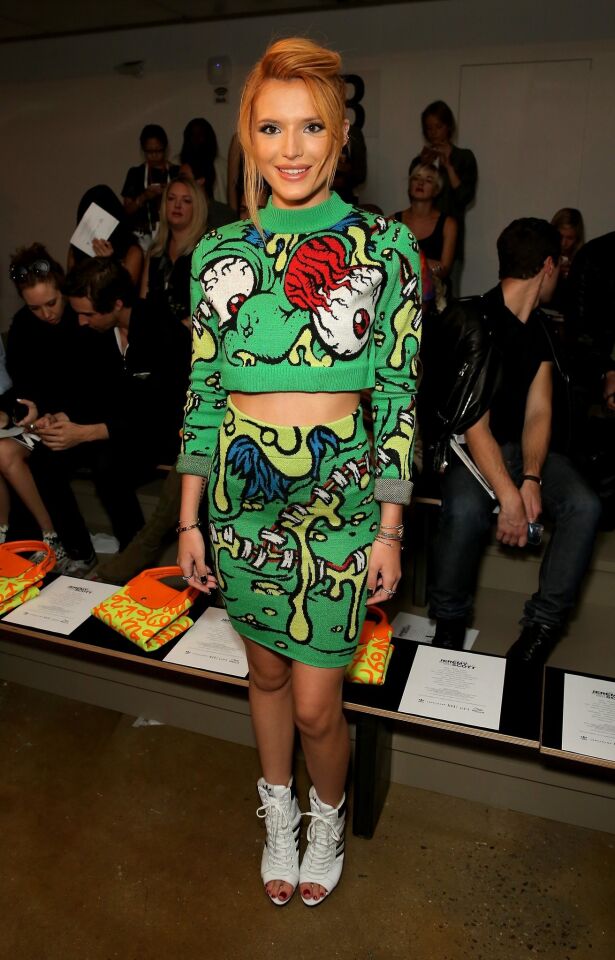 Gen Edge is known for unique style, as seen in actress Bella Thorne.
(Chelsea Lauren / Getty Images)
Kendall Jenner, half-sister of the famous Kardashians, is an example of a Gen Edger who is making a name for herself as a runway model.
(Rommel Demano / Getty Images for The Daily Front)
Actress Abigail Breslin, known for toggling easily among different personas, represents her generation.
(Rommel Demano / Getty Images)
Watch out, millennials: There's a new generation in town, and the first wave is edging toward 20. The newly named Generation Edge (born beginning in 1995) is having an impact on fashion and beauty, with an emphasis on individual style and an embrace of technology and consumer empowerment.
The precocious confidence of singer Lorde (who turns 18 Friday) and actress Chloe Grace Moretz (17), the experimentation of Willow "Whip My Hair" Smith (14), the red carpet poise of actress Elle Fanning (16), the diversity — ethnically and in terms of talent — of singer/actress/dancer Zendaya (18) and the media savvy of YouTube style guru Bethany Mota (19) are all examples of a generation that's doing things differently.
Why Edge?
This generation is also referred to as Generation Z, but the strategic research and brand consultancy company the Sound has instead dubbed them, more imaginatively, Generation Edge.
"It's important a generation is named for very specific reasons," says Caroline Fletcher, the Sound vice president. The name alludes to being on the edge of a new world, technologically and societally, amid wildly shifting demographics.
At more than a quarter of America's population (25.9%), Generation Edge is a "population tsunami," according to New York-based agency Sparks & Honey, whose mission is to synchronize brands with emerging culture. "We notice very strong shifts in how teenagers see the world compared with millennials," says Fletcher.
Gen Edgers and their mostly Gen X parents (born 1965-1979) share similarities, as do boomers (1946-1964) with their millennial offspring. (1980-1994). "But it's never exactly the same thing," says Fletcher, who describes Gen Edge as realistic, resilient, resourceful and, of course, edgy.
"I've heard that baby boomers presented their kids to the world saying, 'World, are you ready for my baby?' And Gen X parents said, 'Baby, are you ready for the world?' It was less helicoptering, more preparatory."
Gen Edge, children of the recession, would rather save than spend, are entrepreneurial, eagerly learn online and want to make a positive impact on the planet. "I call them 'Independent Rebel Kids with Purpose,'" says Jamie Gutfreund, chief marketing officer at creative digital and strategy agency Noise.
Here's things to know about Gen Edge and how they are affecting fashion and beauty:
They're diverse and open-minded
If you're marketing to Gen Z, show a diverse mix of people.
The 2010 Census shows what they call the "Multiple-Race Population" as growing faster than the "Single-Race Population." Sparks & Honey cites research that shows there's been a 400% increase in interracial marriages in a 30-year period and a 50% increase in multiracial youth in the U.S. since 2000.
" 'Tolerance' was a key word around millennials but that can be translated to 'I tolerate you because you're different'," says Sarah DaVanzo, Sparks & Honey's chief strategist. "With Gen Z, because the world is so much more blended — we're this mélange of cultures, with DIY religions and blended families, both generationally and ethnically, that's created what we think is a concept of not tolerance but one step even better, which is togetherness. It's not just that I tolerate you but it's that I am you."
"Gen Z is less likely to fall into previously recognized categories. There's infinite diversity," says Bruce Tulgan, founder and chairman of management research firm RainmakerThinking Inc. and author of "Managing Generation X." The Internet also gives Gen Edge a richer global perspective and wider social circle. And Fletcher says, in part due to a lot of public messaging campaigns, they're "much more accepting and less stigmatizing toward people who have different challenges."
Mature for their years
"It makes sense Lorde is Generation Edge," says Fletcher. "She presents older than her years."
Virginia Lee, senior research analyst for market intelligence firm Euromonitor International, says, "We call this 'age-compression.' So if girls were playing with Barbies until age 12, It's probably now like 8 or 10."
Cosmetics and grooming products are highly sought after by Gen Edge, Lee says, in part because today's culture places enormous value on physical appearance.
Market researcher NPD Group reports that even girls 8-12 years old use an average of 4.5 different beauty products and go for professional beauty services such as nail art. Experts say edgers this age — who don't refer to themselves as "tweens" — care about parental endorsement.
Online beauty help
YouTube tutorials and online beauty influencers upped Edge's beauty IQ. "YouTube is such a phenomenon, such a strong force of empowerment for them to find information to achieve confidence in how to put themselves together and decide how they want to look to the world," says Fletcher. "There's definitely more poise and a sense of confidence in these young women."
Experiment with image
Gen Edge toggles easily among different personas. A girl may be goth on Sunday, then wear beachy-bronze makeup on Tuesday.
"Willow Smith is a good example," says Fletcher. "She's quite experimental with how she looks, and you get a sense she's having fun with it." The young beauty has rocked a myriad of hairdos from asymmetrical punk rock playful, with cropped explosions of pink and platinum, to frothy 'fros, swinging braids and sleek, inky locks with fashion-forward bangs. She's worn them all with a confidence not often seen even in those much older.
"Social media kind of encourages us to do that. I can give you countless YouTube stars who became popular because they change their look," says DaVanzo. Popular beauty and style gurus Michelle Phan and Mota are also prime examples. "For Gen Z it's OK to play dress up... For makeup it's a very exciting time. Makeup has a wider palette."
Cosplay — dressing as characters from cartoons or video games — provides still another way to experiment. And fashion companies are recognizing it as a way to reach younger customers. Case in point: a Coach ad campaign earlier this year featuring models wearing what looked to be large papier-mâché animal heads.
Celebrate the unique
Gen Edge is highly individualistic. Another reason, says Fletcher, that Lorde is a good Gen Edge example. "She's very much into 'this is what I do. I'm not going to put someone else down if they do something differently.'"
"They place a lot of value on self-acceptance, there isn't one right way to do things or be," says Fletcher. "So Gen Edgers tend to enhance what they like about themselves rather than mask what they don't."
"With fashion, it's anything goes," says DaVanzo.
Yes to bargains, no to logos
"They're price- and value-conscious, are about co-creation and tend to reject logos," says DaVanzo about entrepreneurial, DIY-embracing, curatorial Gen Edge. "It's about 'I don't need to posture or look like I'm better than you,' so status symbols, like logos, aren't as important. The challenge for brands is differentiating their product in other ways. Perhaps through a technology, stitching or fabric."
It makes sense that those raised in the era of iPods, 3-D printing, crafting, on-demand online programming, the DJ-as-hero and app downloads are "on board with customizing and hacking designs," says DaVanzo. They mix brands and pieces from different eras, add appliques, sew their own shirts.
Digital shoppers
Teen edgers' allowances add up to $44 billion a year, according to a 2013 report from market researcher Mintel. They prefer to spend it shopping online for clothes, fashion accessories and beauty products, Sparks & Honey says.
A 2013 report from investment firm Piper Jaffray says that fashion accounts for roughly 40% of teen budgets, and 79% of females and 76% of males shop online. Gen Edge is also more in control of the online marketplace conversation, trusting peer reviews more than brand messaging.
"They're the visual generation. We're practically back to glyphs," says DaVanzo, referring to emojis. She mentions in-development, hologram-projection cellphones as a coming shopping tool. "For Gen Z, brands should embrace technology and experiment with storytelling in authentic yet modern ways."
Hiding in plain sight
Remember the pretty but scary, bejeweled face masks seen on Givenchy's Spring 2014 runway? From a Gen Edge perspective, they make sense. In the midst of a world where everything is public, they want some privacy.
"Generation Z is very aware of their constant connectivity and trackability," says DaVanzo. "They grew up in the post-Snowden era with NSA conversations and daily news stories about surveillance and how you, and your data, are being tracked."
As a result, "they have a sense of it being creepy if they're being marketed to too invasively online," says John Palfrey, author of "Born Digital: Understanding the First Generation of Digital Natives."
Perhaps it's counterintuitive in an era of ubiquitous selfies, but experts such as DaVanzo predict "the emergence of anti-recognition makeup."
Artist Adam Harvey's project at cvdazzle.com shows makeup, hairstyling and fashion techniques that can be used to provide camouflage to guard against facial recognition technology used by Facebook, store cameras or even Google Glass.
"People are increasingly reticent to have their photo taken. You don't want your photo mined for information after someone digitizes you," says Harvey. "Non-conformist makeup and fashion can outsmart technological algorithms."
Lorde again
It's no surprise that Lorde collaborated on a line with MAC Cosmetics this year.
"We focus first and foremost on an attitude, not necessarily a demographic," says John Demsey, group president, the Estée Lauder Companies Inc., who oversees teen-favorite MAC and other makeup brands. "Partnering with [Lorde] was totally organic, totally real and totally connected in terms of the brand. She had a very distinct look that felt very raw and fresh."
"This generation is more individualized whereas the generation before them tended to behave more in packs," says Demsey. "This celebration of uniqueness and individuality, quite honestly, from a MAC perspective, plays right into our core strengths: using makeup as a form of self-expression and individuality. [Gen Edge] is the ultimate mash-up."
---