Fashion has its own #OscarsSoWhite problem. So when will the industry change?
In a world brimming with beautiful women of all races, shapes, sizes and colors, why can't the fashion industry — one of the world's more creative and forward-minded industries — move past its stubborn beauty standards of super skinny, super young white women?
With many eyes glued to coverage of New York Fashion Week, it will be surprising to see which models walk the runways in one of the most diverse cities in the world.
Fashion designer Zac Posen, a leader in the push toward a more diverse fashion industry, staunchly promotes the inclusivity ideal.
"For me, it has never been a fight as I've always found women of all races, sizes and ages beautiful and inspiring," says the 35-year-old designer who's scheduled to show his spring/summer '17 collection on Sept. 12 during fashion week.
Posen's fall/winter '16 show was championed as successfully diverse, and he also made a bold populist statement with a "Black Models Matter" tote bag slung across his shoulder, a photo of which was posted on Instagram to social media cheers.
"It's always been natural to me as I grew up in New York City in SoHo in the '80s so diversity was and is normality," he says. "It's essential to me because it's part of my company and design DNA."
However, many brands are not as culturally diverse as Posen's. Though improving, the fashion runway's statistics on inclusivity remain bleak. According to the popular website the Fashion Spot, which collected data on the global spring 2016 season, of the 373 shows and 9,926 model appearances in New York, London, Paris and Milan, 77.6% of the models were white.
Plus-size models trailed far behind with only .1% of the total — or just 14 plus-size models on runways across all cities. Five models older than 50 — or a slim .05% of models — walked the runways, lower than the transgender model category, which made up .06% of the runway models for those shows.
How did the fashion runways become so uniform? They haven't always been so, according to former top model Bethann Hardison, who was one of the first black models to walk a runway in Europe, including at the Battle of Versailles fashion show in 1973.
Hardison, a fashion industry activist, says, "If you knew us back in the 1960s and 1970s — and even into the '80s and early '90s, you wouldn't ask that question. There were so many girls of color working back then. There was so much diversity. But then the business changed."
Hardison says she noticed the change on the runways during the '90s, when aspirational marketing aimed at white consumers gained a stronger footing in the fashion scene, particularly with the rise of European luxury brands such as Gucci and Prada.
At the same time, she says casting agents and stylists took over the job of hiring runway models from the designers and their teams, who once directly hired models. Think of it like a casting system now similar to Hollywood's, another creative industry with diversity problems.
Hardison says that as liberal as new casting agents and stylists appeared to be, they didn't include many people of color. As a result, she says, "[Casting agents and stylists] went looking for models [who looked] like themselves."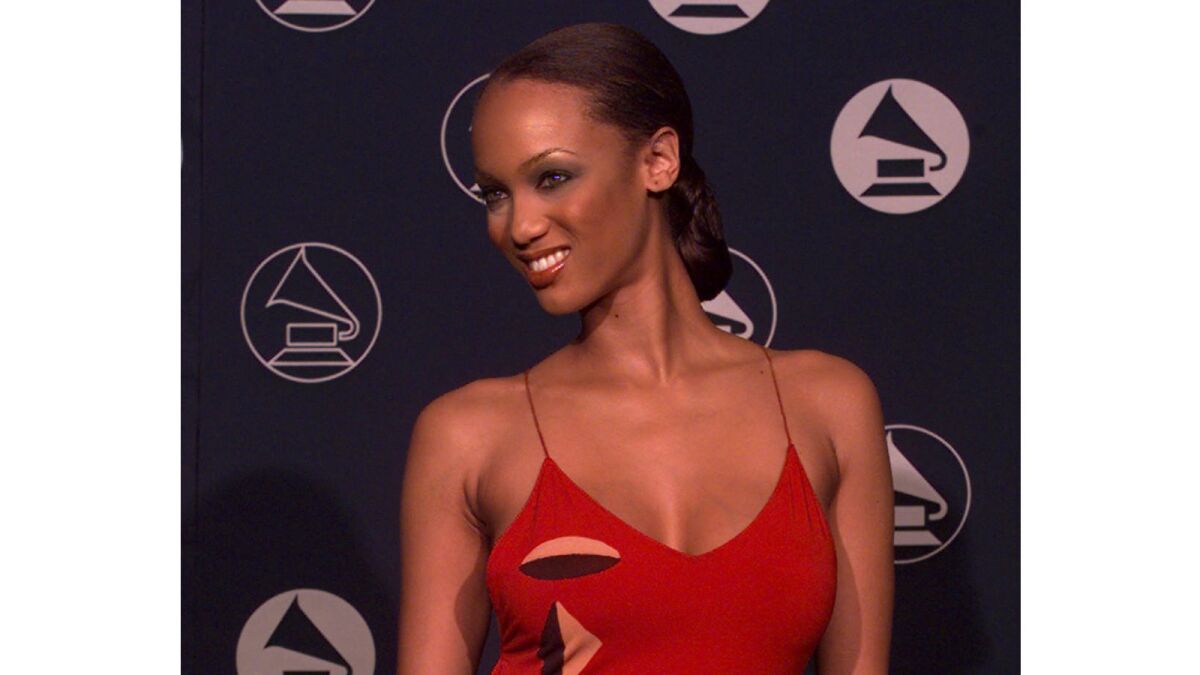 The '90s also were a time when top models of color such as Tyra Banks and Karen Alexander began pursuing other career goals without too many younger women of color stepping into their runway footsteps. (Vogue reported this week that Alexander, now 50, recently signed with IMG Models.)
At the same time, magazine editors scaled back on using models on covers and began replacing those cover girls with celebrities. With fewer magazine covers given to models, particularly models of color, "the diversity just dried up," says Hardison.
Replacing models with celebrities has continued ever since. Look no further than some of the fashion advertising that features well-known names — several belonging to people of color. For example, Rihanna fronts Dior; she's the first black woman used in the Parisian house's 70-year history. Other celebrity/fashion tie-ins have included Alicia Keys and Givenchy; Lupita Nyong'o and Miu Miu; and Kanye West and Balmain. (On a side note, West's Yeezy label, a collaboration with Adidas, had a fashion show on Sept. 7 that primarily used models of color.)
But is that enough to spur real industry change or does having a celebrity of color in a few fashion campaigns mask the bigger diversity problem plaguing the fashion scene?
Perhaps better answers will come from younger industry leaders. There's hope especially with designers such as Posen, Christian Siriano and Brandon Maxwell showing diverse women in their ads and social media posts and on their runways.
Not all women want to be skinny, young and white.
— Melinda Parrish, model
The fashion industry might also address the need for a wider range of ages and body types on runways and in campaigns. While the industry promotes notable women such as Joan Didion for Celine and Joni Mitchell for Saint Laurent, the message is still clear: If you're old, you're out.
Says Ari Seth Cohen, a Los Angeles-based photographer and blogger of older street-style fashionistas under his Advanced Style brand: "[Fashion] is a product of ageist ideology and the pervasive idea that once we hit a certain age we become invisible; that we should give up, stop dressing up and fade away. I never understood why brands entirely ignore older women."
However, he says social media is helping to change this although more can be done.
Social media has been a bright spot when it comes to exposure for models of color as well as older and plus-size models, who are spurred on today via Facebook, Instagram and Snapchat. As a result of the popularity of some plus-size models, for example, fashion brands are starting to recognize that women of all sizes want to buy clothes that aren't an afterthought. After all, there's an estimated 67% of women in the U.S. who wear a size 14 or larger.
Social media has also helped level the playing field for women traditionally left out of the mainstream and luxury fashion markets. Online, women see a bold and global cocktail of races, cultures, ethnicities, sizes, shapes and sexual orientations in other women who appear beautiful, who love fashion and yet exist outside the tightly controlled runway, editorial and advertising visions of what constitutes beauty.
"Not all women want to be skinny, young and white," says Melinda Parrish, a Washington, D.C.-based plus-size model signed to Ford Models agency in Chicago and Miami. "What we're starting to see now is: What do plus-size women think of as fantasy and what [do they] define as aspirational?"
Hardison says continuing to address the topic of diversity likely will be a struggle for society, but she believes there will be a shift in the fashion industry in the years ahead. (After all, according to U.S. Census statistics, the country's population is expected to include considerably more people of color by 2060, and millennials are generally regarded as more open-minded than previous generations.)
"Everything has a tipping point — including the fashion industry," Hardison says.