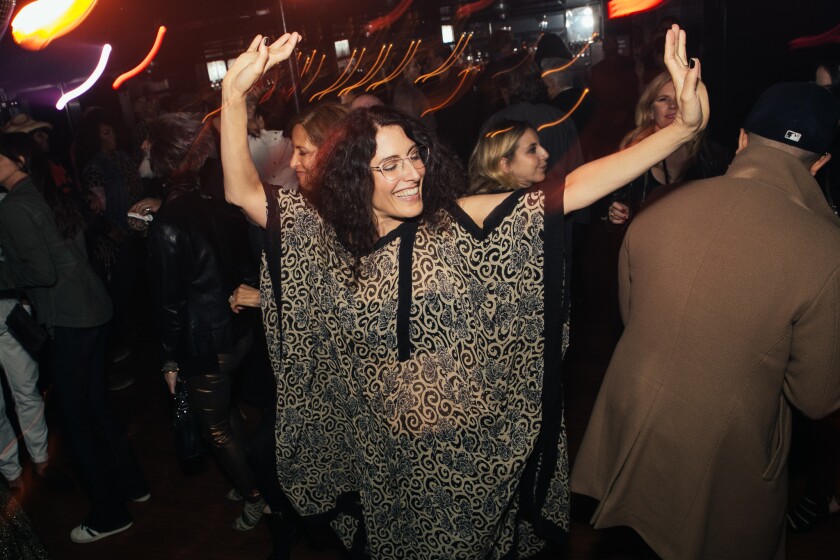 Disco tunes of the 1970s have long been the musical mainstay of Giorgio's, the Saturday-night-only nightclub-through-the-kitchen at the Standard hotel in West Hollywood. This is hardly surprising, especially because the club's namesake, legendary dance music producer Giorgio Moroder, had a hand in hits like Donna Summer's "Love to Love You Baby." But, this past Saturday night, after spending more than 2 1/2 years in the Me Decade, Giorgio's cofounders and producers Bryan Rabin and Adam Bravin flipped the script, turned the page, advanced the ball and moved the (record) needle enthusiastically into the '80s.
Giorgio's Chapter 2 – the New Sound was ushered in with a poolside VIP cocktail party that gave the fashionable set the opportunity to dust off their '80s-era finery. (We're pretty sure we spotted some mint-condition Jordache jeans in the mix.) Among those on hand were Wolk Morais designers Claude Morais and Brian Wolk, costume designer Janie Bryant, designer/stylist Maryam Malakpour, and the fairy godmother of the L.A. fashion editor set, Rose Apodaca.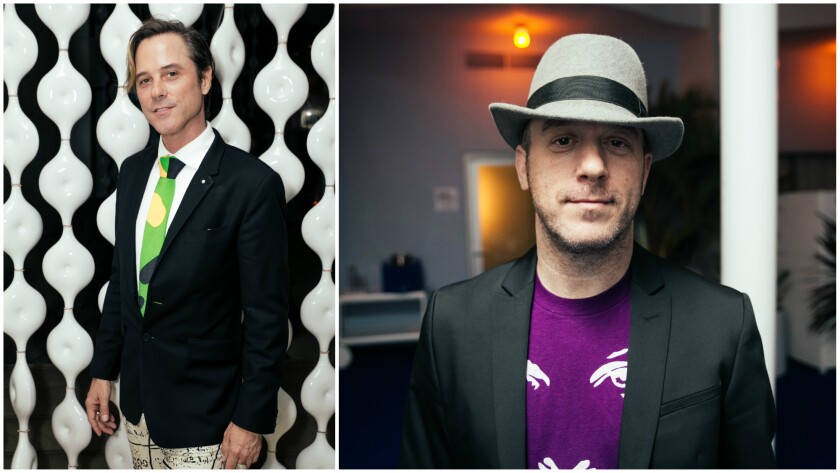 By 10 p.m., the cool kids had ducked behind the velvet ropes, traipsed through the kitchen and made their way to the dance floor — where the new sound kept them on their feet until the wee hours of the morning. Among those spotted on or around the packed-to-capacity dance floor were actors Alan Cumming, Alexander Skarsgård and Lisa Edelstein, jewelry and costume designer Michael Schmidt, singer Jody Watley and burlesque star Dita Von Teese.
A few minutes after midnight a different burlesque star — Kitten de Ville — suddenly materialized onstage, where she proceeded to whirl and twirl her already scanty wardrobe away, stripteasing to the strains of Joan Jett's '80s hit "Bad Reputation," followed by Plastic Bertrand's cult hit "Ça Plane Pour Moi." (Sure the latter song was technically released in 1977, but give a Kitten a break.) As De Ville swirled off to enthusiastic applause, an odd-looking, mechanical contraption was assembled on stage.
Although we cut out before getting a chance to see it in action firsthand, it turns out that mechanical contraption was actually a theremin, and partygoers who stuck it out for a few more minutes were treated to theremin player Armen Ra performing tunes from the 1981 film "Diva."
If opening night is any indication, reliving the '80s is likely to turn out very well for Giorgio's. Very well, indeed.
adam.tschorn@latimes.com
ALSO:
Los Angeles Fashion Awards honor Lady Gaga, Karl Lagerfeld
---