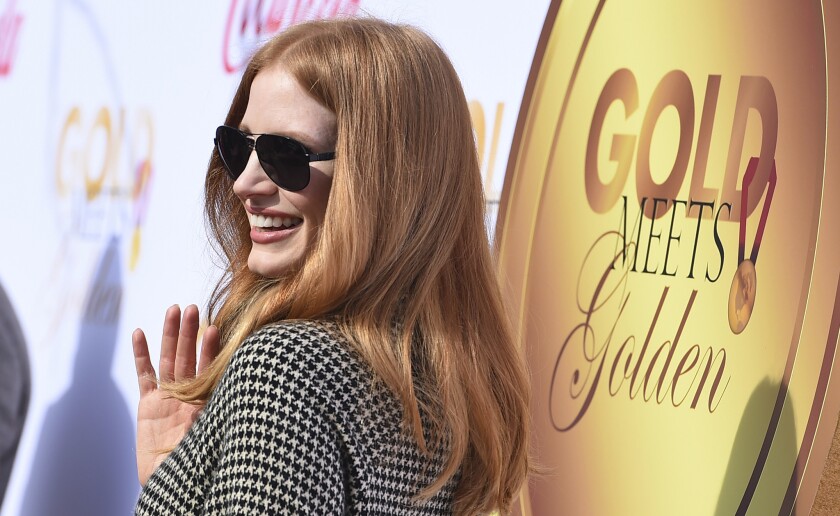 "Hi everybody," Jessica Chastain whispered, as she made her way inside the "Gold Meets Golden" brunch, billed as a "Hollywood send-off" for those competing in the upcoming PyeongChang Winter Games. The Golden Globes nominee let her Ralph Lauren-designed skirt with the thigh-high slit do the talking for her as she skipped speaking with press on the red carpet.
Once inside, Chastain mingled with soccer star Alex Morgan. Elsewhere, Nicole Kidman found a friend in snowboarder Amy Purdy; James Franco hugged it out with gold medalist Laurie Hernandez; and Hugh Jackman tried Summer Sanders' gold medal on for size.
The event
The mission of the "Gold Meets Golden" event, now in its fifth year, is "connecting the worlds of Hollywood and sport" — which is how so many of this year's Golden Globe nominees were seen mingling with Olympic and Paralympic gold medal winners and hopefuls. Saturday's brunch took place at The House on Sunset, the 1936 Art Deco home-turned-party space designed by architect Paul R. Williams.
MORE GOLDEN GLOBES COVERAGE: Live updates »
The event featured a musical performance by Keala Settle, who sang her Golden Globes-nominated song "This Is Me" from "The Greatest Showman." The afternoon also included a gold-themed menu courtesy of Team USA chef and cooking show personality Cat Cora ("Iron Chef," "My Kitchen Rules") complete with a five-tier gold chocolate dessert fountain.
The crowd
In the mix were stars Jessica Chastain, Nicole Kidman, James Franco, Hugh Jackman, Allison Janney, Chrissy Metz, Gillian Anderson, Sebastian Stan, Alexis Knapp, and Matt Bomer; athletes Billie Jean King, Laurie Hernandez, Alex Morgan, Jordyn Wieber, Tatyana McFadden, Summer Sanders, Nadia Comaneci, Nastia Liukin, Greg Louganis and John Orozco; plus singers Ricky Martin and Nick Jonas.
The scene
While the mood proved celebratory, this year's politically charged climate dominated conversations, with plenty of attendees eager to discuss the ceremony's "black dress-code," the Time's Up initiative's call to arms in light of recent sexual assault allegations.
"Tomorrow is not about what we're wearing," said Janney, who is nominated for her role in the Tonya Harding biopic "I, Tonya." "It's showing that we all know what's going on and we're addressing it and doing what we can to change the culture….This is the first step we're all taking to deal with the issues of harassment and abuse and inequality."
The quotes
"I'm used to being in a leotard," Laurie Hernandez said with a laugh, "so it's interesting to be all gussied up. I'm feeling like my Pinterest board right now. I'm working it."
The Olympic gymnast added that she thought it was "incredible" that "women are getting together" for a sartorial protest at Sunday's Globes ceremony. "Even something as subtle as wearing black, that's neat and creative. We just want to be heard. We're trying to create positive change."
Alex Morgan admitted to feeling outside of her comfort zone. "I don't wear high heels too often," the Orlando Pride soccer star said before expressing support for the black dress initiative. "We need both genders to realize what's been wrong with society and how we can fix that to see progress moving forward. Celebrities and athletes have a huge platform to speak up."
"I'm very proud of all of them," said Jordyn Wieber, whose former teammates Aly Raisman and McKayla Maroney accused their team doctor Larry Nassar of sexual abuse. "With all of the news that's been coming out and people coming forward, that takes a lot of courage. For women to take a stand and make a statement, that's really admirable. It's been going on in entertainment, but it's been going on in sports too. People having the courage to come forward is hopefully making a positive change for our culture."
"We are a similar community," added Summer Sanders. "We need to step up and make sure that we have voices — not just for the grown women in sports, but for the younger women who are influenced by male coaches and male executives within their national governing body."
Sanders was quick to add, "I couldn't be more proud of the women who have taken charge in Hollywood to make that happen and I do want to see it happen more on the sports side of things as well."
Meanwhile, Sebastian Stan, who co-stars alongside Margot Robbie and Janney in "I, Tonya," said he plans to support the movement "a thousand percent" when he walks the red carpet on Sunday. "I think it's important to bring attention to. So much has happened in the last three months," he said. "I'm happy to be included and partake where I can."
The looks
Jessica Chastain in Ralph Lauren
Nicole Kidman in Louis Vuitton
Laurie Hernandez in Blush
Please consider subscribing today to support stories like this one. Get full access to our signature journalism for just 99 cents for the first four weeks. Already a subscriber? Your support makes our work possible. Thank you.
ALSO
How this year's Golden Globes red carpet became a political statement and why a boycott was rejected
Why this year's Golden Globes black-dress blackout is good for fashion
---