Female designers make a major fashion statement at the 2018 Golden Globes. Now what?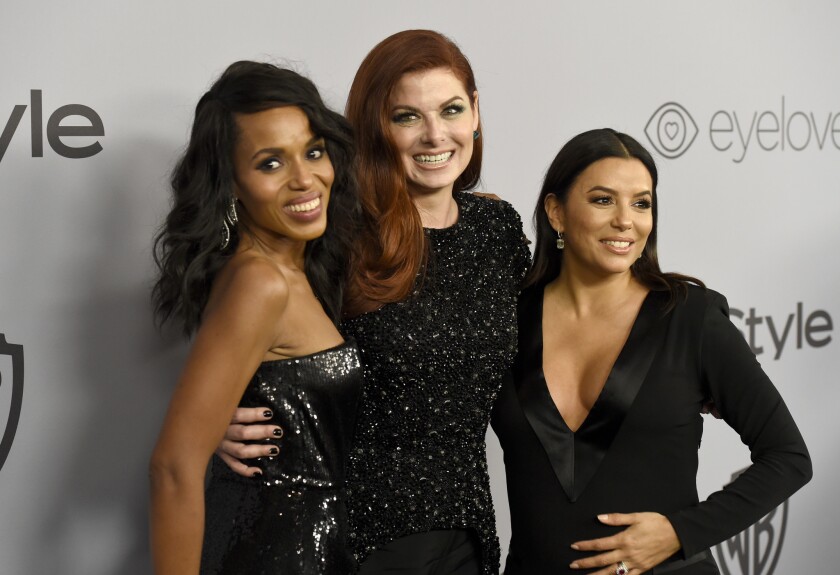 A majority of stars who stepped onto the 75th Golden Globes' red carpet embraced an all-black dress code supporting the Time's Up movement, Hollywood's newly launched effort in stamping out workplace discrimination and sexual harassment.
While red-carpet attendees were quick to show their solidarity with their spin on the evening's color theme (or lack thereof), some managed to take that message of unity one step further by donning female designers for the evening.
"I had half my clients in women [designers], and half were not," said Tara Swennen, who styled several stars, including best supporting actress winner Allison Janney ("I, Tonya"), who wore a gown by Italian designer Mario Dice. "It was definitely something that we were trying to attain, but sometimes it just wasn't possible."
Chalk it up to the fact that there were hardly enough dresses and tuxedos to go around, with the black theme being embraced throughout the night — from the awards show to the after-parties. "Originally, it was just going to be for the show itself, which was a little bit easier than what ended up happening, which was that everybody wore it to the entire night," Swennen said. "A lot of people ended up wearing any designer they could because they just wanted to get in black to support the movement."
While the usual red-carpet chatter of manicures, minaudières and the age-old question "Who are you wearing?" was much more muted for Sunday's occasion — it was an effort by the interviewers and interviewees alike to change the direction of the conversation to less sartorially-focused topics — the presence of a number of women-led fashion brands was nonetheless felt on the red carpet.
In cases such as Swennen's clients Golden Globe Ambassador Simone Garcia Johnson and Arielle Kebbel, the choice to support a female brand was deliberate: Both gravitated toward gowns by Brazilian designer and social activist Fabiana Milazzo whose "Income for Women" project teaches women about embroidery and entrepreneurship.
Mandy Moore wore a Rosie Assoulin triangle halter gown accented with a red sash, while "The Crown" star Claire Foy selected a Stella McCartney suit with a dramatic plunging neckline. Oprah Winfrey, Angelina Jolie and Saoirse Ronan stepped out in Donatella Versace's Atelier Versace label.
Unsurprisingly, another female name with a commanding red-carpet presence was Maria Grazia Chiuri, Dior's first female creative director , whose activist haute couture was seen on Natalie Portman, "The Shape of Water's" Sally Hawkins and best actress winner Elisabeth Moss, who took home a statue for her work in Hulu's "The Handmaid's Tale."
Meanwhile, Moss' co-star Ever Carradine wore an embellished jumpsuit by British designer Alice Temperley to the evening's after-parties. It was a conscious selection, her stylist Nola Singer said. "We thought it was perfect for the tone and empowerment of this movement on the carpet," Singer said.
Miuccia Prada's designs were spotted on Ansel Elgort, Sam Rockwell, Katherine Langford and Diane Kruger, the latter of whom was styled by Micaela Erlanger. "Our choices are always thoughtful," said Erlanger, who also dressed Meryl Streep in a silk crepe off-the-shoulder Vera Wang gown. "I'm really proud to have my clients wearing female designers."
"I think, in general, people are becoming more conscious of what they are putting on whether it's for eco-conscious reasons or supporting female designers this season," Swennen said. "I hope that women and men will support female designers, but I also think that, at the same time, everyone is still going to support the men. We can't forget them either."
Will the black-fashion theme carry through the season? "I think everyone wanted to make a statement, stand in solidarity, stand strong," Swennen said. "But I also think that now everyone is going to want to express themselves creatively with color through the season. Not that you won't see [black], but I know as far as my girls [go], when you see a sea of black dresses, they're yearning for a bit of color again."
Please consider subscribing today to support stories like this one. Already a subscriber? Your support makes our work possible. Thank you. Get full access to our signature journalism for just 99 cents for the first four weeks.
For fashion news, follow us at @latimesimage on Twitter.
---