About the other night: Zendaya, Storm Reid, Drake take in HBO's 'Euphoria' premiere
HBO's "Euphoria" profiles a group of teens as they navigate their way through drugs, sex, trauma and social media. Although the brutal subject matter might be disturbing for some viewers, guests at Tuesday night's screening at the Cinerama Dome theater in Hollywood admired the series for its raw, dark expression.
The vibrant cast members include Zendaya, Storm Reid, Hunter Schafer, Algee Smith, Eric Dane, Alexa Demie, Jacob Elordi, Sydney Sweeney, Barbie Ferreira and Nika King.
Following the show's L.A. premiere, an after-party kicked up spirits at NeueHouse in Hollywood thanks to tunes by rapper Drake, who is co-executive producing the drama along with creator-writer Sam Levinson ("Assassination Nation," "The Wizard of Lies"). "Euphoria" is loosely based on a series which originally aired in Israel.
The series is scheduled to air on HBO starting June 16.
The series creator speaks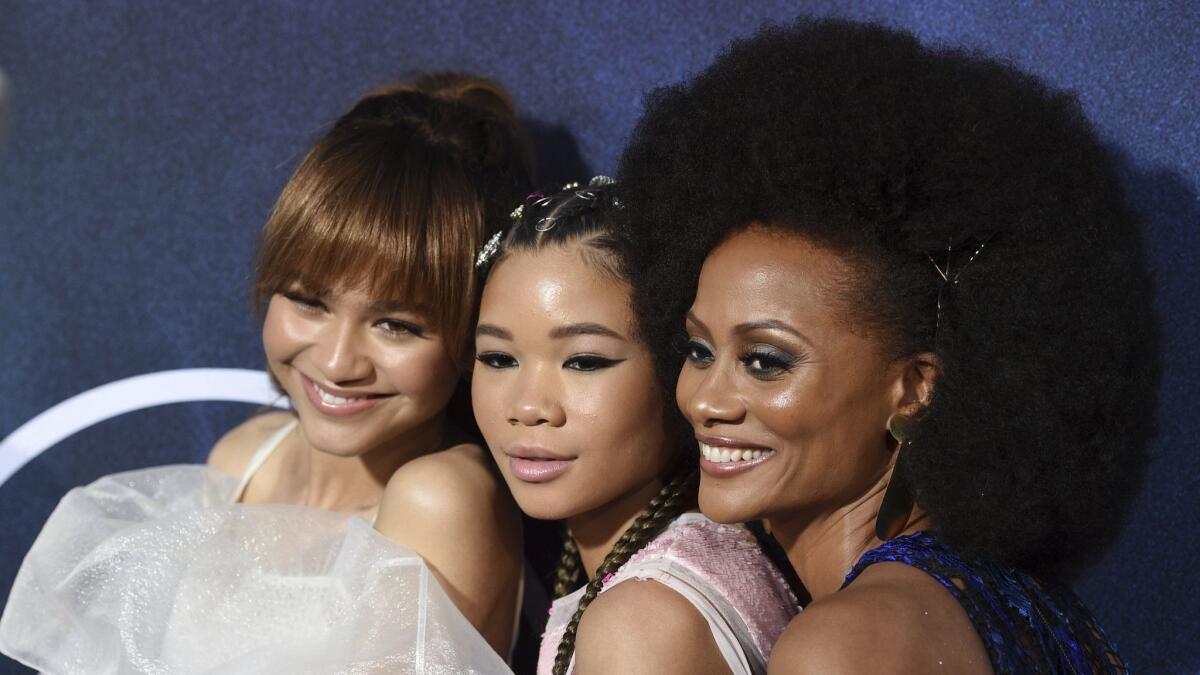 "It's been a surreal and beautiful experience and it's ultimately what storytelling is about for me, taking my own ... and baggage and giving it away," said Levinson, who has had his own battles with addiction.
Much of what viewers see in the show happened to him and people he knew. "For instance, I was able to build a psych ward with our production designer Michael Grasley," said Levinson. "That layout was exactly the same as the psych ward I was checked into at age 11. Except he found these bizarre plastic Swedish chairs that were far more interesting-looking than the kind of ragged, rounded-edge sofas that I remember sitting in."
Levinson said he believes this is where "the hope" of the show lies. "It's a form of communicating with that younger version of myself," he said. "It's a way of saying, 'It's gonna be OK.'"
Levinson said he has enjoyed working with Disney Channel actress and singer Zendaya, who plays 17-year-old Rue Bennett, a struggling drug addict who has just gotten out of rehab.
"Z is one of the most empathic people I've met," Levinson said. "So from Day 1, I've been incredibly open with her about my life, my struggles with addiction, anxiety, depression. I find that the more I talk to her about what I went through, the more emotional parallels we're able to find — even though her experience is very different — and ultimately, everything bleeds together.
"So even though the character of Rue is based on my own experiences," he said, "she's made it her own. She's found the honesty, and every day on set, I feel so grateful she's Rue."
Because her talent has "no ceiling," Zendaya is capable of "absolutely anything," Levinson said. "Which in turn, makes the work not just a joy but also inspiring as a writer and a director. Since it's a show about how hard it is to articulate your feelings when you're young, there's often very little dialogue. So everything hinges on her face. What is consistently amazing is her ability to tap into the heart, the humor and the madness of Rue through the smallest gestures. It's frightening how she can break your heart with just a glance."
As Levinson and Zendaya have worked together over the last year, they have developed "an exciting, collaborative dynamic" where the duo "consistently" plays off each other, he said. "Very early on into shooting, I realized what a gifted physical comedian she was. So I got excited about the idea of shooting long scenes with her where she has no dialogue to rely on — just her physicality. And she's absolutely hysterical. There's times when she literally reminds me of Buster Keaton."
The after-party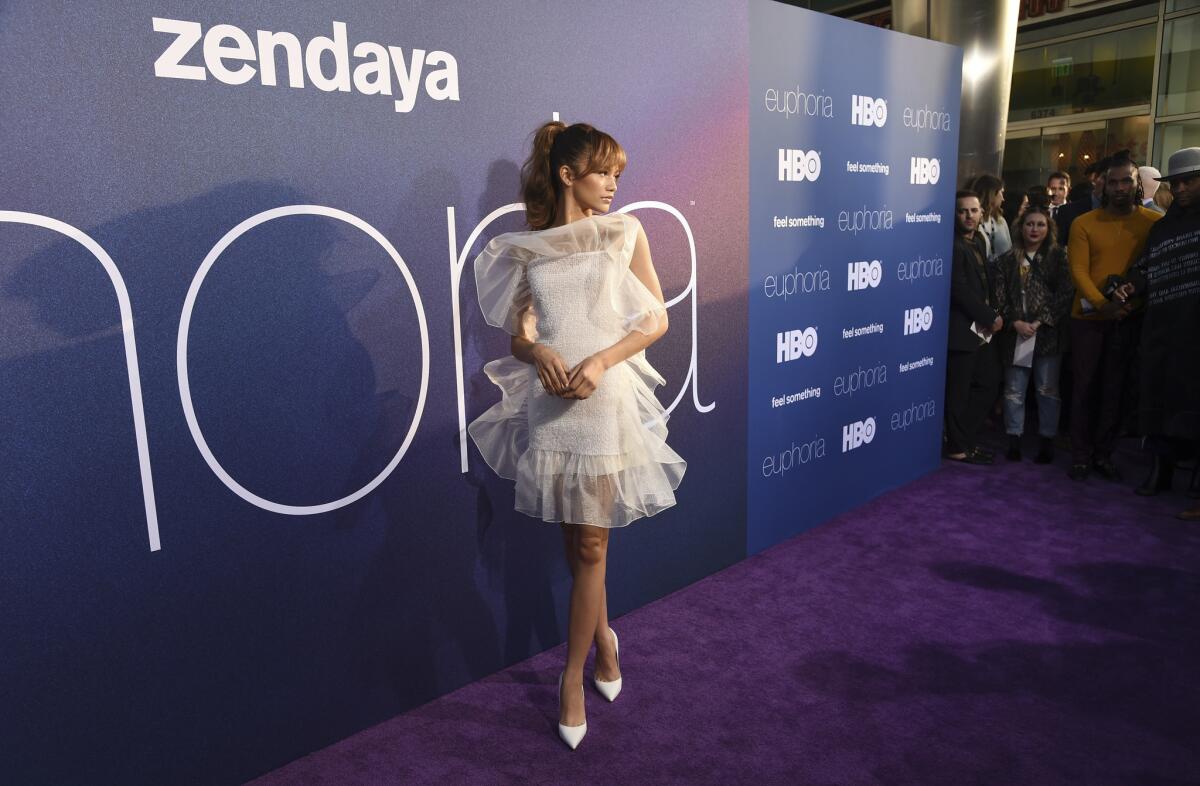 At the after-party, under the backdrop of a trippy liquid wall, guests were served dishes suitable for the series' teen demographic ranging from ahi poke bowls and house-made nachos to "hipster" ramen.
Specialty cocktails with names such as "Feel Something" and "The Catch" were served, and there was a tattoo/glitter station by Artistic LA as well as custom airbrush trucker hats by Mr. Hood Brush.
Chatting with Zendaya's father
Seeing his daughter portray such an intense character onscreen was challenging for Zendaya's father, Kazembe Ajamu Coleman.
"I am still trying to process it," he said. "She hasn't lived any of that. I am sure she has heard the horror stories from friends and relatives and probably some of the stuff from my past. But she was never directly exposed to any of that that I know of."
Coleman, who used to manage his daughter's career, added: "As a father, to see her in that role, knowing how volatile the industry is, how the industry can chew you up and spit you out like garbage overnight, processing all of that is a task."
Coleman said parents watching "Euphoria" are in for a rude awakening. "They are going to get slapped in the face with reality," he said. "They will get a real picture of what children are doing before, during and after school. … Parents are clueless. If we don't take heed to it, we could lose a whole generation of kids."
More red-carpet chats
On the red carpet, cast members discussed how young audiences might feel watching the controversial themes of the series.
"Sex is obviously something that teenagers have been doing for so long. It's not a new thought that they are having it," Ferreira said. "But portraying it in ways that have not been seen is actually pretty relatable and kinda speaks to people. I think it's important to see that on-screen."
Ferreira said she has always been drawn to darker, emotional things. "I grew up with a lot of the anxiety that teenagers go through, especially in the social media age," she said. "Anything that realistically portrays what you are going through kinda makes you feel like you are not alone. That always adds another layer."
Storm Reid, who also appears in director and producer Ava DuVernay's "When They See Us," plays Zendaya's younger sister.
"It's amazing to be able to work on a project that tackles tough subjects," she said. "I hope teens will feel inspired and feel less alone after watching the series. I want them to be more empathetic, more considerate of people and situations. You never know what a person is going through."
For any teen viewer who's struggling with addiction, Reid offered some advice: "Take it one day at a time," she said. "There are people out there who love you."
Actor Eric Dane, who has had his own struggles with addiction in the past, said the takeaway message is clear. "I don't think anyone will look at this and think drugs are cool," he said. "This is not a series that glamorizes drug abuse in any way, shape or form. It's done so truthfully that it shows a lot of this stuff for what it really is. … There is an honesty and beauty to the eventual redemption."
For fashion news, follow us at @latimesimage on Twitter.
Get our L.A. Goes Out newsletter, with the week's best events, to help you explore and experience our city.
You may occasionally receive promotional content from the Los Angeles Times.