Gwyneth Paltrow explains the meaning of Goop, talks about the future of her lifestyle brand
Gwyneth Paltrow was already seven hours into what would be an 11-hour day. Seated in the green room at Goop's In Goop Health summit, the actress-turned-entrepreneur looked poised in an Ulla Johnson dress, which she said she purchased through her company's website.
Paltrow was resting her feet, which were clad in Goop-branded flip flops from Native Shoes, during her lifestyle brand's third health and wellness conference Saturday at 3Labs in Culver City. She had taken one break earlier at the event's reflexology station.
"I also had a B12-glutathione shot," Paltrow said with chuckle. "So my butt's a little sore from the glutathione, but they say it's anti-aging …"
The sold-out summit drew 600 women from around the country eager to embrace what Paltrow called Goop's forward-thinking emotional and physical health activations. Among them were human design sessions; numerology; Akashic record, pulse, tarot card and crystal readings; breath work; chakra cleansings; aerial yoga; massages; facials; nontoxic manicures; and, of course, B12 shots.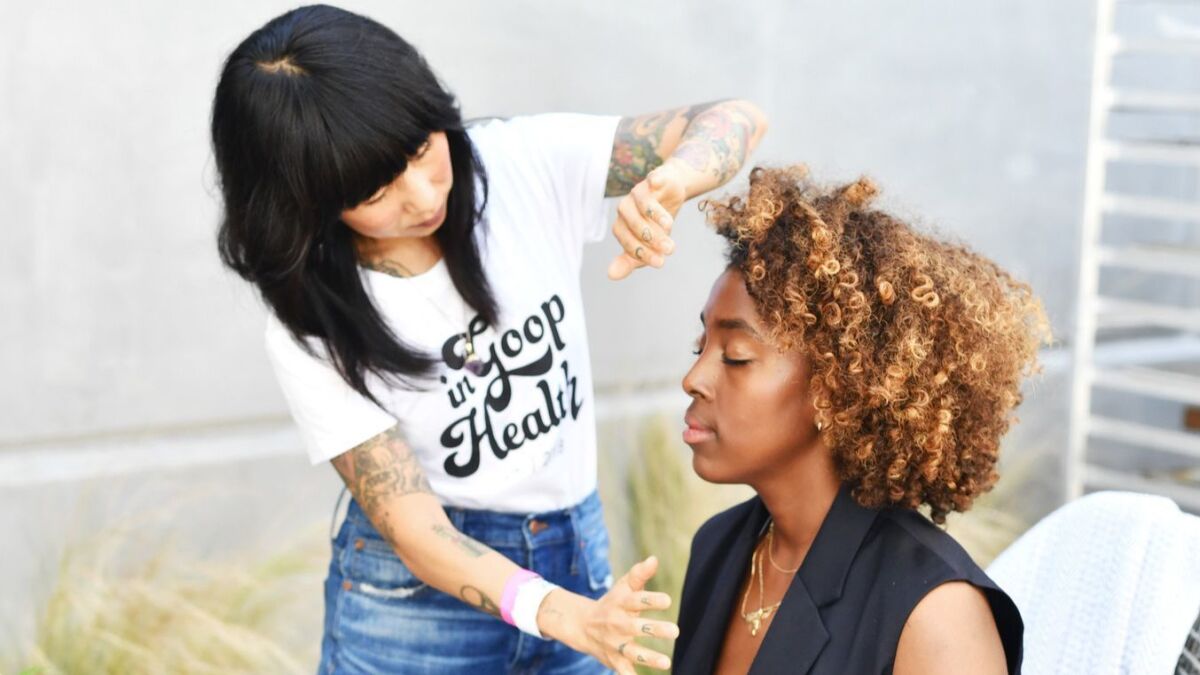 With all of that, it might be easy for someone to dismiss Goop. Sure, tickets sold for a minimum of $650, and yes, many of the event's activations were considered to be forward thinking, but one can't deny Goop's reach. The brand's event has sold out for each of the last three summits, one of which took place in New York. Goop also has a legion of worldwide followers so dedicated one might compare the lifestyle brand to a cult or religion. Or, in the case of Goop's summit, an adult summer camp.
Paltrow told The Times during a midday interview, "One woman said, 'This is like my summer camp. I drop off my kids to come and be at a place like this with like-minded women and learn things that are really resonant [to] me.'"
The Academy Award-winning actress described the afternoon as "an opportunity to bring a digital experience into an [in-real-life] experience where our readers can come and fully immerse themselves in experiential products. It's our hope that it's impactful and that people walk away taking something valuable with them."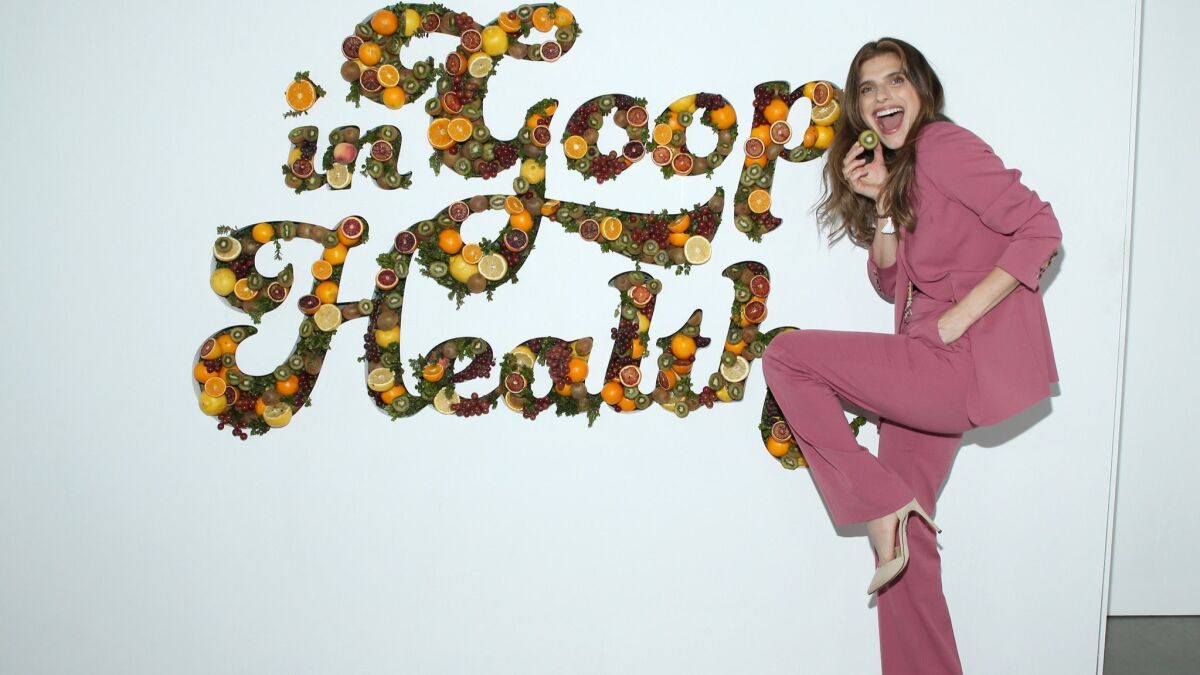 Ten years after its 2008 launch, Goop is an active part of the pop culture zeitgeist, a fact underscored by a recent "Arrested Development" episode. When told that the show's latest Netflix season includes a Goop reference, Paltrow said, "Oh! I've never seen 'Arrested Development.'"
As the show's gag goes, Alia Shawkat's character finds herself soul searching and says, "I just feel like I've gotta move on with my life, you know? Find some meaning. Get going with my own Goop." Michael Cera's character asks, "Goop? What is Goop?" Shawkat says, "If you have to ask, you probably don't know what it is." To which, he responds, "I don't know what it is. I feel like, maybe, you don't know what it is."
When told the joke, Paltrow laughed. "That's funny."
So, what is her response to the "Arrested Development" question? What exactly is Goop, in her own words?
"Well, if you don't know, it's very easy to go to Goop.com and check it out," she said. "I think Goop is … It's funny. We do so many things that it's kind of a difficult question to wrap up in a little bow, but I think, at our core, what we're trying to do is aggregate great information and product that helps people take a short cut to something that will optimize their lives, whether it's some marriage advice or a great taco place in Santa Barbara or a nontoxic cleanser that works really well."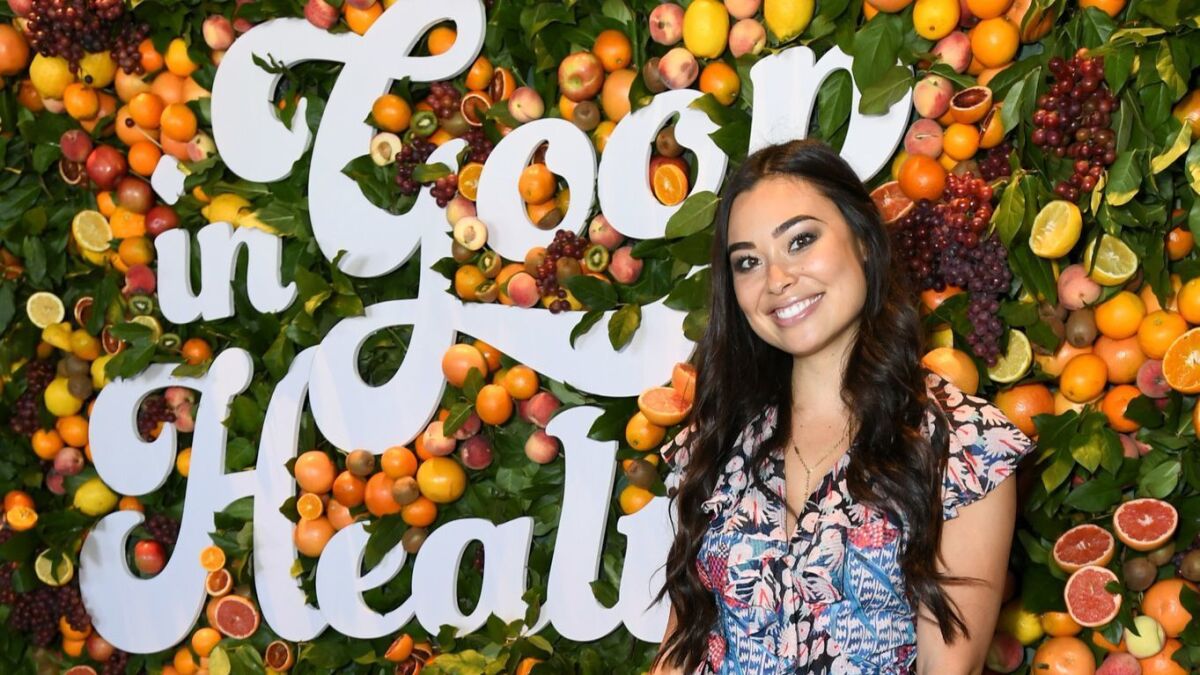 And to critics who still don't understand the Goop lifestyle, what would Paltrow tell them? "I would say, 'Go check it out,'" she said. "Go read and see what resonates and what doesn't."
Another extension of Goop is its clothing brand, G. Label, which launched in 2016. "The impetus behind the clothing was really being struck by designer price-points and feeling like they had gotten so egregious," Paltrow said. "I was noodling on models like Everlane or Warby Parker and thinking, 'I wonder if you could apply a direct-to-consumer model to a more aspirational product?' Whatever value was intrinsically there, you were still delivering, but at a higher price-point." She said she'd debated, "Would it be possible to go to one of the best factories in Italy and have them design very wearable, but yet high-quality, designer-quality fabrics and designs and have it remain in that direct-to-consumer model where you're not 10-times-ing the price of it?"
G. Label's pieces are sold on Goop's website, while Paltrow occasionally models items on her Instagram account. "The clothes are classics," she said. "We're not following trends. It's like, 'What does a woman who works and has a busy life or has a bunch of kids or both and is going from work to a soccer game to a cocktail work thing, what is a wardrobe that serves her?' It's feminine and easy with always a little twist or something chic."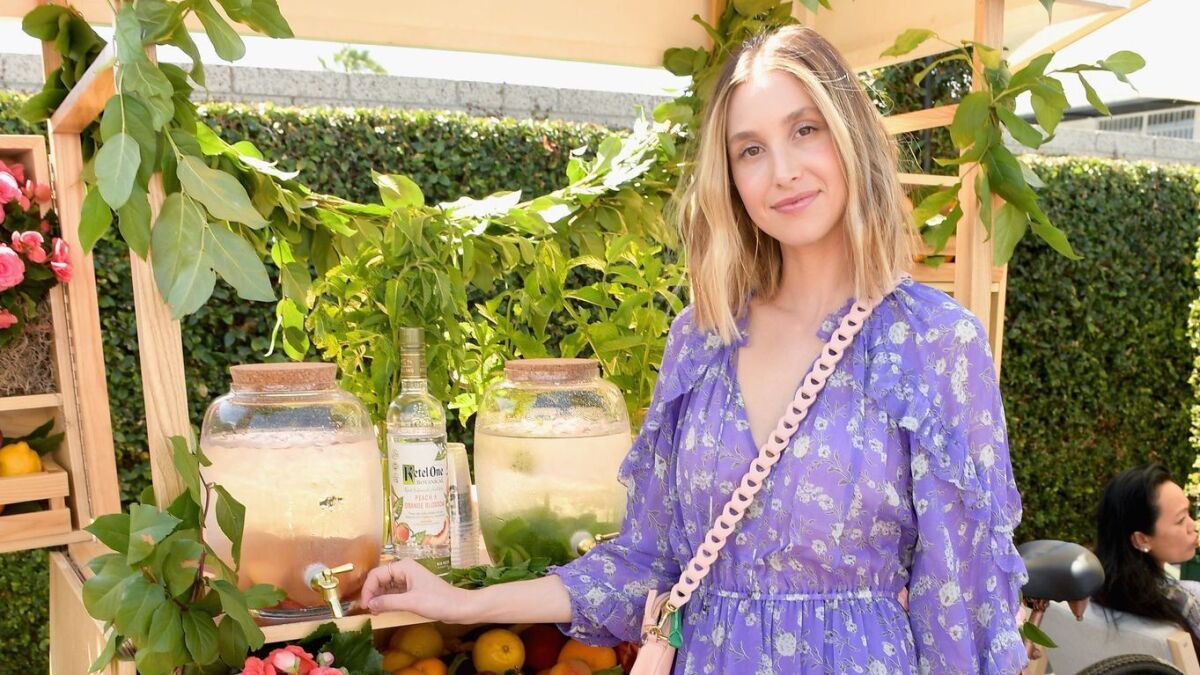 The brand opened a 1,300-square-foot boutique called the Goop Lab inside the Brentwood Country Mart in 2017. It's doing so well that Paltrow told The Times that Goop is opening a permanent New York store this September on Bond Street. "I think, in the next three years, you'll see us open a handful more," she said. "We want to keep it primarily a digital brand, but I think that mix of the clicks-and-mortars, as they call it, is actually a really good combination."
That said, Goop.com's content translated to an "IRL experience" at the summit through panel discussions that covered a range of topics including plant nutrition, autoimmune diseases, intuition, the cannabis industry and how to optimize your health courtesy of scientists, doctors and entrepreneurs. Celebrity panelists included Lake Bell, Mena Suvari, Janet Mock and Meg Ryan, the latter two of whom Paltrow said she was looking forward to personally interviewing during the final panel of the day.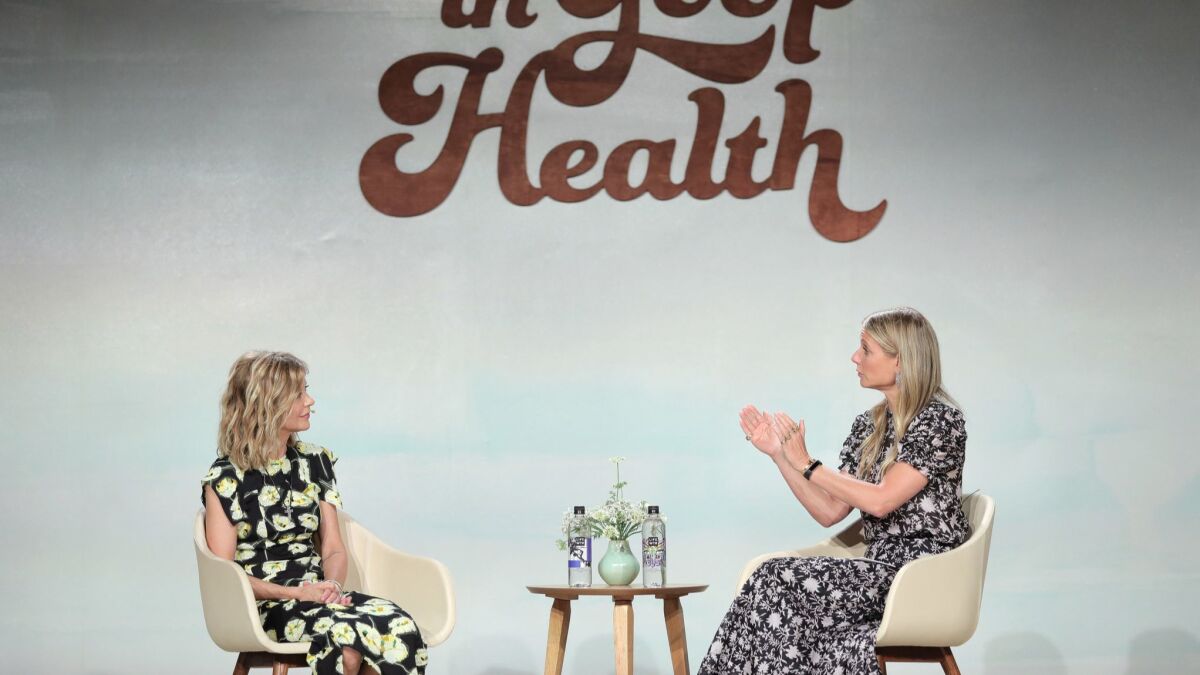 "For anybody who knows me, they know that I'm very interested in the shifting female paradigm," Paltrow said. "We're living in an era where what it means to be a woman is changing a lot." She said she was eager to learn more about Mock's work as a transgender-rights advocate. "Janet is a trailblazer in the gender movement," she said. "She has really burst this incredible bubble of shame around what it means to be transgender."
Paltrow said she was also eager to catch up with her old pal Ryan, with whom she appeared in 1993's "Flesh and Bone." "Meg, for me, is one of the most iconic movie stars," Paltrow said. "She was a huge movie star in a time where she had to adhere to this image so tightly. Looking back, it was so one-dimensional to have someone be cute and totally disregard all other feminine aspects. I'm curious to talk to her about what that was like and how she's now directing and she's heading in a new [direction]."
As for the future of Goop summits, Paltrow said her team is constantly looking to up the ante. "We are very serious about trying to always make it better and better," she said. "They keep raising expectations and then surpassing people's expectations."
For fashion news, follow us at @latimesimage on Twitter.