'Jeremy Scott: The People's Designer' shows why the Moschino man doesn't need fashion critics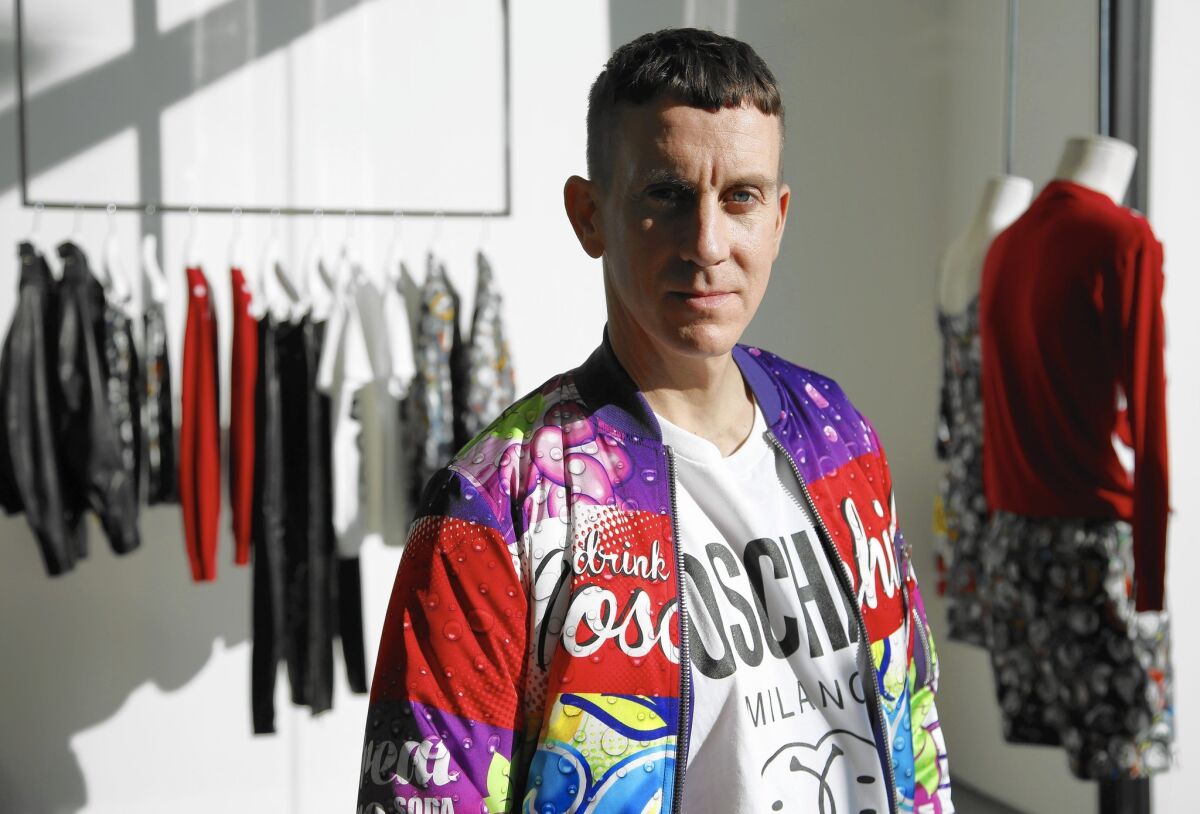 Vlad Yudin's documentary "Jeremy Scott: The People's Designer," scheduled to hit theaters worldwide on Sept. 18, could hardly have come at a better time, given Scott's current pop-culture profile, which includes a high-profile makeover of MTV's Video Music Awards' Moonman statuette and news that he's collaborated with Madonna for some of the costumes on her upcoming tour.
The 108-minute film focuses heavily on the run-up to Scott's debut runway show for Italian luxury brand Moschino in February 2014. Using interviews with Scott, his family, celebrity friends and fashion industry heavyweights, it sketches out a career arc that starts with his square-peg-meets-round-hole childhood in Kansas City, Mo., and reaches a high point when he dresses Katy Perry for the Super Bowl XLIX halftime show in February 2015.
"It's F-U-N — that's it, that's all it is," says ASAP Rocky at the beginning of the documentary. "Jeremy is just a big kid with a wild imagination." What follows is a cavalcade of celebrity testimonials from the likes of Perry, who appears extensively throughout the documentary (she's also the face of the fall and winter 2015 Moschino campaign), entertainers Miley Cyrus, CL and Rita Ora and costume designer Arianne Phillips.
For anyone unfamiliar with the designer, Yudin's documentary is a good primer on the reigning clown prince of fashion, hitting some of Scott's earlier career milestones with the efficiency of bullet points in a Wikipedia entry: attending Pratt Institute in New York City (after being turned down by FIT for "a lack of originality"), staging his first-ever show in Paris (one show invitation — to an important critic — was sent on a salvaged car door) before fast-forwarding to his relationships with Moschino, Perry and the like.
The Moschino connection is an undeniably important part of the Jeremy Scott story. The filmmaker does an excellent job of explaining — by use of archival video clips of runway shows and the words of the late fashion-outsider-on-the-inside Franco Moschino himself — how Scott is the perfect person to breathe fresh life into the brand. Franco Moschino, who founded his label in 1983, gained fame for his use of visual puns, anti-fashion fashion statements and enthusiastic appropriation of other pieces of pop culture. Scott is an equally enthusiastic appropriator and repackager of pop-culture motifs including "Dynasty," Bart Simpson, Shrek and graffiti.
It's an approach that puts Scott at odds with a fashion system that prizes originality, which becomes apparent in the critics' mostly negative reactions to that debut Moschino collection, filled as it was with riffs on McDonald's and other fast-food imagery (popcorn, candy bars, breakfast cereal, gummy bears ) with a handful of SpongeBob SquarePants pieces thrown in for good measure. (We feel obliged to point out that the quote attributed to the L.A. Times, "Ugly footwear walks on," actually referred to a New York Fashion Week review of Scott's namesake label, not the Moschino collection, which was shown in Milan.)
This fits nicely with the conceit of the documentary (reflected in the title), which is that Scott's success is despite — not because of — the critics who fill the show seats or the design-school gatekeepers who rejected his application citing a lack of originality. He is, as the title of the documentary makes clear, "the people's designer."
Which is why we wish there wasn't such a big, Los Angeles-shaped hole in the film. Scott is an L.A.-based designer (he's lived here since the early aughts) and his work here — with stylists, costume designers and pop stars — is what's helped push his name to near rock-star status. Instead, the documentary relegates Scott's SoCal presence to a few minutes inside his Beverly Hills home and a snippet of a fashion award acceptance speech at the Sunset Tower Hotel.
In retrospect, the slight doesn't seem so bad — especially since the documentary made its world premiere here on Sept. 8 (in advance of a New York premiere on Sept. 15 and a worldwide release on Sept. 18).
And as part of the event, L.A. helped cement Scott's place in the pop-culture pantheon when, with Perry at his side, his handprints were immortalized in a slab of wet concrete at the TCL Chinese Theatre on Hollywood Boulevard.