Katie Nehra couldn't find the perfect sweatpants. So she created a new line of elevated sportswear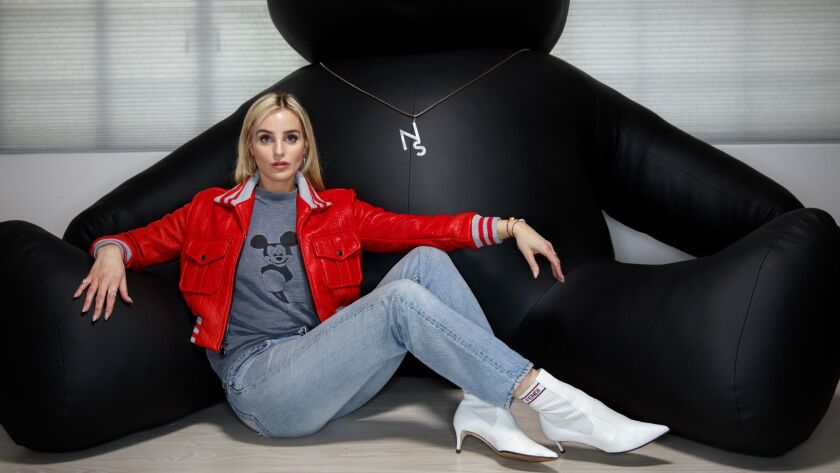 Early in her acting career, Katie Nehra learned that if she wanted to play the complex on-screen roles she was looking for, she would have to write them herself. "For TV, they write a lot more interesting parts for women, but for film they really do not," says Nehra, who cut her teeth at New York's Neighborhood Playhouse and at Los Angeles' Groundlings Theatre before co-writing and playing a supporting role in Chris Messina's directorial debut, "Alex of Venice," in 2014.
When it comes to fashion, Nehra has adopted that same DIY attitude, starting in 2007 with her debut clothing line, Simone, which began with six short, frilly dresses, each named after friends. "It was selfish," the self-taught designer says about that endeavor. "I wanted to make dresses that I couldn't find." Eventually the label reached cult status with its custom varsity and cropped leather and suede jackets favored by the likes of Mary-Kate Olsen and Kristen Stewart.
So in 2016, when the Baltimore native kept turning up empty-handed in her search for the perfect sweatpants for women, Nehra's natural instinct was to fashion her own. That laid the foundation for Nehra Simone, the designer's new line of elevated sportswear spanning everything from cropped hoodies to knit overalls and a mesh bodysuit with a plunging neckline, priced between $295 and $2,225. As for her dream sweatpants, there are plenty of those in the lineup too, including her roomy Supersize sweatpants in Japanese fleece with leather-panel inserts and a logo-splashed pair in cozy merino wool, part of the line's mostly unisex offerings. Predominantly made in Los Angeles, the 52-piece collection is available online at nehrasimone.com.
"I wanted something that you could wear to bed then wear it out to dinner," says Nehra, pointing to a fluid checkered pajama shirt and a pair of lace-up boxer shorts with floral piping, currently hanging with part of the collection on a rack in her Hollywood Hills home office. In the mix are Nehra's signature leather jackets, including an oversize bomber that lends its wearer "a little more swagger," she says. (The Simone label's made-to-order jackets were also absorbed into this line.) Thumbing through the collection, she stops at a red argyle-embossed leather sweatsuit. "I wish [rapper] Future would wear it onstage. Those are the kind of people I love," she says, nodding toward a photo of Gucci Mane on her inspiration board. "Living out loud — with big personalities."
Nehra, dressed in long johns and a varsity jacket from her own line, paired with Air Jordans and a vintage Chicago Bulls tee, is not one to shy away from sartorial statements of her own. "I may look casual but I mean business," she says, summarizing her style approach. However, it has evolved over the years. Since moving to Los Angeles in 2005, her heels have been replaced with a highly edited closet of sneakers, sourced from the likes of Los Angeles footwear store Undefeated and resale site Grailed. "It's like collecting art," she says.
Would she ever launch her own sneakers? "That's my dream, but it's so hard," she says. For now, her line boasts Nehra Simone logo slides in recycled cork, along with a wide-ranging selection of accessories spanning plush hooded terry bathrobes to branded rolling papers.
Along with creating her athleisure wear, Nehra also found time to pen a script for her second feature, an interracial love story that she's currently shopping around and in which she hopes to star. If anything, working in fashion has helped shape her perspective as a screenwriter, she says. (In "Alex of Venice," she plays a failing fashion designer.) "The more you have your heart broken or fall down, the better your writing and art is going to be," she says. Does Nehra identify more as an actor, screenwriter or a designer? "I think of myself more as an artist," she says. "As someone who is just creating things."
Please consider subscribing today to support stories like this one. Get full access to our signature journalism for just 99 cents for the first four weeks. Already a subscriber? Your support makes our work possible. Thank you.
For fashion news, follow us at @latimesimage on Twitter.
---