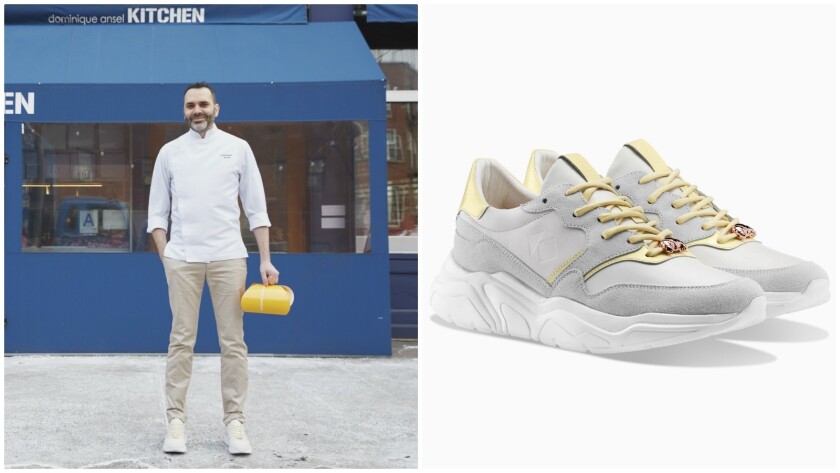 New York-based, Italian-made sneaker brand Koio rolled out a croissant-themed, limited-edition version of its Avalanche silhouette on Thursday in collaboration with celebrated pastry chef (and Cronut creator) Dominique Ansel.
Available now at Koio's Venice and Soho stores (as well as online at koio.co) in men's and women's sizes, each pair of the $348 sneakers comes with a package of the celebrated pastry chef's pancake mix and is full of subtle details inspired by the four basic ingredients in a classic French croissant. The result is uppers combining flour-white suede, butter-yellow patent leather and calf leather in a shade called egg shell. Rounding out the references are butter-yellow shoe laces and a croissant-shaped copper lace charm.
The croissant-themed kicks are just the latest example of a never-ending smorgasbord of food-themed footwear that makes the idea of putting your foot in your mouth downright delicious. A few of the others to catch our attention — and whet our appetite — include:
K-Swiss X Coolhaus
Last month, L.A.-based ice cream brand Coolhaus marked its 10-year anniversary by partnering with K-Swiss on a special version of its Classic VN silhouette. Tasty touches included sprinkles (at the heel and in blue, pink and white translucent rubber outsole) and the numeral 10 embossed in an ice-cream-like detail on the tongue. A non-comestible embellishment worth noting is the silver heel collar emblazoned with "200," a reference to Coolhaus' origin story, which included a trek from L.A. to Coachella back in 2009. Men's and women's sizes ($80) are currently available exclusively at kswiss.com.
Saucony X Dunkin'
Two Massachusetts companies — Waltham-based running-shoe brand Saucony and Canton-headquartered Dunkin' — first dropped limited-edition collaborative kicks in the run-up to the 2018 Boston Marathon and they ended up selling like, well, hotcakes. In March, in advance of this year's footrace, the pair re-teamed on a new collaboration — a donut-themed version of Saucony's Kinvara 10 silhouette.
Covered in Dunkin's pink and orange logo with a coffee cup on the tongue and a frosted strawberry doughnut lace charm, the $120 sneakers were packaged in a custom shoe box made to resemble a box of Dunkin' doughnuts. (Side note: That's not a surprise you want to spring on a doughnut lover.)
Although the adult sizes have long sold out, some children's sizes (a new addition this year) are still available at saucony.com with a bite-marked doughnut replacing the coffee-cup detail on the tongue ($65).
Puma's Cali-O Drive-Thru Shoes
In February, the @Pumasportstyle Instagram account posted a short video depicting a pair of disembodied white sneakers with red and yellow accent details walking across a pile of hamburgers. It was Puma's way of announcing the arrival of its Cali-O Drive-Thru sneakers created in collaboration with Chinatown Market's Mike Cherman to pay homage to California's burger diners. What you don't see in the video is the alternate set of shoe laces, which happen to be emblazoned with small, red palm trees.
If you think that seems just one tree short of In-N-Out's well-known crossed palms logo, you wouldn't be the first to notice; the burger chain filed a trademark-infringement suit against Puma North America the following month. (The case is ongoing, and Puma representatives haven't responded to an inquiry on the topic.) Although the shoes have since disappeared from Puma's U.S. website, as of this writing they're still available (with the palm-printed second set of laces) on the global brand's Australian e-commerce page.
Air Jordan XV Retro 2015 Jordan Cabernet Sauvignon
According to the folks at Healdsburg's Jordan Winery, a wine-themed collaboration with Nike's Air Jordan brand (the namesake Jordans are unrelated) started fermenting two years ago — as an April Fool's Day joke. The faux footwear was uncorked on April 1 of this year, boasting such details as wine cork midsoles, French oak barrel stave aglets, inserts marinated in coq au vin ("to ensure the shoes always smell like a fine French restaurant") and a detachable corkscrew with a handle made from an oak barrel stave.
The custom kicks — created for the winery by Troy "Kickasso" Cole — proved so popular as a joke that in addition to gifting pairs to high-profile friends of the brand (including the Lakers' Kyle Kuzma), one pair ended up in a charity raffle. At Jordan Winery's May 1 Cabernet & Kicks event in downtown L.A., the faux-turned-real shoes ginned up $2,500 for a good cause, Matthew McConaughey's Just Keep Livin Foundation.
For more musings on all things fashion and style, follow me at @ARTschorn
---