Los Angeles fashion weeks' bright spots include armor, angels and a zippy collection of convertible clothes
Fashion Week (or more accurately weeks) in Los Angeles occurs each spring and fall with multiple organizations (currently including Art Hearts Fashion, L.A. Fashion Week and Style Fashion Week) holding events throughout greater Los Angeles shortly after the twice-yearly Paris women's ready-to-wear shows have wrapped. (And, in the case of Art Hearts Fashion, even before they've wrapped.) Although the local shows rarely feature the instantly recognizable brands — or the production value for that matter — of fashion weeks in New York, London, Milan, and Paris, they provide some much-needed exposure for local, emerging and lesser-known labels. Here are some of the noteworthy moments from the recent run of L.A. runway shows.
Art Hearts Fashion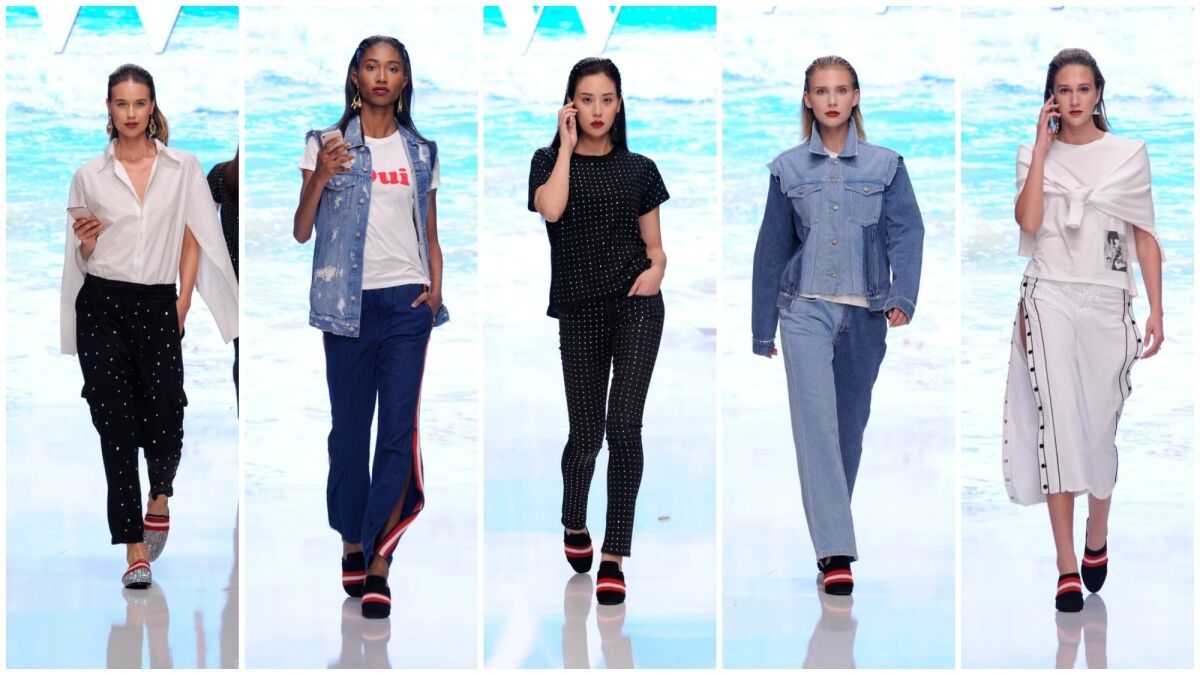 Burning Guitars, Datari Austin and Siwy Denim presented spring/summer 2018 collections at Art Hearts Fashion's Sept. 29 show at the Beverly Hilton in Beverly Hills. The evening got off to a rocky start with the shows starting more than an hour late and the first two designers — Datari Austin and Burning Guitars — showing collections that were entertaining yet failed to meet the mark. Burning Guitars' collection was bold, brash and too over-the-top for anyone but a rock-'n'-roll frontman, while Datari Austin used fabrics that came across as a little blasé and — dare we say — cheap.
The highlight of the evening was the L.A.-based brand Siwy Denim and its spring and summer 2018 "Zip Me Up!" collection, which featured apparel that blended a modern '80s vibe with sporty/edgy details. Think zippers, snaps, stripes and holes all placed in unexpected areas and designed for versatility and the capacity to transition an outfit from a casual day look to a bold night look in just one zip. The color palette included a sea of blues, white, black, light gray and olive. Kris Park, chief executive of Siwy Denim, wants the brand to be viewed as a lifestyle brand for all women and for all occasions.
"We wanted to show something different. Clothes that could be worn to work then unzipped to something more trendy to wear out," Park told us.
We couldn't help but notice that each of the models hit the catwalk carrying a cellphone, which could have been intended as a commentary on the ubiquity of technology, but for us simply turned the runway from exotic adventure into everyday occurrence.
L.A. Fashion Week
L.A. Fashion Week staged a five-day run of spring and summer 2018 shows at the Alexandria Ballrooms in downtown Los Angeles Oct. 4-8. The Oct. 7 slate of shows we attended (along with a celebrity slate that included "Insecure" actor Sarunas J. Jackson, model Selita Ebanks and Shani James), kicked off more than an hour and a half after its scheduled 7 p.m. start time with the debut of L.A.-based Radka Salcmannova.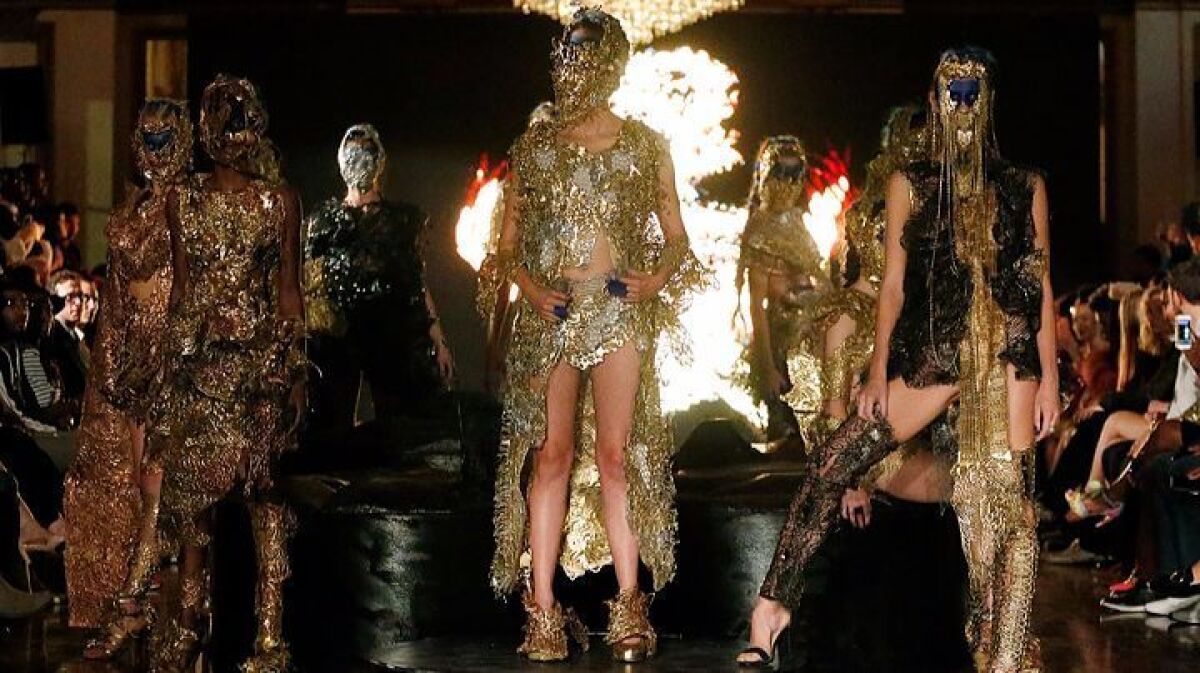 A self-described "visual artist," Salcmannova is a painter, photographer and indie filmmaker who began creating costumes for her own films two years ago. The armor-like, body-contouring dresses and matching face masks crafted from metallic silicone melted on mesh, had painterly texture accented by dangling threads and gold chains. The result was more theatrical than wearable. ("Mad Max" and "Game of Thrones" were overheard whispered audience commentary.) But that's kind of her point. "I told the models that I wanted them to be a character like Wonder Woman," said Salcmannova, who recently relocated to L.A. from New York. "My goal is to work with singers, actors and artists."
Next up was self-taught, 26-year-old Baltimore-based designer Bishme Cromartie, who already has a Hollywood following. (His e-commerce site is set to launch on Feb.16, 2018.) Cromartie told us that fans include singers Ashanti, Jill Scott and Andra Day as well as "Orange Is the New Black" stars Dascha Polanco and Jackie Cruz. Evening dresses and jumpsuits in fuchsia and silver hues (some in glittery stretch mesh) had architectural ruffled detailing, peaked shoulders and cape-like tops that Cromartie said were inspired by a butterfly's transition. The accessories — vegan croc-print belts and mirrored butterfly earrings — stood out. "I sent two pairs of the earrings to Beyoncé. I work with her stylist Zerina Akers," Cromartie said. "Once she wears them, it's over."
Amsterdam-based fashion duo Marie Burlot and Jimmy Rinsum rounded out the night with a presentation of their seven-year-old label, Mary Me Jimmy Paul. The show contrasted evening gowns (some with macrame-like texture) with utilitarian jackets — one had a built-in backpack that Burlot noted has been donned by Ariana Grande. The brand focuses on costuming musicians (styles are available by special order and have been worn in the past by Rihanna, Kesha and Lady Gaga). "Since we're in L.A., we did our take on the red carpet look," Burlot said. "There's always a sense of humor in what we do. Some of the dresses were literally made of curtains, but we tried to make them flowy and glamorous. We call it 'haute sportswear.'"
Style Fashion Week L.A.
Maybe because it was Friday the 13th or maybe it was coincidence, but night two of the four-night run of Style Fashion Week LA this month at the Pacific Design Center in West Hollywood proved to be a mash up of horrific musical performances mixed with an assortment of different fashion looks. The fashion lineup for the evening included Moods of Norway, Something by Sonjia and Mario De La Torre.
Moods of Norway kicked off the 9 p.m. grouping of shows with a collection entitled "In a Killer Mood," which featured men and women's looks that transported us to a James Bond-like world with models as spies. This collection had a strong retro feel with women's slinky silk jumpsuits, floral motifs (accessorized with aviator sunglasses and curly wigs) along with fitted plaid suits, leather jackets and suspenders for the men.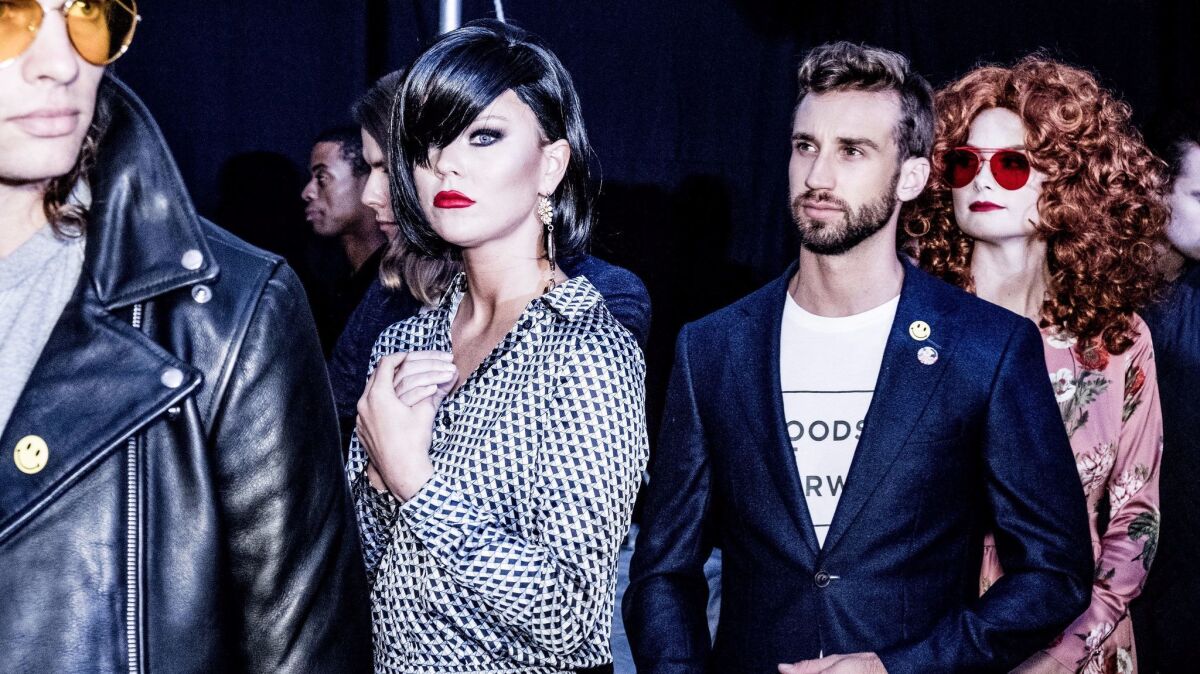 Next up was Something by Sonjia, which proved to one of the best collections of the night. Designer Sonjia Williams is a Boston native and former "Project Runway" and "Project Runway All Stars" contestant. Williams is one of the few designers to show a fall/winter 2017 collection entitled "Archi-texture" which was inspired by Williams' fascination with the clean lines and geometry of architecture mixed with the interesting textures and the tactile nature of fabrics. Her collection had an assortment of chunky/structural sweaters, high-waisted skirts, flowy dresses, scarves, gold platform sandals paired with black socks and black beanies (which we saw as a riff on the now-iconic pussy hats).
"I make strong pieces, not timid pieces," Williams said, declining to assign specific meaning to the headgear. "My woman knows who she is and is not afraid to be that person."
The color palette included burnt yellow, navy blue, tan, gray and black. Accents of tribal patterns, plaid and shearling were sprinkled through the collection. The silhouettes played with volume and proportions in way that created stand-out, figure-flattering looks. Two memorable looks were the oversized shearling vest (a favorite of the designer's) and a coat dress that the designer said is so stiff with padding that it can stand up on its own like a suit of armor. Overall, Williams married urban and tribal aesthetics in a way that brought a fresh perspective to the runway.
Closing out the show was Mario De La Torre, who presented an all-white collection named "City of Angels," with a range of different silhouettes. Fitted see-through cocktail dresses, evening dresses, A-line skirts paired with crop tops and bodysuits were some of the standout looks. De La Torre also included a range of different models on the runway representing women of all ages, body types and ethnicities. A pregnant model, baby and small girl all graced the runway for De La Torre's show. De La Torre's monochromatic white collection proved to be a nice palette cleanser that left us thinking maybe the City of Angels could use a little more of De La Torre's angels.