London Fashion Week: Christopher Kane explores sex and natural beauty in his latest collection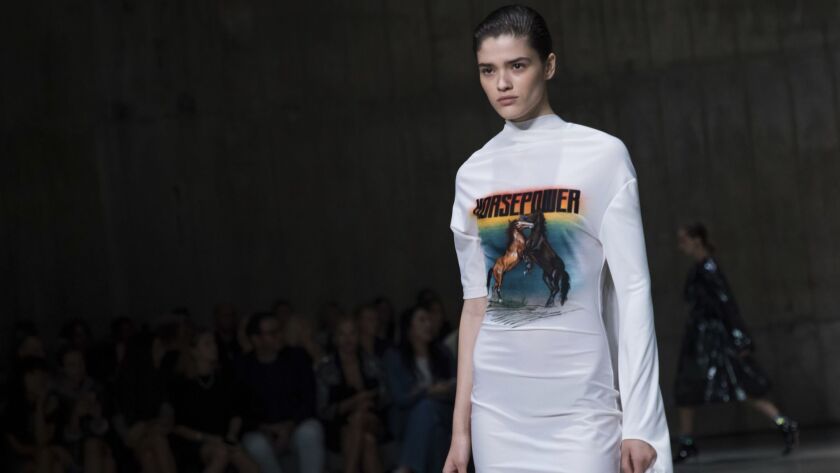 Reporting from London —
In the era of #MeToo, it's a brave man who would command a parade of teenage girls on a runway clad in a collection explicitly themed around sex, but then again, Scottish designer Christopher Kane has always been gutsy. After all, this is the man who once created a patchwork dress featuring illustrations of male genitalia, which singer FKA Twigs wore to the Met Gala in New York.
But bravery pays off. Twigs and Anna Wintour were in attendance at Kane's London show on Monday, which took place in the bowels of the Tate Modern art museum, whose bare concrete walls provided an ideal backdrop for Kane's continued exploration of sex using fashion (his last collection was inspired by the 1972 sex manual "The Joy of Sex"). Sex is a subject that is apparently fraught with as much contradiction for Kane as for the rest of us, particularly women. Are overt displays of sexuality empowering — or, in this age, demeaning? Do we want to be admired for our bodies or our brains?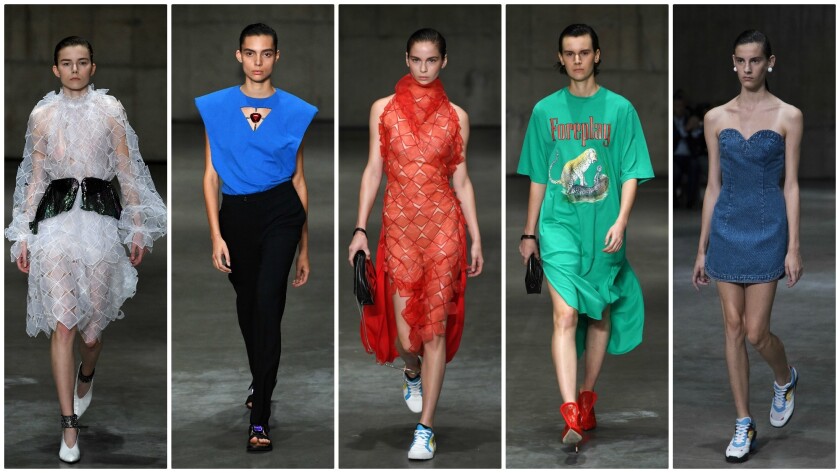 Kane, it appears based on the runway looks he presented, is torn too. On the one hand, there were thigh-split skirts, naval-grazing necklines, strapless dresses and sleek heels, but on the other, there were oversized coats, exaggerated shoulder pads, sneakers and pool sliders. The models walked in time to an industrial soundtrack overlayed with voice clips of a breathy, almost incomprehensible Marilyn Monroe and British naturalist David Attenborough intoning the words, "Sex in nature," clearly a take on Monroe's quote about sex and nature.
The strongest pieces were those that conveyed the strength — and fragility — inherent in sexual politics. Think black lace bustiers made of tear-shaped panels, which resembled ribs up close and police vests from afar; skirts and dresses that shimmered like an oil slick; black T-shirts emblazoned with provocative slogans; diamante-trimmed ensembles that looked like futuristic armor; and net tutus, appearing as if they were afterthoughts, stitched onto the ends of dresses.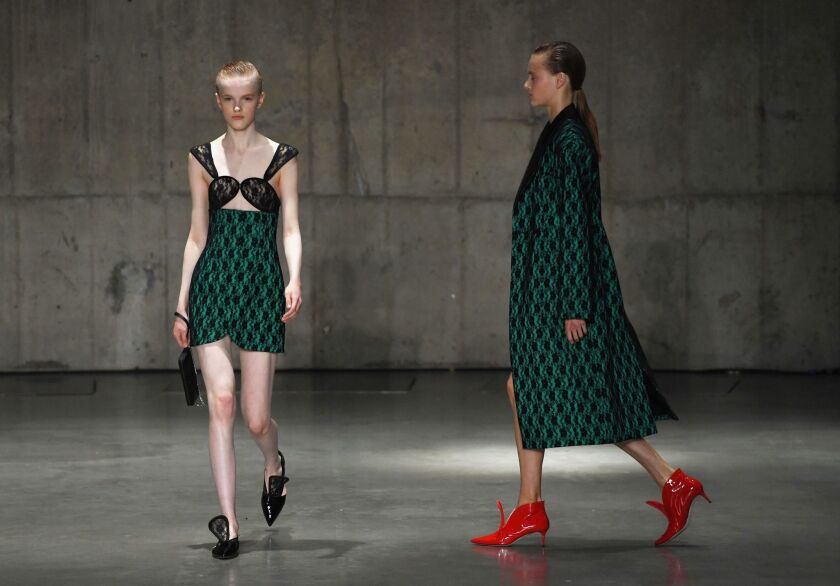 At its core, though, the message sent along the runway was a desire to retreat from the artifice of politics in favor of displays of natural beauty. T-shirts featured images of animals alongside slogans such as "foreplay" above frolicking leopards; "horsepower" over bucking horses; and "sexual cannibalism" headlining a praying mantis. Makeup on models was minimal, with their hair slicked back into fuss-free low ponytails (no contouring or hair extensions here). This was sexiness as women might envision it, which is no surprise given that Kane often credits his success to the strong females who surround him, including his business partner and older sister, Tammy.
Sexuality on our own terms. Now what better message could there be for the #MeToo generation?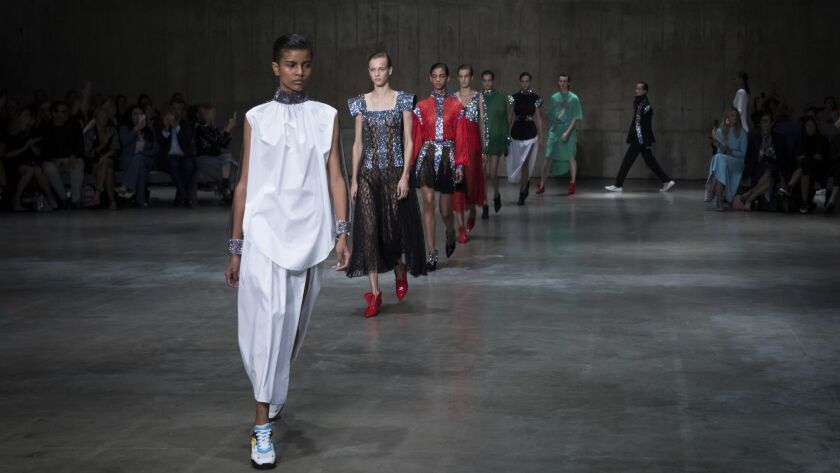 For fashion news, follow us at @latimesimage on Twitter.
---