For celebrity hairstylist Mara Roszak, clients' high-profile hairdos are 'living proof' of top-notch products
A rainy Thursday night gave celebrity hairstylist and recently appointed Living Proof brand ambassador Mara Roszak the perfect entrée to talk about the product range. Billed as an evening of "Styling + Science," the event, which was at Milk Studios in Hollywood, featured defrizz demonstrations, hair consultations, cocktails and hors d'oeuvres.
"I love to connect with women," Roszak said, wearing a black skirt by Proenza Schouler that she purchased while working in Singapore a few years back with Zoe Saldana. The hairstylist, who counts Emma Stone, Brie Larson and Haley Bennett among her clients, said the weather reminded her of a predicament she faced with Saldana years earlier. "It was raining for the Golden Globes, and I was like, 'What am I going to do?' Had I known about Living Proof's products, I would have felt a lot more confident knowing that her hair would be fine with a little bit of moisture in the air."
Roszak said it was nearly the same scenario at this year's Academy Awards — but for the brand's defrizzing and humidity-shielding products, which turned a nerve-racking moment into a confident one. "I was able to use [those products] on Emma [Stone] this year before she walked out the door," Roszak said. "Luckily it wasn't raining, but it really does prevent those climatic difficulties."
A self-professed "product addict," Roszak said she's enjoyed taking a deep dive into the science that goes into what goes onto her clients' hair. (Among the things she's learned is that the silicone-free, humidity-blocking line was developed by MIT scientists in Cambridge, Mass., where the brand is headquartered.) Some of the favorite Living Proof products — this is the brand she's fronting, mind you — include its Perfect Hair Day Dry Shampoo ($23); Restore Blowout Concentrate ($29); and the not-quite-yet-available-to-consumers No Frizz Instant De-Frizzer ($26), which will launch on the livingproof.com website March 26, followed by a bricks-and-mortar rollout May 1.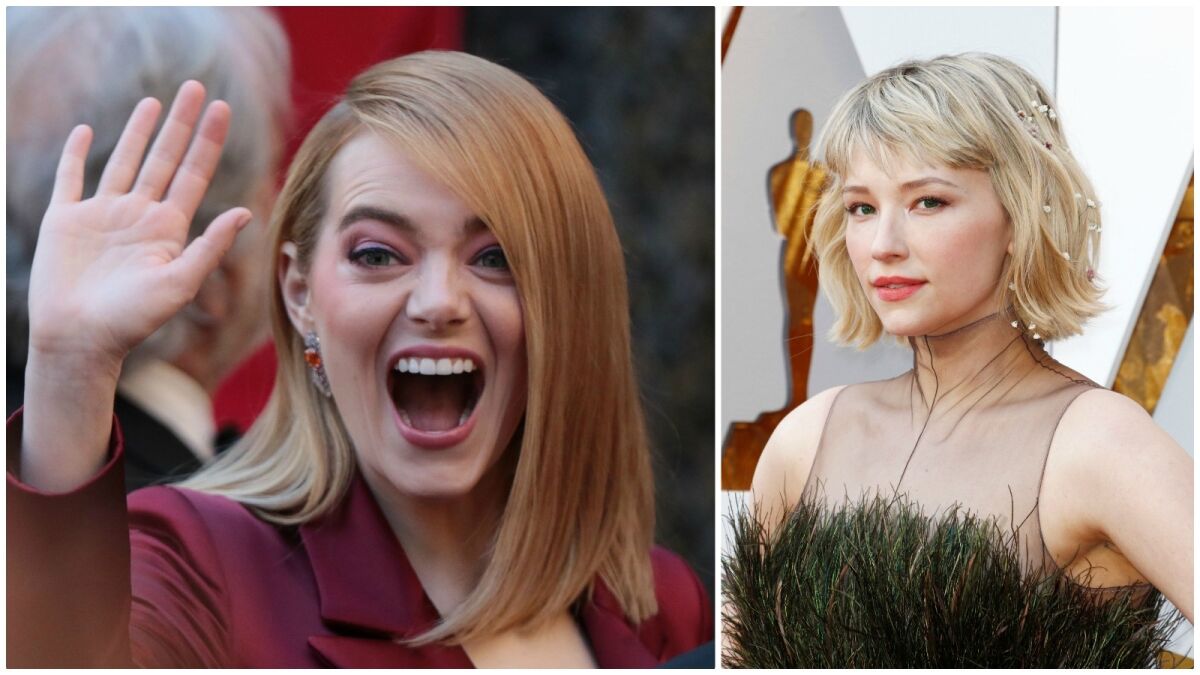 Among the standout hairstyles from this season's awards-show circuit that she (and Living Proof) can take credit for: Emma Stone's sleek, straight, side-parted Oscar look; Haley Bennett's windswept Oscar hair which featured real flowers ("Haley's inspiration was, 'I want to look like I was rolling or running through a field of flowers.' I said, 'We could actually use real flowers and glue them into the hair'"); and Brie Larson's SAG Awards look, achieved with the aid of Living Proof's Flex Hairspray. ("[It] is super touchable and really soft," Roszak said, "so the style stays intact without it looking like it's super shellacked and hard in any way.")
While this year's awards-show derby may be in the rearview, the hairstylist, who owns the Mare Salon in West Hollywood, isn't taking her foot off the gas any time soon. She said there are a few jobs with Stone on the horizon, some planned travel, and a wedding to plan — her own.
"I know we're talking about work," she said with a laugh, "but that's a big event that's coming up."
For fashion news, follow us at @latimesimage on Twitter.