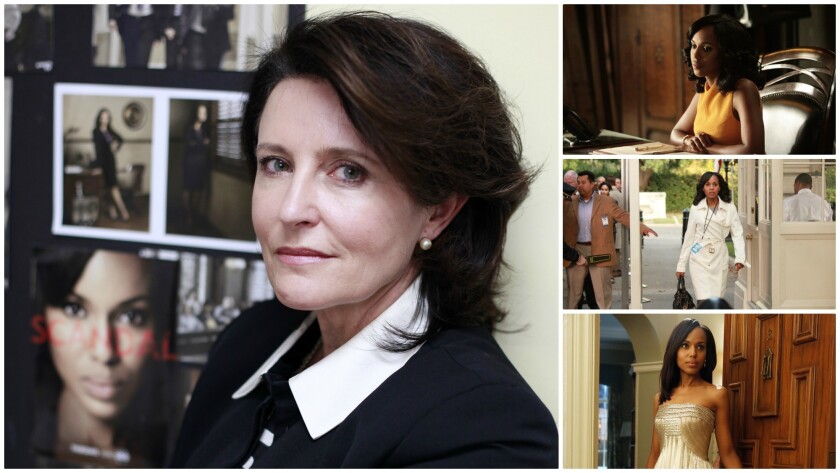 "Scandal" costume designer Lyn Paolo helped catapult fictitious Washington, D.C., fixer Olivia Pope (Kerry Washington) into a cultural phenomenon and a prime-time style icon thanks to her feminine take on traditional political power dressing.
The Emmy-winning costume designer largely kept Pope in neutral shades — white, gray and black — during "Scandal's" seven-season run on ABC. Later, a palette of bolder colors, including red, orange and yellow, was added to Pope's wardrobe in season 5, resulting in numerous stories about the switch.
"We showed that you can be strong and still be fashion forward," said Paolo, who also admitted during a recent interview that the final days of filming the series "were full of highs and lows."
"One minute we were all laughing, and the next we were crying," said Paolo, also a costume designer for another Shondaland show, ABC's "How to Get Away With Murder." (She's working on new projects as well, including Shondaland's "For the People," which is currently airing on ABC, and the Washington-produced sitcom "Man of the House" for ABC.)
So where did all of those designer "Scandal" costumes end up? Paolo said a few cast members purchased their favorite pieces, while ABC/Disney is holding onto the bulk of Pope's wardrobe for a possible exhibition. Until those plans are finalized, Paolo remained mum on further details.
Before "Scandal's" series finale April 19, The Times asked Paolo to recap her Top 5 favorite Olivia Pope looks.
---
1. Olivia Pope in a pink bouclé Armani coat with a Goyard bag
"This outfit was the beginning," Paolo said of Olivia's pink bouclé Armani coat paired with a Goyard bag from season one. The 2012 episode, "The Trail," revealed the origins of how Pope, President Fitzgerald "Fitz" Grant and Pope's team of Gladiators first met. It's one of Paolo's top looks because of its historical significance in addition to Paolo's own memory of the day. "Kerry and I both cried on that episode," Paolo laughed, divulging that Washington had "a ridiculous amount" of clothing changes while shooting. She estimated that Washington wore 17 or 18 looks for the episode. "We were exhausted," she said. "We always laugh about that now."
---
2. Olivia Pope in a Jean Fares Couture strapless gown
Pope was a stunner on screen wearing a beaded Jean Fares Couture gown during the episode "Defiance" during season 2 in 2012. "We had to rebuild the whole gown," Paolo said, adding that the gown was found in a box at a rental house. "It was falling to pieces. The gown was a challenge because it looks simple but it isn't when you look underneath at its structure." The dress was also a fan favorite although many viewers were upset that the episode's storyline kept Grant from seeing Pope wearing the look. "I still get messages on Twitter asking, 'Is that ever going to happen?'" Paolo laughed. "I'm not going to say whether it did or didn't because that would spoil it."
---
3. Olivia Pope in a Christian Dior black-and-white houndstooth coat
Pope wore a Christian Dior houndstooth coat for season 3's "Vermont is for Lovers, Too" episode in 2013, but it's what viewers didn't see that makes the look particularly memorable for Paolo. "Kerry was having a baby," Paolo said. "If you really look at the coat, you can see it. It was challenging to find something that helped hide the impending birth." Paolo paired the coat with Pope's signature black Armani pants. "We literally cut the front of the pants out and put an elastic panel in," Paolo explained. "Kerry said to me, 'You destroyed all of these Armani pants.' She thinks it's so funny. She bought one of those pairs of pants from the show as a memory."
---
4. Olivia Pope in a Narciso Rodriguez dress
Life imitated art shortly after Pope wore this marigold-colored Narciso Rodriguez dress during the season 5 episode "The Fish Rots From the Head" in 2016. "We were watching the State of the Union, and Michelle Obama had on the same dress," Paolo said. "It was one of those kismet moments because Kerry had campaigned for President Obama." However, "Scandal" didn't always have easy access to high fashion. "Seven years ago, loaning to television shows was less common," Paolo explained, adding that Calvin Klein was the first label to lend to "Scandal." "I also have to give a shout out to Kerry for that," Paolo said. "She also called them. It was a joint effort."
5. Olivia Pope in a white Tory Burch trench coat with a Prada handbag
Season 1 episode "Grant: For the People" from 2012 featured what became Pope's signature look during the series — a trench coat (in this case, a white trench coat from Tory Burch) and a Prada bag. "In our first fitting, I brought a couple of purses from home," Paolo said of how her own Prada handbag made its onscreen debut. "Kerry said, 'I like that one.' Then, halfway through the pilot, we looked at each other and said, 'She's a Prada girl.'" So where is Paolo's purse now? "I gifted it to Kerry," Paolo said. "I was given it as a gift from an actress as a thank you at the end of a show. I thought, 'This is paying it forward.' So Kerry has it. It was my wrap gift to her."
Please consider subscribing today to support stories like this one. Get full access to our signature journalism for just 99 cents for the first four weeks. Already a subscriber? Your support makes our work possible. Thank you.
For fashion news, follow us at @latimesimage on Twitter.
---