As fashion insiders like to say, Mark Zunino is having a moment. In quick succession, the L.A. couturier has recently seen several of his celebrity clients strut his spangled wares in high-profile television and stage appearances.
Who could forget Britney Spears shucking her iridescent ruby-leather mini-trench for a hand-beaded bikini with crystal body swags at the Billboard Music Awards?
Or Sofia Vergara shimmying next to Pitbull at the Grammys in Zunino's gold-encrusted bustier with a Swarovski crystal-fringed flounce and flame-beaded bodice?
At the same time, he's become a favorite of the romance-minded young and famous, who turn to Zunino to create dream dresses for their most personal days with commissions for custom wedding gowns.
For "Empire" star Kaitlin Doubleday, he created a silk chiffon wedding gown with laser-cut floral appliqués, as well as a cap-sleeve mini for dancing at her reception. And just last month, Olympic skating champion Tara Lipinski wore a Zunino lace bustier dress for her engagement party in advance of her 2017 Big Sur nuptials.
At the recent GLAAD Media Awards, honoree Mariah Carey wore a sparkly nude illusion evening gown by Zunino, with a gravity-defying V in the front and the back. (For Carey's Las Vegas residency, the designer and his team made eight costumes in one week, including an ostrich feather coat with a 20-foot train.)
And his beaded sheer bodysuits are a favorite of Beyoncé and Jennifer Lopez, who sports a midriff-baring version during shows for her Vegas residency.
"Everybody who sees his dresses loves them," says Donna Mills, a star of '80s nighttime soap "Knots Landing."
She met Zunino about five years ago. "In that time, he has become a friend and second of all, [he makes] the only designer gowns I wear. He just doesn't give you a dress," she insists. "He makes sure every inch fits perfectly. He really cares that you feel good in your dress."
How did Zunino acquire his sparkly cynosure style? Let's just say you can take the boy out of "Dynasty" but you can't take the "Dynasty" out of the boy. The designer, 50, cut his design teeth in the costume department of the splashy '80s mega-hit.
How he got there is a story that he tells with relish. Originally from Vacaville in Northern California, Zunino was studying business and architecture at Pepperdine University before graduating in 1984. After taking a fashion illustration class merely to fulfill a course requirement, he unexpectedly got a call from his instructor, who wanted to refer him for a job as an assistant.
"I thought it was in architecture and I said, 'Sure,'" he says during a visit to his recently opened Beverly Hills salon. "And she said, 'No, it's fashion design.' That was completely not my thing."
But then she mentioned that the gig was with TV producer Aaron Spelling and his reigning costume designer Nolan Miller for "Dynasty." This was at the height of the ABC show's run. Zunino quickly changed his mind and was hired, even though Miller had to work around his school schedule.
"I think I got the job because I had the talent and the potential, but I was a clean slate," says Zunino, who lives in Hancock Park.
Miller had been Spelling's costume designer all the way back to "Gilligan's Island" in the 1960s, and he reportedly had a $35,000-a-week budget to whip up original costumes for "Dynasty."
In addition to his work on "Dynasty," Miller was a favorite of a long list of Hollywood's top female stars who drifted in and out of his salon when they wanted a killer look. The list included Bette Davis, Cyd Charisse and Ann-Margret.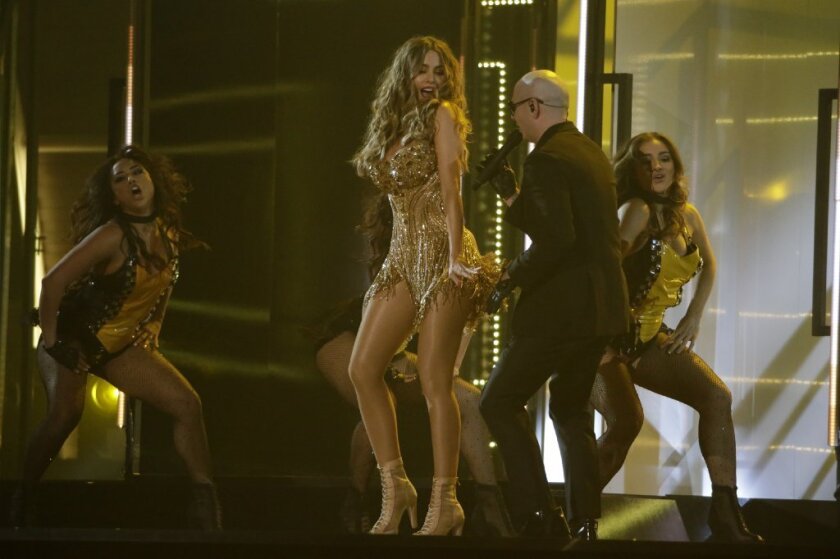 "Those women scared the heck out of me because they knew exactly what they wanted," Zunino says. "It was a huge education."
Of course, Joan Collins had a big influence on Zunino's career. His sartorial relationship with the actress stretches from "Dynasty" to her upcoming one-woman show in London.
"One of the reasons he's successful is he knows how to cut for women with a bust," Collins says. "I think that Mark, like Nolan, has always liked women with curves — with bodies."
Sandra Moss, another longtime client and friend of Zunino, agrees that the designer knows the shape of women's bodies. He's made her dozens of gowns, daytime dresses, pantsuits and other pieces during the last 25 years.
"I am not 20 years old," says Moss, former wife of A&M Records co-founder Jerry Moss. "He makes you look like a lady. He always makes us look good — no matter our ages or what our figure flaws are. You can't beat that."
Now, more than 30 years after he got his start, Zunino still relies on his Old Hollywood orientation as he designs for a new generation of stars and Instagram starlets.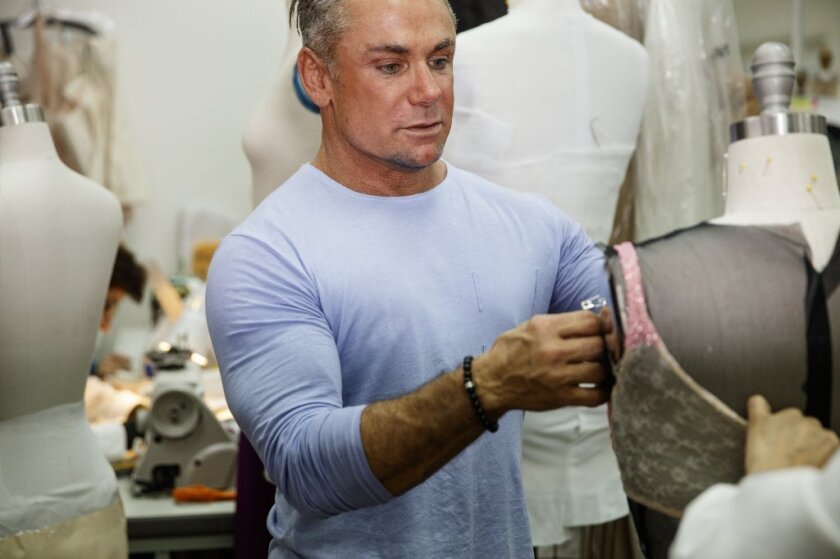 Zunino runs his business in a luxurious 5,500-square-foot showroom and design studio on North Robertson Boulevard in Beverly Hills. Zunino's team moved to the space last summer after outgrowing a smaller location in West Hollywood. Paparazzi-proof behind discreetly frosted glass windows, it's kitted out with shadow box molding and flattering lighting to resemble the homes of his well-heeled clientele.
Zunino credits much of his success to his highly skilled and devoted team of artisans and seamstresses who specialize in rapidly disappearing techniques — they number about 20 most of the year on up to 40 during awards season and bridal season. Everything is done in-house, including the custom pattern-making, the hand-beading and the construction of the waist-whittling corsets inside Zunino's gowns.
I learned from Sophia Loren, from Elizabeth Taylor. They were all queens of construction.
Mark Zunino
And they can turn on a dime. Vergara's beaded bodice for her Grammy performance was needed in just three days. For Spears, there was only a week — from sketches to finished costumes — to make the pieces for her Billboard Music Awards performance.
But Zunino doesn't just dress bold-face names. Though pieces from his collection have appeared in Vogue worn by Angelina Jolie and on episodes of "The Real Housewives of Beverly Hills," he turns out two collections of gowns and daywear a year, with gowns starting at $6,000 and dresses at $2,400 for a global clientele. Often he designs seasonal wardrobes for women at a price that equals one couture gown from a "name-brand" fashion house, and his company is a large buyer of fine European couture fabrics.
Then there are his custom bridal and special occasion creations. "I get the grandmother, the mother, the granddaughter," he says. "I get them all. So that's fun."
He also designs a ready-to-wear collection for New York-based retailer Kleinfeld Bridal and he's a familiar TV presence with his Mark of Style fashion collection for QVC.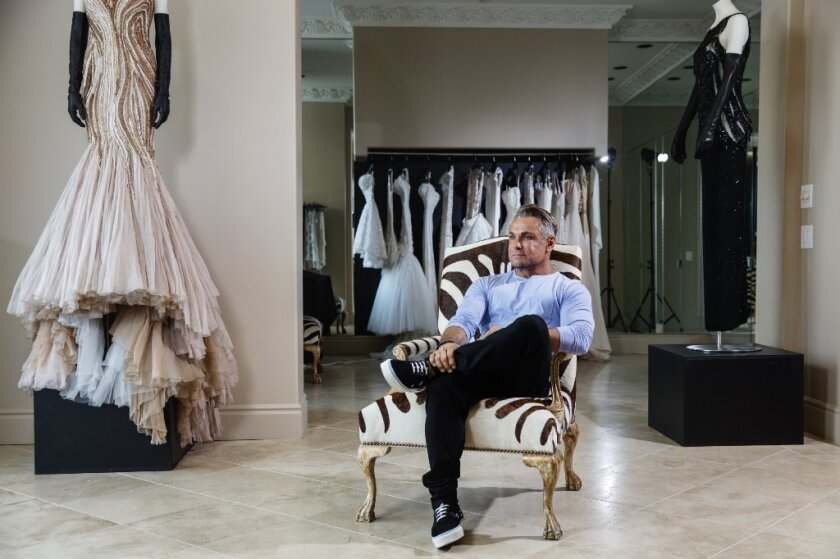 Zunino first foresaw the need to develop a private clientele while working at Miller's side in the '90s, as production budgets began to shrink and the days of custom-designing everything for a TV show came to an end. Miller had always outfited couture clients who wanted the "Dynasty" look and flew Zunino around the world to get their wardrobes made to order.
Eventually the line came to be credited as Nolan Miller by Mark Zunino. Until, that is, Zunino did a collection that Miller "just hated," he says. Thinking it would flop, Miller dared his protégé to put his name — this time solo — on the collection.
After watching Sophia Loren make a beeline for one of the Zunino frocks, Miller metaphorically threw up his hands and told Zunino to run with the business. Miller, a nonsmoker, eventually became ill with lung cancer and died at age 79 in 2012.
"I learned from Sophia Loren, from Elizabeth Taylor," Zunino says. "They were all queens of construction. Their clothes were so amazingly customized. So when an actress — or anybody — comes here, they get all that knowledge."
image@latimes.com
---