Actor Winston Duke talks about 'Black Panther' and his fashion future
Whether cloaked in fur as mountain warrior M'Baku in the blockbuster film "Black Panther" or displaying respectability as an all-American dad in Jordan Peele's upcoming movie "Us," Winston Duke knows that clothes make the man.
On Wednesday, a day after wrapping production of "Wonderland" with Mark Wahlberg, Duke twisted the braids he wore for his role as an impulsive MMA fighter into a high bun tweaked with shaved lines.
"I wanted my style tonight to reflect where I am. I'm in a very young, edgy, fun, energetic place," Duke said, in a dimly lit corner of £10, the speakeasy housed in the Montage Beverly Hills Hotel, before the dinner that luxury brand MCM and men's magazine GQ hosted in his honor. Guests at the dinner included "GLOW" and "Arrow" actress Sydelle Noel and "To All the Boys I've Loved Before" actor Andrew Bachelor, a.k.a. King Bach.
"It's really great that I've found a place in acting because costume has always been something that's close to my heart," Duke continued. "Clothing, as a result, has always been close to my heart. As a kid, I used to draw my own clothes and I had hopes of having my own fashion line one day."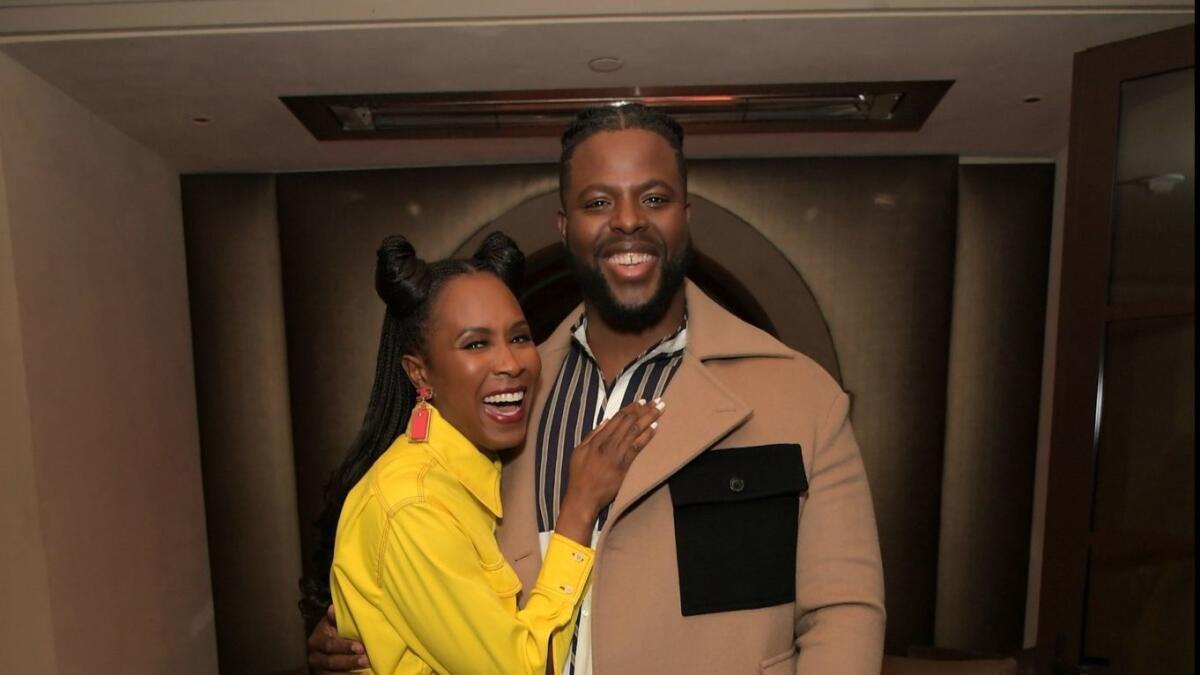 Duke still nurtures that dream of designing fashion. "What I would like to do is definitely [feature] a lot of colors," he said, in a nod to his Caribbean heritage. "I'd like to do something that focuses on big and tall men." At 6' 5" and 280 pounds, the 32-year-old actor understands the importance of good tailoring. (After all, he owns approximately 40 suits.)
He's keen on "educating men on what different things do and why different shapes and cuts work for different body types," he said.
And what's his top style advice? "Don't be locked into any structures that tell you what you can or can't do with your hair or your body or your looks," he said.
Duke's stylist, Jenny Ricker, vouched for her client's chameleon nature. "He's always willing to try something new," she said. He's also full of surprises. "I didn't realize he was an Ivy League grad," she said, before adding another tidbit about the Yale MFA graduate: "He really loves a penny loafer."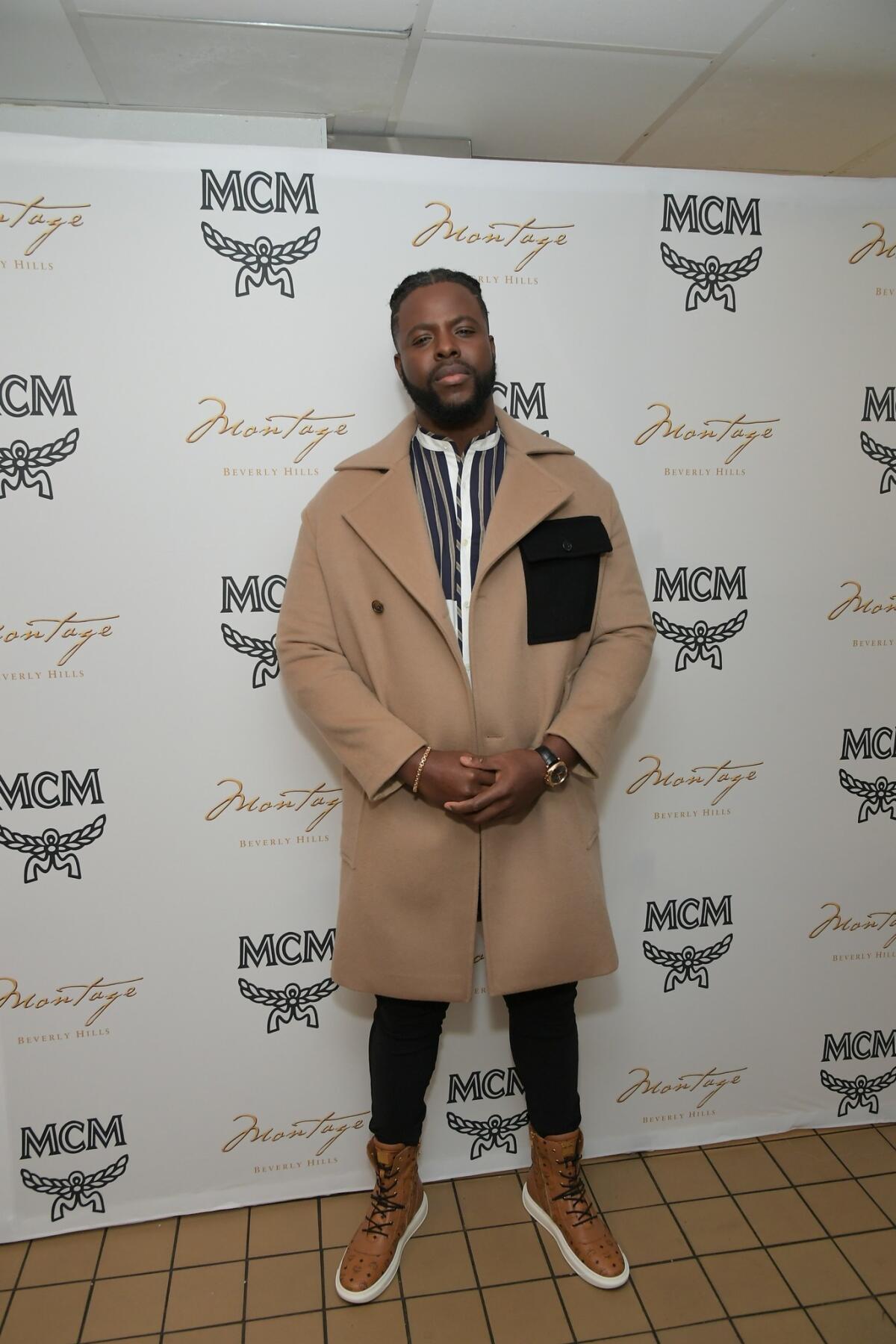 For the soiree, Duke skipped the traditional footwear but layered a preppy camel-colored pea coat over a mandarin-collared white shirt accented by blue stripes, both by Ports 1961. Into his tan MCM-logoed high-top sneakers, he tucked navy athletic pants with tuxedo stripes by Filling Pieces that combined "the best of both worlds."
"You got the jogger comfort and you got the tuxedo formality," he said.
His look for the evening fit right in with the dinner scene, where the wood-paneled dining room bathed in red light had a casual vibe with touches of fancy.
"Saturday Night Live" alumnus Jay Pharoah was entertained by his tablemates' witty observations, which veered from the topic of uncles to wily customers gorging on grocery store samples. "I've found at least 15 minutes of new material tonight," he said.
There was at least one role the fit actor was eyeing so intently that he abstained from the decadent chocolate praline dessert. "I'm trying to get into 'Black Panther 2' yo," Pharoah said.
Speaking of "Black Panther," Duke said that during an impromptu wrestling match with the film's star, Chadwick Boseman, his cargo pants ripped when he went too wide with a sprawl. "To be honest, it just literally put me in the moment more," Duke said.
The burgeoning trendsetter isn't prone to wardrobe malfunctions on the red carpet. Heading to various awards shows next year in support of "Black Panther," he said he intends to continue "embracing bold choices with my hair. It speaks a lot to self-realization and liberation." Plus, Ricker is customizing styles with brands that aren't used to designing for someone of Duke's stature.
As Duke explained, "I can't always follow fashion and style in the same way. That ends up making me fashionable because I'm actually always in touch with my voice. I'm in touch with what makes me me."
For fashion news, follow us at @latimesimage on Twitter.