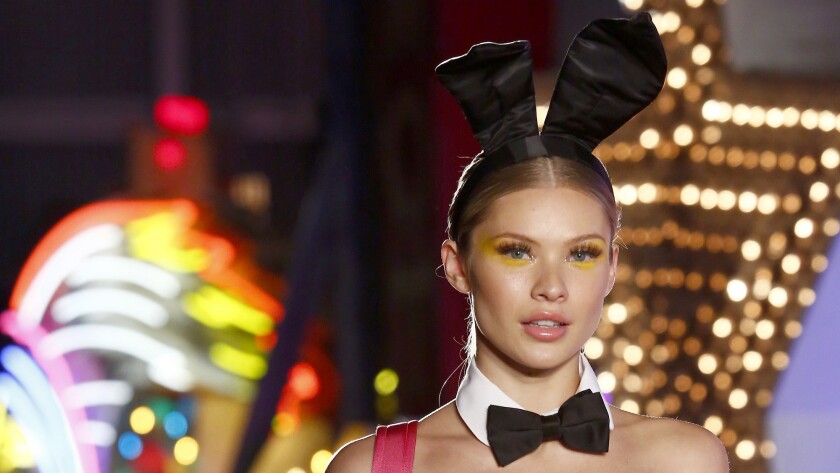 The beauty looks were as vibrant as the runway backdrop of flashy neon signs at the June 8 presentation of Los Angeles-based designer Jeremy Scott's Moschino women's resort 2018 and men's spring/summer '18 collections at Milk Studios in Hollywood.
Emphasizing individuality, each of the runway show's 32 female models was decked out in a unique glittery eye color and nail shade and a carefree hairstyle.
Before the show, we talked to the experts backstage for a beauty rundown.
---
Neither hair nor there
"The theme is off-duty showgirls," said British hairstylist Neil Moodie, who directed hair for the show, using products from his Windle & Moodie line. "When I talked to Jeremy, we were saying how the girls could be coming from or going to lots of different [Vegas] shows they work in. Some have straighter, post-show hair. Others are a bit more textured in a pre-show way when they look quite cool as they are, and a couple may even look halfway ready like they are doing a show in two hours. So it's quite eclectic."
Moodie prepped every model's hair with Windle & Moodie Foundation Spray. Those runway walkers with finer hair got a dose of Windle & Moodie Thickening Cream or Fortifying Spray to add volume, with Oceanic Spray spritzed in to play up natural texture or Shine & Smoothing Oil for a sleeker finish. The final step on all was a dose of Windle & Moodie's moisturizing Invisible Day & Night Cream.
In addition to cowgirl hats and bunny ears, some model manes were topped off with rhinestone "Moschino" logo barrettes or hair pins decorated with brightly colored crystals from Nigel Beauty Emporium in Hollywood that were added spontaneously, just before call time.
"I always used to think that L.A. was quite glamorous, because I thought of Hollywood, but actually, when I walk around, I see people with cool-colored hair and shaved heads," said Moodie, nodding to a male model with red locks. "I think that's coming through in this a little bit. When I asked Jeremy about the guys' hair, he said, 'Just make them better versions of who they are.'"
---
Eye emphasis
Dewy skin and vivid eye makeup were the marching orders from British makeup artist Isamaya Ffrench, who led the MAC Pro team.
"The look's quite young and playful and character-based," Ffrench said. "Everybody's got a different eye look, and it's a bit deconstructed, with makeup placed differently, depending on the girl. We mostly used really bright MAC Pigments [loose powder shadows] with a thick lash [MAC's 35 Lash false lashes]. To create that super iridescent glow on the skin, we mixed Strobe Cream [luminizing moisturizer] with MAC Studio Face and Body Foundation. And then lip gloss with just a little lip pencil [a pink-brown Soar was one shade used] to shape the lip."
Kelly Stark, a makeup artist on the team, added: "After adding the bright shadow colors to the eyes, we put on pops of Reflects Glitter that look a little bit disheveled but still pretty clean and a bit of Pro Longwear Fluidline eyeliner in Dip Down, a deep brown, to give the eyes depth. The lips had a glossy lived-in look. We used different colors of the Crystal Glaze Gloss, based on each model's skin tone."
---
A rainbow of nail shades
Jeremy is very colorful, and the look is very glitzy. This is about fast girls and fast money. ... She goes for glitter, glitz and glam.

— Miss Pop
"Today we are doing not one, not two, not three, not six (which is the most different shades I've ever done for Jeremy before) but a rainbow of 32 different shades of glitter press-on nails for the 32 women in this show," said Miss Pop, the New York-based creative ambassador for San Diego-based Creative Nail Design, whose given name is Simcha Whitehill.
For added dimension, one of nine coordinating shades of Creative Nail Design lacquer was layered under each model's sparkly press-on nails. To polish it off, the underside of the nails was painted metallic with CND Creative Play in Let's Go Antiquing (gold) or CND Vinylux (silver chrome).
"Jeremy is very colorful, and the look is very glitzy," said Miss Pop. "This is about fast girls and fast money. She's not shy. She goes for glitter, glitz and glam. It's very showgirl to have the nails all matchy but not the same color. I painted 960 press-on nails in less than 24 hours; that's the joy of this!"
Please consider subscribing today to support stories like this one. Already a subscriber? Your support makes our work possible. Thank you. Get full access to our signature journalism for just 99 cents for the first four weeks.
Fashion Videos
For fashion news, follow us at @latimesimage on Twitter.
---