Review: Christian Siriano goes into interstellar overdrive for fall and winter 2019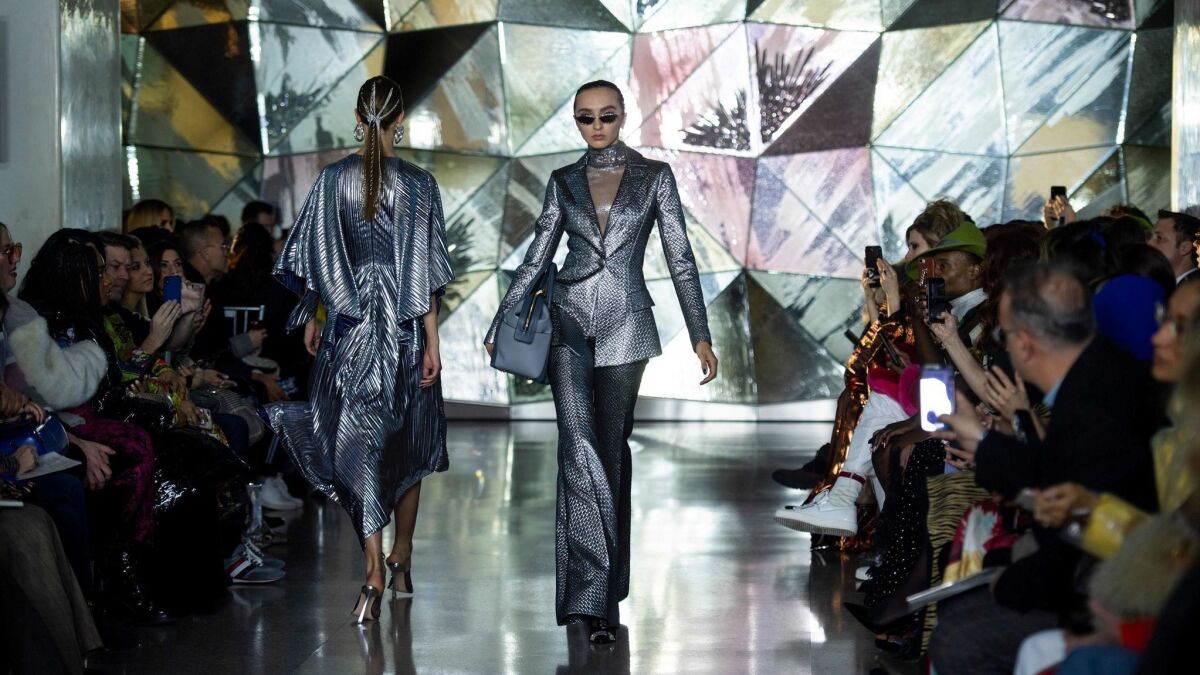 Reporting from NEW YORK —
Christian Siriano used the 65th floor of Rockefeller Plaza, aka the Top of the Rock, as the launch pad for a fall and winter collection that looked to the stars -- and the future – for inspiration.
The collection "was inspired by a trip to the future," Siriano said in the notes accompanying the show, "a world where we live as a society in an outer space land; a new culture floating in space with communities and a thriving social calendar. It would be a dream fantasy world created for people to escape to."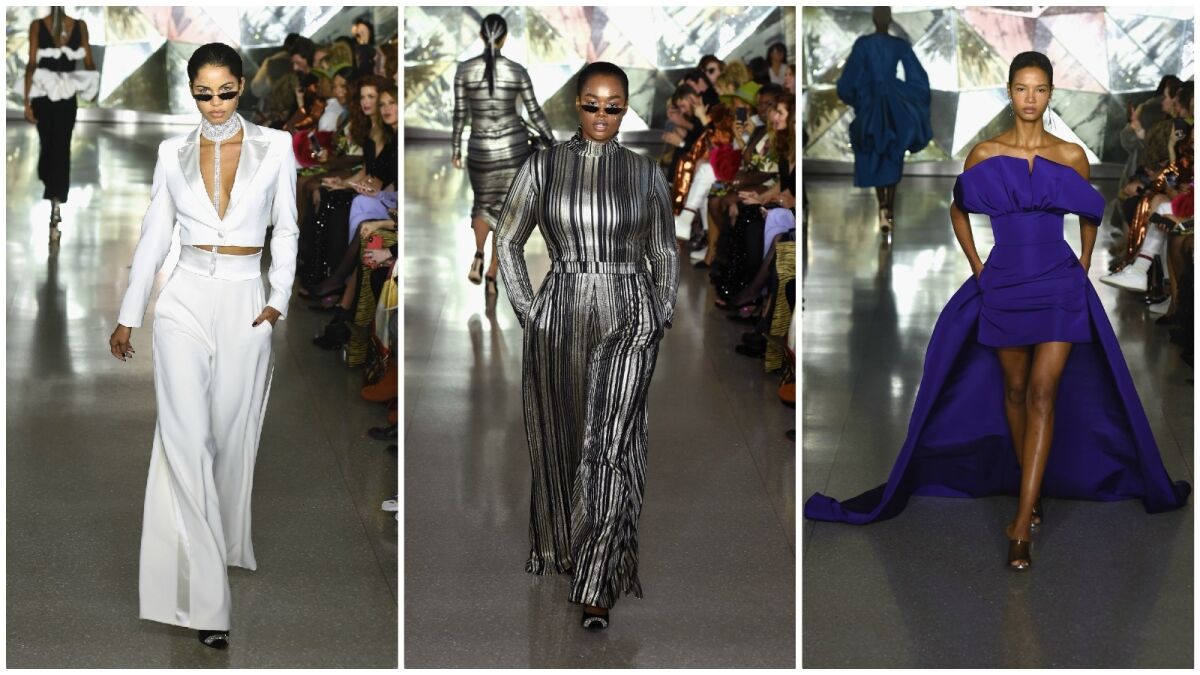 Siriano's vision of a futuristic outer space utopia came down to Earth as a collection grounded in a palette of silvers (shades dubbed supernova silver, meteor silver and interstellar silver in the run of show, to be specific), grays (astral gray and galactic gray, specifically) and blacks (eclipse, midnight and infinite) with a few bursts of color coming by way of pulsar purple.
Fabrics included some Siriano signatures like chiffon, tulle and silk (particularly a hammered silver silk and a black moire in the instant collection) joined on this journey skyward by an assortment of meshes, some clingy and studded with crystals, others so stiff and structured that dresses angled off the body like something Jane Jetson might wear. Both versions added a measure of varied texture to the collection.
The stiffer mesh fabrications also added a size and shape to a collection that was noticeably pumped up on volume thanks to full-length faux-fur coats, oversized evening gowns and acres of silver metallic quilting that made its way into cropped puffer jackets, button-front A-line skirts and a one-button, notch-lapel blazer and flare-legged trouser ensemble so sharp and futuristic it wouldn't have been out of place in "The Matrix."
The voluminous trouser leg also cropped up in ivory off-the-shoulder jumpsuits, silver metallic pinstriped suits and silver mesh, putting Siriano's latest collection solidly in line with one of the prevailing New York Fashion Week trends.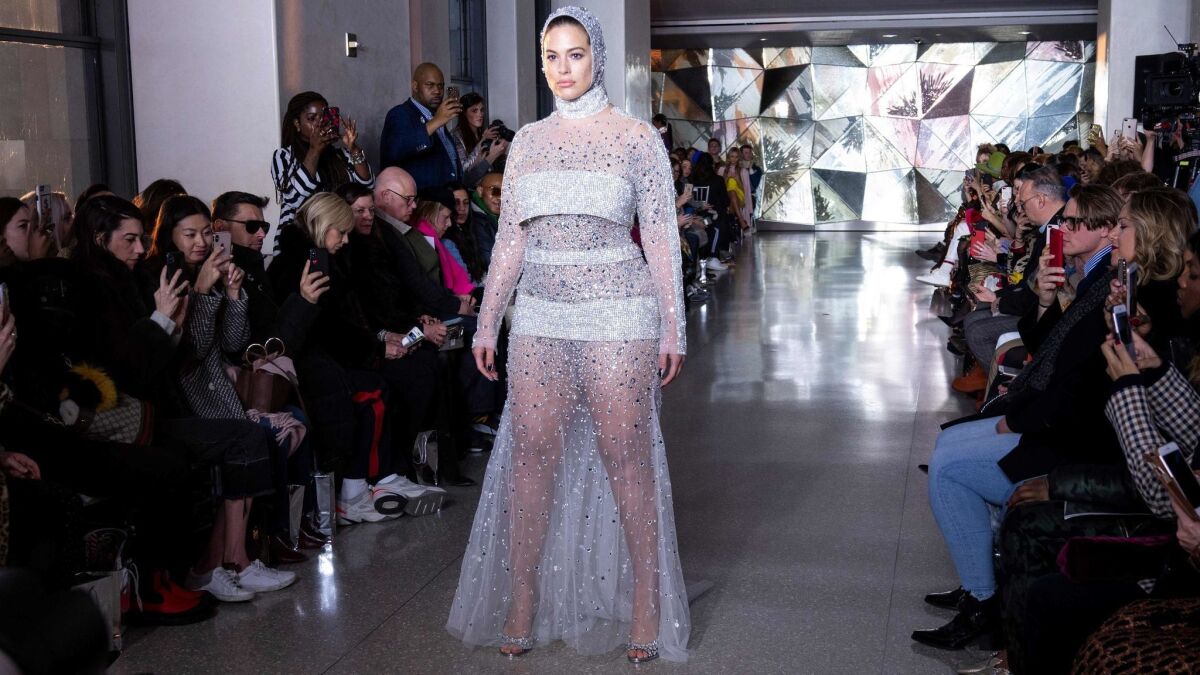 The runway's most memorable looks were the three that closed out the show, two of which could easily step from the Top of the Rock runway to the Oscars red carpet -- a sculpted purple high-low gown with bell sleeves and a V-neck tiered tulle gown. The third was a mesh piece -- a body-hugging crystal-studded gown that closed the show. With three horizontal metallic bands providing a bare minimum in the modesty department, it seemed out of step with the rest of the collection.
Proof, perhaps, that even in Siriano's new thriving culture in outer space, there's the occasional hot mesh.
For more musings on all things fashion and style, follow me at @ARTschorn
---