Menswear forecast for spring/summer 2018: Striped and relaxed, with stormy weather on the way
Life in Perfect Disorder, which presented its collection during New York Fashion Week: Men's on July 10, may be a genderless, non-seasonal brand, but it does have a point of view. Case in point: the T-shirt that reads: "Trump to Country: Drop Dead," second from right.
(Dia Dipasupil / Getty Images)
Head of State+'s designer Taofeek Abijako took inspiration from Nigeria's post-colonial period of the '60s and '70s for his Fulfilling All Righteousness collection.
(Adam Tschorn / Los Angeles Times)
Hugo Boss' Boss label was another one that loosened things up for spring/summer '18, filling its nautical-themed collection with generously pleated trousers and wide-legged Bermuda shorts.
(Angela Weiss / AFP/Getty Images)
The Wood House spring/summer 2018 collection, presented on July 10 managed to key into several of the major trends spotted at New York Fashion Week: Men's.
(Adam Tschorn / Los Angeles Times)
Raf Simons' spring/summer 2018 "Blade Runner"-themed menswear show presented on July 11 during New York Fashion Week: Men's.
(Angela Weiss / AFP/Getty Images)
Looks from Raf Simons' "Blade Runner"-themed spring / summer 2018 menswear runway collection, presented during New York Fashion Week: Men's. Storms ahead?
(JP Yim / Getty Images)
Looks from Raf Simons' spring/summer 2018 men's runway collection, which was presented in a Chinatown alley under the Manhattan Bridge on July 11 during New York Fashion Week: Men's.
(JP Yim / Getty Images)
Reporting from New York —
The surf's up, the sun's out and life's as colorful and carefree as a day at the beach, but storm clouds are gathering on the horizon. And we're in for nasty weather. That's one way to interpret the overarching message of the spring/summer 2018 menswear collections shown here Monday through Thursday during New York Fashion Week: Men's.
What's less open to interpretation are some of the specific trends designers hope will translate from runway to retail in six months' time. Chief among those was a surfeit of stripes that ran through the menswear offerings, most notably at Todd Snyder, where the namesake designer's Encounter Culture collection included striped linen bomber jackets, awning-stripe popover shirts, vertical-striped crewneck sweaters, horizontal-striped tank T-shirts and navy blue pinstripe suits (and that was just within the first eight looks to hit the runway). Another standout stripe star was Perry Ellis, where creative director Michael Maccari served them up on T-shirts, down the outside leg of jeans (which gave the denim an elevated tuxedo-stripe feel) and mixed with florals on Hawaiian shirts.
The aforementioned collections also tapped into the season's prevalent silhouette — super-relaxed, and in some cases downright baggy, trousers and shorts. Hugo Boss' Boss label was another one that loosened things up for spring/summer '18, filling its nautical-themed collection with generously pleated trousers and wide-legged Bermuda shorts. N. Hoolywood's designer Daisuke Obana seemed to have taken his seasonal inspiration from the '50s-era college campus instead of the coastline but ended up in the same place (well, silhouette-wise, anyway) with generously cut suits, sweatpants and V-neck and cardigan sweaters with extra-long arms.
The seersuckers and silks that traditionally dominate warm-weather wear were joined this season by technical meshes, both traditional athletic mesh (the kind commonly used in basketball jerseys and gym shorts) and a sturdier, netting-like air mesh. Perhaps the best example here was Engineered for Motion's runway collection, which used the fabrics (along with other performance textiles) to create a range of sharp-looking tailored pieces that included mesh blazers with contrast-taped lapels, air-mesh bomber jackets and air-mesh overshirts.
Jaunty stripes, breezy, laid-back silhouettes and light-as-spun-sugar fabrications aside, a definite undercurrent of unease could be felt bubbling through the recently wrapped run of shows — as if a major storm was swirling somewhere just over the horizon, threatening to blot out the sun and ruin the garden party.
At Private Policy, a 2-year-old New York-based brand designed by Chinese-born creative directors Haoran Li and Siying Qu explicitly referenced the "turbulence of the political climate" in the U.S., using it as inspiration for a collection called Trinkets, that stitched together the ephemera of everyday American life "because the small things," they wrote in their show notes, "can, indeed, reflect the big picture." The resulting collection included silky varsity jackets and chaps paired with cowboy boots, Native American-inspired geometric prints on shorts and jackets, and a car coat fashioned out of the near-ubiquitous (except in California, of course) white-and-red plastic "Thank You" convenience store bags.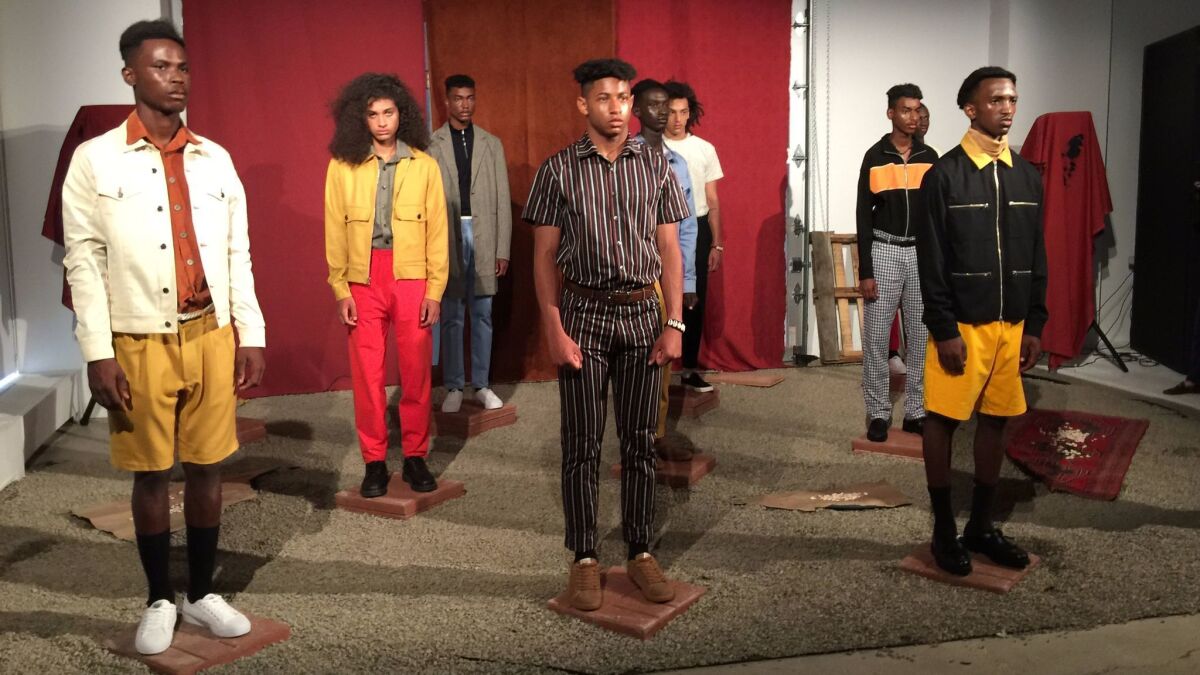 Head of State+, an emerging label designed by 19-year-old New York-based Nigerian Taofeek Abijako, referenced the political turmoil of another continent and another era, taking inspiration from the work of photographers Malick Sidibé and Seydou Keïta, Afrobeat musician Fela Kuti and Nigeria's post-colonial period of the 1960s and '70s. "[Kuti] talked about how citizens can rise up and over-top the corrupt government," Abijako noted at the July 10 presentation of his Fulfilling All Righteousness collection rooted in a color palette of black and yellow that included baggy terrycloth shorts, track jackets and a multi-pocketed photographer's vest.
Another upstart brand, Wood House, presented a cheery menswear collection that managed to key into two of the season's major trends (bold stripes and athletic mesh) and reference the dour national mindset along the way. "Emotionally I started feeling really bad about the political shifts and the economy shifts happening in the Middle East and everything," said creative director Julian Woodhouse (who also is a veteran of the U.S. Army). "All of that feels very heavy, and I wanted to find a way to express my separation from that and to just have fun and ignore it. We can't stop caring, but we can enjoy our time in the waiting room until we get to the next place. So this is a vacation — a weekend off from caring, a field day."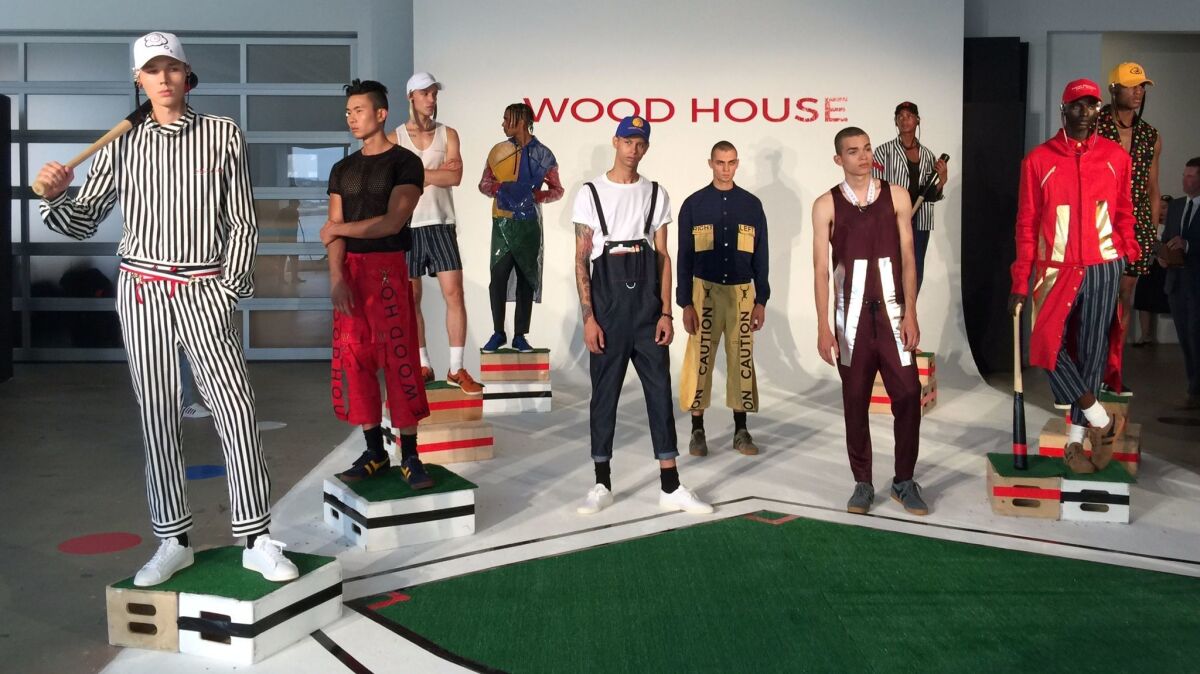 A field day it was, with Woodhouse and company fielding a starting lineup of lighthearted athleisure looks: neoprene athletic-mesh shorts and vests covered in multicolored embroidered Froot Loop-like grommets, plus-four trousers with caution-tape suspenders and umpire-stripe blazers and suits. "The striped blazers are lined with athletic mesh," Woodhouse explained. "I love using athletic mesh for linings because it separates the fabric from the skin and creates a layer of air."
Brothers George and Mike Heaton, designers of the British label Represent, turned to WWII-era propaganda posters and Winston Churchill quotes for their "Wide Awake" streetwear collection that included the words "wide awake" on an intarsia knit V-neck sweater, embroidered on the cuffs of jeans and screenprinted — alongside Churchill's determined visage — on hooded pullover sweatshirts. Other pieces in the collection were printed or embroidered with a quote credited to Churchill, "If you're going through hell, keep going."
But it was another European, Belgian designer Raf Simons, whose debut collection for Calvin Klein in February was one of the highlights of New York Fashion Week — and this year, he became the first designer since Calvin Klein himself to win the Council of Fashion Designers of America's menswear and womenswear designer of the year awards in the same year, who seemed to best tap into the angst and uncertainty over what lies ahead with a "Blade Runner"-themed menswear collection from his namesake label. Staged in a Chinatown alleyway directly beneath the Manhattan Bridge, no expense was spared to evoke the bleak, dystopian feel of Ridley Scott's 1982 future-noir film. Chinese paper lanterns swung overhead with the passing traffic. LED storefront signs blinked out the word "replicants," the film's name for the bioengineered androids, and the runway hung heavy with the scent of sweat and recently gutted fish.
The collection was heavy on foul-weather gear that all but obscured the umbrella-carrying models: voluminous rubbery raincoats and rain boots paired with floral-patterned rain hats and matching face-obscuring scarves. There were also New Order concert T-shirts and sweatshirts deconstructed and layered like an artist's smock, and oversized V-neck sweaters that slouched off one shoulder, revealing the word "replicant" stenciled onto button-front shirts, just over the left breast.
It's hard to imagine the assortment of tunic-like tops, layered sweaters and oversize raincoats as a workable part of most men's spring/summer (or even fall/winter) wardrobe. But with the full run of New York Fashion Week: Men's in the rearview mirror, it's just as hard to imagine a runway show that better reflects the mood of the moment.
For more musings on all things fashion and style, follow me at @ARTschorn.
ALSO:
Barbie, are you ready for man-bun or Dad-bod Ken?
The DTLA Louis Vuitton X Supreme pop-up shop has popped down
50 fashionable firsts to mark South Coast Plaza's 50th anniversary