Christian Siriano's spring 2018 runway collection — and Leslie Jones' reaction to it — are everything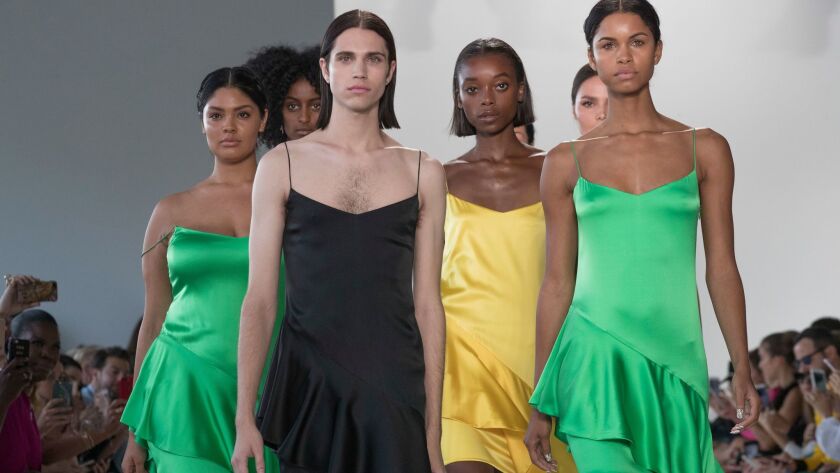 Reporting from New York —
"Mary, Mary, quite contrary
How does your garden grow?
With silver bells, and cockle shells,
And pretty maids all in a row."
That nursery rhyme was looping over and over in my head after the finale of Christian Siriano's garden-inspired spring 2018 runway show at Pier 59 Studios here Saturday. The garden theme is a perennial one for spring and summer collections, and this season has been no exception with impressive installations of flowers and shrubbery flanking runways all over town and floral motifs sprouting like weeds.
Fashion farmer Siriano managed to harvest his garden twice this season. The first time was by incorporating some of the literal references — think grass-green suiting, sunflower-yellow dresses and a parade of psychedelic floral brocades. The second time was by tying into the idea of inclusivity, specifically the slogan, "We all grow in the same garden," which appeared on a cropped black hoodie worn by a model named Joel, who may have identified as male. Or female. Or neither.
Joining Joel on the runway were models that reflected real-life shapes, sizes and skin tones: curvy women, statuesque women, women of color.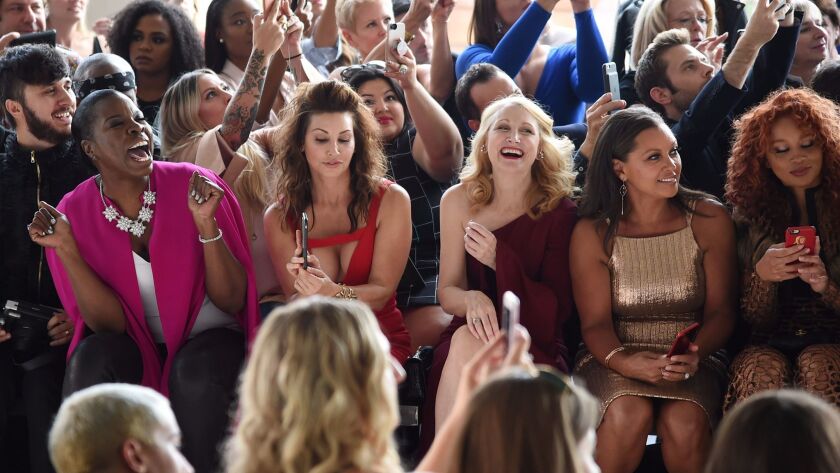 Siriano's message of inclusiveness has made him a kind of "Mary, Mary quite contrary" of the fashion industry for some time now. After dressing actor Leslie Jones for the "Ghostbusters" premiere in 2016 (the comedian had lamented on social media that no designer wanted to dress her), it became his calling card. And when he presented his fall and winter collection here in February, its standout "people are people" slogan tee and the fact that it was modeled by women of various sizes earned him a standing ovation.
So it wasn't much of a surprise that Jones turned out for Siriano's show, sitting elbow to elbow with celebrities such as Patricia Clarkson, Gina Gershon and Vanessa Williams. What was a surprise — and made the show thoroughly entertaining — was Jones' responses to the various looks that came down the catwalk and her enthusiastic interaction with the models.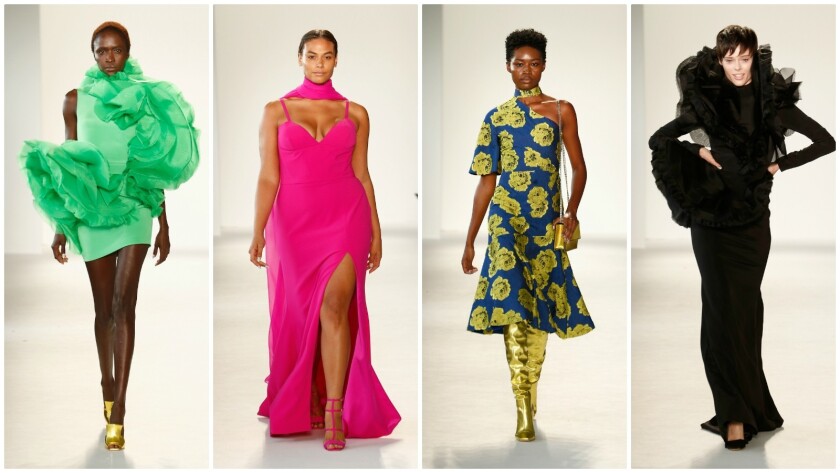 "Work it, work it," Jones could be heard saying (from clear across the runway I might add), snapping her fingers and waving her arms back and forth at some looks, her smile brightening and eyes widening at others. At one point, her enthusiastic faux-coaching of supermodel Coco Rocha earned an extremely rare (but so well-deserved) breaking of the fourth wall between audience and model, with Rocha acknowledging her cheering section of one by lingering briefly in Jones' vicinity.
Forget the silver bells and cockle shells — to be honest, we're not exactly sure what a cockle shell is — we suspect Siriano's continued emphasis on diversity on the runway and inclusivity in creating clothes wearable by a wider range of customers will grow his garden significantly going forward.
As the runway filled for the finale walk — to the tune of Blur's "Girls And Boys" — there they were: pretty maids all in a row.
For more musings on all things fashion and style, follow me at @ARTschorn.
ALSO:
Viva Avant Garde! Jeremy Scott marks his label's 20th anniversary
Raf Simons' horror-film-inspired sophomore collection for Calvin Klein is scary good
Tom Ford leads off NYFW with strong shoulders, bright colors and lots of leg
---