In this new era, politics is on trend on the runways at New York Fashion Week
Reporting from New York —
One of the biggest throughlines at New York Fashion Week so far has nothing to do with on-trend colors, silhouettes or fabrics and everything to do with using the runway as a kind of instant messaging system for political and social causes.
There's a long history of this, of course; one need look no further than Dame Vivienne Westwood, whose catwalk collections over the years have helped raise awareness about global warming, Greenpeace and Leonard Peltier, among other subjects.
But four full days into the run of shows here, there have been so many messages on the runway that the political parade could just as easily be mistaken for a fashion-forward protest march as it could a presentation of fall/winter '17 collections.
The tone of several Fashion Week shows was set before the first models hit the catwalk because of the Council of Fashion Designers of America's decision to publicly voice its support for Planned Parenthood by creating large pink buttons roughly the size of a drink coaster with messaging that read, "Fashion stands with Planned Parenthood." The buttons were packaged with a primer on the organization and hints on how to support it (via raising awareness and making donations). The pins, which first made their appearance on the front-row seats at Thursday's shows, could soon be seen on some of the fashion flocks' most luxe lapels.
That same day, U.K.-based online fashion publication Business of Fashion used the Tommy Hilfiger show in Los Angeles as the launch pad for its #TiedTogether initiative designed to establish the white bandanna "as a sign to the world that you believe in the common bonds of humankind — regardless of race, sexuality, gender or religion."
Here on the East Coast, invitees to Friday morning's Calvin Klein show received crisply folded white cotton bandannas printed with a black quilt-like design and accompanied by a note that read, "Unity, inclusion hope and acceptance: Join us at Calvin Klein wearing the white bandan[n]a #TiedTogether."
That show, which marked Belgian designer Raf Simon's debut collection for the iconic American brand, was itself a meditation on the state of the United States, opening and closing to the strains of David Bowie's 1985 song, "This Is Not America," and including a model wrapped in an American flag.
The message of inclusiveness and acceptance was in evidence well beyond the bandannas, too, most memorably at Christian Siriano's Saturday afternoon show at the Plaza Hotel, where a model drew cheers of approval when she hit the runway in a pink silk, floor-length skirt and a black T-shirt emblazoned with the message, "People are people." The last few seasons have seen Siriano fill his runway with models of all shapes, sizes and ages. The finale walk to Depeche Mode's 1984 electro-pop tune "People Are People" earned Siriano a standing ovation.
Less than an hour later, Jonathan Simkhai presented a collection that keyed into feminine strength by combining elements of romantic corsetry and traditional matador uniforms.
"With women across the globe asserting their right to equality," read the show notes, "Simkhai felt the need to create a look that would mirror the fortitude of their voices." In case the sentiment was lost on anyone, the designer took his runway bow wearing a T-shirt bearing the slogan, "Feminist AF."
On Sunday morning, it was Public School's Dao-Yi Chow and Maxwell Osborne who had the fashion megaphone of the moment, sprinkling their military- and utilitarian-flavored men's and women's collection liberally with political messages including red New Era caps embroidered with the slogan, "Make America New York," an obvious riff on President Trump's red "Make America Great Again" caps (even if the sentiment behind the tweaked slogan wasn't quite so obvious) and hooded sweatshirts bearing Michael Jordan's image on the front and the slogan "We need leaders" on the back.
A few hours later, at the J. Crew presentation, we spotted a guest wearing one of the fresh-off-the-runway hats and a hand-scrawled sign pinned to the back of his hooded windbreaker that read, "Son of immigrants."
New York-based Huffington Post contributor and digital branding strategist Michael Tommasiello told us a friend at Public School had handed him the hat after the show. "I know people like to take pictures and I have a lot of social media followers," he said, explaining the sign on his back. "So I thought I'd take the opportunity to put something positive out there into the world." (For the record, people were snapping photos of Tommasiello at a pretty fierce clip.)
But the runway presentation that sent the strongest message — and struck the most poignant chord — to date was Prabal Gurung's. The show notes explained that the collection inspiration began with the question, "What does it mean to say a woman should 'dress like a woman?'"
His collection paid homage to women of America and Nepal of the 1940s, "the women who maintained grace under pressure and held a quiet power, a secret weapon during war," by using blurred camouflage prints and strategic ruching of fabric to highlight feminine curves.
Gurung's love letter to the women who inspire him concluded with a tear-jerker of a runway finale walk that saw models hit the runway to the strains of John Lennon's "Imagine," each model wearing a piece from the collection paired with a T-shirt of a varied social message, many accessorized with the white bandanna of unity. (Watch our on-the-scene video of the finale here.)
"The future is female," read the first one; "3 million," read the second. They were followed by messages "Femininity with a bite," "Yes, we should all be feminists … (Thank you, Chimamanda and Maria)," "My boyfriend is a feminist, "My girlfriend is a feminist" and "Revolution has no borders."
On they came, shirt after shirt, message after message, simple and straightforward. The trickle of slogan tees seemed to become a river, the river a torrent of wisdom, advice, support and calls to action. "Stay woke," "Break down walls," "Love is the resistance," "Nevertheless, she persisted," "I am a Gloria," "I am a Malala" and "I am a Michelle."
The last model hit Gurung's runway wearing a black skirt with hand-embroidered silk fringe, a white bandanna knotted around her left wrist. Her white T-shirt bore five words in simple, black lettering, "We will not be silenced."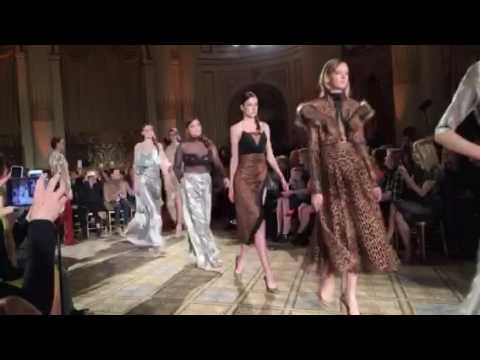 For more musings on all things fashion and style, follow me at @ARTschorn.
ALSO
Tiffany Trump takes in New York Fashion Week
Raf Simons' debut collection for Calvin Klein pays homage to America
It's a run for the roses during day one of New York Fashion Week