It's time to quit hating on those Sochi Olympics sweaters, America
Olympic athletes from the United States wear sweaters designed by Ralph Lauren in the opening ceremony.
(Andrej Isakovic / AFP/Getty Images)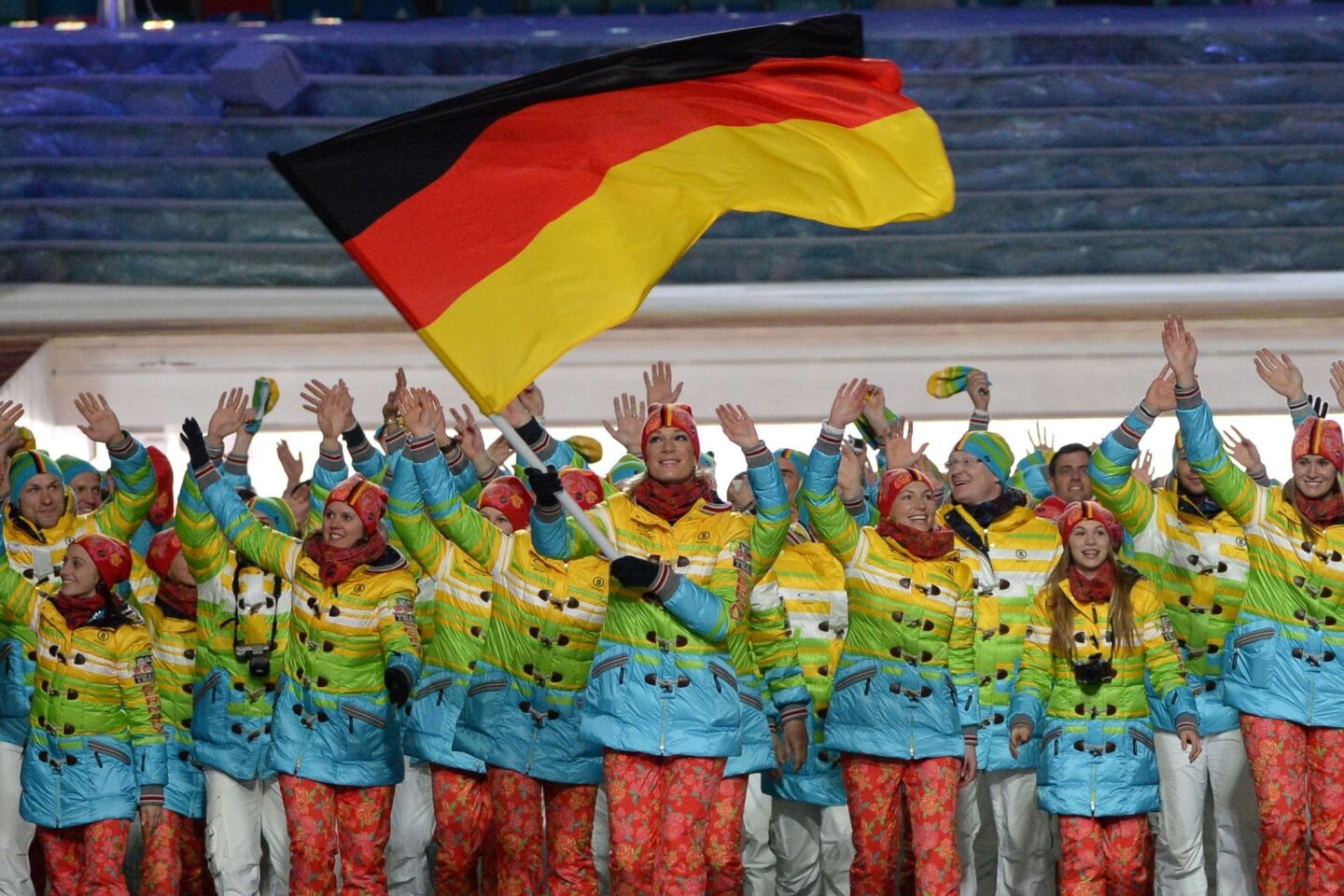 The German delegation parades during the opening ceremony in multicolored outfits designed by Willy Bogner.
(Andrej Isakovic / AFP/Getty Images)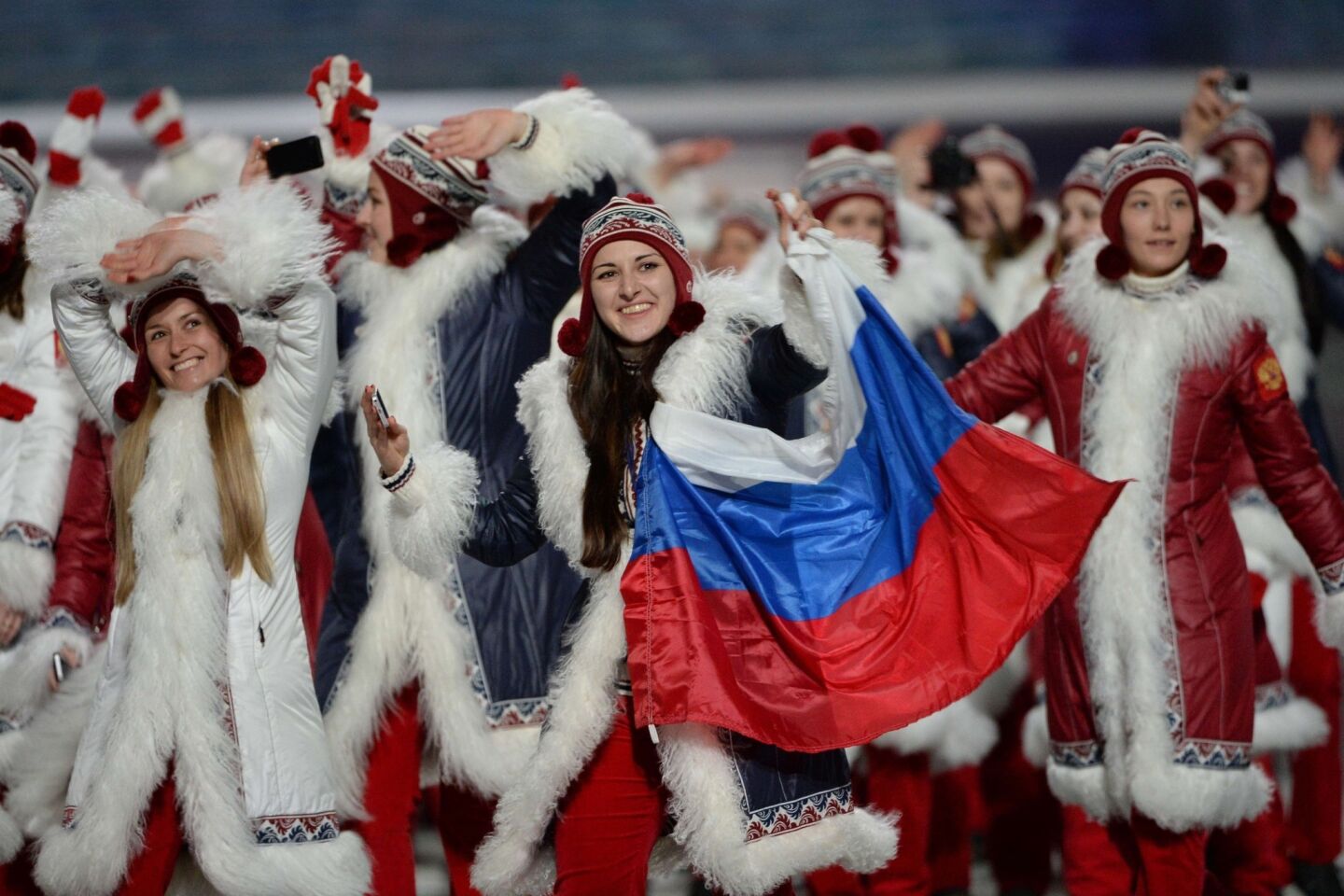 Russian athletes march during the Parade of Nations in uniforms by Bosco di Ciliegi.
(Andrej Isakovic / AFP/Getty Images)
The Swedish Olympic delegation marches in the opening ceremony in H&M designed uniforms.
(Andrej Isakovic / AFP/Getty Images)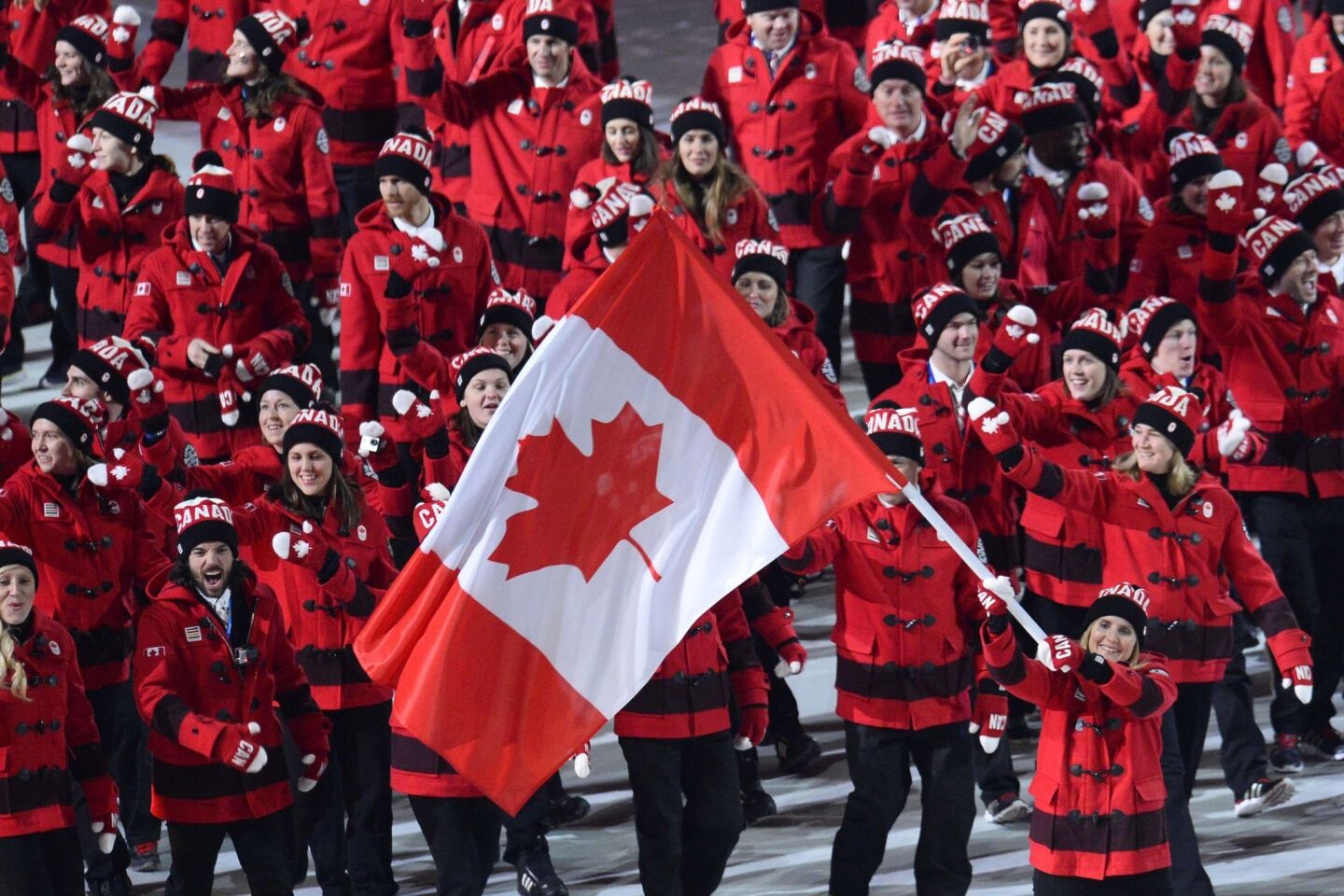 The Canadian delegation wears uniforms designed by Hudson's Bay Company in the opening ceremony.
(Jonathan Nackstrand / AFP/Getty Images)
Tongan Olympian Bruno Banani marches in the opening ceremony in an outfit created by German designer Willy Bogner.
(Alberto Pizzoli / AFP/Getty Images)
The French Olympic delegation parades through the opening ceremony in outfits designed by Lacoste.
(Andrej Isakovic / AFP/Getty Images)
The Ukrainian delegation parades in the opening ceremony of the Sochi Olympic Games.
(Andrej Isakovic / AFP/Getty Images)
The Olympic delegation from Australia marches in the opening ceremony wearing uniforms designed by Karbon.
(Mark Humphrey / Associated Press)
NEW YORK — When the U.S. Olympic Team's opening ceremony sweaters were unveiled last month, the social media reaction to the star-spangled red, white and blue patchwork knit cardigans was overwhelmingly negative.
It seemed as if every armchair fashion critic with an Internet connection had his or her long knives out. Online responses ranged from one-word critiques ("obnoxious," "horrible") to comparisons to ugly Christmas sweaters. One commenter mused: "Is there a law that says every U.S. Olympics team has to wear an uglier outfit than the previous Olympics team?"
It seemed, in that moment, as if fashion designer Ralph Lauren had laid a giant shawl-collared egg.
PHOTOS: Outfits from the opening ceremony
But the crowd was mistaken; the public debate, off the mark. Lauren, the paterfamilias of heritage-inspired Americana, knew exactly what he was doing: The cardigans aren't conventional clothes as much as they are task-specific uniforms. And when was the last time you heard someone point to an astronaut's spacesuit and say: "I think it makes her look a bit bulky in the hips" or "I can't believe she's wearing white after Labor Day"?
The task for these sweaters — as well as the rest of the ensemble — was to unify and showcase the American athletes walking into the opening ceremonies while at the same time distinguish them in a meaningful way from the colorful cacophony of other nations.
And that's exactly what happened. The spectators in Sochi and millions of TV viewers worldwide watched a parade of fresh-faced athletes forming a sea of white stars on blue that was reminiscent of the upper-left corner of the American flag. A living, breathing, undulating patchwork quilt — e pluribus unum in its truest sense.
"Whether you loved [the sweaters] or whether you didn't, it didn't matter," says Hal Rubenstein, founding editor and fashion director of In Style magazine. "They looked like a team — and that's what matters. [Ralph Lauren] wanted them to look like the stars they were, and they looked like stars and they felt like stars."
Those cardigans "are not clothes — they're costumes. And that's the mistake everyone [was] making."
Rubenstein, who says this is the first Winter Olympics he's missed in 16 years, has been tromping around Manhattan as part of another sporting ritual known as Fashion Week, alongside thousands of other editors, critics and bloggers. A random sampling found nearly unanimous support for the controversial cardigans.
"When you see pictures of [the cardigans] out of context, they look so bold," said Elle magazine's creative director Joe Zee. "[But] did you see the opening ceremonies? It was so colorful, and it felt like they were these real 'don't mess with me' kind of sweaters."
Jim Moore, GQ magazine's creative director, called the sweaters "phenomenal." Nick Sullivan, Esquire magazine's fashion director, used the word "gorgeous."
Some of those offering their opinions pointed out that the cardigan's distinctive patchwork style has been part of Lauren's oeuvre for decades (in fact, a muted-color patchwork shawl collar cardigan that could be a kissing cousin to the Olympics sweater was on the runway at the Ralph Lauren show Thursday as part of a new Polo women's collection). Others pointed to the symbolism of how the sweaters came together — literally.
The 6,250 pounds of wool came from Imperial Stock Ranch in Shaniko, Ore. The yarn was spun at Kraemer Yarns in Nazareth, Pa., and dyed at Longview Yarns in Hickory, N.C. The 14 patchwork pieces required for each sweater were assembled at Ball of Cotton in the City of Commerce, where, as The Times recently reported, it took 12 hours to hand whip-stitch each sweater to completion.
Los Angeles-based designer Greg Chait, who knows a thing or two about high-end sweaters (he and his Elder Statesman line of luxe cashmere knits won the CFDA/Vogue Fashion Fund Award in 2013), happened to be at Ball of Cotton on business of his own while the sweaters were being assembled.
"I can tell you — from being in that factory at the time — that the amount of handwork that went into those sweaters was staggering," Chait said. "To do that sort of graphic element — and keep it consistent — is hugely labor intensive, and those things just took forever. That was legitimate!"
The emphasis on a wholly stateside, mom-and-pop supply chain is no accident. Lauren was pilloried in advance of the 2012 London Olympics because the Team USA opening ceremony uniforms, while designed in the U.S., had been manufactured in China. In response, the company pledged that the 2014 uniforms would be made stateside.
While the Ralph Lauren company declined to comment on the design philosophy behind the cardigan — or the public response to it — a company representative did say that, of the 324 limited-edition versions of the $595 cardigan created for purchase by the public, online stock was depleted within three days of the design's unveiling and that bricks-and-mortar stores were depleted within a week. What's more, an EBay search reveals that, as of press time, sweaters purporting to be the real deal have attracted winning bids as high as $3,500.
Of course, no matter what the early sweater-bashers complained about, approval ratings were bound to soar when the ensemble was compared with some of the hot messes pouring out onto the field at Sochi for the parade of nations.
Germany, with your disconnected-from-Deutschland conflagration of lime green, cornflower blue and egg-yolk yellow striped duffel coats and raspberry jam meets confetti snow pants that make you look like the Teletubby rainbow army from the Republic of Skittles ... we're talking to you.
Get the latest on L.A.'s teams in the daily Sports Report newsletter.
You may occasionally receive promotional content from the Los Angeles Times.