Omega's Paris cocktail party marks debut of second-generation brand ambassadors Kaia and Presley Gerber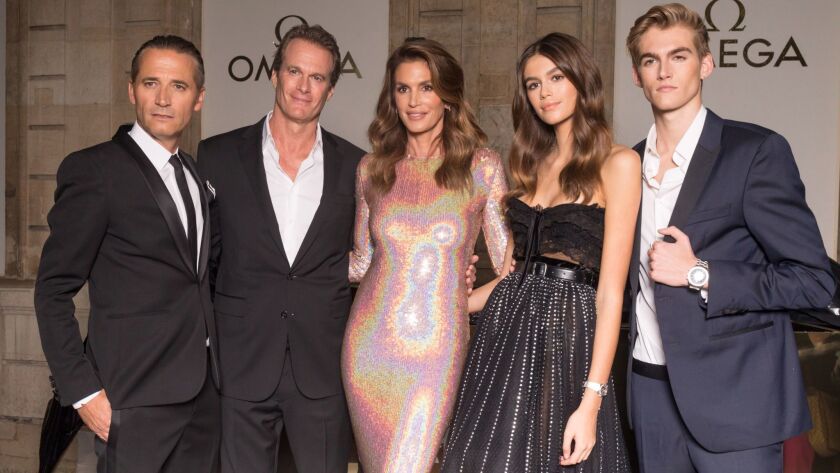 Reporting from Paris —
Plans to properly celebrate Omega's "Her Time" exhibition in the courtyard of a Paris hotel may have been scuttled by a downpour, but the coming-out party for the Swiss watch brand's newest ambassadors — model siblings Kaia and Presley Gerber — went on as planned.
The genetically blessed offspring of supermodel Cindy Crawford and Casamigos tequila brand co-founder Rande Gerber had been announced as new faces of the brand earlier in the week — following in the footsteps of their mother who signed on as Omega's very first brand ambassador in 1995 — but the cocktail party held during fashion week here marked their official public debut in their new roles.
"I joke that I've been with Omega longer than I've been married to my husband so it has to work," Crawford said to a knot of people clustered under a tented corner of the Hôtel de Sully's courtyard. "And my kids have been part of that journey … but what's really exciting is that now as both Presley and Kaia are starting to have their own careers, Omega invited them to be ambassadors. For me, it couldn't be a nicer thing because Omega is about history and legacy and family."
Kaia Gerber, who wore a diamond-studded, stainless steel Omega Constellation watch on her wrist, echoed the family theme in addressing the guests. "I grew up with Omega playing such a large role in my childhood. I've always felt like a member of the Omega family so to make it official is really exciting for me," she said.
After that, Presley Gerber shared that he'd recently graduated from high school and received a special gift. "For my graduation, my mom gave me an Omega [Speedmaster] Dark Side of the Moon [watch]," he said, "and I've been wearing it every day since so it's just part of my life. I can't leave the house without putting it on."
With the Omega deal, both Gerber kids find themselves poised for long and lucrative catwalk careers. Both represented by IMG Models, 18-year-old Presley made his runway debut two summers ago in Moschino's Made LA show in Los Angeles, with 16-year-old Kaia taking her first professional spin down the runway just a few weeks ago at the Calvin Klein show at New York Fashion Week.
Due to the torrential rain, Omega's traveling "Her Time" exhibition, which charts the evolution of women's timepieces from early pendant styles to modern-day wristwatches and features classic Omega advertising, wasn't open for touring (at least it wasn't when we ducked out shortly after 9 p.m.), but it will be open for viewing by the general public from 9 a.m. to 5 p.m. daily through Oct. 15 at Hôtel de Sully, 48 Rue Saint-Antoine, Paris.
For more musings on all things fashion and style, follow me at @ARTschorn.
ALSO:
Natacha Ramsay-Levi's debut collection for Chloé makes her one to watch
At Paris Fashion Week, Kenzo plays a memorable game of denim and dragons
The harried jetsetter as spring 2018 trendsetter? Maison Margiela says, 'Oui!'
---