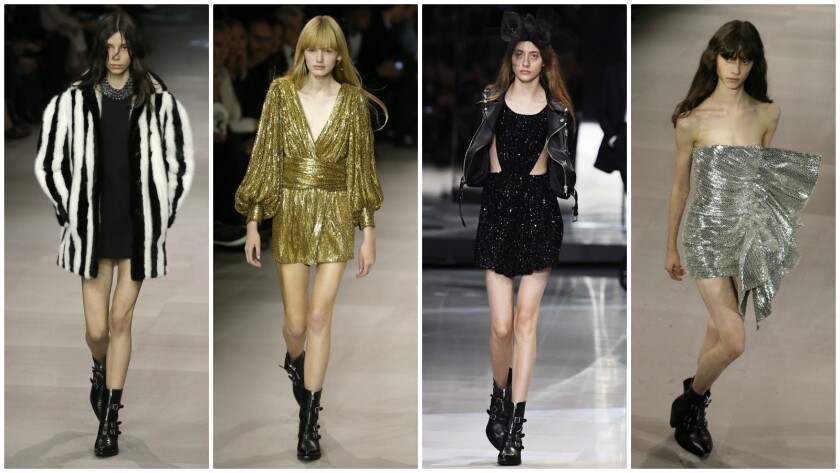 Reporting from Paris —
On Friday night, one of the most eagerly anticipated runway shows of the season — designer Hedi Slimane's debut for Celine — began with a flurry of percussion courtesy of two drummers from Les Tambours de la Garde Républicaine (the Drums of the Republican Guard) and if the symbolism was lost on anyone in the audience, it wouldn't be by the time the show was over. Slimane, who assumed the role of artistic, creative and image director of the LVMH-owned French luxury label in February, marches to the beat of his own drummer.
Titled "Paris la Nuit" ("Paris by Night"), the spring and summer 2019 collection rooted in black and white (putting it squarely on-trend with the neutral colors filling the Paris runways this week) and filled with the kind of silhouettes that instantly drew comparison to his work at Saint Laurent where he helmed the creative team from 2012 to 2016. Women wore thigh-grazing black and white polka-dotted cocktail dresses bedecked with bows, gold metallic puffball skirts paired with black motorcycle jackets and referee-striped fur (or possibly faux fur) coats that would do Cruella de Vil proud.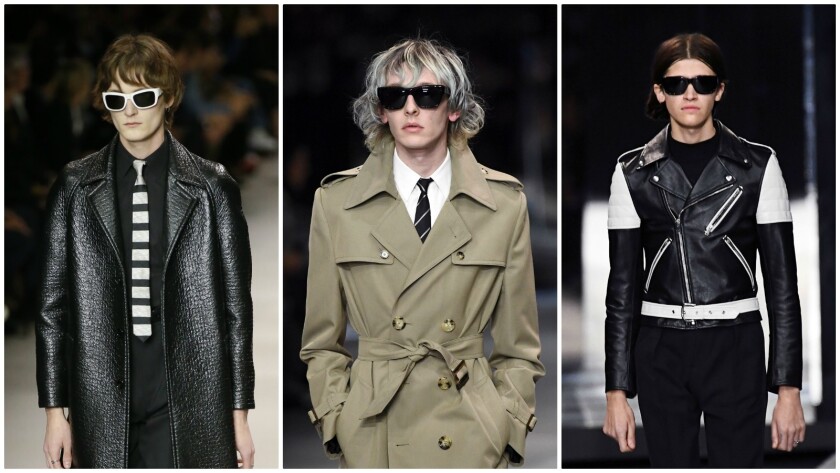 Those wide, black and white horizontal stripes appeared on a notch-lapel blazer in the men's collection (the show marked the menswear debut for the 73-year-old label), which was dominated by sharp-looking suits and skinny ties accessorized with sunglasses for a "Men in Black" (or maybe it was "The Matrix") vibe, and an assortment of varsity and motorcycle jackets, some silver metallic, others festooned with colored sequins and emblazoned with Pop Art sound-effect words such as "kabloosh" and "whooooomp." (According to the show notes, the embroidered and printed artwork sprinkled throughout the collection were created by Swiss-American visual artist Christian Marclay.)
There were a couple of noteworthy silhouettes mixed in with the assortment of been-there, done-that cocktail dresses and slick suits, the standout of which was a bolero jacket with sculptural shoulders extended to cartoonish right angles; and another version of the bolero with the shoulders rounded to car-tire-sized semi-circles.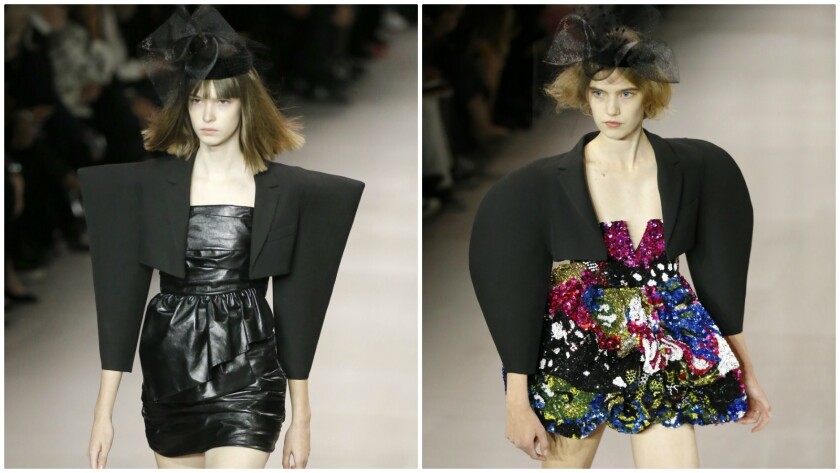 It probably came as a surprise to exactly no one at Friday night's show that the new Celine would be so heavily imprinted with Slimane's design DNA since, as Darth Vader might put it, the Force is strong with this one, and he has a track record, not just on the runway but off, of painstakingly hammering every last detail into place like a branding blacksmith.
During his tenure at YSL, for example, he decided to lop off the "Yves" to make the label Saint Laurent. And, earlier this month, he took to Instagram to announce he'd banished the accent over the first "e" in Céline and tweaked the logo's typeface.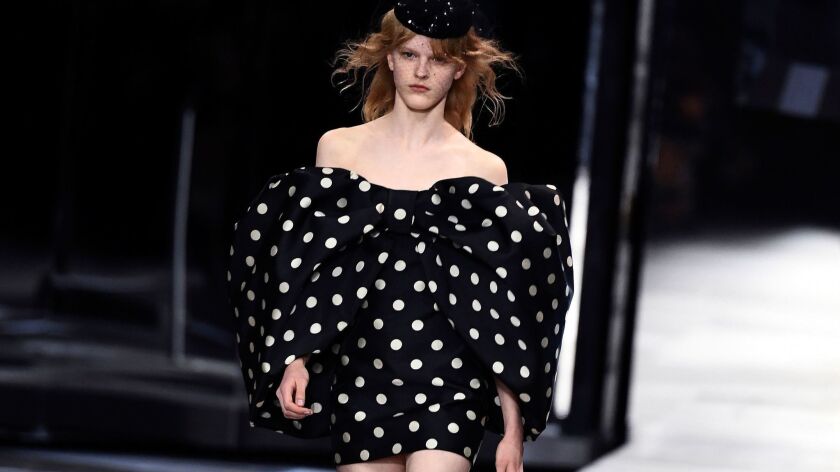 With his debut show — held in a tented space in front of the Hôtel des Invalides where Napoleon is famously entombed — make of that what you will — it feels as though Slimane has all but obliterated the Celine of old.
Now that he has a clean slate, he's got a much freer hand to choose what of the house codes (the snippets of Celine brand DNA culled from archives) he might want to use as building blocks as he rebuilds the brand in his image. And that's going to make the next couple of seasons some of the most interesting in the brand's — and Slimane's — history.
Drumroll, please!
For more musings on all things fashion and style, follow me at @ARTschorn
---