Paris Fashion Week: A mutinous Maison Margiela breaks with the binary 'for a defiant new generation'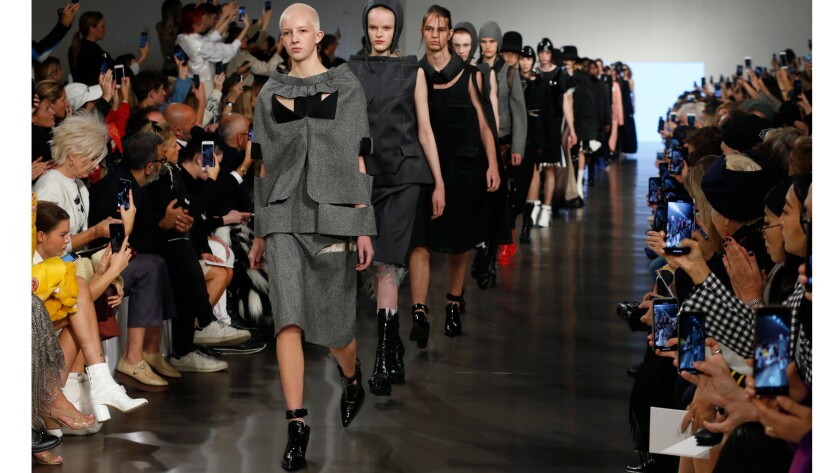 Reporting from Paris —
Waiting for the Maison Margiela spring and summer 2019 runway show to begin Wednesday, I ran across a TED Talk a friend had posted to her Facebook feed. Titled "How Your Language Shapes the Way You Think," the talk featured cognitive scientist Lera Boroditsky explaining how the Kuuk Thaayorre people of Australia don't use the words "left" or "right" but rather refer to the location or position of something by using north, south, east or west. (She uses the example of someone saying, "Oh, there's an ant on your southwest leg" instead of "There's an ant on your left leg.")
"People who speak languages like this stay oriented really well," Boroditsky said at one point, an observation I couldn't help but think about after seeing creative director John Galliano's latest collection for the house, a men's and women's collection that was somehow neither and both at the same time — and was full of garments that looked like they'd started life as one thing and then, in the wearing, became something else altogether like the show-opening look that featured a gray herringbone tweed skirt worn as a cape.
"Mutiny is in the air," Galliano wrote in the show notes, which described the "Co-ed" collection as a unification of the label's men's and women's offerings. He expressed "[a] desire to break free from binary stigmatization" with an assortment of genderless wardrobe staples aimed at "a defiant new generation."
This mutinous mood was underscored by looping video that played on LED screens flanking the runway before the show. In it, a handful of models, singers and actresses — Willow Smith, Princess Nokia and Sasha Lane among them — talked about individuality, self-expression and doing things their own way. (Examples included, "Be who you are, and it illuminates of you" and "Being who you really are is an act of defiance.") Each anecdote ended with the hashtag #MYMUTINY flashing on the screen.
Ever the fashion provocateur, Galliano, seemed to be openly encouraging a revolt against the man (and we mean that in the authoritarian non-gender-specific way). In essence, he was asking who decides what should be deemed menswear and what should be deemed women's wear? (Although gender-neutral and gender-fluid fashion isn't exactly new, it has been more visible on the major fashion runways this season; Telfar at New York Fashion Week being another good example.)
This is where Boroditsky's TED Talk came to mind. What if, like the Kuuk Thaayorre, the fashion world spoke a more nuanced, non-binary language? How would that change the way we orient (or reorient) our wardrobes around something other than gender? I don't have a clue what the new vocabulary might sound like, but I'm pretty sure it could look a lot like the Maison Margiela "Co-ed" collection that came down the catwalk Wednesday at the Grand Palais in Paris.
Oh, and those aforementioned #MYMUTINY video testimonials were more than pre-show window dressing. As guests exited the Grand Palais, they were confronted with a giant mobile video screen mounted on top of a bus that looped some of the same clips but, this time, ended with a photo of a perfume bottle. Galliano, it turns out, had created his first fragrance for Maison Margiela.
It's simply called, of course, Mutiny.
For more musings on all things fashion and style, follow me at @ARTschorn
---