Q&A: Designer Phillip Lim talks about his new L.A. store, left coast 'contamination' and his first foray into film
In December 2016, the 3.1 Phillip Lim store on Robertson Boulevard in West Hollywood closed its doors. It was the brand's third brick-and-mortar boutique when it bowed in 2008.
This month, a new 5,000-square-foot space (think of it as 3.1 Phillip Lim 2.0) opened nine miles away in downtown Los Angeles' Arts District. In addition to selling men's and women's apparel, accessories and footwear collections, the new shop is a spare, minimalist space stocked with an assortment of furniture, home decor, art and books in partnership with Patrick Parrish Gallery, M.Crow, Apparatus Studio, Mast Books and Li Inc. Studio arranged to feel more like a space to be lived in than shopped from.
In town for the June 7 grand-opening celebration, 44-year-old namesake designer and Orange County native Phillip Lim, who launched the company 13 years ago in New York with business partner and Chief Executive Wen Zhou, sat down with The Times to talk about the new digs, the location's connection to his early career and the challenges facing retail and the runway. Along the way he explained how the numbers ended up next to his name — and announced his first foray into the movie business. Below are excerpts from that conversation.
---
You had a store on Robertson Boulevard in West Hollywood for eight years. Why pull up stakes and move to downtown L.A.?
Our lease was coming up, and this [new space] miraculously opened. It was handed to us on a platter. Truth be told, I wish we were more academic about choosing spaces, but it's very guttural. Wen and I are partners in a privately held company, and we tend to be passionate and spontaneous people. So it's almost like we stumble upon something that we love, and we just go for it.
So you just sort of stumbled upon the perfect downtown space?
I believe that you put it out in the universe, and it comes to you. And literally, the lease came up and we said, "You know, we should do something different because it feels like the right time. It's been eight years." And then this popped up downtown. What's amazing is that it's literally next door to where I used to eat lunch all the time, Zip Sushi [Izakaya]. When I had my brand Development, the offices were five minutes away. So I'd have all my meetings there.
What kind of label was Development?
It was true contemporary, kind of that period's version of what I am doing now. We did that for five or six years in downtown L.A., and that was my first job after working at Katayone Adeli. I was solicited by my former partners through a friend who wanted to start a business and have me be the designer. I said, "No, no. I'm not a designer, I'm an assistant." But I didn't have anything to lose so I jumped right in. It turned out to be the watershed [moment]. I remember that I designed 31 pieces for that first collection.
Is that the origin of the "3.1" in the label's full name "3.1 Phillip Lim"?
The name Three One Phillip Lim was actually chosen because we were both 31 years old when we started.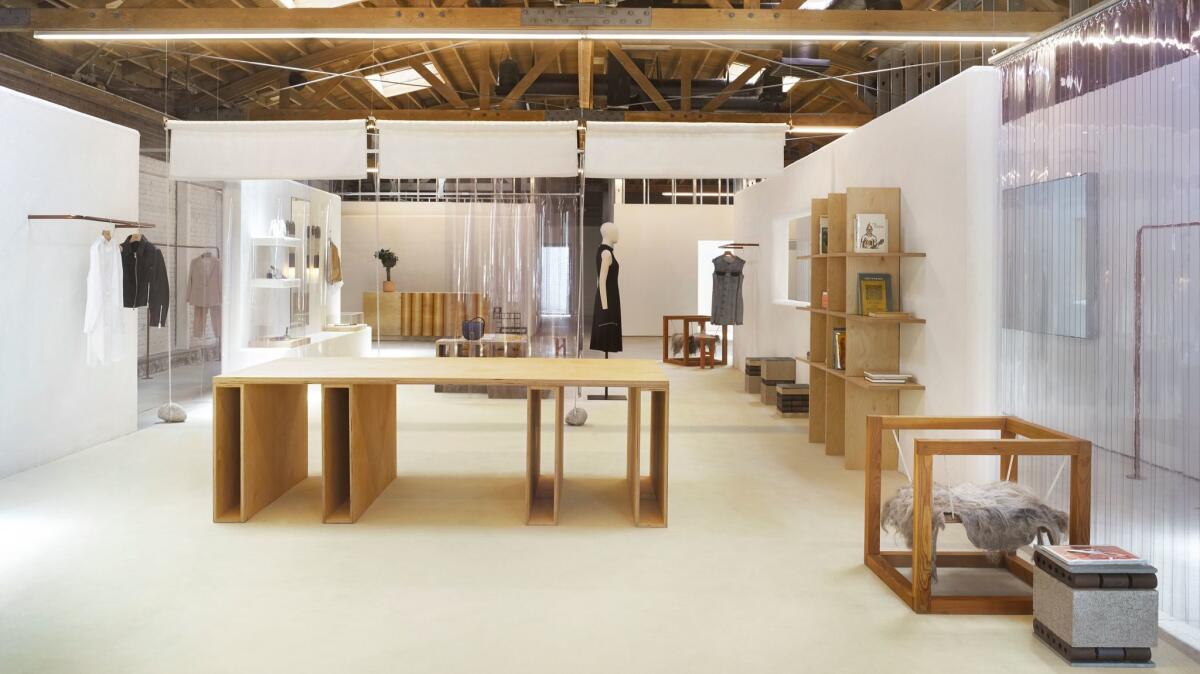 What's the proper way to say it? "Three one" or "three point one"? And how did it end up as part of the label's name in the first place?
I call it "three one," but everybody else says "three point one." When we started, my partner was like, "You have to put your name on it," and I was like, "No, no. Maybe I can hide behind the numbers." And since [the numerals] were at the beginning of a dot-com, they always put us on top.
How has retail changed between the time you opened the West Hollywood store in 2008 and the Arts District store in 2017?
Retail is not feeling well right now. What we have in the store will change. We will bring in new collaborators. It's all about what we're feeling at the moment. When we first started, we thought of it as a pop-up, a test. But that was really us convincing ourselves it was OK to try.
So is this a temporary space?
We signed a 10-year lease, but the concept for this store was literally a work in progress even as we were building it out. It all happened in two months.
What exactly is the concept for the store?
What I'm feeling is "home"; it was instinctual and guttural. It was informed by being connected and knowing what's up and seeing what's happening to the industry and knowing that you actually need to try new things.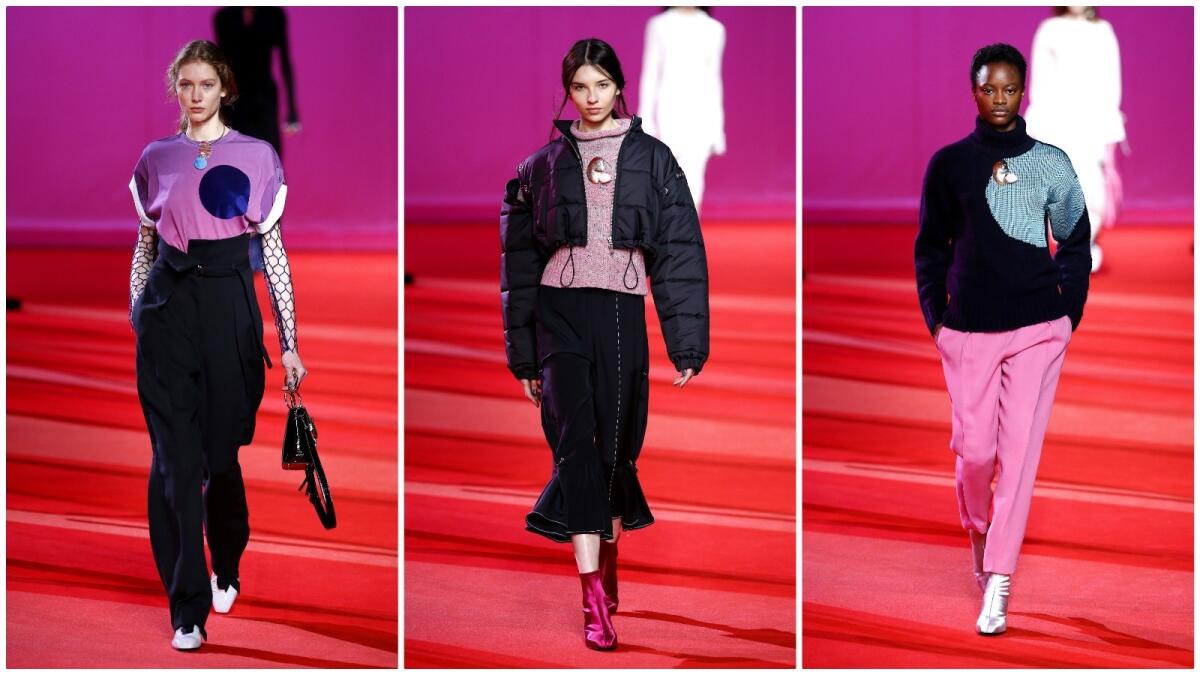 Everything's a spectator sport now … You can't just be a designer anymore — you're talent.

— Phillip Lim
Do you get inspired by Southern California?
Always. West Coast living and Southern California is always an undertone because this is how I grew up. I can't get away from it. I'm contaminated by the left coast. No matter what I do, what the theme is, there's always that undercurrent of that effortless, relaxed feeling.
What sort of annual sales does the label do?
We don't share information like that, but our business has definitely expanded. Our first season [fall/winter 2005] we went global right away. Now we're in school. … And it's do or die by the dress because everything we do, we own. We're learning how to swim, maneuver, adapt and evolve.
You're still learning – even after 12-plus years?
Still — 100%. You're always a student. You're always learning something. In the process of creating the clothes, I'm learning a new skill: how to deconstruct something or reconstruct something or change the shape of something.
What's a recent example of something you had to learn?
Right before I left [to come to L.A.], I was fitting the shoulders of a men's blazer. Last year we did this deconstructed shoulder, like a shirt, and this time, I wanted to do traditional construction but not to the point that it felt like Savile Row. I wanted it to feel modern, mobile and accessible but also chic and sharp. I had to work with our patternmakers to figure that out. … It's like teaching an old dog new tricks, but I'm teaching my old-self dog new tricks.
After you spend that kind of time and energy on a collection, what does it feel like when you finally send it down the runway?
I feel like I want to vomit. It always feels like the first time, always. [There's] just more pressure.
Are you still a firm believer in the runway format when it comes to showing a collection?
I am. I believe there's still that thrill. I feel that's my one moment that's unadulterated. No one can influence me. I can just tell a story. And from there, there's many different channels to distribute that [story].
How has staging a runway show changed over the years?
Everything's a spectator sport now. … You can't just be a designer anymore. You're talent. Worlds are merging so instead of traditional shows it's multimedia. It's music! Celebrity! Fashion! Boom!
In this new multi-tasking/multimedia world where you're Phillip Lim designer-slash-something, what's the first thing we're likely to see on the other side of that slash?
I guess I'm telling someone this for the first time. I'm working on a movie with a friend of mine. I'm the accidental executive producer on a beautiful film that's a love story about the Asian youth community. After the [presidential] election, I was so upset. And I've been working with this youth organization called Apex in New York that works with underprivileged Asian youth because that happens to be the No. 1 highest poverty bracket in Manhattan. No one knows because the culture doesn't speak about it. It's against the culture to speak or complain about it.
What do you mean by "accidental" executive producer?
I was on a bike ride along the East River last summer with my friend Daniel Peddle. He's an amazing artist and film director and he's been the casting director for my shows forever. And he suggested we should work on something together, and we're bicycling along the East River where a lot of the Asian community goes fishing and does Tai Chi and things like that. And I said, "We should do something on Asian youth."
I want this group to have more of a voice. I want people to see that they're normal people like you and me — that their struggle is real and their love is real. We're approaching it as a teenage love story, and the whole cast is going to be discovered talent. It's going to be called "Zimo," which is the name of one of the characters.
How far along is the film?
I just got the deck, and some amazing people are involved. ... I don't know what I'm doing but I'm just going with it. I'm scared ... because this is not my world but I don't believe there's such a thing as separate worlds anymore. We all affect each other.
3.1 Phillip Lim, 743 E. 3rd Street, Los Angeles, open 11 a.m. to 7 p.m. Monday through Saturday and noon to 6 p.m. on Sunday.
Fashion Videos
For more musings on all things fashion and style, follow me at @ARTschorn.
ALSO:
Designer Profile: His toughest critic
Georgia O'Keeffe meets 'Kill Bill' on Opening Ceremony's fall 2017 runway
Snoop Dogg, Wiz Khalifa make the traditional runway show disappear in a puff of smoke
Get our L.A. Goes Out newsletter, with the week's best events, to help you explore and experience our city.
You may occasionally receive promotional content from the Los Angeles Times.