Strike a 'Pose.' Here's a look at the fashion from Ryan Murphy's FX drama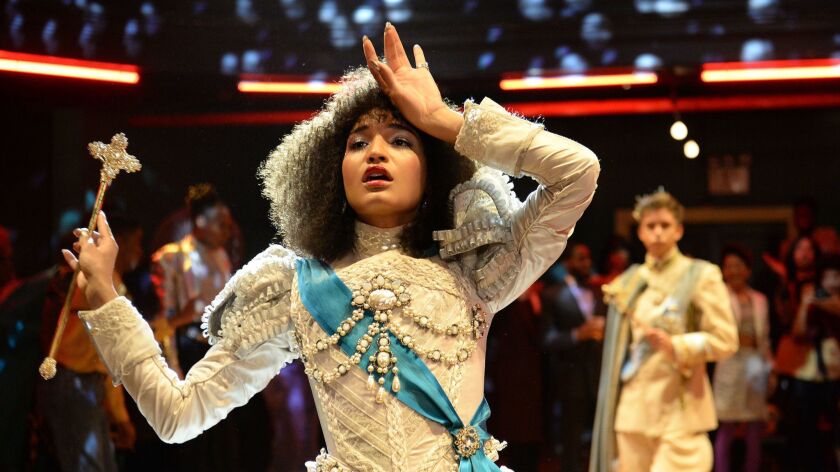 The costumes seen in Ryan Murphy's latest television drama, "Pose," which airs its Season 1 finale July 22 on FX, illustrate the excess of the 1980s and New York City's increasing class disparity through the decade that brought us such major pop-culture moments as "Dynasty," Michael Jackson's moonwalk and the rise of Madonna.
The clothes on "Pose" electrify the screen, capturing the theater, fantasy and attempt at fashion-world opulence of the uptown underground ball scene. That scene features participants and enthusiasts who were often young, black or Latino and gay or transgender and took on fictitious personas that elevated their status into the stratosphere — if only for the duration of the ball.
When it comes to the show's fashion, consider the names of the major "houses" — groups that competed in balls, donning themed looks and voguing to claim the top prize — represented in the ballroom scenes. You have the House of Abundance, led by house mother Elektra Abundance (played by Dominique Jackson), as well as the rival House of Evangelista, clearly a hat tip to supermodel Linda Evangelista, created by former House of Abundance protegée Blanca Rodriguez (Mj Rodriguez).
"This was certainly the most interesting project I've worked on and the one I had to do the most research on," costume designer Lou Eyrich said of her work on "Pose." Alongside co-designer Analucia McGorty, Eyrich, who also created costumes for Murphy's "Glee" and "American Horror Story," delved into the eclectic and often DIY looks that remain iconic symbols of the ball scene.
For her research, Eyrich turned to "Paris Is Burning," the 1990 documentary about the ball culture of New York, which became a key reference for her and her team, coupled with the bold, bright and playful aesthetic of the late fashion designer Patrick Kelly.
"Even though it was more '70s, 'Mahogany' was also a reference," Eyrich said. "We wanted that high fashion look for Elektra, a house mother."
As over the top as the ball costumes got, Eyrich said she was aware that the costumes had to be believable enough to appear as if the show's characters could have made them themselves.
"It was a big conversation in the beginning," Eyrich said, "that we didn't want to make the costumes so editorially stylized that you wouldn't believe [the characters] could actually do it."
On the show, "mopping," slang for stealing, was also a way to procure clothing during the ball era, but Eyrich said it was common for people in the scene to sew and whip up looks themselves.
"They would have also done a lot of thrifting, and we did a lot of that," Eyrich said. "We never spent more than $30 on one piece, because in reality, they wouldn't have spent more than that. We also built each character a closet of pieces that defined their look and then re-used a lot from there."
True to the DIY spirit of the time, many of the accessories used had multiple purposes. Necklaces could become chain belts; bracelets were anklets; and, of course, as was popular during the time, jewelry was piled over lace gloves, something familiar from early music videos by Madonna, who paid homage to the underground ball scene with her 1990 song "Vogue."
About the use of accessories in the ball scene, Alexander Allen, a set costumer who worked with Eyrich on "Pose," said: "It showed personal style. Especially in the '80s, it was all about self-expression via your wardrobe. You had to be really creative to stand out."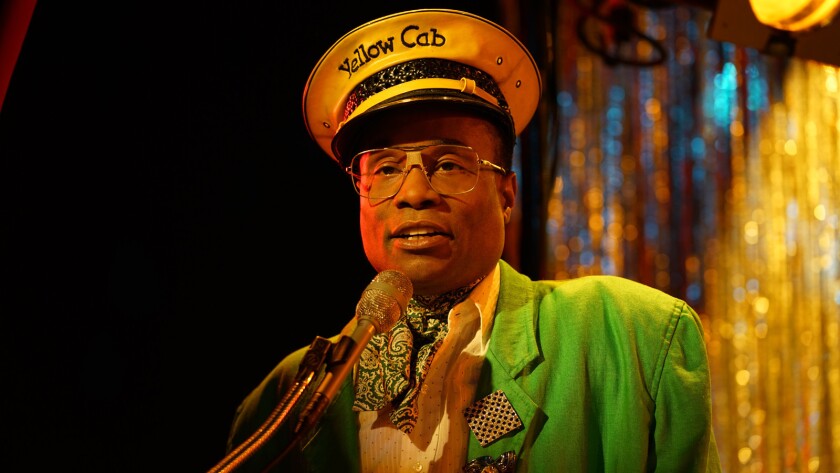 As much as the ballroom looks boosted a performer's personas through volume and excess, the rigid power suits and slicked-back hair of the show's Wall Street characters defined the money hungry players of the decade. While ballroom culture sizzled uptown, there was also the rise of the yuppie Trump era and the excess of a different kind coming together farther downtown.
For those characters, Eyrich's sartorial mandate meant sticking to boxy suits and wide ties along with fur stoles and chandelier diamond earrings. Stan and Patty Bowes, played by Evan Peters and Kate Mara, respectively, portrayed what the costume designer referred to as "New Jersey suburban middle class." That translated into Levi's jeans and neutral-colored sweaters before evolving into custom suits for Stan and designer dresses for Patty to convey Stan's work success.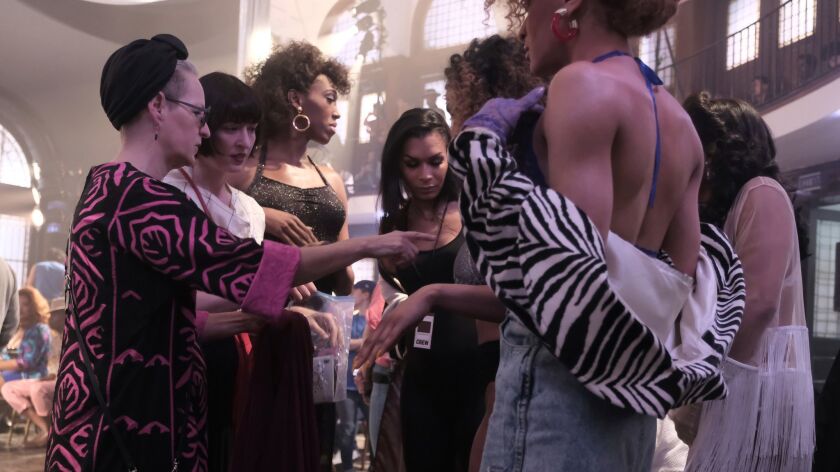 The show's costumes ultimately reflect the diverse group of actors who appear on "Pose," including Billy Porter as Pray Tell and Indya Moore as Angel. "Pose" boasts the largest group of regularly featured trans actors of any cast on TV. For Eyrich, who spent hours working with the group, the experience was extremely inspiring.
"A lot of [actors] get jaded, but these actors, since many of them are relatively new and some are completely new, they loved the clothes and the fittings," she said. "There was a lot of dancing and singing during what were sometimes four-hour fittings. It helped them find their characters."
For fashion news, follow us at @latimesimage on Twitter.
---