Opioid crisis meets Flemish still-life paintings in Raf Simons' fall/winter 2018 men's collection
Reporting from New York —
Belgian designer Raf Simons, who presented his eponymous fall and winter 2018 menswear collection here Wednesday night, revisited the seamier sides of the American dream he's found as fertile ground for his last two Calvin Klein collections, specifically the opioid crisis.
What the show notes called "the persistent, almost ubiquitous presence of narcotics (prescribed or otherwise) within our society" was actually one of several cited inspirations for Simons' "Youth In Motion" runway collection, the others being the 1981 film "Christiane F." about Cold War-era drug addiction in Berlin and the mid-'80s tragi-comic play "Drugs" by Cookie Mueller and Glenn O'Brien.
The film is referenced specifically in screen-printed T-shirts bearing the photographs of the film's lead actors Thomas Haustein and Natja Brunckhorst, and others emblazoned with the book it was based on ("Christiane F. — Wir Kinder vom Bahnhof Zoo").
References to Mueller and O'Brien's play crops up in yellow and orange pieces (a sleeveless hoodie here, trouser patches there) bearing the word "drugs" (or the abbreviations for specific drugs — LSD and GBH among them) in a utilitarian typeface, the color and fonts a nod to a 2016 re-issue of the work.
The collection was presented against the backdrop of a runway designed to look like a banquet table plucked straight out of a Flemish still-life painting, piles of grapes, loaves of bread, overflowing bowls of half-peeled lemons, peels curlicuing like thick ringlets of hair, wheels of cheese, bottles of wine and various platters piled high with cured meats, chocolate and Belgian waffles. (The opulence of such paintings was also among the cited inspirations.)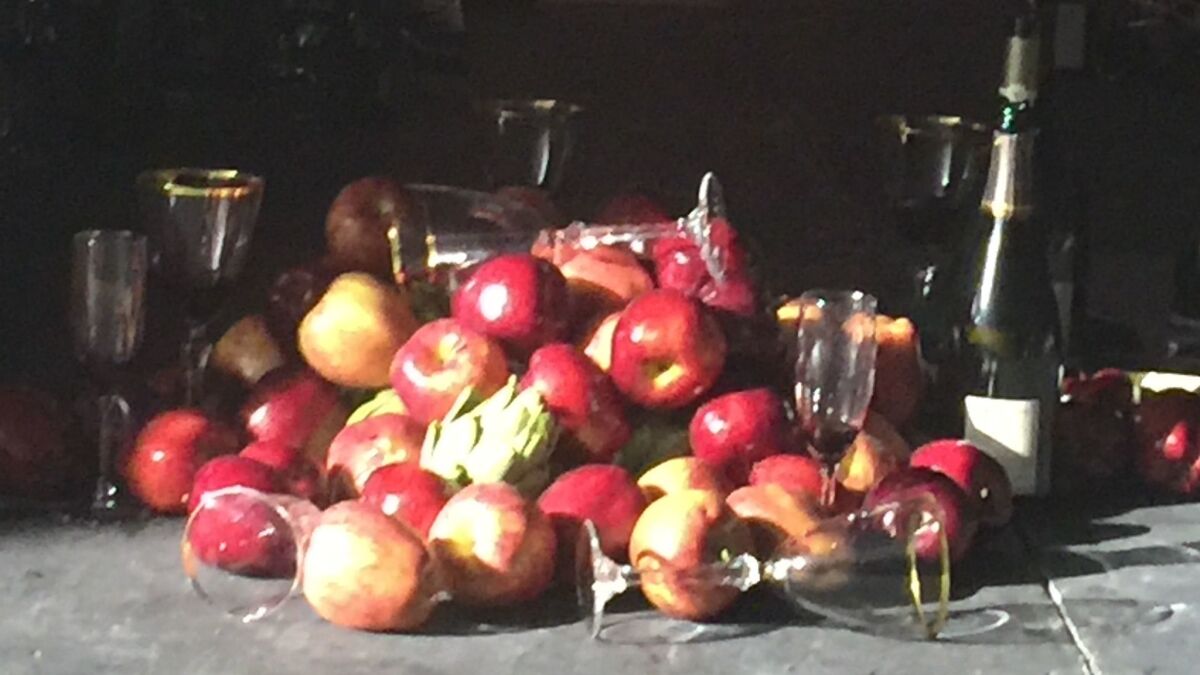 The collection itself was an equally eclectic mix: voluminous trench coats in traditional menswear patterns such as houndstooth checks and plaids; some sporting bulky cargo pockets, others lined with satin duchesse, a fabric that was also used in multi-pocketed trousers that took on a space-age feel.
There were hooded pullover sweatshirts with the arms hacked off (the most memorable was a yellow one with "Drugs" printed across the chest), shiny, fetish-like gloves that ended at the bicep and equally shiny lace-up boots that rose to mid-calf.
Many of the looks were styled with dickey-like deconstructed knits. Some resembled armless turtleneck sweaters, others chunky scarves; and one head-scatching piece fastened asymmetrically at the neck and consisted of little more than a collar and both arms.
They were curious accessories to be sure, but as part of Simons' visual menswear feast, they somehow appeared to work.
Presented on Wednesday night, the collection was technically the last show of New York Fashion Week: Men's on a recently rejiggered calendar, but from where we were standing, it was a thought-provoking — and visually stunning way — to kick off New York Fashion Week, which officially began the following day and runs through Feb. 14.
For more musings on all things fashion and style, follow me at @ARTschorn.
---