Pop-up-shop fever and more hits the Los Angeles retail scene
Los Angeles is in the midst of pop-up-shop fever. Three of the area's newest temporary outposts include Spanish brand Quero (think personalized shoes) as well as Tamara Mellon (sexy stilettos and more) and Amiri (avant-garde offerings) from designer Mike Amiri.
However, pop-up shops aren't the only sources of retail good times. New in the L.A. market and here to stay is Prism, a London-based brand that just put down roots in Culver City.
---
Quero sells custom shoe designs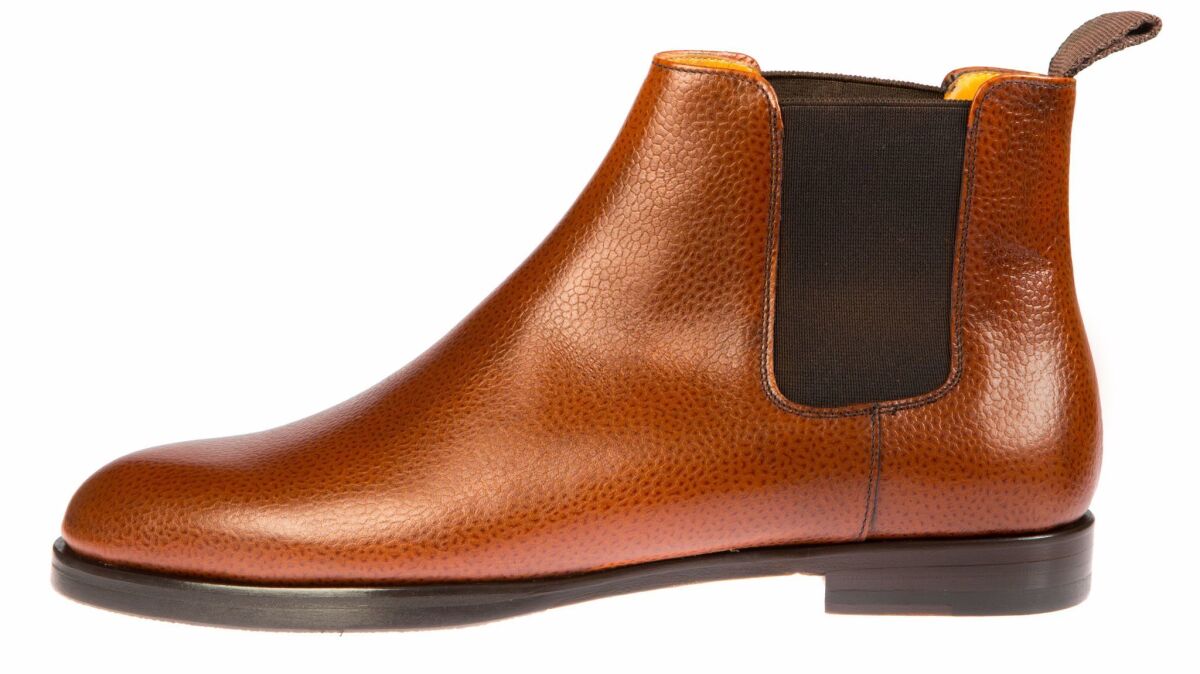 ---
Need a summer loafer but can't find one in the perfect color? Then go with a customized approach. That's what new Spanish brand Quero is offering at its pop-up space, which opened in early May and closes in June.
Designer and co-owner Monica Shuken said shoppers can select from 17 men's and women's styles and 30 suedes and leathers, ranging from patent textures to ombre effects. Many of the details can be switched around: round toe or pointy, leather or rubber sole or the color of the laces.
"We wanted customers to personalize shoes without spending a fortune," said co-owner Randy Shuken about the line, which generally ranges from $185 to $285. At the pop-up, shoppers can try on shoes for sizing and see the combinations of leather and suede. Orders are typically shipped from Spain within four to six weeks. New styles for summer include backless mules and leather sneakers.
Quero pop-up shop, 1301 Abbot Kinney Blvd., Venice, querohms.com
---
Amiri offers an avant-garde experience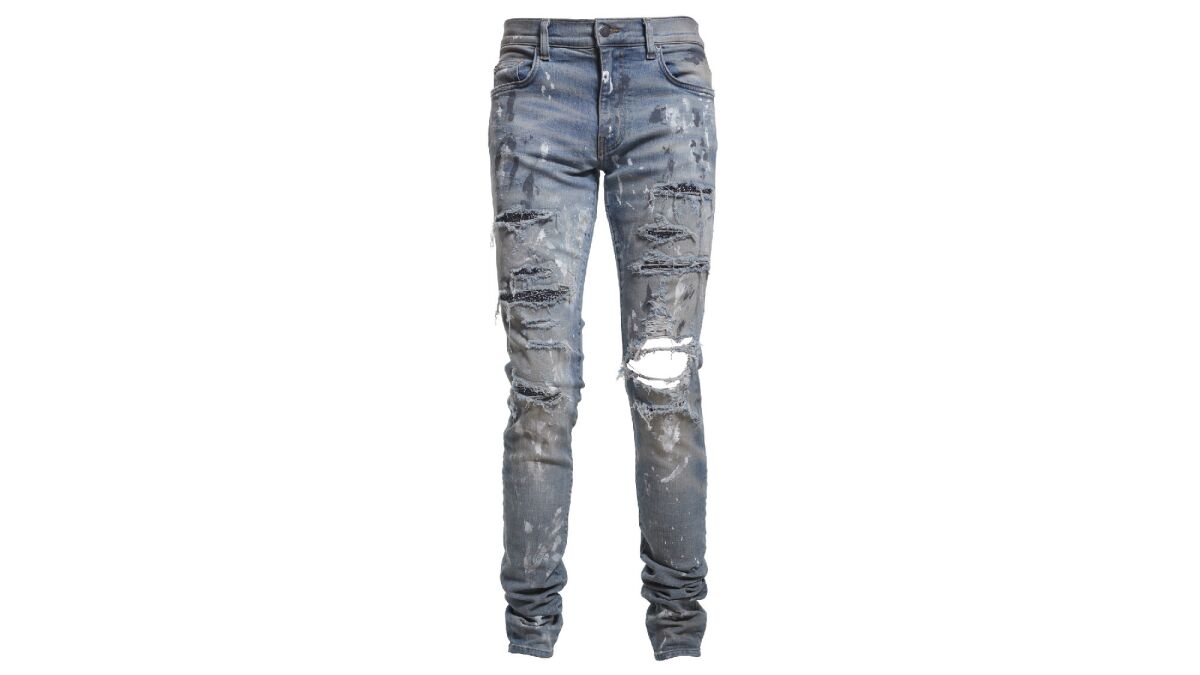 Don't expect to see white walls and basic racks of clothing at the Amiri pop-up shop in West Hollywood. Instead, brand founder Mike Amiri envisioned an avant-garde experience at the label's first-ever pop-up, which runs from May 12-June 30.
"Luxury retail needs to be more experiential rather than just a showcase of clothing in a room," said the Los Angeles designer, whose line hangs adjacent to Gucci and Balmain at prestige stores around the world.
The 2,500-square-foot venue is across the street from Maxfield, which was the first to carry the Amiri line when he launched in 2014. "The space is primarily black and covered in mirrors, and light projects on top of and underneath the clothing," Amiri said.
Sounds like a fitting backdrop for his adventurous designs, which include distressed jeans artfully arranged with Swarovski crystals and bullet hole-riddled hoodies that were literally taken out to the desert and shot. Prices range from $225 to $11,950.
Amiri pop-up shop, 8818 Melrose Ave., West Hollywood, mikeamiri.com
---
Tamara Mellon adds new footwear pop-up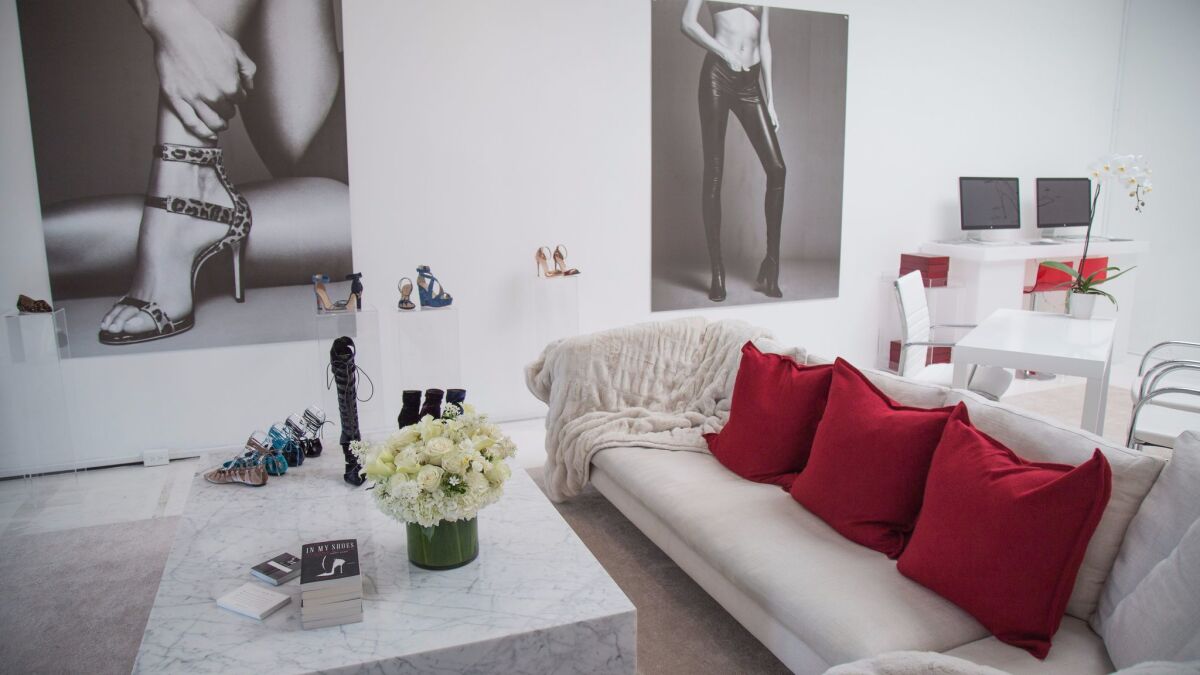 Within days of opening her pop-up space last month, shoe designer Tamara Mellon had sold out of the Frontline sandal, an architecturally spare construction of three partially translucent straps and a high heel.
"We can't keep it in stock," Mellon said. "One woman bought them in every color. It's a modern design that elongates the leg and goes with everything."
Mellon established the pop-up as a place for private fittings and to hold events. "It's an intimate atmosphere," she said. "Customers can have a glass of Champagne, feel the product and try things on. We're a digitally-led brand, but this is a nice way for our clients to be personally styled by us."
Mellon's pop-up shop will run until July, and generally prices for footwear at the space go from $325 to $895, with the Frontline sandal options ranging from $395 to $425.
Tamara Mellon pop-up shop, 110 S. Robertson Blvd., Los Angeles, tamaramellon.com
---
London's Prism moves into Platform
For her first U.S. store, Prism founder Anna Laub chose Los Angeles because it's "geographically diverse, and my brand is about being outdoors." Laub, a former fashion editor, founded Prism in London in 2009 as an eyewear line, and it now also encompasses swimwear and footwear.
"I've been spending time in Los Angeles for the last couple of years, and there is a lot of movement here," Laub said. "It's having a fashion moment, with lots of young creatives moving in." The 650-square-foot store, which opened May 10, carries the full Prism line. Top sellers include the Samar one-piece swimsuit in tiger print jacquard and the Istanbul sunglasses in rouge. Prices for items in the line range from $75 to $300.
"The other places I sell in have a small selection," Laub said. "It will be nice to set the stage and create my own environment."
Prism, 8850 Washington Blvd., Culver City, prismlondon.com
For fashion news, follow us at @latimesimage on Twitter.
ALSO
Hit the mother lode: 15 gift ideas for mom on Mother's Day
Paris Hilton, Jamie-Lynn Sigler, Kris Jenner and Tommy Hilfiger turn out for star-studded Race to Erase MS gala
Cartier looks to L.A. — and a few famous friends of the house — to help relaunch its Panthère watch