Sheryl Swoopes, a WNBA superstar, on her big Nike moment: 'I still get a little choked up'
The year was 1995. Women's basketball was building hype by creating a power squad for the Summer Olympic Games in Atlanta. Just two years earlier, the Texas Tech Lady Raiders wowed the nation by winning the NCAA Women's Basketball National Championship led by Brownfield, Texas, native Sheryl Swoopes' 47 points.
At the time, Nike was establishing itself as an athletic behemoth. The Beaverton, Ore.,-based company was finding success with Chicago Bulls superstar Michael Jordan's shoe line, starting with 1985's Air Jordan I, and for many, Nike was the holy grail of sportswear endorsements.
While growing up, Swoopes never imagined that she'd own a pair of Nike basketball shoes. She simply couldn't afford the elite brand. Little did she know she would make history in 1995 by becoming the first female athlete to have her own Nike signature shoe.
"To be honest with you, even today when I talk about it, when I think about it, I still get a little choked up," Swoopes said during a recent phone call from Houston.
Alicia Jessop, a sports law and marketing professor at Pepperdine University, said Nike's decision was significant for Swoopes and professional women's basketball at the time.
"It's critical that it was Nike making the decision to develop the signature shoe for Sheryl Swoopes in the '90s, because it was them saying, 'We look at you as being on the same ground in a sense as Michael Jordan,'" she said. "It was creating parallels between she and Michael Jordan in terms of the level of athleticism and the level of notoriety."
FULL COVERAGE: From Nike to Gucci, a brief history of basketball-inspired sneakers »
Nike had a close eye on what was brewing in the world of women's basketball and tapped designer Marni Gerber to design a new product. Gerber, who's now Nike's senior creative director of young athletes, got in touch with Swoopes for what the rising star thought was research and development.
"I was excited about just being a part of a conversation and the development of a women's basketball shoe," Swoopes said, not realizing at the time that she was getting a signature style, the Air Swoopes.
Gerber noticed Swoopes' fierce on-court personality and showcased that spirit with a stylized "S" wave on the outsole of each shoe. When Swoopes dunked on defenders, her initials would be smack in their faces.
"She's quick, so we just wanted to have something that's more kind of designed for her style of play," Gerber said.
Swoopes made sure the colors and design weren't too girly and could be appreciated by everyone (although the shoes were only sold up to women's size 12). And, after growing up wearing Pony, Converse and LA Gear, Swoopes got a lightweight Nike shoe she could only dream of.
"Ponys were so heavy to me, and that was one of the worst things ever," she said with a laugh.
Swoopes proudly wore her Air Swoopes, which featured a Velcro support strap across the top of the shoe and a contrast of red and white coloring, in the official team photo for the 1996 Summer Olympics. She played in the Air Swoopes II, which stood out because of the bilateral lacing system, dribbling fiercely past an Australian defender en route to winning the gold medal, her first of three.
Gerber remembered watching Swoopes light up after trying on samples. "It was pretty cool just to watch her love her new shoe," she said.
The door to signature kicks appeared to be open to other female athletes after Swoopes, who won four WNBA championships with the Houston Comets while rocking various pairs of her signature shoes, including the fan-favorite Air Swoopes Zoom.
Nike also created a "Little Rascals"-themed ad campaign featuring the WNBA's brightest stars, such as Swoopes' USA Basketball teammate Lisa Leslie and fellow Comet Cynthia Cooper. Swoopes was featured pushing her 11-month-old son in a swing while showcasing her Air Swoopes IV. It was important to her to show that women didn't have to choose between having a career and a family.
"To say you don't have to make any sacrifices, you can be great at both, and you can be successful at both if you have the right support around you — I was very blessed that I had that," she said.
Gerber remembers having an especially fun time working with Leslie and Dawn Staley on the Air Rupt, another shoe released around the time of the '96 Summer Olympics. Nike had exclusive colorways for Leslie and, in the late '90s, introduced a signature shoe for Staley, the Air Zoom S5.
Other sneaker companies got in on the action too. Reebok signed UConn phenom and New York Liberty star Rebecca Lobo and gave her a signature shoe, the Lobo. Three-time WNBA All-Star Nikki McCray had a signature shoe with Fila, the Nikki Delta Basketball. Los Angeles Sparks star Candace Parker joined Adidas and released multiple signature shoes, including the TS Ace Commander and the Ace Versatility.
Nike hasn't made a signature shoe for a female athlete in about two decades but appears to be tiptoeing around the topic with fresh releases of older shoe styles. Four-time WNBA Champion Maya Moore is now carrying the torch and, in 2011, she became the first female athlete to sign with Jordan Brand.
Last year, Nike released a retro version of the Air Swoopes II to pay homage to Swoopes' legacy. And on Thursday, a floral-themed version of the sneaker is being introduced for NBA All-Star Weekend. New women's Air Jordan I's and other shoes are being released this week as well.
Other brands haven't quite filled the footwear gap over the years, either.
In November, a young female athlete wrote three-time NBA champion Stephen Curry a letter asking why his Under Armour signature shoe was not available in girls' sizes.
Pepperdine's Jessop said this event is evident of the times and how women's sports has to regain ground in marketing and visibility. "One has to assume that the profits were not sizable enough for [athletic companies] to continue production of this footwear," she said. "But the deeper question is, well, why weren't the profits sizable enough?"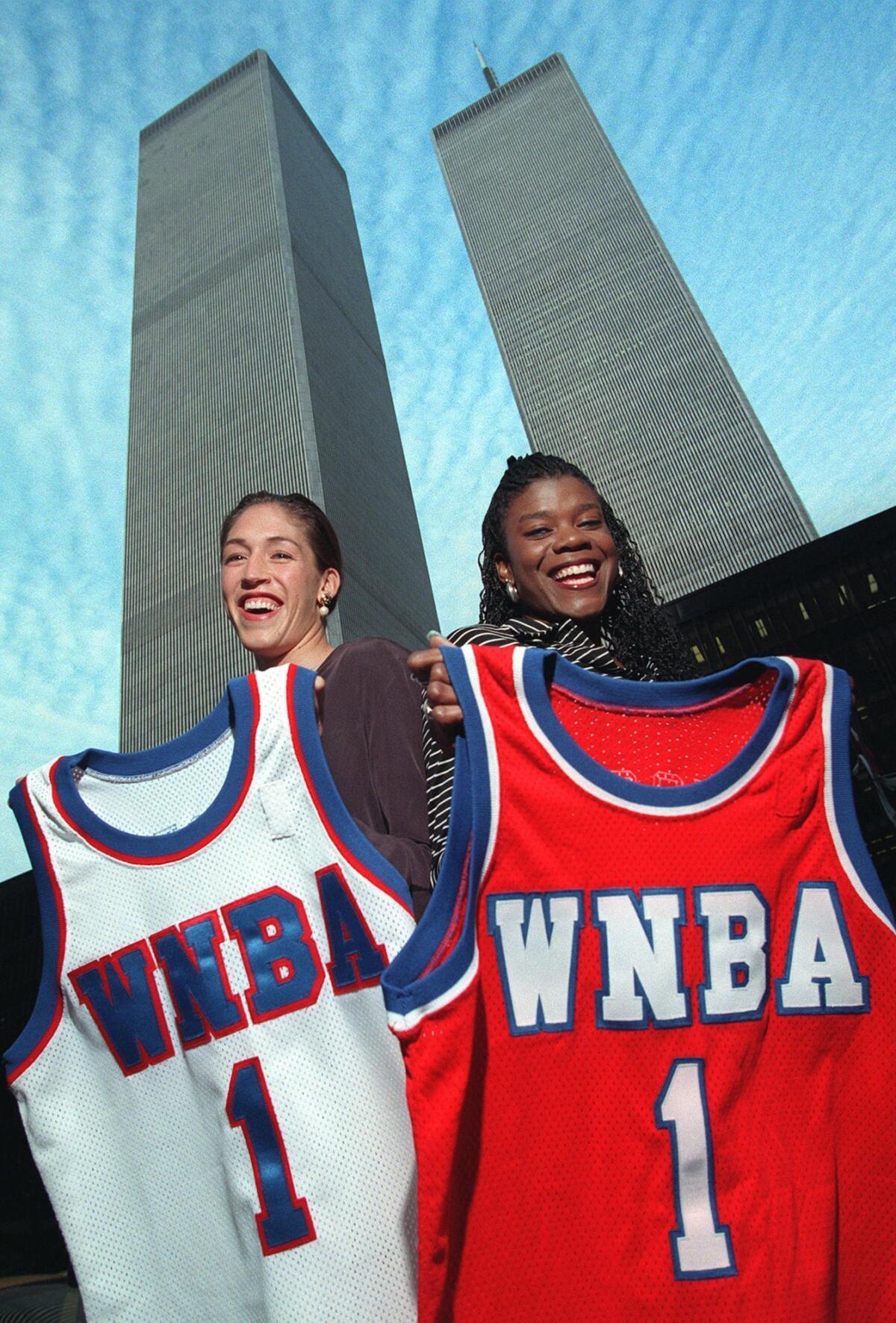 For one, the WNBA has had rises and falls in attendance since its start in the mid-'90s. However, Jessop pointed out the WNBA and the 1990s wave of women's signature shoes happened long before the advent of social media for which today's star athletes such as Curry have a tangible following to tap into. She also said the WNBA Players' Assn. has been making strong business decisions that signal better times ahead.
When the Air Swoopes was just an idea for Nike, Gerber said, there were long discussions over the development of the product. "At Nike, we do things in pretty big ways," she said, so the numbers have to make sense for the company to invest in a product like a signature shoe.
"I also believe that we should support women athletes as much as we support men," she said. "I'm sure a lot of people here believe that, so it's really putting our money where our mouth is, I guess."
Victoria.Hernandez@latimes.com