Sophia Amoruso, L.A.'s millennial 'Girlboss,' is busy with her second act
Sophia Amoruso, the 35-year-old "#Girlboss" author and businesswoman, dabbed her eyes, which were covered in a glittery eye shadow. "I'm PMSing. I hope I'm not," she said, wiping away tears as she sat inside the San Vicente Bungalows in West Hollywood on an early June afternoon, "because then I'd be pregnant." (She punctuated her admission by saying, "You can write that.")
Amoruso might be best remembered for the blunt dark bob and fierce no-nonsense look she sported on the cover of her bestselling book, "#Girlboss," but it's her blunt, no-nonsense attitude that has kept her millennial fan base interested long after her previous company, Nasty Gal, a women's clothing retailer, filed for Chapter 11 bankruptcy protection in 2016.
"I prefer not to be a poster child for failure," she said, "but if my story can make other people feel less alone and have conversations transparently about their struggles as well as their wins, I feel really good about everything that I've been through." She paused. "I don't really have a choice, so I better feel good about it."
Over coffee, Amoruso, founder of Silver Lake-based Girlboss, didn't shy away from discussing her past and proved just as vulnerable when sharing a detail as innocuous as why she selected this meeting spot. "I have therapy in Beverly Hills, so I'll come here after that midday and have meetings with people," she said, explaining it's a convenient halfway point between her office and various work associates.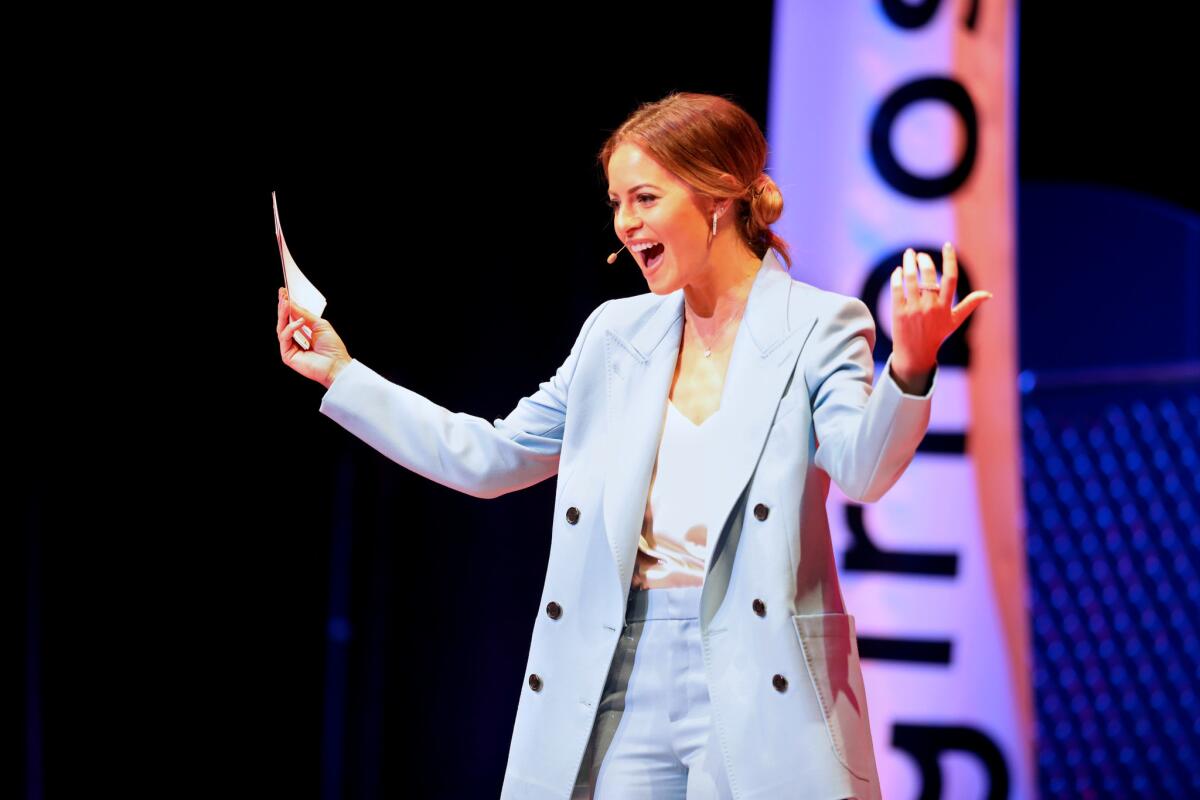 Amoruso has the rags-to-riches story of which aspiring entrepreneurs dream. The California native launched Nasty Gal from her bedroom in 2006 when she was just 22. The retailer went from an EBay store to a thriving company pulling in $100 million in revenue six years later. She once had 200 employees and bricks-and-mortar stores in Los Angeles and Santa Monica. Thanks to Nasty Gal's initial success and Amoruso's marketing prowess, the entrepreneur's autobiography, "#Girlboss," was a hit, spending 18 weeks on the New York Times bestseller list in 2014. The book's title became a major part of the zeitgeist during the pre-Time's Up era.
In 2016, Netflix announced that it had a series based on Amoruso's life in the works. That year, Forbes called Amoruso one of America's richest self-made women. However, sales at her former company had been steadily dropping: to $85 million in 2014 and $77 million in 2015, according to bankruptcy documents. Nasty Gal also faced lawsuits and turmoil within the company, including several rounds of layoffs. The retailer was sued by a handful of former employees who alleged discrimination and by designers claiming copyright infringement.
Amoruso had stepped down as Nasty Gal's chief executive officer in 2015 but stayed on for a time as executive chairwoman. When Nasty Gal filed for bankruptcy in 2016, she resigned. Also by then, her one-year marriage was over.
But the Los Angeles resident has since put one stiletto in front of the other and moved on with her new company (Girlboss) and her new boyfriend (longtime friend Galen Pehrson). Gone are the days of Amoruso's infamous dark blunt bangs and bob. She now embraces a lighter, sunnier hue.
"It's a different world," she said about how things have shifted since the release of "#Girlboss." "I've been processing and learning from everything that I've experienced while at the same time being inspired by the girls who are experiencing the same thing."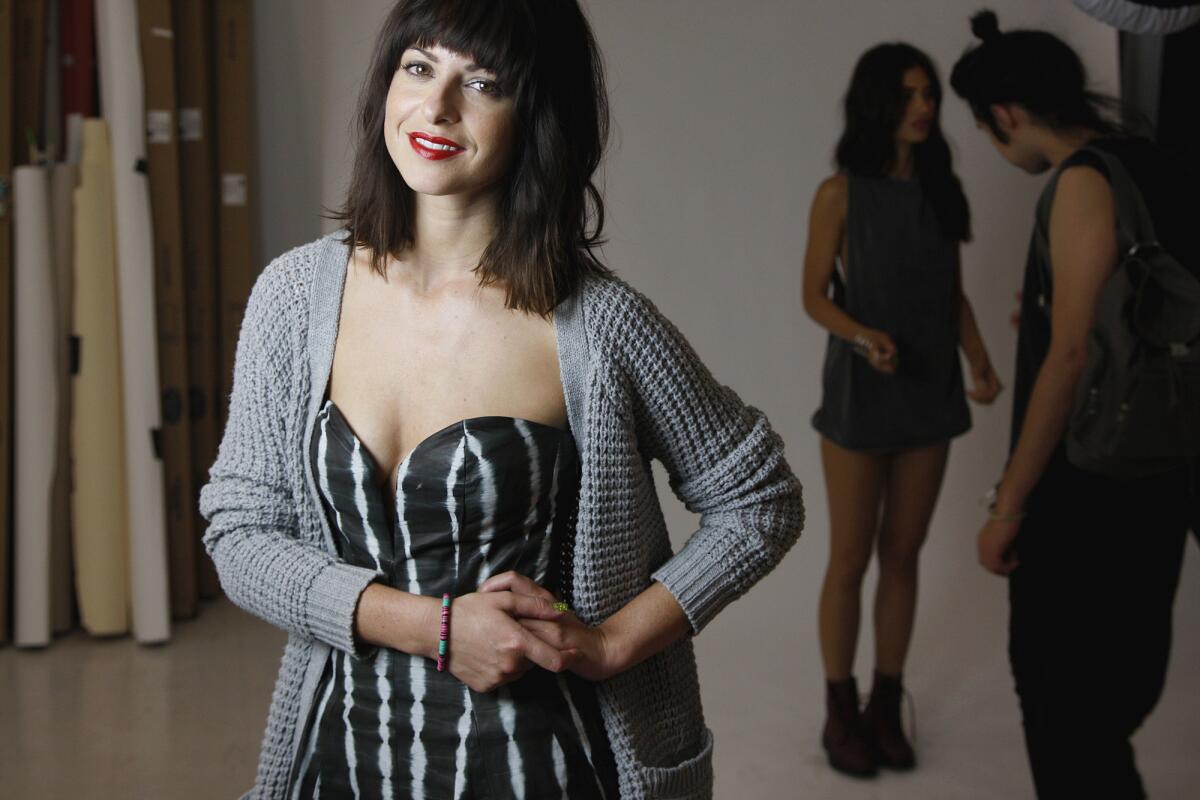 Amoruso is the first to admit that appearances can be deceiving. She pointed to her 2016 Forbes cover as an example. "In that moment, my company was struggling," she said. "So I looked like I was winning, but that was six months before Nasty Gal went [bankrupt and] exploded. It was a month before my husband left me, so that was what you didn't see of a woman on the cover of Forbes — that life isn't perfect."
Back then, the business magazine estimated Amoruso's personal fortune to be $280 million — more than Beyoncé's and Taylor Swift's personal wealth at the time. "I had a lot of equity in a company that was worth a lot of money, which is why I was considered really wealthy," Amoruso said, "but I didn't end up collecting hundreds of millions of dollars from Nasty Gal. It was such an incredible moment of validation and such a proud moment, but I was literally so alone — and also alone on the cover because I was Photoshopped into that group of women."
Amoruso initially feared she wouldn't find her footing. "I thought I was going to be a pariah," she said. "I thought the girls who followed me on social media and read the book would think that I was a fraud. But they were like, 'Wow. This happened to you on a really global scale. We're all failing in small ways every day.' … Who caught me and who actually stuck with me after my whole life blew up publicly were the women I had met through my career."
With the encouragement of her peers, Amoruso rejected wallowing and kept working, she said, "rather than accepting what the world has said about me." She quickly launched Girlboss by galvanizing the community she had built through her book and its subsequent endeavors, the Girlboss Radio podcast and the Girlboss Rally, which has drawn Arianna Huffington, Gwyneth Paltrow, Ashley Graham and Emily Weiss during the past five years.
This year's event, which took place at UCLA on June 29 and 30, attracted 1,800 women from 28 countries, including Peru, Mexico, the Netherlands and Italy. The two-day conference included workshops, 10 rooms of programming, a job fair and a "transparency wall," where women were encouraged to anonymously share their salaries in hopes of helping other women better understand their own value. It also featured conversations with 120 speakers including Paris Hilton, Cynthia Rowley, Whitney Cummings and Michelle Phan.
Despite her busy work schedule, Hilton said it was important to her to attend the event. "I was so excited when Sophia contacted me," said Hilton, who had flown in from a job in Munich and was later going to Ibiza to perform at a concert. "I've always admired her and her story."
Amoruso told the crowd that Hilton makes half a million to a million dollars for a four-hour gig. "Girlboss life," said Hilton, who has 19 product lines, from handbags to footwear, as well as a beauty brand called ProD.N.A. skin care; she's also an investor in the Glam App and a top DJ. "I love this movement and seeing all of these women CEOs. … I feel like it's our year, and it's just going to keep getting better."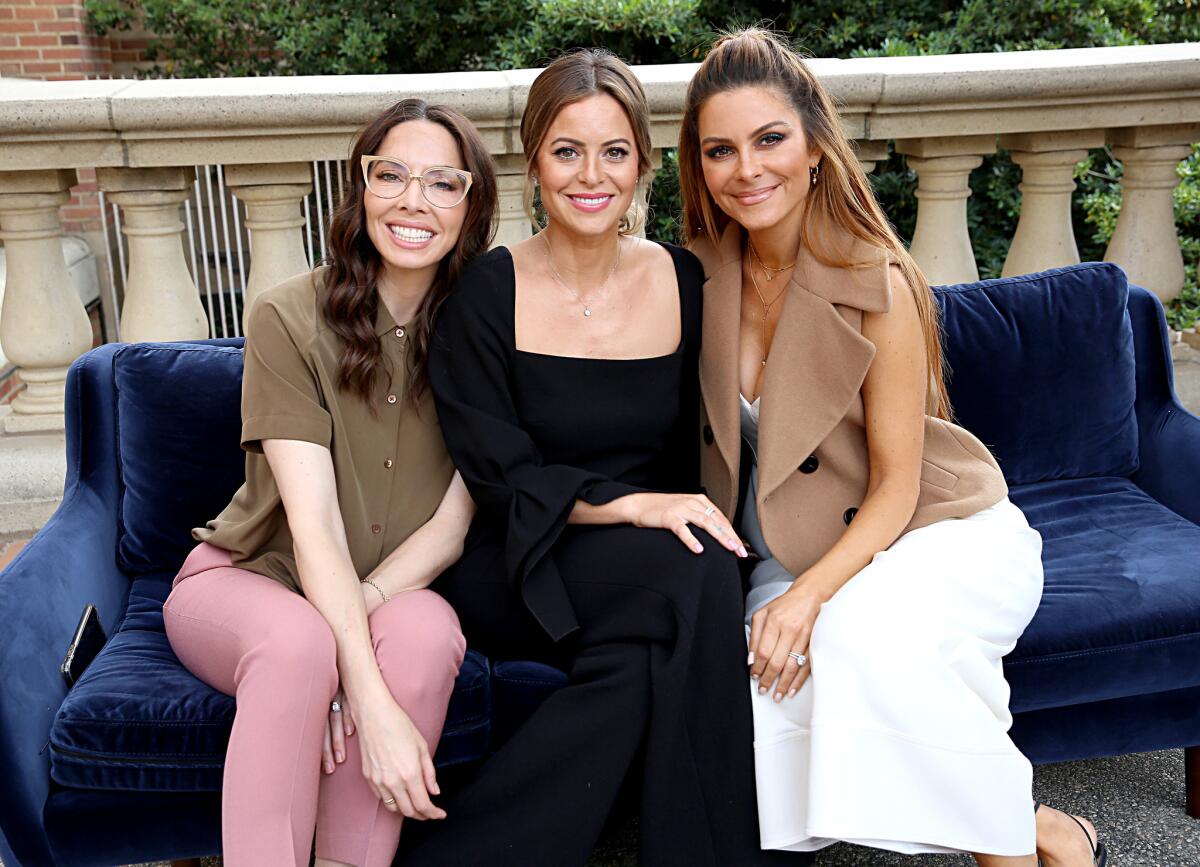 But it's not yet a level playing field, Amoruso said. "People jump on a woman's failures much more quickly than they do to men," she said. "[For men,] it's like a badge of honor to fail or to have an early startup before your startup takes off. ... I don't want to talk about my experience because I don't want to victimize myself, but I do think that, broadly, women are held to a much different standard than men, but also, unfortunately, part of that is because there are less of us."
Girlboss hopes to change that. After introducing a content-based website and newsletter with Girlboss' chief operating officer and editor-in-chief Neha Gandhi two years ago, the team is expanding Girlboss.com to include a social component. The new platform, a digital network for female entrepreneurs and freelancers, officially debuted during the recent Girlboss Rally.
Think of it as LinkedIn meets Facebook for millennial businesswomen, featuring a modern take on résumés and networking. It allows women to connect with one another through special features. One of them matches potential collaborators based on their Myers-Briggs personality profiles.
"I'll show you how it works," Amoruso said, pulling out her iPhone. "The profile is somewhat of a Mad Libs instead of having to write a big highfalutin bio, which feels like a lot of pressure."
Several text messages interrupted the tutorial. "That's Alexis Ohanian, the co-founder of Reddit, who invested and is helping us a lot," Amoruso said. When there was a delay in acknowledgement, she added, "Serena [Williams'] husband."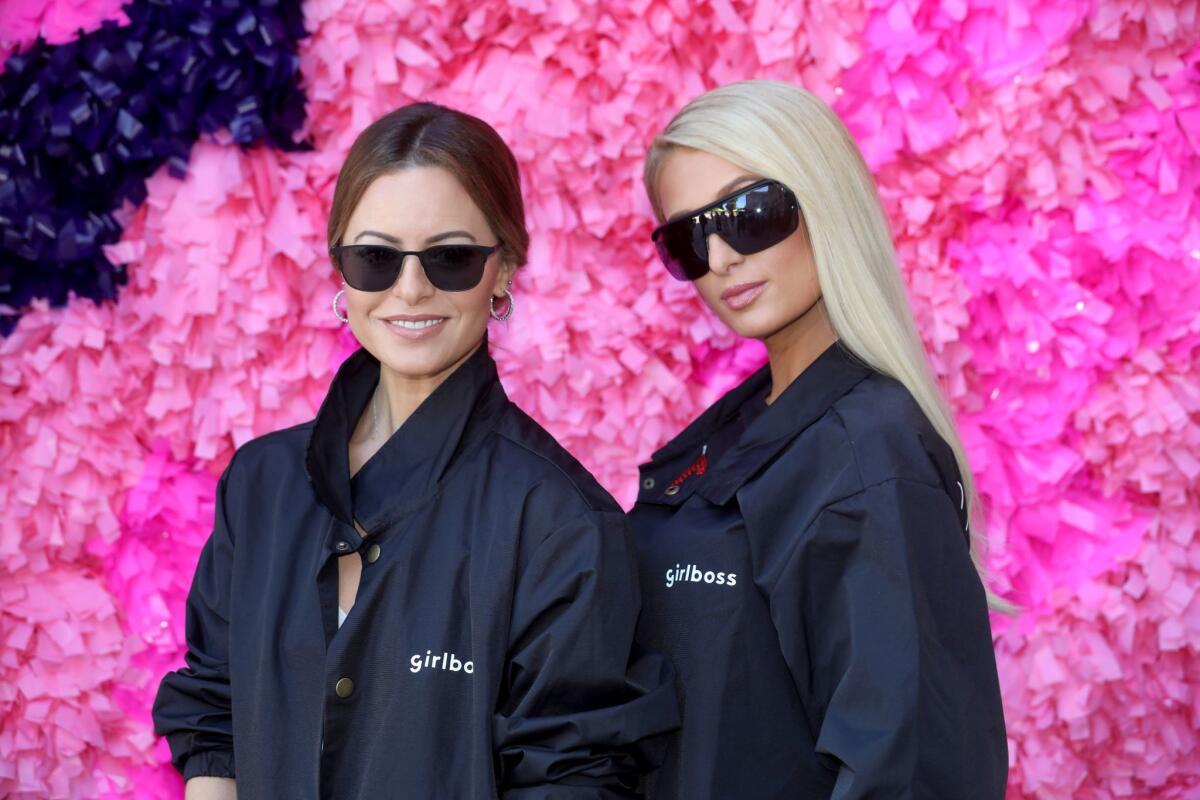 Ohanian, who reportedly invested $3.5 million in Girlboss, later explained that he first met Amoruso when they were on a panel together at a Ford Motor Co. event in Silicon Valley, which he said "was pretty random, but I'd been a fan of hers before that."
The venture capitalist was eager to be involved with Amoruso's new network. "Sophia has built a remarkable, global community of professional women both offline at the rally and online through all these other social media platforms that aren't built for community," he said. "Now she's built a community platform from the ground up to support this movement.
"She knows exactly what her audience wants and has already done the hardest part — built a community," Ohanian continued. "We see countless engineers who've built platforms and have never been able to figure out the community-building side of the equation. Her experience and emotional intelligence is an invaluable part of why this is so special."
Gandhi said she was excited to work alongside Amoruso after being introduced to her by her former boss, Christene Barberich, co-founder of media company Refinery29. "Sophia told me all about her vision for what we were going to build," Gandhi said. "I was inspired by Sophia and by her capacity for self-reflection, for her capacity to say, 'Look, my last business just went bankrupt a couple of months ago.' ... She was upfront about it. She wasn't pussyfooting about what had happened. She was like, 'This is what I learned. This is what I want to do differently.'"
Amoruso was just as quick to share what she has learned from past mistakes. "Ten years ago, I used to hire people, and the culture was built around, 'If you don't walk as fast as me, why am I paying you?' Which is very dated and doesn't work," she said. "At the time, I feel I was a baby boomer in my thinking. As I've grown and my needs have changed and I've established more of a personal life than I had when I was just grinding away, I've learned more about the needs of the modern workforce. I also crave more time and taking time for myself than I ever did before. That's really influenced the culture at Girlboss that I don't think I really understood when I was building my first company."
Case in point: Gandhi shared that Girlboss allows its 30 employees to work from home on Fridays. "It's a day where people can say, I'm not going to have as many meetings," she said. "I'm going to be able to sit in my pajamas if I want to, or if I need to be somewhere on Saturday, I can fly in the morning and work from Tahoe or wherever. So it buys a level of flexibility for the team that I think everyone really appreciates."
Amoruso acknowledged that her new chapter is a real second chance. "I still have a lot to learn, but with Girlboss, I get to right a lot of things that I didn't know better when I was younger," she said, "and hopefully build the right culture and hopefully build a sustainable business and hold executives accountable in ways that I didn't know how to do when I was younger."
Jen Rubio, co-founder and chief brand officer for the luggage label Away, is a founding Girlboss community member. She and Amoruso were connected by a mutual friend years after Rubio discovered "#Girlboss." "The first time I read it," she said, "I had just left Warby Parker and I was moving to London to work at All Saints, so I was going through a real career transition. And I didn't know Sophia then, so I read the book very independently of knowing her and I think it was really enlightening."
Payal Kadakia, founder of fitness-class subscription service ClassPass, is also a community member. "Sophia is a force of nature in everything she does, and she's really honest and open," Kadakia said. "She inspires a lot of people to take a different path in their life. And I love that no matter what she's gone through in her life, she's found a way to always pick herself back up."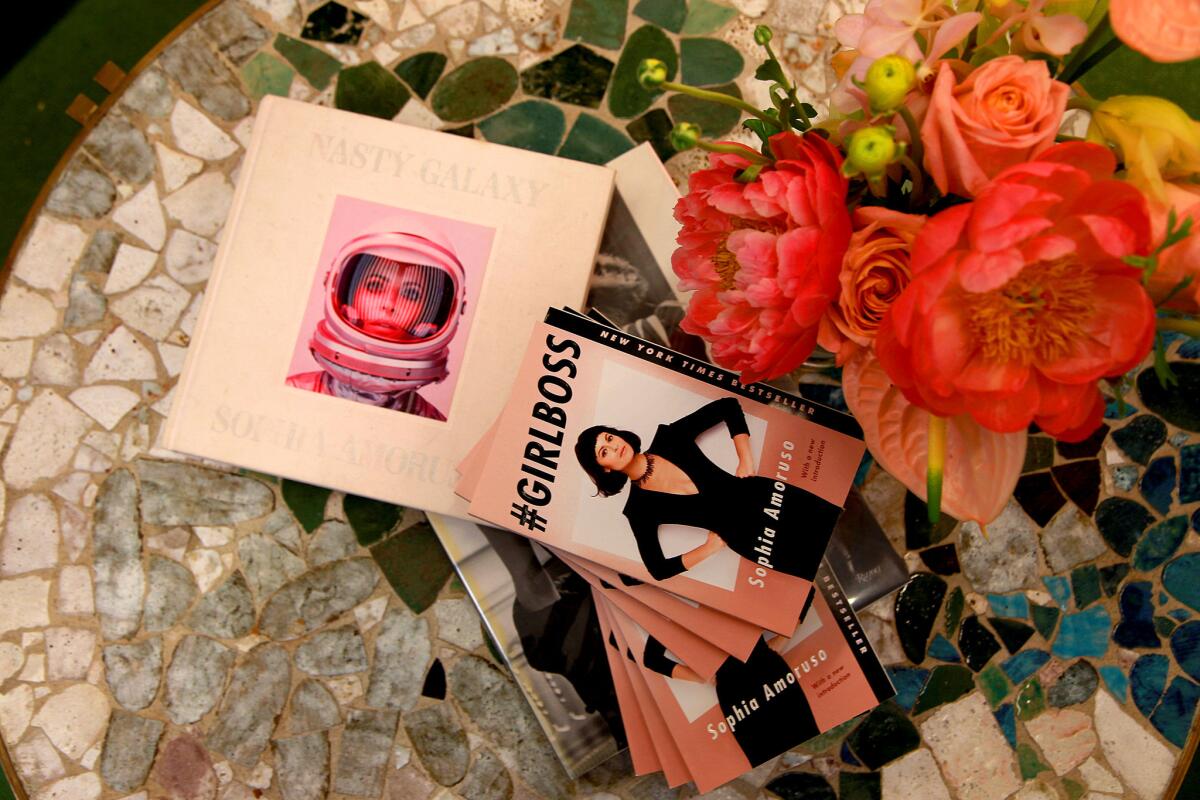 Along with evolving professionally, Amoruso said she's spending more time on self-care these days. "Now, I really try to take time for myself to make sure that I'm nurturing my friendships and my relationship," she said, sharing that she planned to take a quick trip to Hawaii after the Girlboss Rally. "You show both yourself and the people around you how much you care by your actions. Saying you care about your partner and saying you miss your friends on a DM doesn't really matter if you're not making time for them."
During coffee in West Hollywood, Amoruso casually spouted quotes and platitudes. "I ask a lot of advice," she said, "because learning from other people's experiences is much less expensive and much less painful than learning from your own." Her favorite piece of advice, she said, is something her boyfriend reminds her of often. "There's a quote by Rainer Maria Rilke, 'No feeling is final,'" she said. "I freak out and text my boyfriend, 'What am I doing? Ahh! I'm a fraud! Help! Everyone hates ...' Whatever. He just texts back, 'No feeling is final,' and it's true. The way I felt yesterday, I feel totally different today, right?"
As for returning to fashion, Amoruso said, "It's super refreshing to walk into an office not [caring] about what I look like, because I had to show up looking like a fashion CEO and live up to that. If I had a meeting with someone on the outside, I felt like I had to represent this expectation of being a fashion person. I love clothes and I love shopping, but fashion has become something that, especially in today's world, is increasingly meaningless. People want experiences. The things we're spending money on actually better our lives."
She thought for a moment and then said: "Nasty Gal was a voice that made women feel really confident, so it was a feeling. It was more than clothes. There are a lot of things that could have been better with Nasty Gal, but when someone bought her first motorcycle jacket on Nasty Gal and put it on and felt like ..."
She stopped short of finishing her sentence. "I'm going to, like, cry," she said, her voice breaking. "Sorry. I don't do this. ... The throughput is that confidence that you can give people through fashion that transcends the thing itself."
Then through tears, she said, "There's a quote that a marketer said to me once that is: 'Great brands give people permission to be themselves,' and that's what I hope I've done over the course of my career. And I'd say if there's anything I'm proud of, it would be that."
For fashion news, follow us at @latimesimage on Twitter.
Get our L.A. Goes Out newsletter, with the week's best events, to help you explore and experience our city.
You may occasionally receive promotional content from the Los Angeles Times.