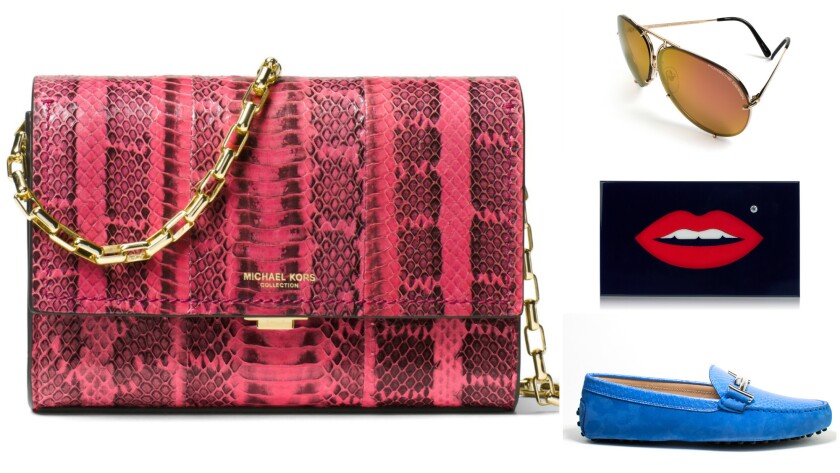 Luxury labels have been bringing customers through the doors of South Coast Plaza for half a century, so it's not surprising that some of them are paying homage to the golden anniversary with offerings that can only be purchased at the Costa Mesa shopping center.
Surprisingly, Starbucks brewed up something special for the occasion — a blend named after the center's carousel attraction. From lima bean fields to limited-edition coffee beans? That's a California story arc if ever there was one.
---
Porsche Design
This version of Porsche Design's 8478 aviator-style sunglasses with interchangeable lenses is limited to just 100 pairs (50 pairs in size 66 and 50 pairs in size 69) and features a gold-and-fuchsia, frame-and-lenses color combination as well as an engraving on the temple that reads "South Coast Plaza — 50 Years." $550, www.porsche-design.us
---
Gucci
Gucci is offering a limited-edition large version of its Sylvie top handle bag. A special leather tag inside reads: "Gucci Limited Edition." $2,890 (limited to 25 bags), www.gucci.com
---
Roger Vivier
Luxury shoe and accessories brand Roger Vivier is stepping into the exclusive offerings with this version of its Sneaky Viv' Strass slip-on sneaker in leather. $1,325, www.rogervivier.com
---
Max Mara and Weekend Max Mara
The only Weekend Max Mara boutique in North America is offering an exclusive puffy Pasticcino ("little pastry") clutch in red ($425, available this summer), while Max Mara will offer a hand-sewn, double-face belted cashmere and angora coat (at left, $2,890). www.weekendmaxmara.com, www.maxmara.com
---
Frette
The blue color and monogram detail of this cotton velour, shawl collar two-pocket bathrobe are exclusive to the Frette boutique at South Coast Plaza. $300, www.frette.com
---
Charlotte Olympia
Exclusive-to-South Coast Plaza versions of Charlotte Olympia's Perspex acrylic Kiss Me hard-shell clutch in black (left) or blush, with inlaid lips design and crystal beauty mark detail. $1,485, us.charlotteolympia.com
---
Brunello Cucinelli
This reversible pinstripe vest in lightweight waterproof wool with a varsity jacket collar ($2,295) is one of two Brunello Cucinelli exclusives offered at the shopping center. www.brunellocucinelli.com
---
Tod's
This version of Tod's classic Gommino driving shoe combines tejus (a type of lizard) skin and a shade of blue "inspired by the beaches of California." ($675, limited availability). The Italian luxury brand is also offering an exclusive light blue version of its Double T bag ($3,325). www.tods.com
---
Michael Kors Collection
Michael Kors Collection is offering an exclusive version of its Yasmeen clutch with a river-snakeskin exterior and a goat suede lining and a convertible chain-link strap. $790, www.michaelkors.com
---
Marni
Marni has a Trunk bag in black cherry calfskin leather with an Ayers snakeskin flower motif available at South Coast Plaza. $2,900, www.marni.com
---
Starbucks
The Golden Carousel Blend of 80% Veranda blend and 20% single-origin Ethiopian is named in honor of South Coast Plaza's signature painted-ponies attraction that's been a fixture for half a century. This bag of beans, described as having "highlights of spice from Ethiopia" and "flavors of soft cocoa and toasted nuts from Latin America," won't be around anywhere near as long. It's only available there through the end of the year. $6.84 for an 8 oz. bag, www.starbucks.com
---
Already a subscriber? Thank you for your support. If you are not, please consider subscribing today. Get full access to our signature journalism for just 99 cents for the first four weeks.
For more musings on all things fashion and style, follow me at @ARTschorn.
ALSO
Cartier looks to L.A. — and a few famous friends of the house — to help relaunch its Panthère watch
David Foster leads singers and musicians in festive session at 2017 Milken Institute conference
Paris Hilton, Jamie-Lynn Sigler, Kris Jenner and Tommy Hilfiger turn out for star-studded Race to Erase MS gala
---