Time's Up, #MeToo and other causes continue to be a force in this season of political fashion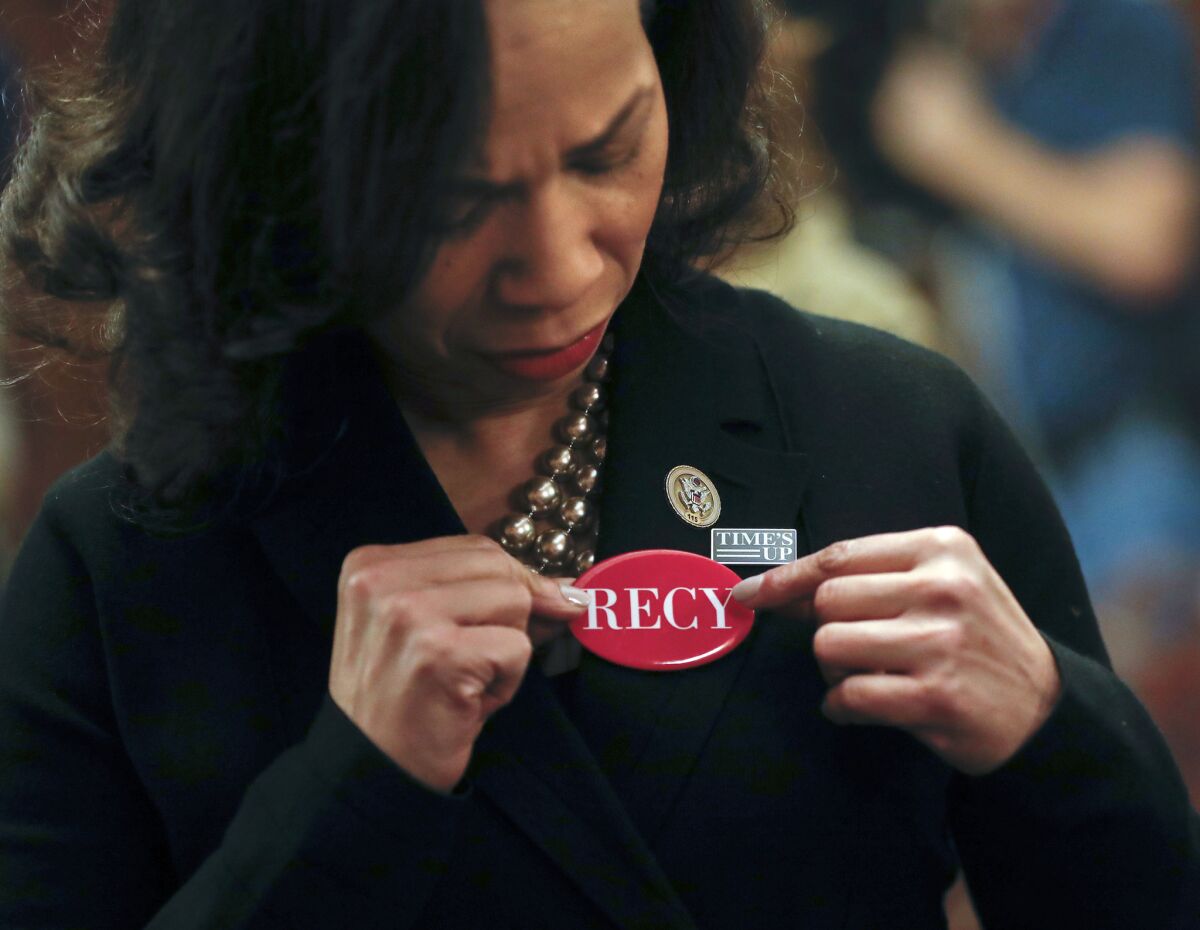 President Trump may have been the one with the microphone at his first State of the Union address in the Capitol on Tuesday night, but that didn't stop the members of the audience from delivering their own pointed messages with a series of politically-charged fashion choices.
Pins were a popular accessory of the night, including red ones worn by a number of members of the Congressional Black Caucus and Democratic Caucus bearing the name "Recy" — a tribute to the late Recy Taylor, an African American woman who became an early symbol of the civil rights movement after speaking out against six white men who abducted her and raped her in 1944 but were never charged.
Taylor's story was brought to light again earlier this month when she was honored during Oprah Winfrey's Golden Globes speech. (Taylor's niece, Rose Gunter, sat in the audience for the State of the Union as a guest of Rep. Bonnie Watson Coleman, D-N.J.)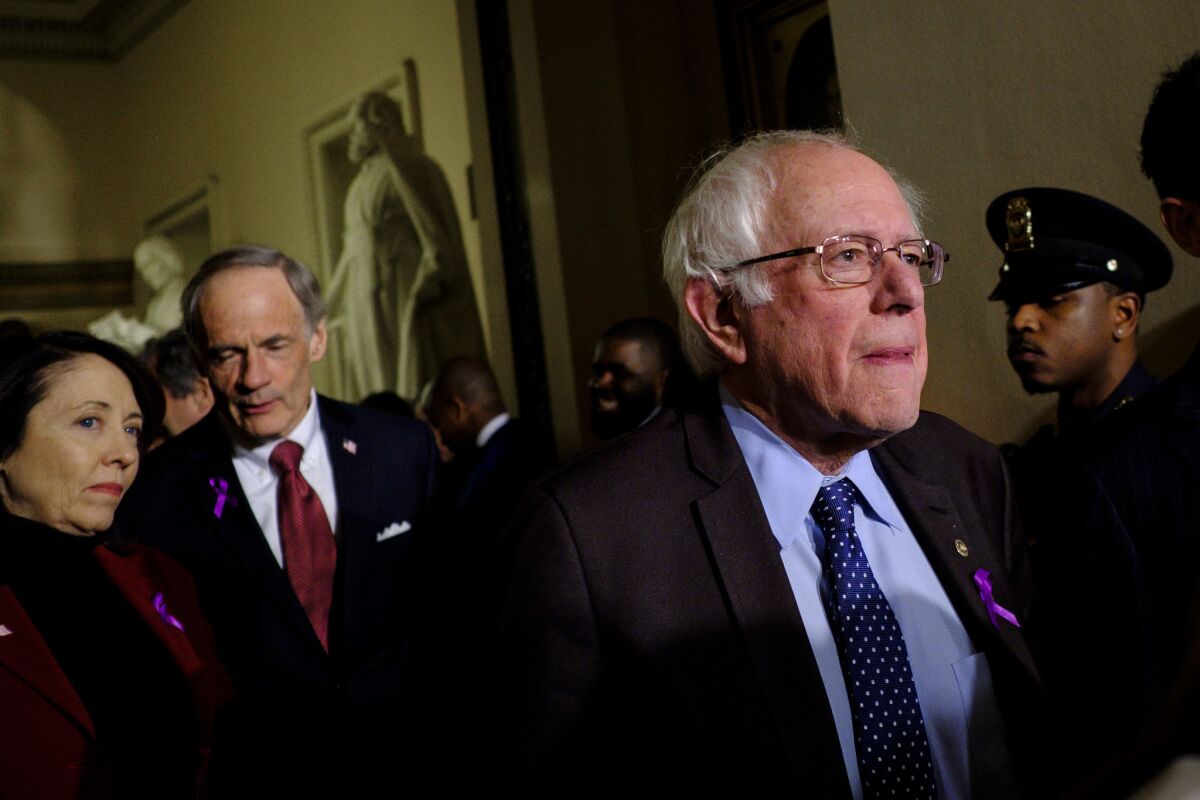 Spotted on the lapels of the likes of Sens. Jeanne Shaheen, Bernie Sanders and Maggie Hassan: purple awareness ribbons, designed to draw attention to the devastating opioid epidemic sweeping America, which Trump touched upon in his speech. ("My administration is committed to fighting the drug epidemic and helping get treatment for those in need, for those who have been so terribly hurt," he said. "The struggle will be long and it will be difficult ― but, as Americans always do, in the end, we will succeed; we will prevail.")
Some lawmakers didn't just limit themselves to one pin. Sen. Tammy Duckworth, D-Ill., paired her purple ribbon with a Time's Up pin — a prominent accessory spotted in the Hollywood scene as of late.
Commissioned by Reese Witherspoon and created by costume designer Arianne Phillips ahead of this year's Golden Globes, the pin is designed to bring awareness to the Time's Up and #MeToo movements targeting sexual misconduct and harassment. Others with the statement-making piece on their lapels included House Minority Leader Nancy Pelosi, D-Calif., and House Minority Whip Steny Hoyer, D-Md.
Lawmakers also took cues from the Golden Globes by adhering to an all-black dress code, a trend that originated on the red carpet in response to Time's Up. Those who opted to participate in the fashion blackout included Pelosi, Rep. Rosa DeLauro, D-Conn., and Rep. Debbie Wasserman Schultz, D-Fla.
Plenty of colorful statements were made in the room too, including the vibrant, traditional Kente cloth of West Africa worn by members of the CBC including Rep. Bobby Scott, D-Va., — a silent yet powerful symbol of unity with people from Haiti and the nations of Africa, which Trump referred to in a derogatory manner in comments made earlier this month to lawmakers during a meeting.
The other most noted color choice of the night? Melania Trump's head-to-toe cream look, consisting of a Dior suit with cropped trousers and a matching Dolce & Gabbana blouse and Christian Louboutin heels.
The first lady made her first public appearance with the president since allegations were recently made that Trump had an extramarital affair with porn actress Stormy Daniels. Melania's choice of color was open to interpretation.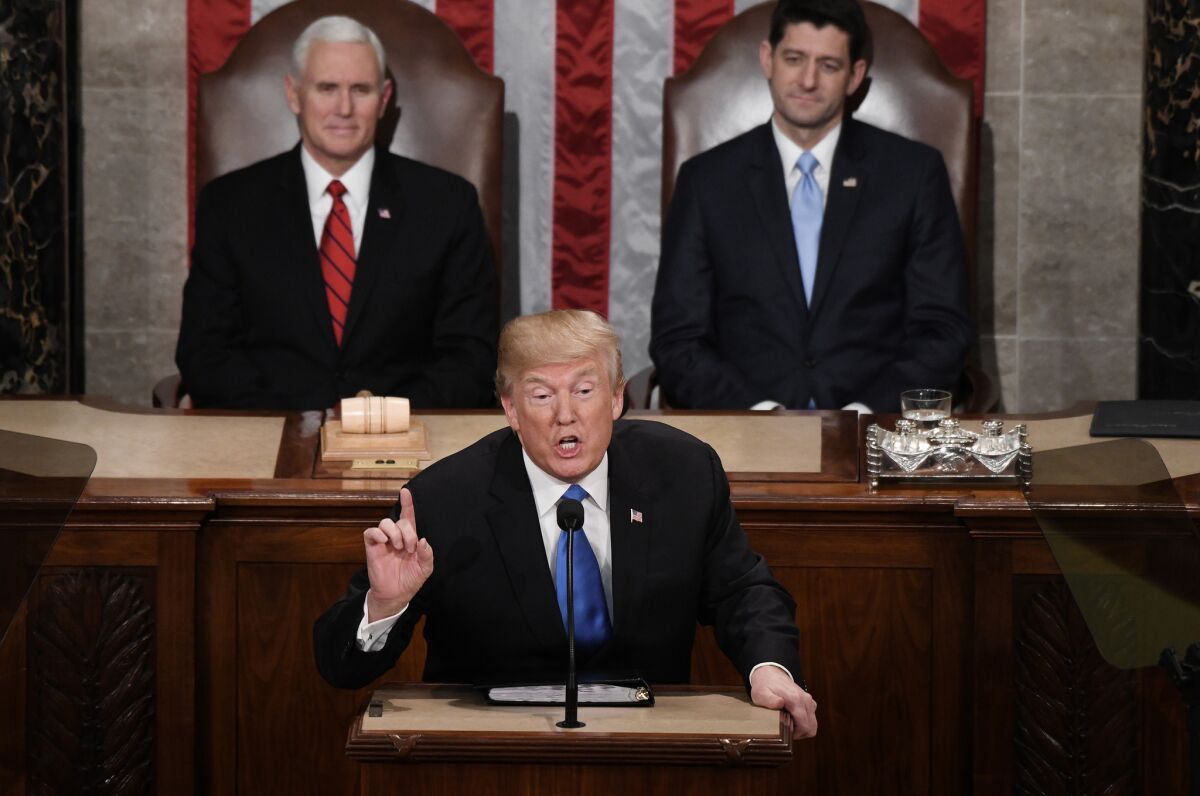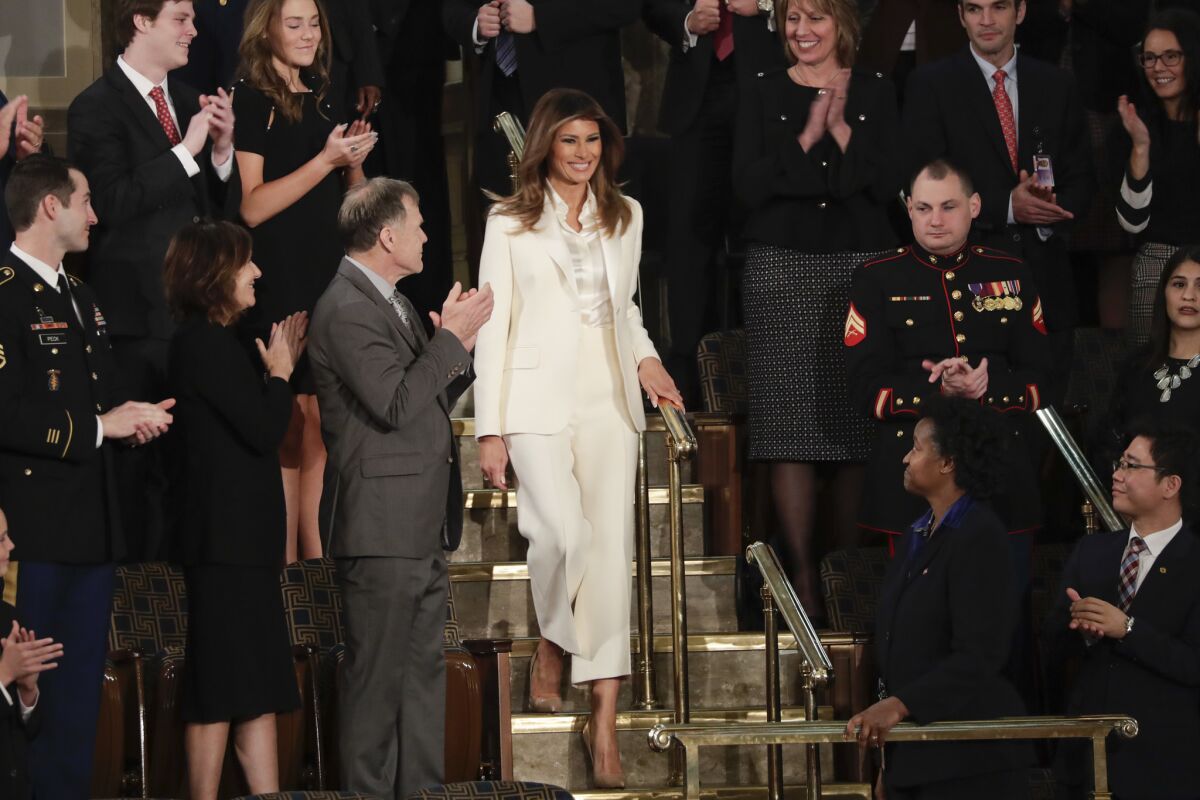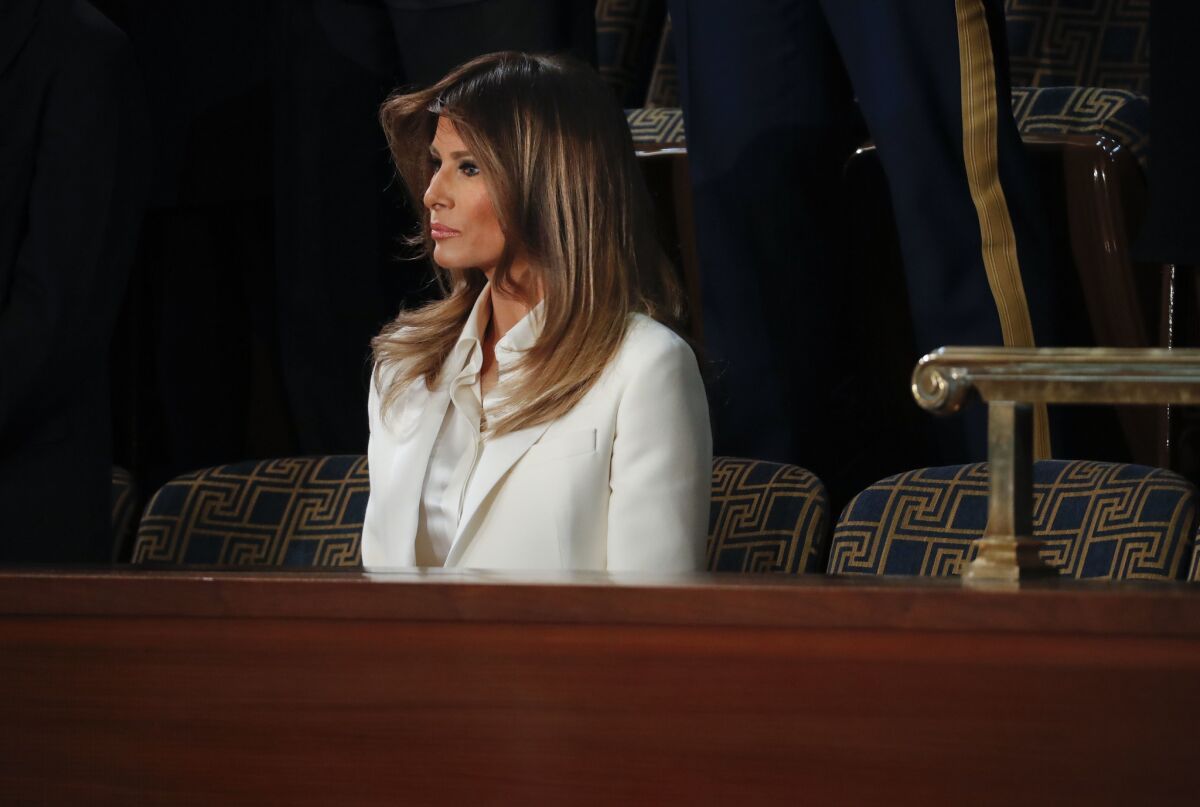 While some interpreted it as a direct swipe against the women in the room who opted to wear black, others saw it as a sartorial nod of solidarity to the movement, which garnered support at the Grammys red carpet on Sunday in the form of white roses and white outfits seen on the red carpet.
Then there's the fact that white has been associated with the suffragette movement since its early beginnings. In recent times, white was the color of choice for the women of House Democratic Women's Working Group in March 2017 who wore it in support of women's rights during President Trump's joint address to Congress.
It is also favored by Hillary Clinton, who rocked a white pantsuit on a number of occasions, most memorably during her acceptance of the Democratic presidential candidate nomination in 2016 and in 2017 for President Trump's inauguration (both by Ralph Lauren). Whatever Melania Trump's intentions were, one thing was clear: The first lady did not opt to wear an American designer for one of the biggest nights of the year in U.S. politics.
For fashion news, follow us at @latimesimage on Twitter.