Steve Aoki is known for 'caking' his music fans, but getting them dressed is his latest move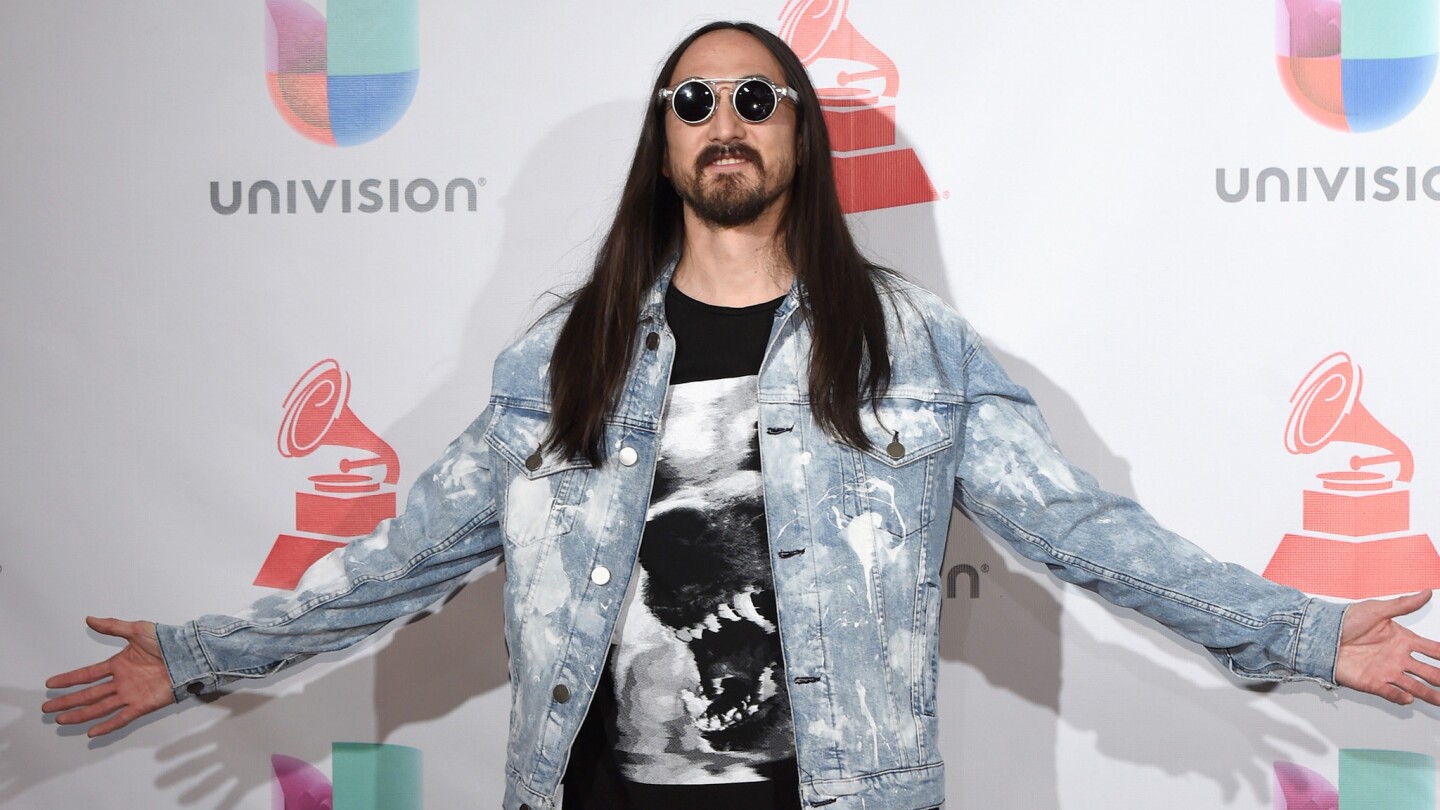 Grammy-nominated producer, DJ and fashion label owner Steve Aoki poses in the media room during the 18th annual Latin Grammy Awards in Las Vegas on Nov. 16, 2017.
(David Becker / Getty Images)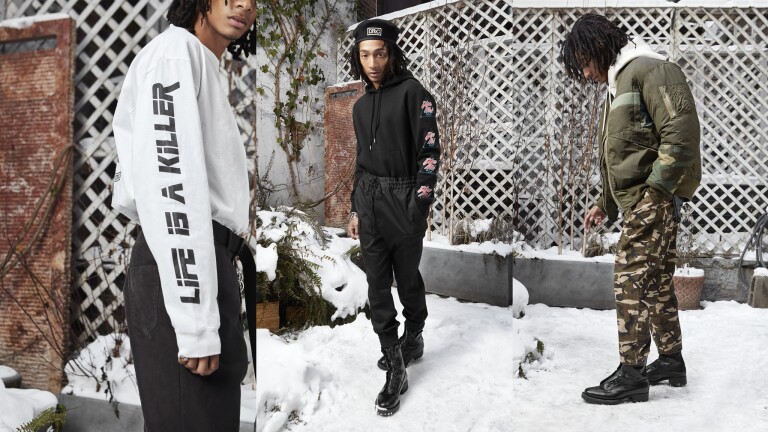 Looks from Steve Aoki's Dim Mak collection. "Life Is a Killer" long sleeve tee, $90, from left; DMMK sleeve logo hoodie, $165, Rivers cargo pant, $220; and "Fenway" reversible bomber, $620, DMMK sleeve logo hoodie, $165, and Mahmed camo pant, $240, available at dimmakcollection.com. Selections are also available at select Saks Fifth Avenue stores.
(Dario Calmse)
Dim Mak Collection Maddox hoodie, $175 from left, Burroughs Too long-sleeve tee, $90, and Unikorn hoodie, $175, available at dimmakcollection.com.
(Aldo Carrera)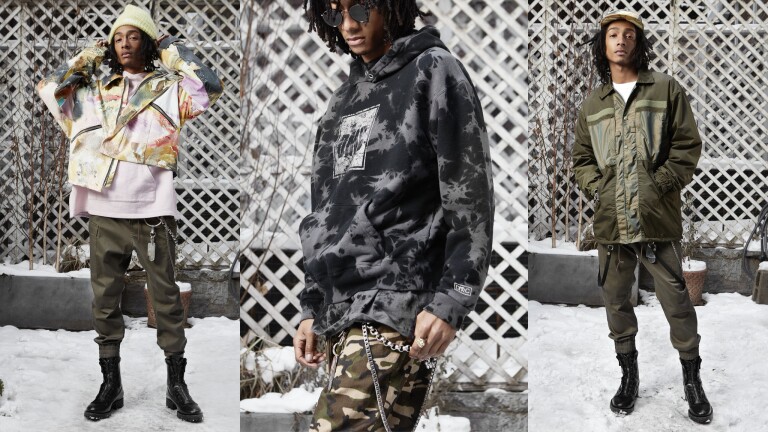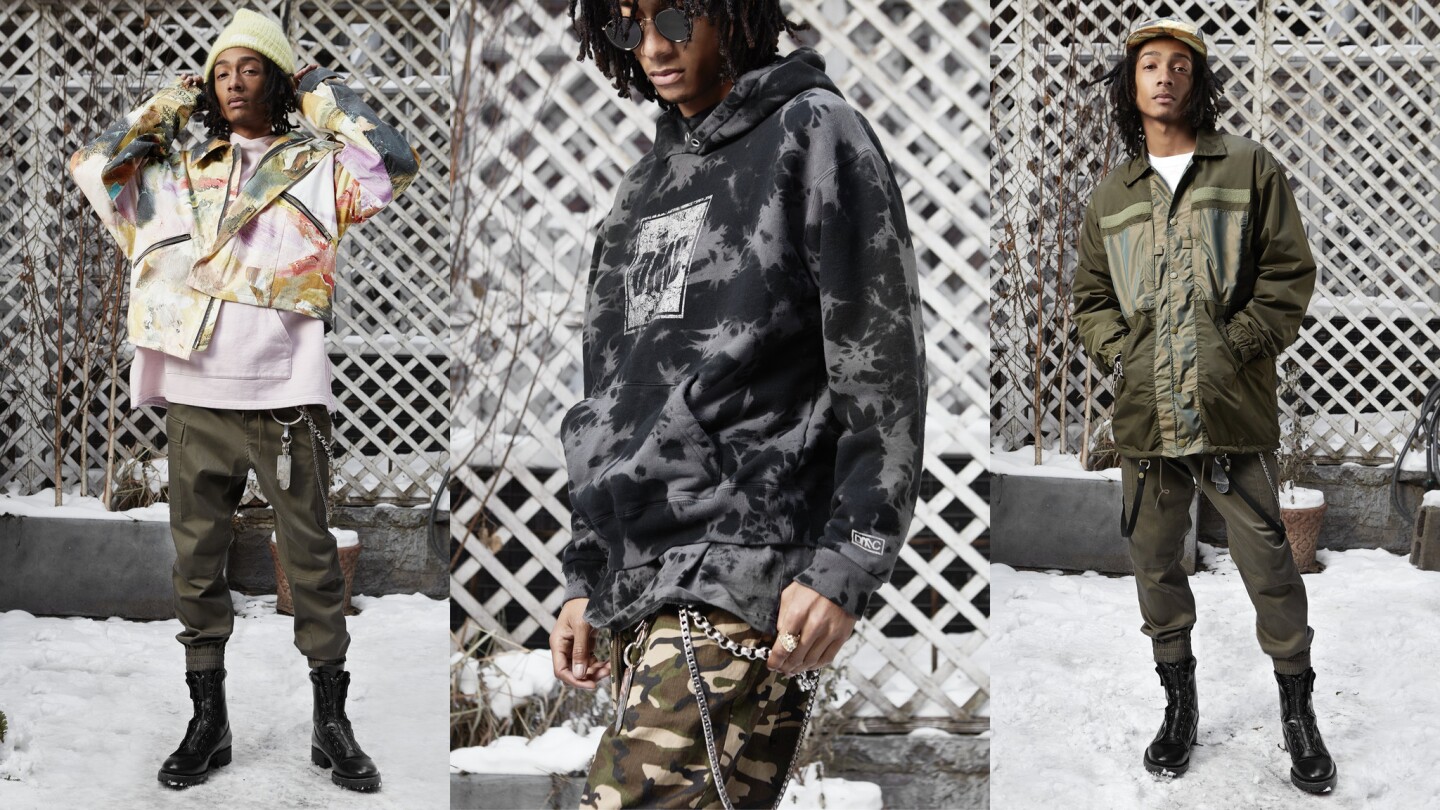 Kounde short sleeve hoodie, $160, Billy Budd flight jacket, $570, Rivers cargo pant, $220 from left; Ramsey tie-dye hoodie, $175, Mahmed camo pant, $240; and Nova Tech Team jacket, $350, and Rivers cargo pant, $220, sold at dimmakcollection.com.
(Dario Calmse)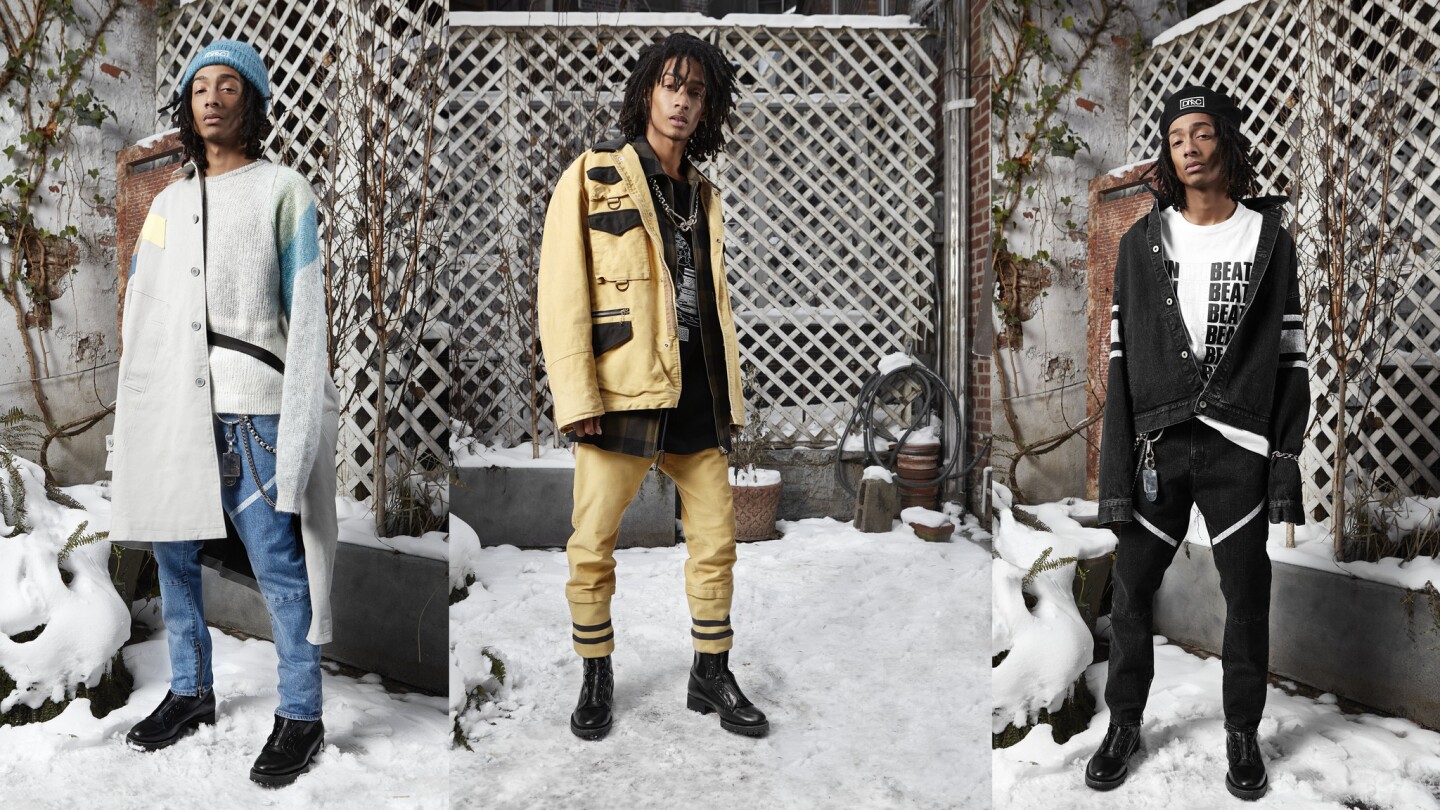 Dim Mak Collection Clem military jacket, $575, Rogers jogger pants, $275 from left; William S. car coat, $570, Deavers mohair sweater, $475, Cathcart denim jeans, $267; and Sheffields work jacket, $390, On the Beat tee, $65, Cathcart denim jeans, $267, avilable at dimmakcollection.com. Selections from Dim Mak Collection are available at select Saks Fifth Avenue stores.
(Dario Calmse)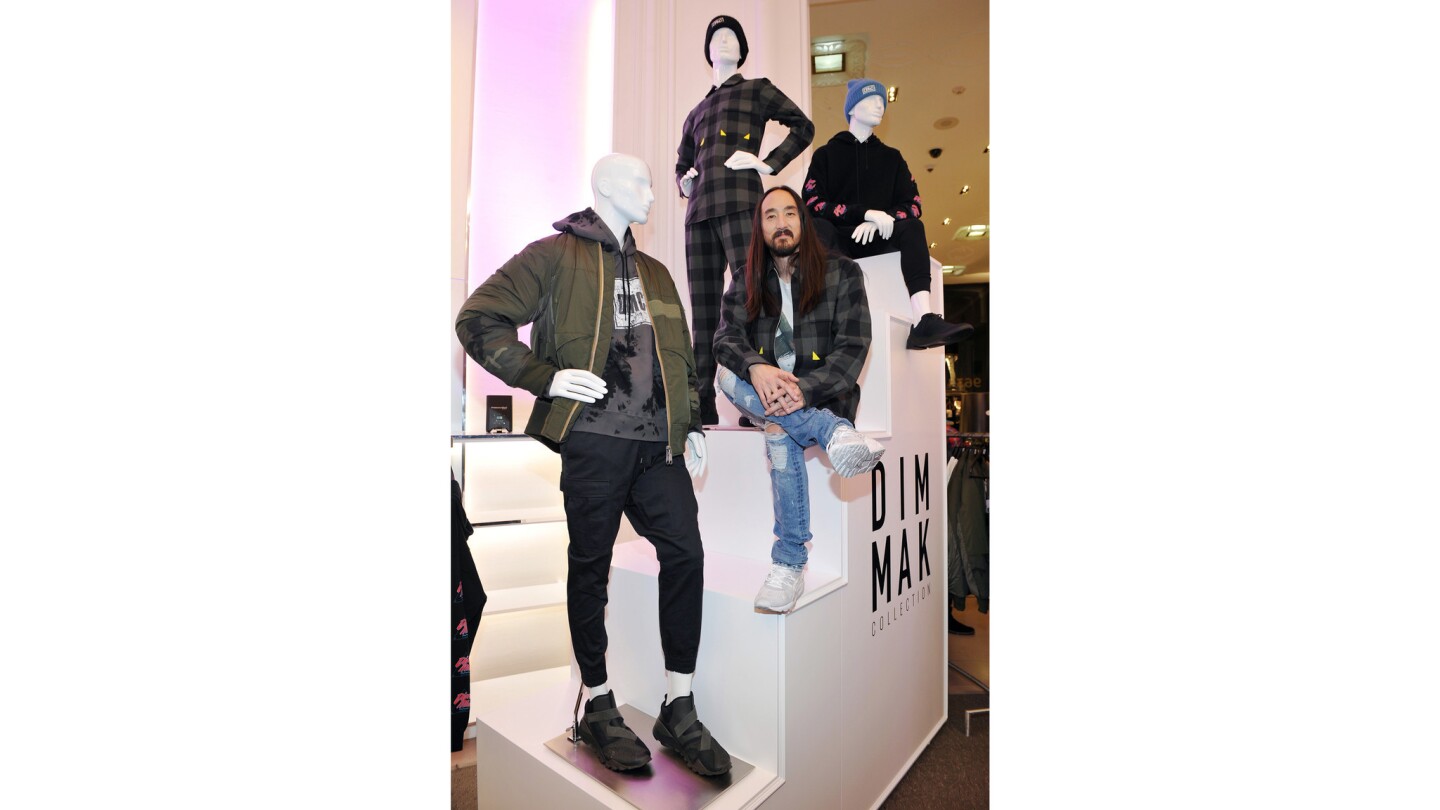 DJ and fashion label owner Steve Aoki poses for a photo at Saks Fifth Avenue in Beverly Hills during the celebration of the launching of his Dim Mak Collection. The fall/winter 2017 collection is available at select Saks Fifth Avenue stores.
(Donato Sardella)
The Grammy-nominated producer and DJ who throws cakes at people — yes, he literally tosses giant sheet cakes into the faces of screaming fans at his packed shows — strolled through the quiet second floor of the men's building at Saks Fifth Avenue in Beverly Hills on a mid-October evening, bypassing dressed mannequins and racks of fall clothes. A gathering of his adoring followers, mostly in their 20s and 30s, awaited his arrival at a party downstairs.
The cake-tosser, Steve Aoki, is a multi-hyphenate artist and showman — and an internationally known Champagne sprayer (fans expect to leave his shows drenched in cake crumbs and bubbly). Long-haired, bearded and tattooed, the streetwear-loving Las Vegas resident and son of the late Benihana restaurant founder Hiroaki "Rocky" Aoki is an icon in the EDM scene. His DJ base is the Hakkasan Nightclub at the MGM Grand in Las Vegas, but he's also been making music for years. Aoki, who grew up in Newport Beach and once called L.A. home, started Dim Mak Records in Los Angeles in 1996.
"I never thought of myself as a DJ," Aoki said in the 2016 Netflix documentary "I'll Sleep When I'm Dead." "I always thought of myself as a promoter and record label guy."
Arriving at Saks after a video shoot and a stop by his hotel, Aoki, 39, wearing distressed jeans and a white graphic shirt under an oversize green-and-black-check flannel shirt, entered the department store's personal shopping area and lounge.
"Today is a really big day," he said about the Saks event to celebrate the arrival of his Dim Mak Collection men's streetwear line. "The soul of what I do has always been based on music, but I'm always going to follow my passion and interests in fashion equally. It's just a whole new wheelhouse. … It's like nurturing a second child.
"When you're in a band, you have to make those T-shirts," he continued, with his manager and several handlers nearby. "So I was making T-shirts for my bands when I was 15, 16 years old. … I learned how to play guitar. I learned how to write a song. I learned how to screen my first T-shirt. Through the course of doing that, I got more and more interested in fashion. … Music and fashion are all part of the same culture and lifestyle."
His music career has brought in millions of dollars, and that stability has given Aoki the opportunity to pursue fashion and other projects. "I'm all in," he said. "I'm not saying all of my money is in it. I'm just saying my mind is all in, and it's an incredible journey. … The DIY spirit never left — but now it's a little bit more expensive."
Fashion also allows Aoki to tap into his creative spirit in new ways and reach out to his favorite artists. "Instead of doing music collaborations," he said, "we're doing fashion and art collaborations."
As for his music, this year Aoki released a rap-style album, "Steve Aoki Presents Kolony"; on Friday he released a new song with Lauren Jauregui called "All Night"; and he's got a full schedule of high-octane shows at festivals and clubs around the globe. On social media — he has 5.7 million Instagram followers — Aoki captures his adrenaline-fueled moments such as pool-jumping and stage-diving into packed crowds, as well as his visits with other celebrities such as Céline Dion, Drake and Colin Kaepernick (GQ magazine's Citizen of the Year).
He frequently jets off to Ibiza, Shanghai, São Paulo, Tokyo and, of course, Los Angeles (where in 2015 he staged his downtown LAoki event),so much so that he was cited in 2014 by Guinness World Records for being the most-traveled musician after more than 160 shows in 41 countries in 2012. According to Forbes, Aoki made an estimated $29.5 million last year, and a chunk of his life, on and off planes, was shown in the Netflix documentary.
Through fashion, Aoki is positioning himself to reach an even wider audience. He started his men's indie-rock- and skate-culture-inspired streetwear line, Dim Mak Collection, in 2014 as a way to extend his individual entertainment brand. This has been the path of many modern-day artists, including Jay-Z, Rihanna, Beyoncé and Kanye West.
"The dream is to do a collection," Aoki said. "You get to that point. You're, like, 'OK, I've done the T-shirts. I've done the hoodies. I want to immerse myself in cut and sew. I want to immerse myself in the full array of what fashion is.'"
This year, despite his busy music and touring schedule, he has had one fashion collaboration launch after another. He teamed with Burton on a capsule collection of bags and luggage. He is a brand ambassador for Asics and appears in a campaign for the footwear company.
Since this summer, Aoki, a sneaker collector who lives in a 16,000-square-foot house in Las Vegas, has teamed with Diamond Supply Co., Zumba, Converse Tokyo and Happy Socks. More collaborations are expected. This fall it was announced that Aoki is now a co-owner of the relaunched skate and streetwear brand Vision Street Wear, which has a new collection available at Topman.
As for Dim Mak Collection, previously sold only in Japan, the streetwear label had its North American debut this year at New York Fashion Week: Men's. And starting this season, it's being carried at select Saks Fifth Avenue stores, including Beverly Hills, and online.
Aoki said Dim Mak Collection's latest range was inspired by writer and artist William S. Burroughs, as well as the influences the Beat Generation had on the 1970s punk era in New York.
Selections, which are priced from $65 to $620, include graphics and artwork by artist David Choe. In the strong assortment of men's street styles are $220 slouchy, drawstring, army green cargo pants; a $570 colorblocked raglan-sleeve canvas car coat; a $90 "Life Is a Killer" long-sleeve tee (featuring a graphic by Choe); a $175 white cotton hoodie featuring a unicorn graphic and a kangaroo pocket; and $620 reversible bomber jackets in black and green with camo details on one side.
"For me, it's a big deal," Aoki said. "I know the David Choe fans out there also feel the same way. … I'm so blessed and humbled that he's giving his art and graphic [work] to the entire collection."
Ultimately, the Dim Mak Collection label as well as Aoki's special fashion capsules and tour merchandise such as the collection tied to his "Kolony" album reflect much of the artist and DJ's personal tastes, but these latest ventures do something else. They give Aoki's ardent followers pieces of him — not just digital downloads or memories of dancing all night at one of his shows.
"We're social beings. We're here to connect," Aoki said. "Whether it's music or fashion or feelings or physical — whatever it is — I feel essentially that's why we're here. I have this undying urge to constantly create."
And with that, Aoki and his handlers left Saks' Men's Fifth Avenue Club to attend the store gathering. No cakes were in sight, but Aoki had another sweet treat up his sleeves. It was time to get the music turned up and the people moving.
Please consider subscribing today to support stories like this one. Already a subscriber? Your support makes our work possible. Thank you. Get full access to our signature journalism for just 99 cents for the first four weeks.
Follow me at @marquesharper on Twitter.
ALSO
DJ Steve Aoki balances decadent party image with business dreams
Steve Aoki, Linkin Park face zombie plague in video for 'Darker Than Blood'
Steve Aoki, Mayor Garcetti announce concert in downtown L.A.
---